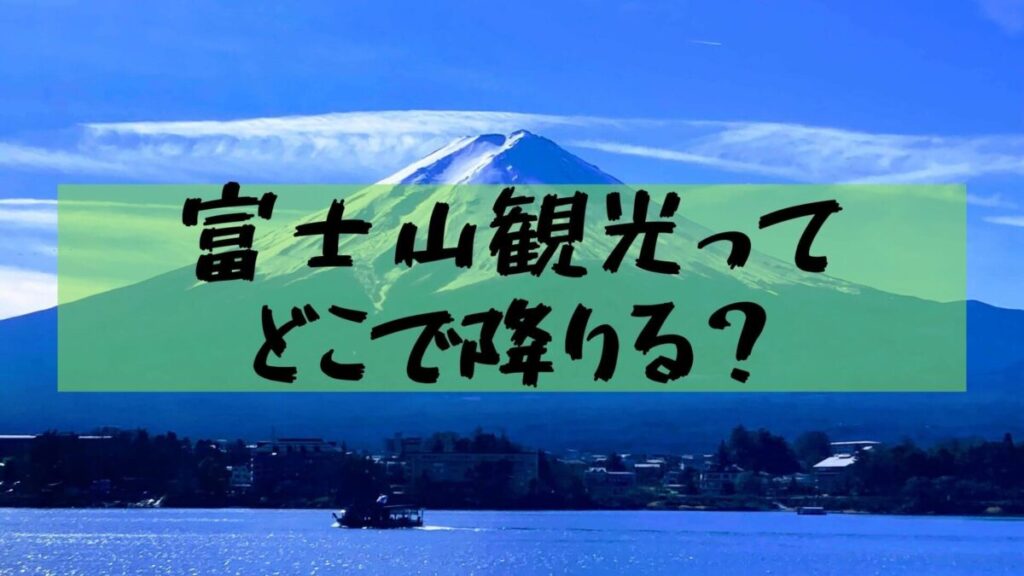 There is "Climb Mt. Fuji" on the list of things I want to do, but I realized that I do not want to climb separately.
I thought that I would lose time and power to do what I wanted to do when I became a member of society, so suddenly I went to see it.
It is such a time, but I personally think that the risk of infection is not so high if you are traveling alone and do not involve alcohol.
【Yamagata Sightseeing Trip】I went to Yamagata Prefecture in September on a family trip to visit temples
How to live to Mt. Fuji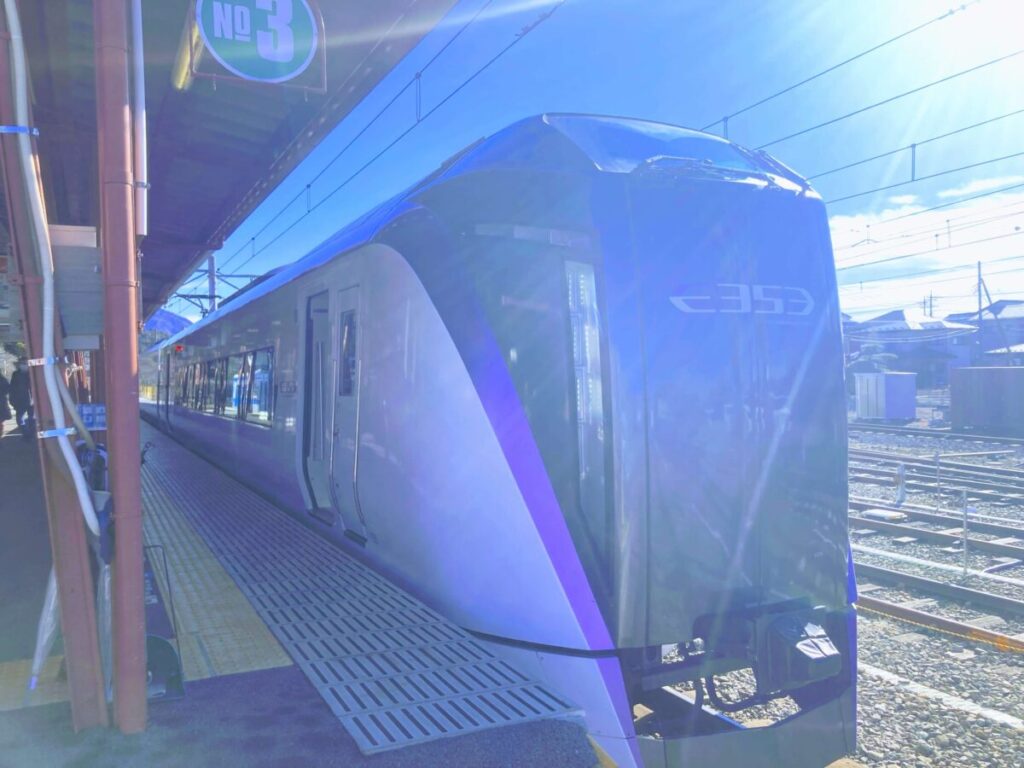 I left my home at 7:30 a.m. and left for Hachioji, then took the limited express "Fuji Kaiyu" to "Kawaguchiko Station".
There was time until the limited express after arriving in Hachioji, so I bought onigiri at New days and had breakfast.
I ate green onions and shrimp mayo, but the nori was fresh (the taste was also delicious)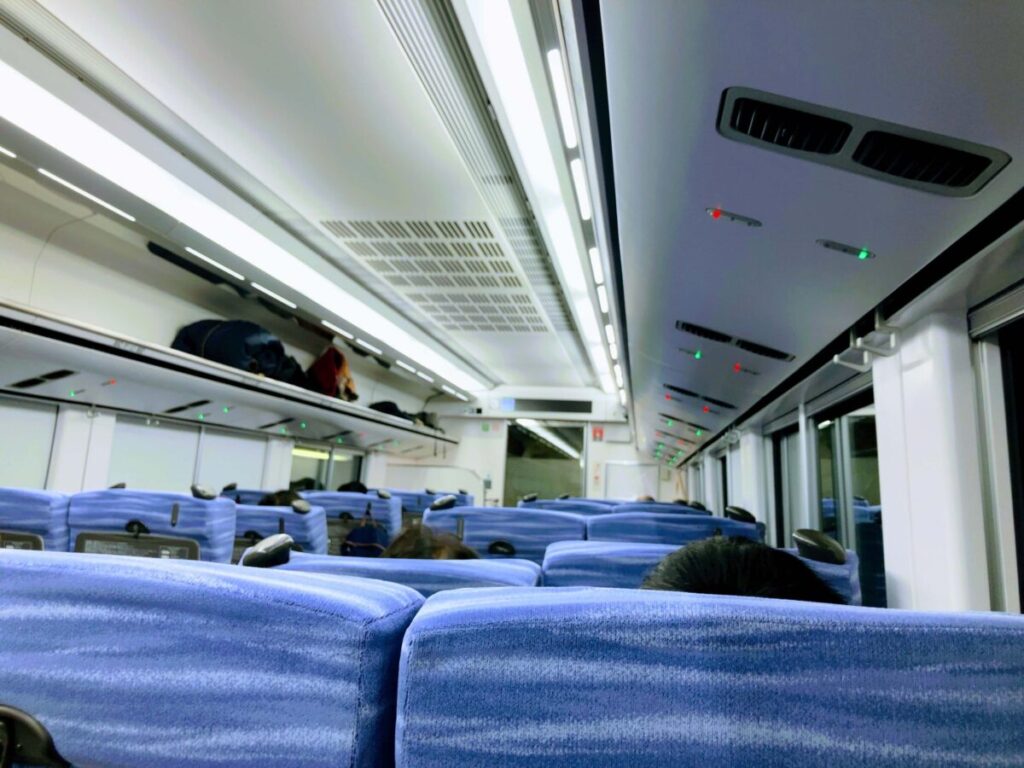 Please note that in addition to the ic card ride fee, you must purchase an express ticket at the platform in advance.
It seems that you can purchase from a smartphone, but it was troublesome because you have to register as a member of Eki net.
The stops are "Hachioji → Otsuki → Tsuru University of Literature → Shimoyoshida → Mt. Fuji → Fujikyu Highland → Kawaguchiko".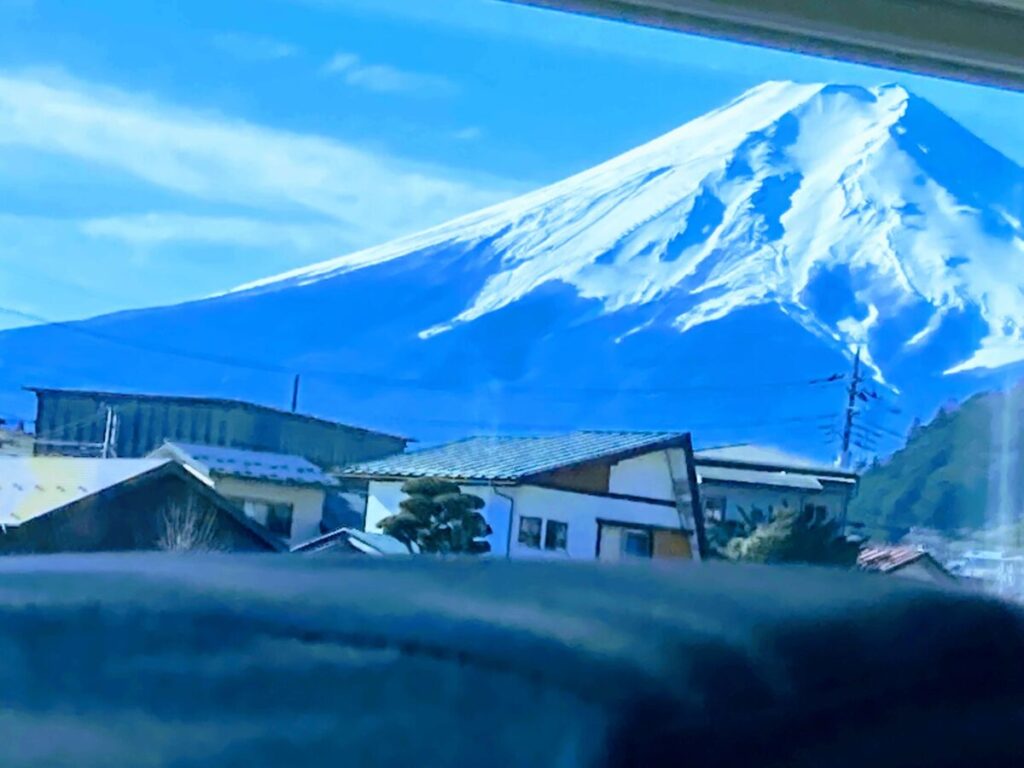 The direction of travel changes from Mt. Fuji Station, the train slows down on the way and there is a time to shoot Mt. Fuji, indeed sightseeing spots!
If you want to take a picture of Mt. Fuji from the train, it seemed good to select the seat on the left side in the direction of Lake Kawaguchiko.
Kawaguchiko Station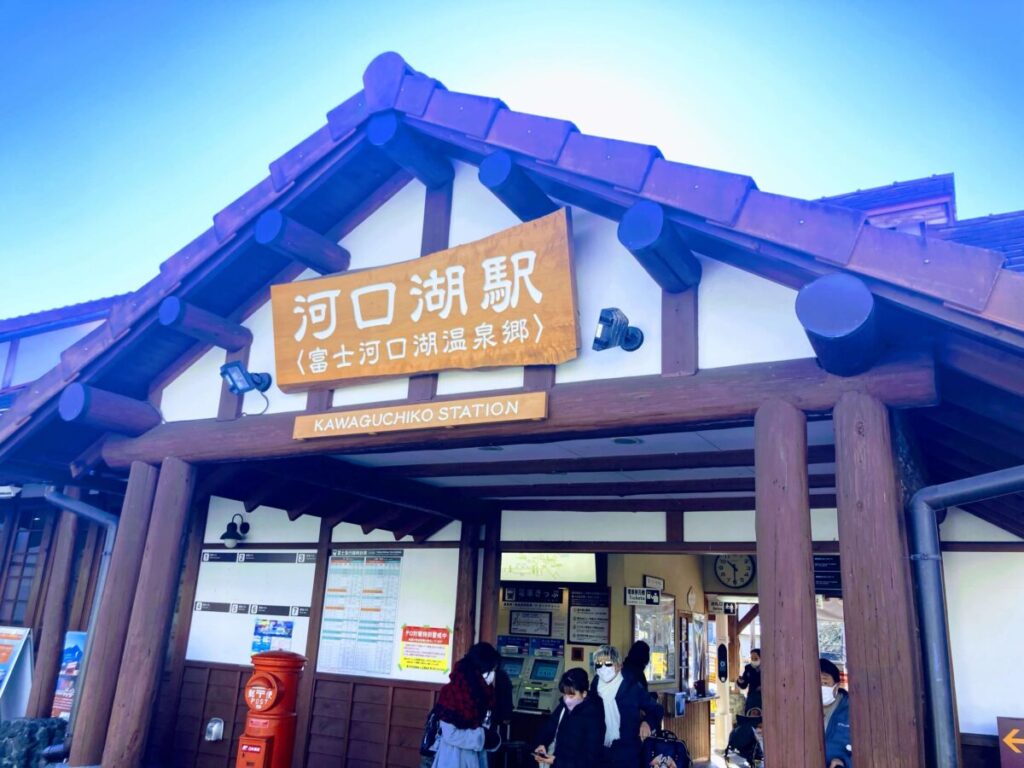 Even though it is a sightseeing of Mt. Fuji, I did not know which station to get off at quite a bit, so I got off at the end point.
As a result, hotoya souvenir shops were basically concentrated around Lake Kawaguchiko, so adjustments according to lunch were 0.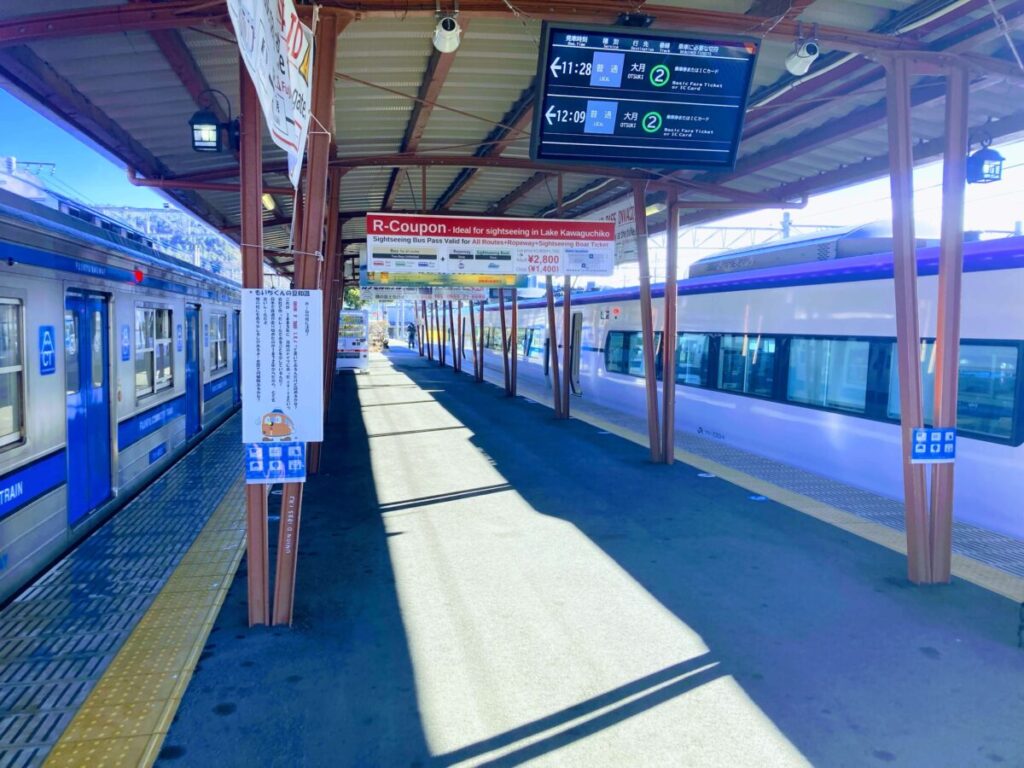 When you arrive at Lake Kawaguchiko at about 10:30, if you walk for a while from the station, you will see "Funatsuhama" of Lake Kawaguchi.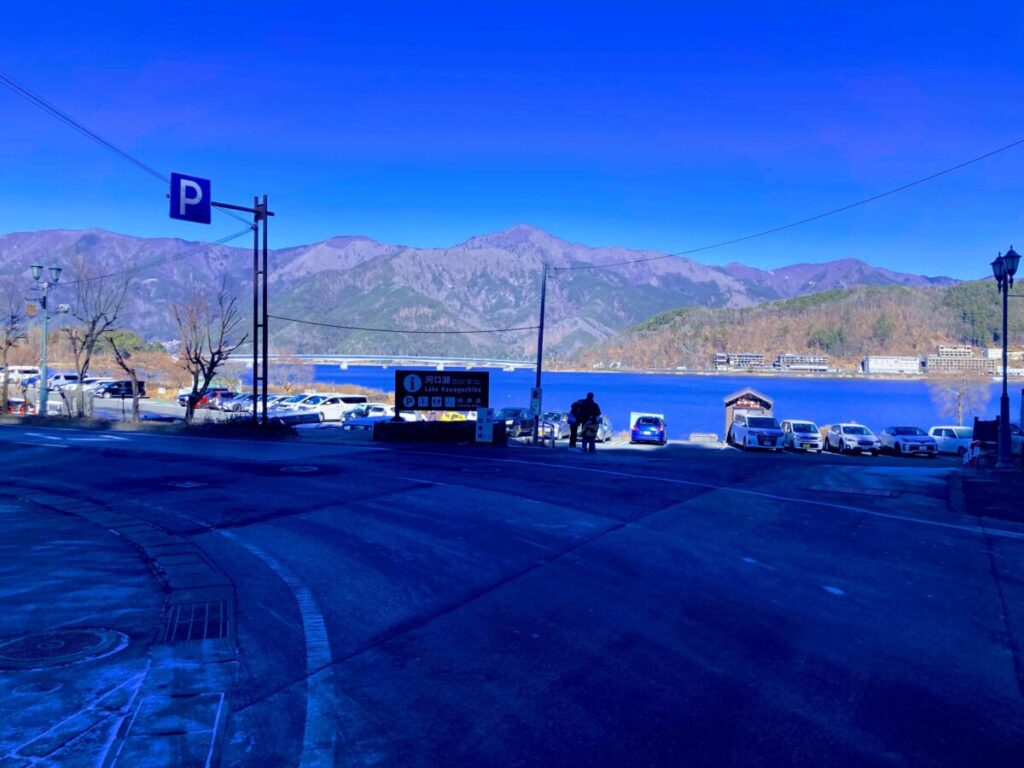 There were hotels and inns overlooking the lake, and souvenir shops, pleasure boats, fishing equipment and hoto shops lined up.
There are many museums of jewelry and herbs, and I think that you can enjoy it enough just by walking around the Kawaguchiko Bridge.
I was thinking about going around Lake Kawaguchiko, but it seems to be very difficult, and I gave up because I wanted to go elsewhere.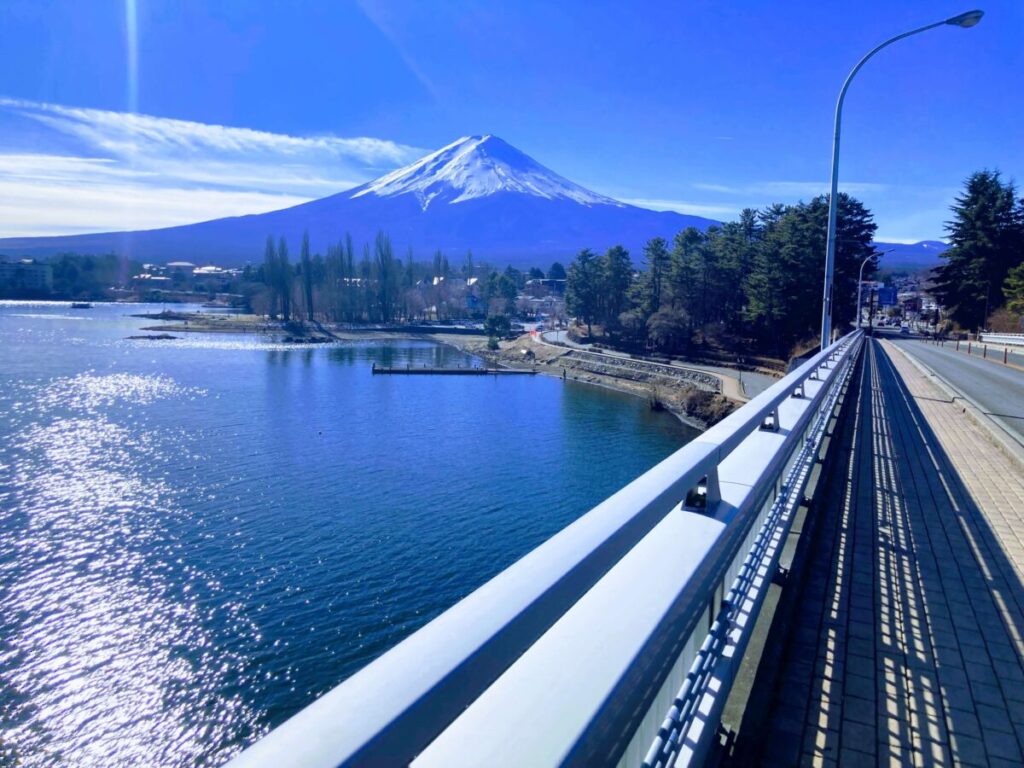 I wanted to eat hoto, but at lunch I didn't want to eat at a complete sightseeing spot early at lunch, so I passed.
I thought it was in other places, but later this decision made me suffer …
Looking for Hoto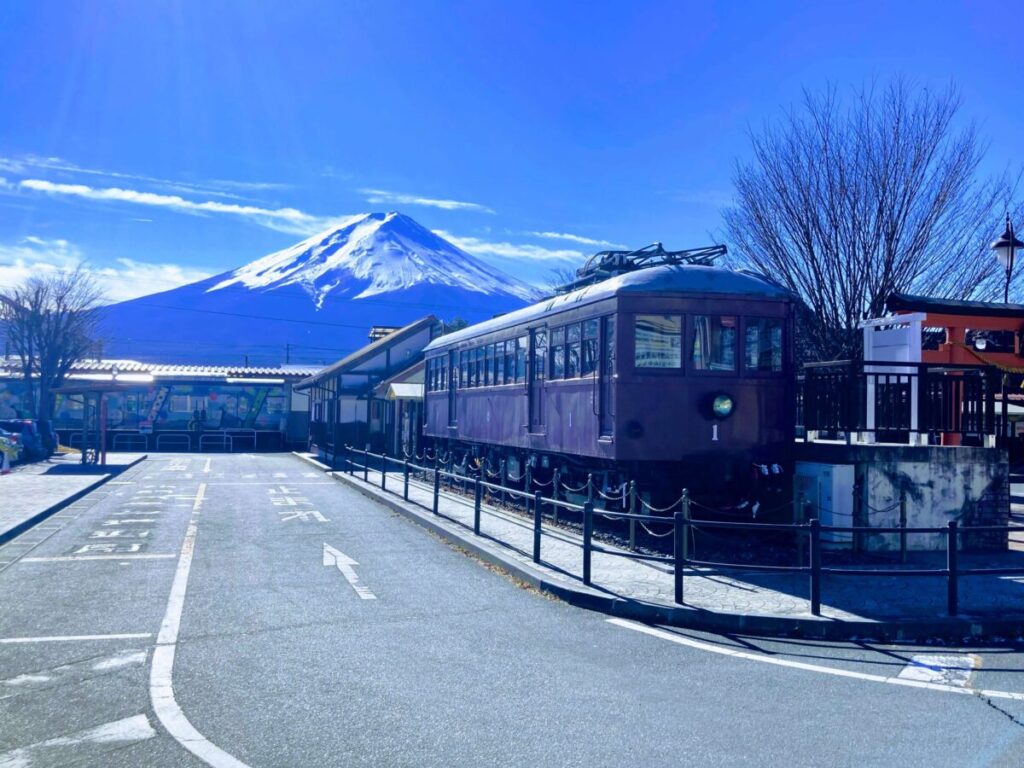 Hoto, a specialty of Yamanashi Prefecture, is a dish in which thick udon is stewed with vegetables such as pumpkin in miso-style soup.
I didn't think about lunch, but after seeing the signboard, I remembered the existence and decided to eat it.
It also appeared in the anime "Yuru Camp", and it was quite appetizing as a vegetable lover.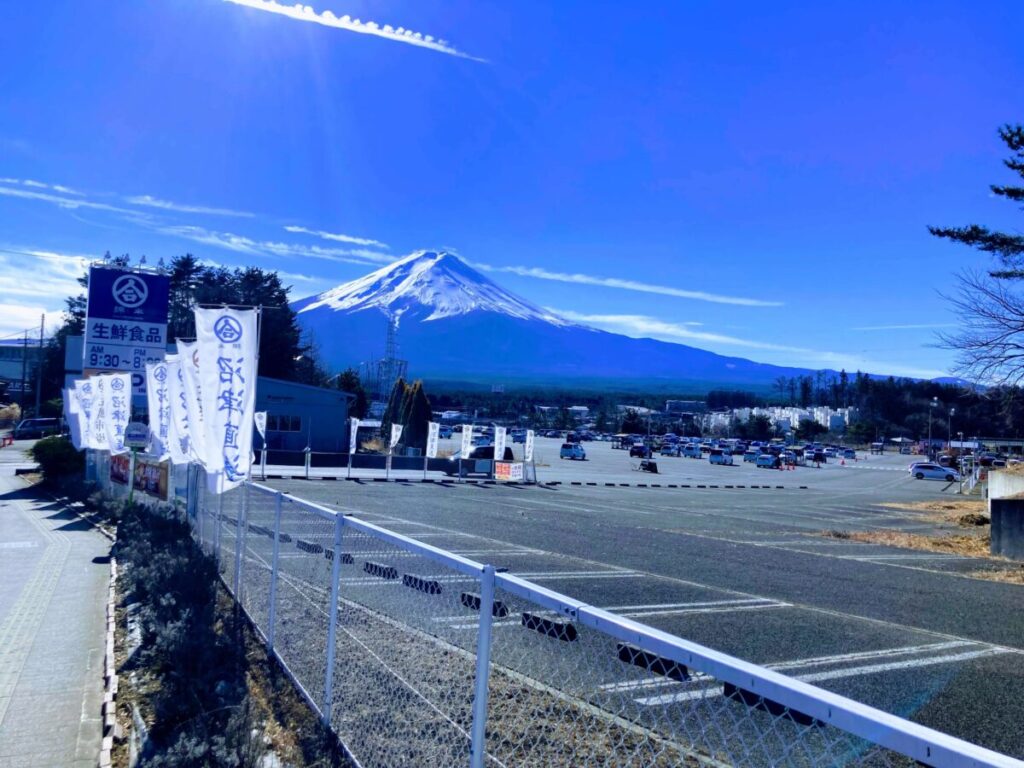 However, many hoto shops, including the famous "Hoto Fudo", are near Lake Kawaguchiko, and there are few on the Mt. Fuji station side …
After 12 o'clock, I thought I could still put up with lunch, so I headed to Fujikyu Highland looking for a hoto shop.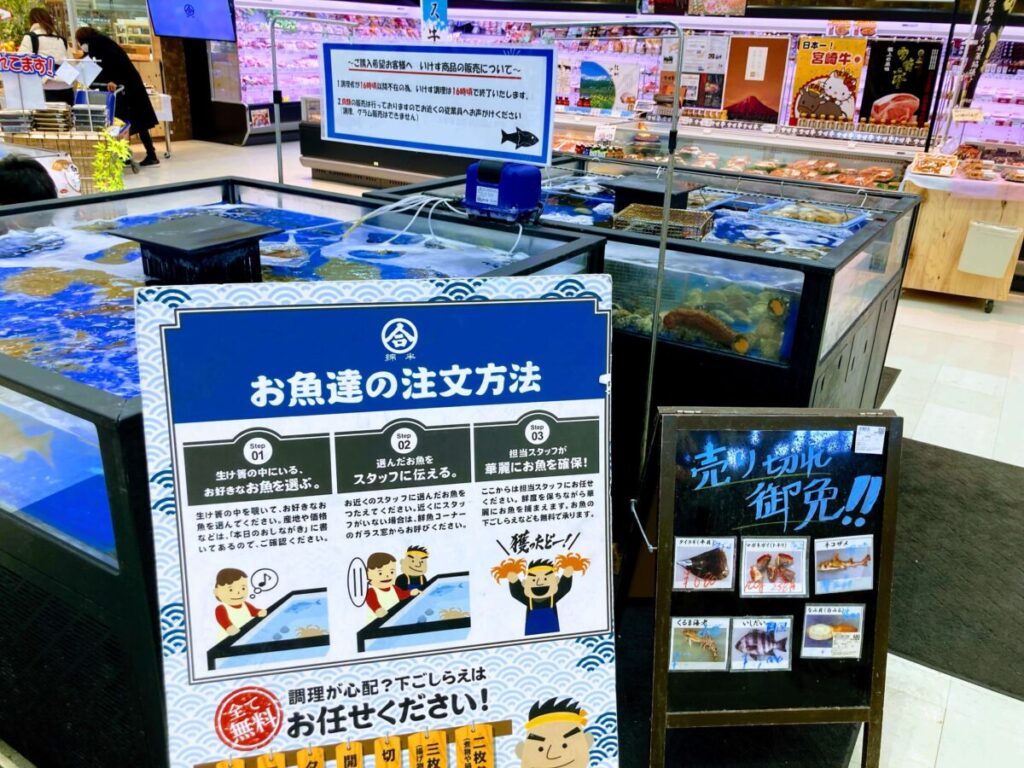 I saw fish sold at a supermarket on the way, rare … (It's amazing even if it's a prefecture without the sea.)
I'm from an area where sharks go out for school lunches, but I can also eat cat sharks in the aquarium's touch pool …
Fuji-q Highland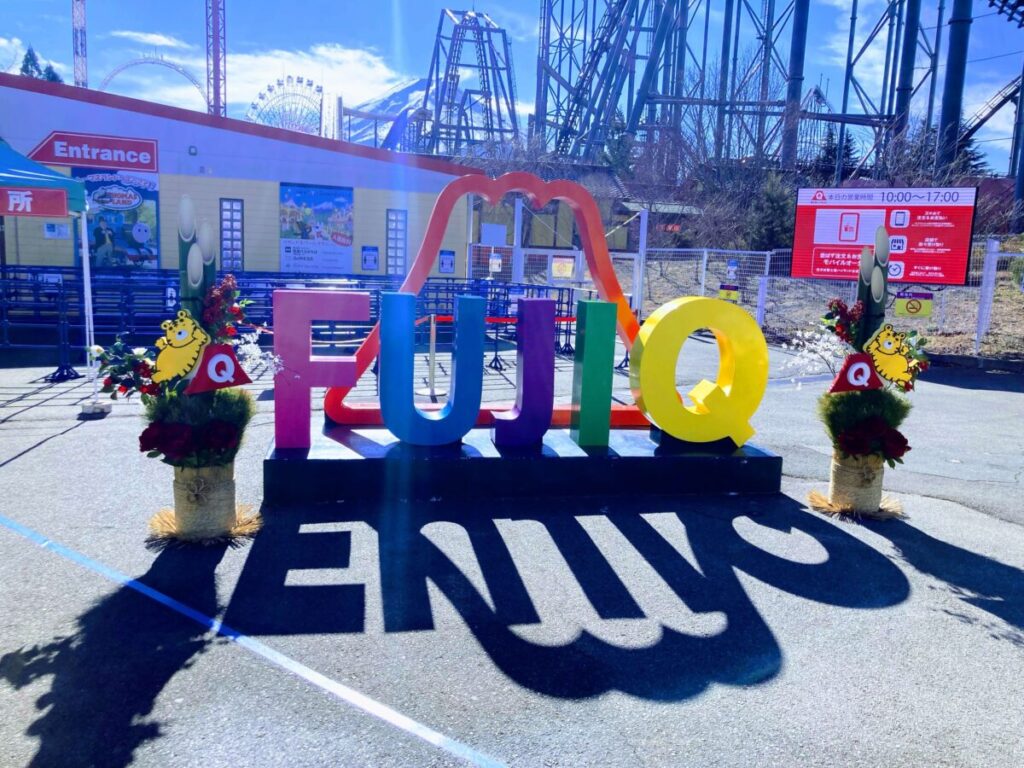 I came to "Fujikyu Highland", which is famous for roller coasters and accidents such as dodompa and high-flying cars.
Fujikyu Highlands can be entered by issuing a free admission ticket without having to ride an attraction.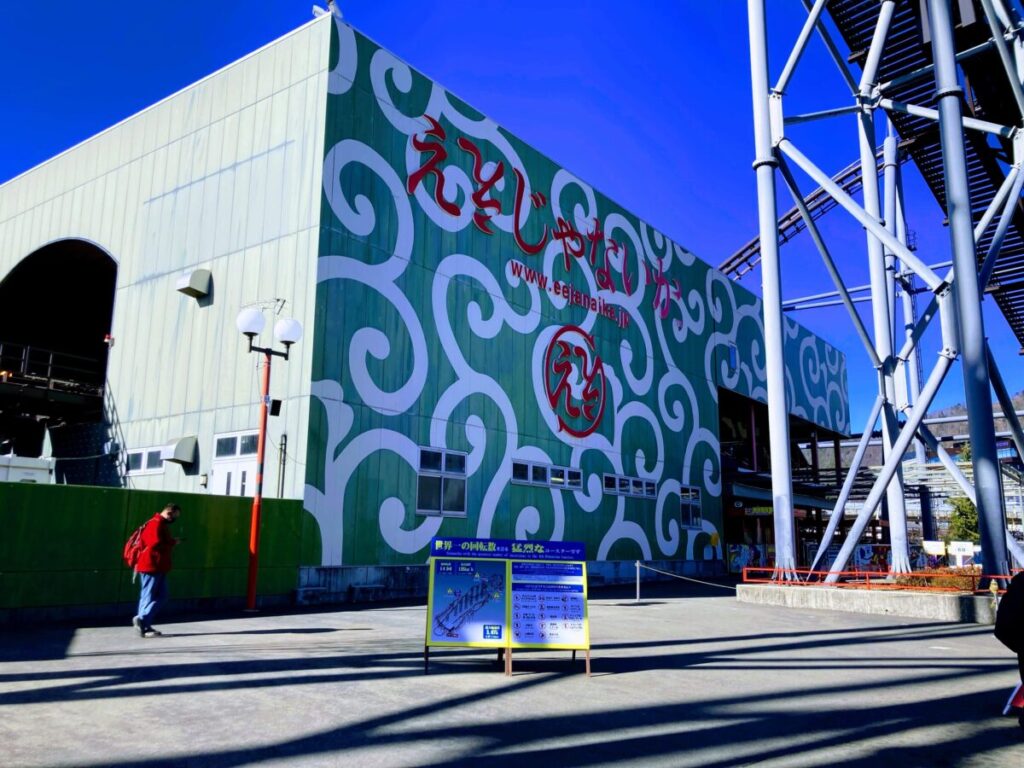 It is quite compact, but I felt that the number of attractions was quite large.
However, it is a little tingy, and as a world view, I feel that the next Thomas Land is firmer.
It is surprising that the roller coaster is 2,000 yen, but if you think that you can ride a dangerous vehicle that the facility can not take responsibility for.
Despite Sunday, there were not many people, and all the attractions were able to be ridden by waiting 30 minutes.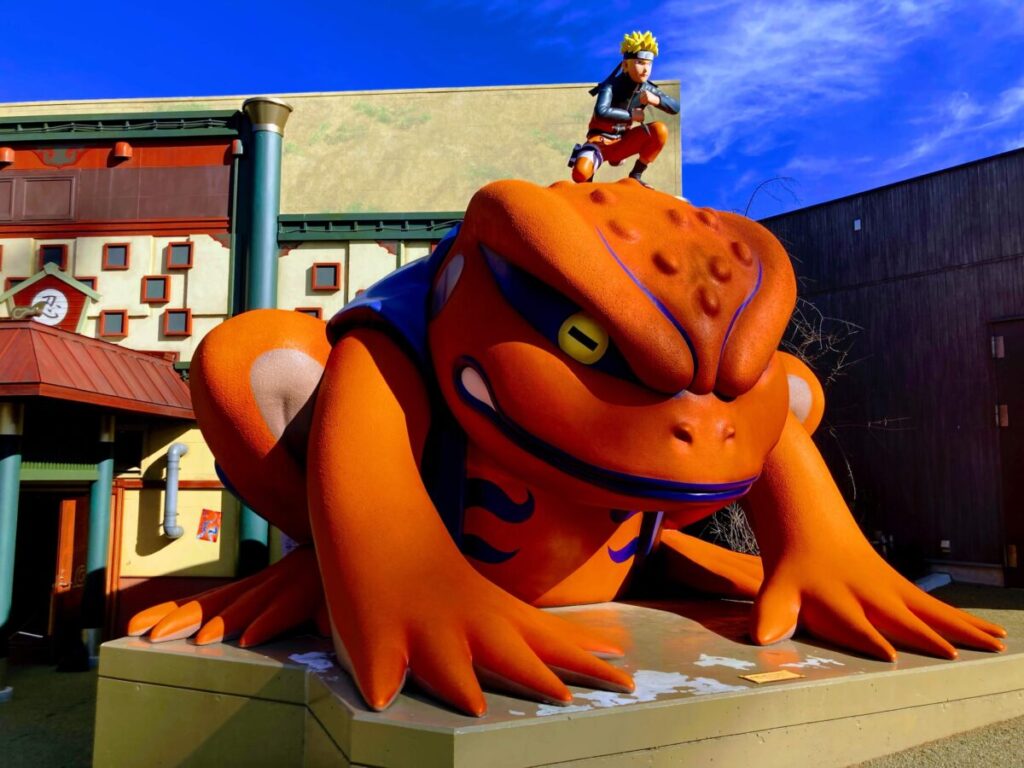 Fujikyu seems to own Lisa and Gaspard, Naruto / Bolt and Ge no Kitaro as copyrights.
This time it was only admission, but if I have a chance to come with someone, I would like to win 4 coasters with a free pass!
Hoto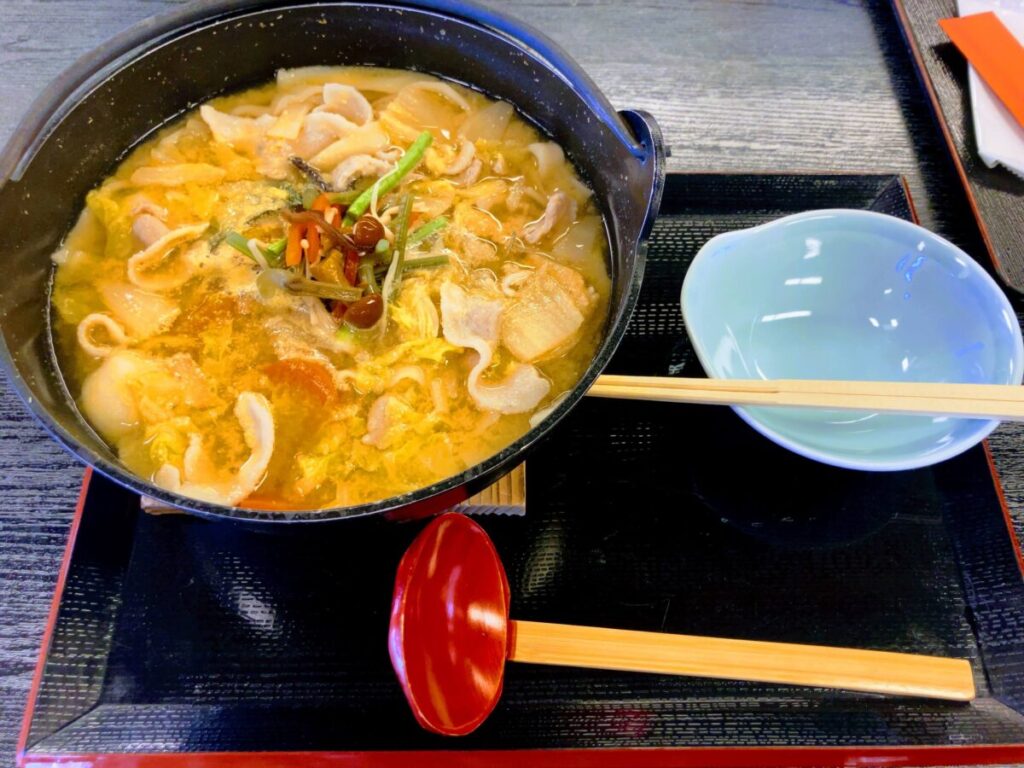 I couldn't stand hunger and thought about yakiniku alone at the exit "Ushigeki", but I still want to eat hoto!
I was hungry and tired, and I found Hoto at a restaurant of "Kikyoya Higashijiro Fujiyoshida Store".
I was quite luxurious at 1,320 yen, but I was able to eat plenty of vegetables including pumpkin deliciously!
The amount seemed to be quite large, but the noodles were thin, so the rest was vegetables.
I forgot to eat Shingen mochi completely (I didn't have much image of Yamanashi Prefecture)
Mt. Fuji Station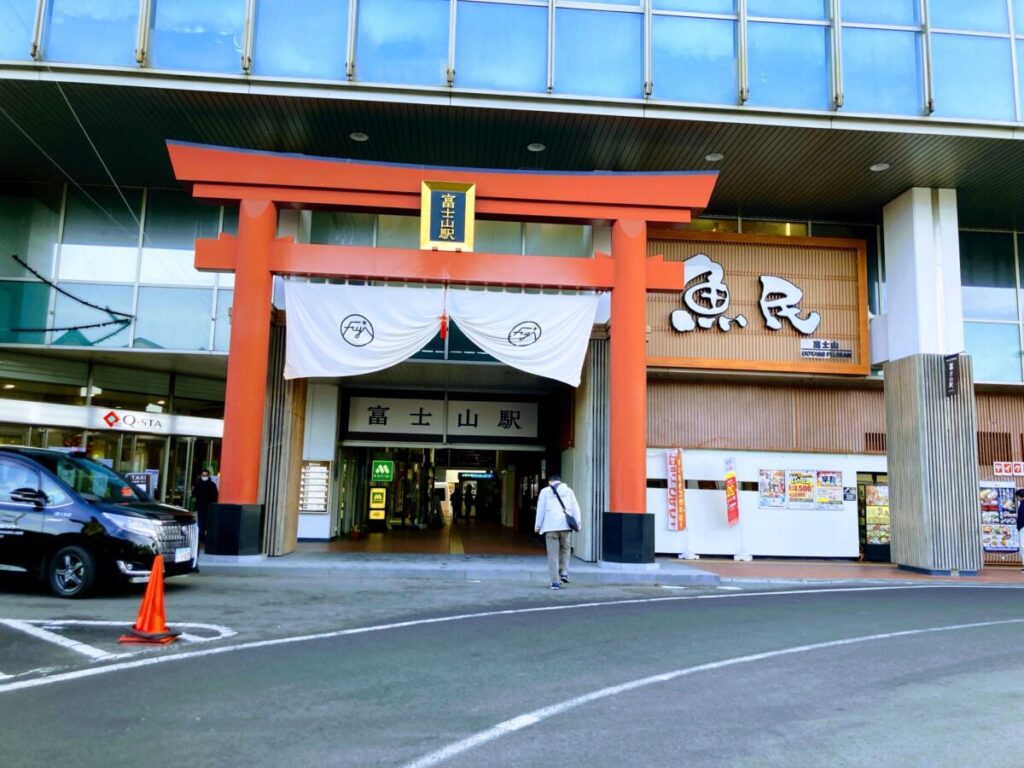 JR Mt. Fuji Station looks amazing, but I felt that there were no big sightseeing spots around.
You can see Mt. Fuji from the 8th floor of the rooftop of the shopping mall "Q-STA" at the station, so I will look at it at the end.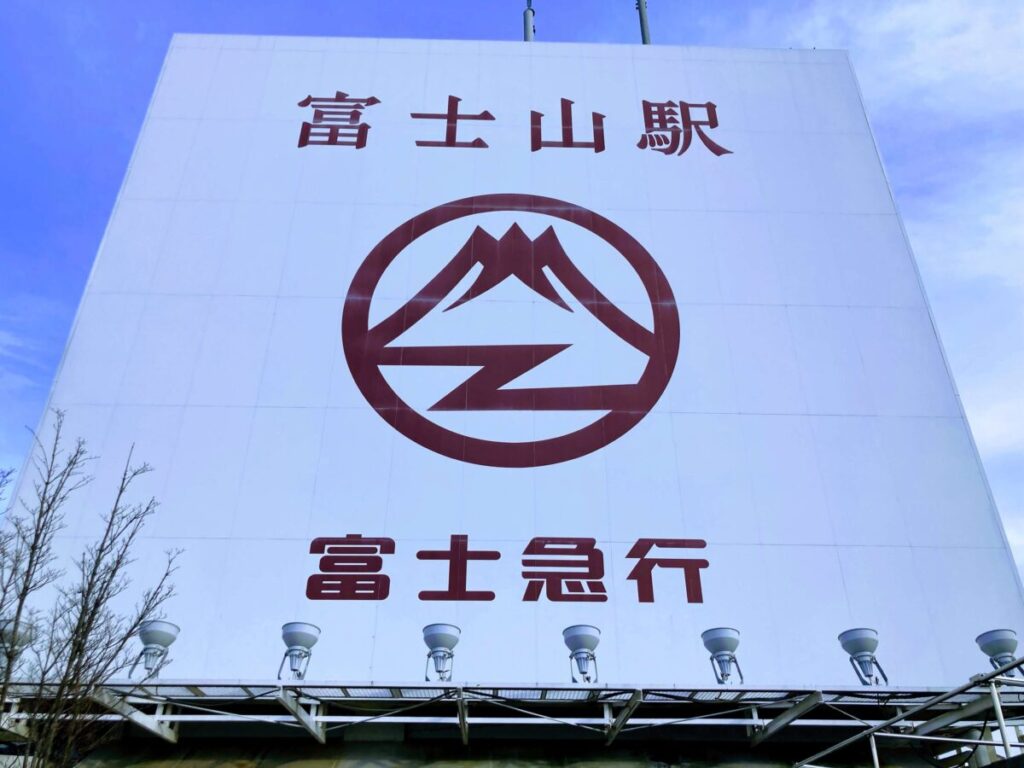 Mt. Fuji is long on the side, there is no tree above the forest limit, and the overwhelming size is different from other mountains.
Is that Fuji Jukai famous for the many suicides … I feel like going and seeing it for a moment, but I'm afraid …
I thought that the only thing that there is a lot of untouched land is the risk of eruption, but it seems inconvenient if the ground is tilted …
Budget, etc.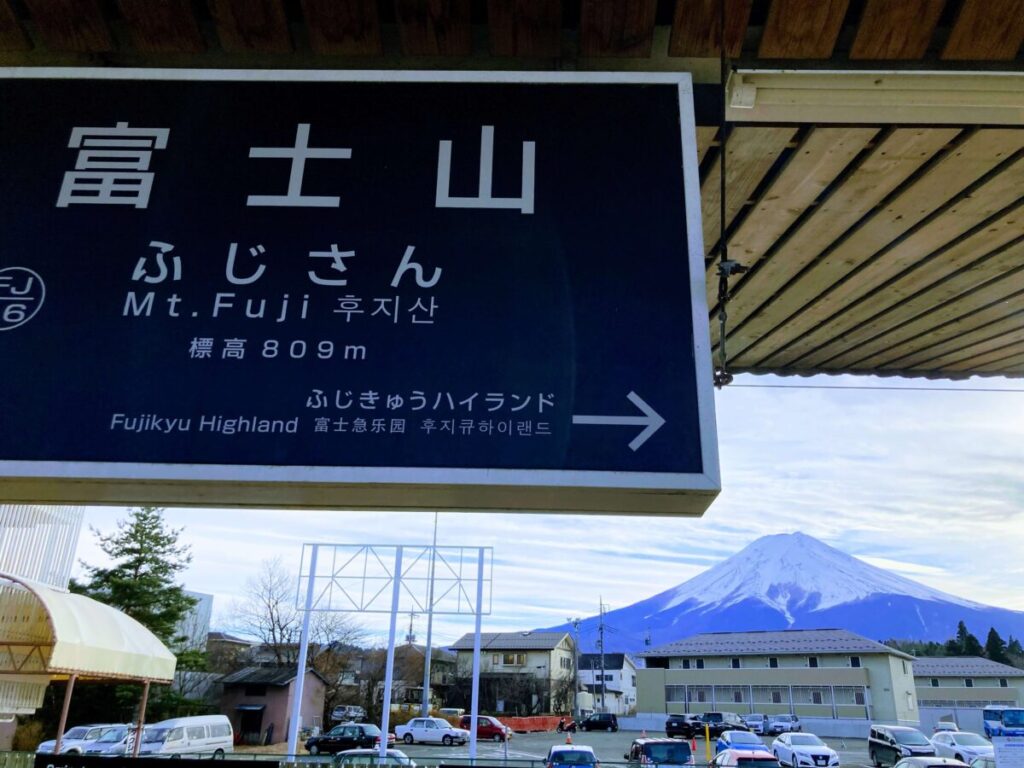 Travel budget … About 8,000 yen
Walking distance … Approximately 14.5km
Travel time … About 10 hours
After all, it turned out that it took a moderate amount of money and time when trying to go from Tokyo to Yamanashi.
I think that if you go to a hot spring or buy souvenirs, you will go to a more budget, but this time I mainly enjoyed the scenery.
I had never seen Mt. Fuji, a symbol of Japan, so it seems to be a good start early in the new year!
Domestic Travel