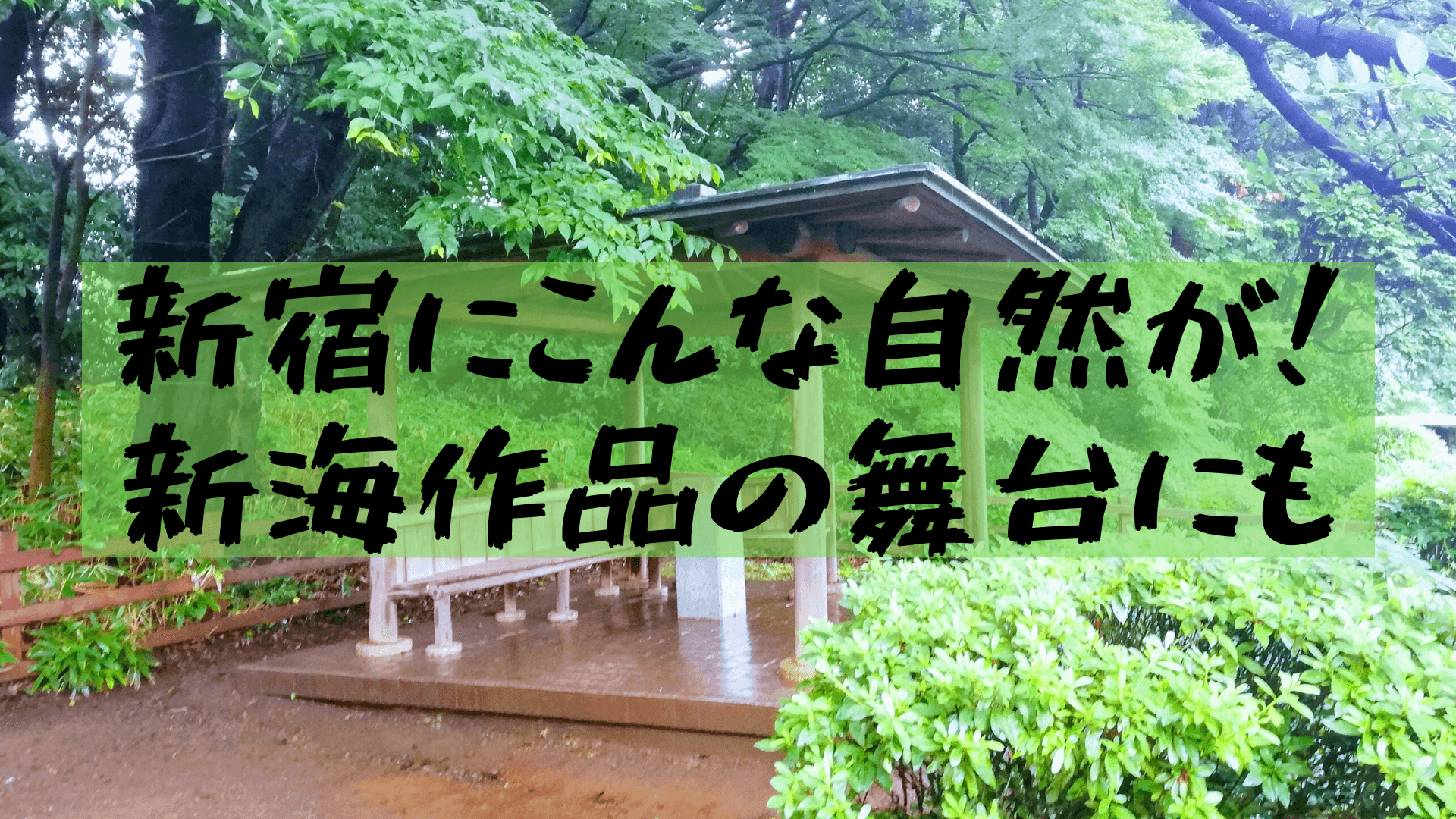 The other day, I watched Makoto Shinkai's "Garden of Words" on Amazon's Prime Video.
At the same time that I was impressed by the work after watching it, I was surprised that there was such a place full of nature in the world of Tokyo.
When I got up the next day, there was no plan for the day even more rain outside, so I went to Shinjuku Gyoen on the next day because I had no choice but to go!
History of Shinjuku Gyoen National Garden
Originally, it started part of the Edo residence that Ieyasu Tokugawa gave to Seisei Naito, a vassal of The Staff at the time of the unification of the whole country, and part of the Japanese garden is the garden of his residence.
In 1873, the government set up a test site for modern Japanese agriculture on the site of 58.3 ha, which was acquired from the Land delivered from the Naito family, and conducted tests on agricultural products and horticulture.
After the World's Fair in Paris, the agricultural experiment station was converted into a garden, and it became a place for the royal family to enjoy golfing and clubhouses.
Shinjuku Gyoen National Garden was almost burned down during the Great Tokyo Air Raid, but after the war it was opened to the public as "National Park Shinjuku Gyoen National Garden" and eventually became the jurisdiction of the Ministry of Health and Welfare.
How to get to Shinjuku Gyoen National Garden
Shinjuku Gate and Okitomon Gate
10-minute walk from Shinjuku Station South Exit on the JR, Keio and Odakyu Lines
A 15-minute walk from Seibu Shinjuku Station on the Seibu Shinjuku Line
Tokyo Metro Marunouchi Line Shinjuku Gyoen-mae Station Exit 1, 5-minute walk
5-minute walk from Shinjuku Sanchome Station Exit E5 on the Tokyo Metro Fukutoshin Line
5-minute walk from Shinjuku Sanchome Station C1 and C5 exits on the Toei Shinjuku Line
Sendagaya Gate
5-minute walk from Sendagaya Station on the JR Sobu Line
A 10-minute walk from Kitasando Station Exit 1 on the Tokyo Metro Fukutoshin Line
A 5-minute walk from Exit A5, National Stadium Station on the Toei Oedo Line
I went to Shinjuku Gyoen National Garden.
This time I walked from JR Shinjuku Station to Shinjuku Gyoen National Garden.
The fee was 500 yen for adults, free for children, and 250 yen for students and over 65 years old.
Japanese Garden
Many of the scenery that appears in the Garden of Words is this Japanese garden.
There are quite a lot of people taking photos of the gaze shop where they were meeting, and everyone who shoots is a movie because it is a strange azumaya.
Landscape garden
It is a symmetrical rose garden with various types of roses in full bloom.
The lined up of sycath trees on both sides was also good!

Open Garden
There are huge trees lined up on the large lawn. I thought that there might be a lot of people when it was sunny.
It's the perfect lawn for a nap…
greenhouse
Many kinds of plants are grown in spaces divided into tropical, wet and arid regions. And for some reason only the Uchibokazura was cultivated a great number.
Why shinjuku Gyoen National Garden?
The green is beautiful.
The season of fresh green has passed, but the green shines well and it became a recreation for the eyes.
they can see wild birds up close
I felt that the wild birds in Shinjuku Gyoen National Garden were not very wary.
Isn't there many places in Tokyo where you can see sparrows and red-eyed sea turtles up close?
College students can kill time cheaply.
I think that it is quite profitable because students can put it in for half price 250 yen while adults are 500 yen. It took me three hours to get around this time. Each garden is splendid and worth seeing, and the greenhouse is quite large, so I think you can enjoy it enough!
If you live in Tokyo, you will be tired of the hustle and bustle of the city.
Why don't you take your eyes off the concrete world and the screen once in a while and be wrapped in green?
Recommended for visiting Tokyo