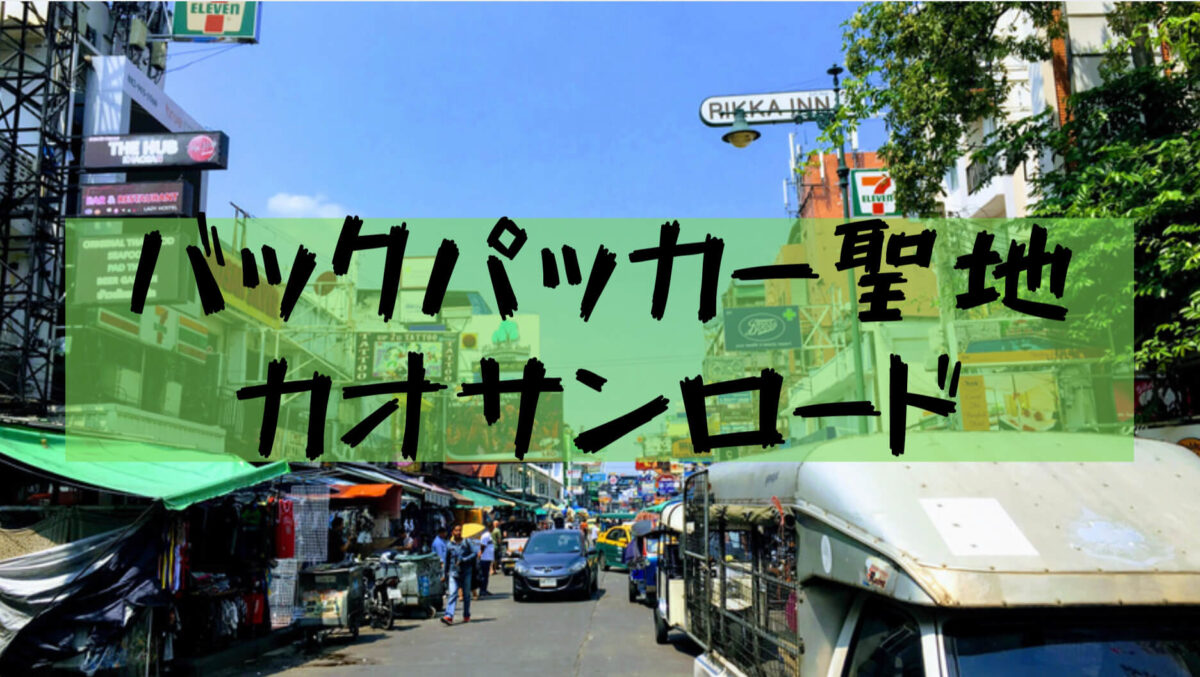 In March 2018, I went to Thailand, my first solo trip abroad, so I compiled my diary on my blog!
The triggers of the trip, belongings, etc. are summarized in the article below!
This time, I summarized how I went to Chiang Mai out of thailand trip!
Day 1: Tokyo → Manila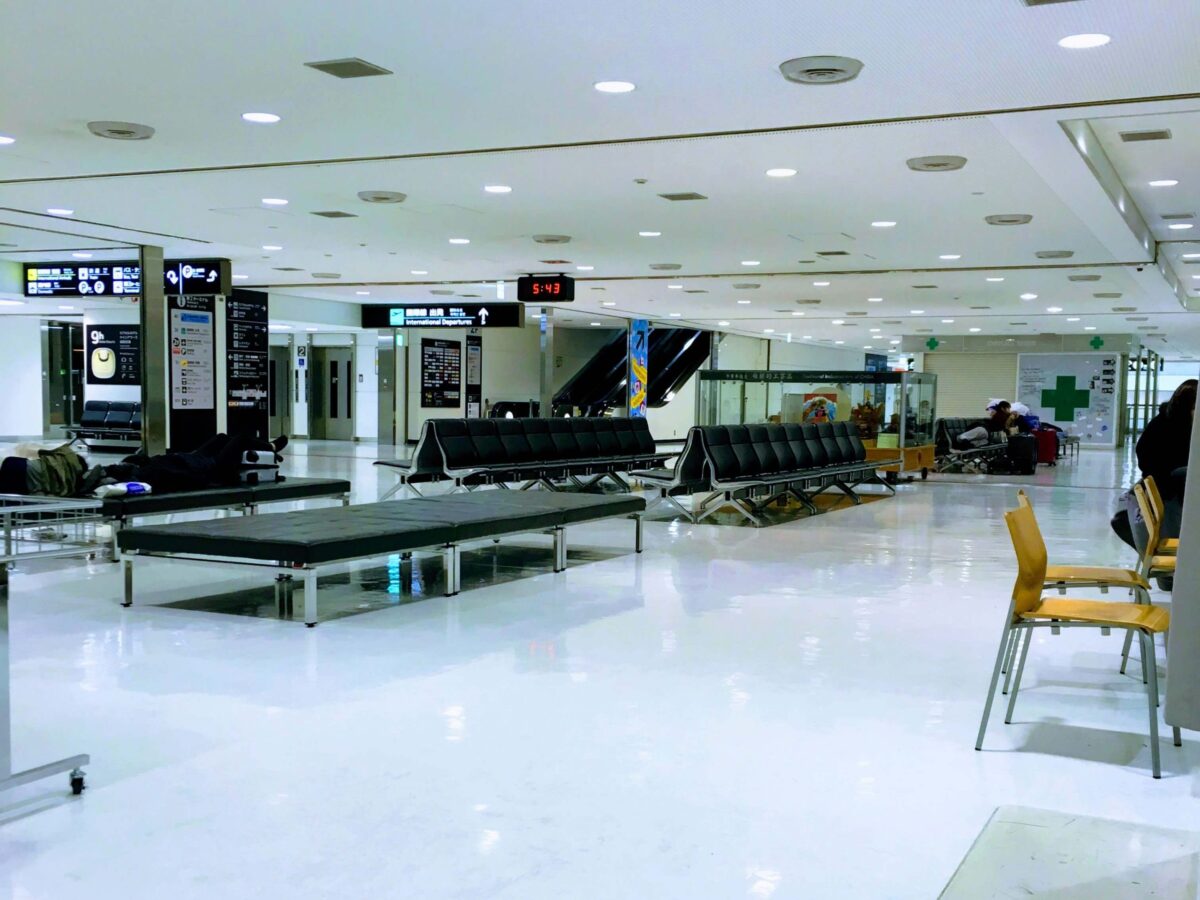 I'm afraid of missing my flight on the day, so I entered Narita Airport from the day before and stayed overnight.
Yesterday, it took about 3 hours by express bus from the nearest station of my parents' house, and it was around 18:00 when I arrived at the airport.
I've been rumbling since about 20:00, moved to the place and sang sleep, and woke up after 5 o'clock in the morning.
It is an airport with an image of many people, but it was surprisingly dull in the morning (many people spend the night)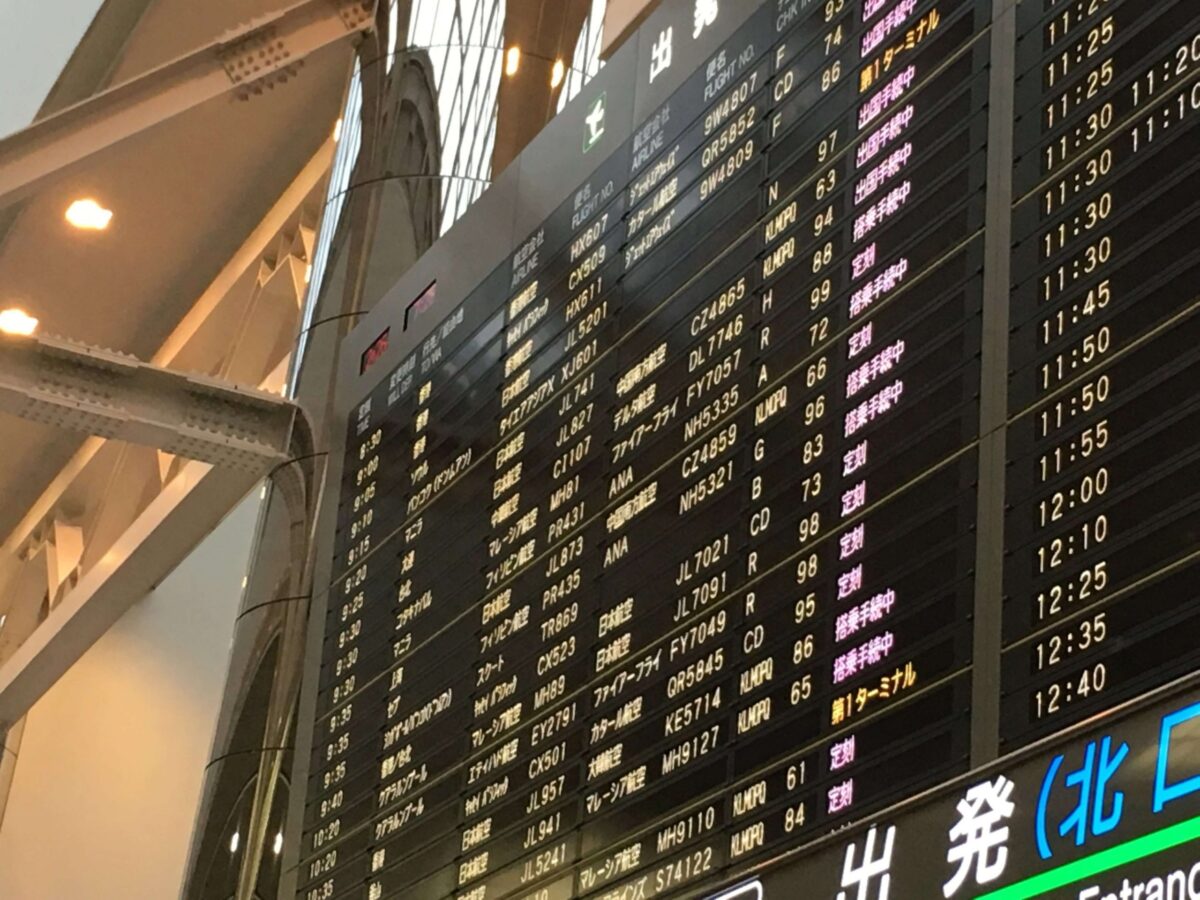 You'll need to change trains in the Philippines to keep your flight bill down, and you'll board a 9:30 flight to Manila.
I'm going to stay one night at the airport in Manila tonight, so I haven't been able to get to Thailand yet(_.;)
I only went to Guam when I was in my first year of elementary school, so it is fresh with my debut traveling abroad alone!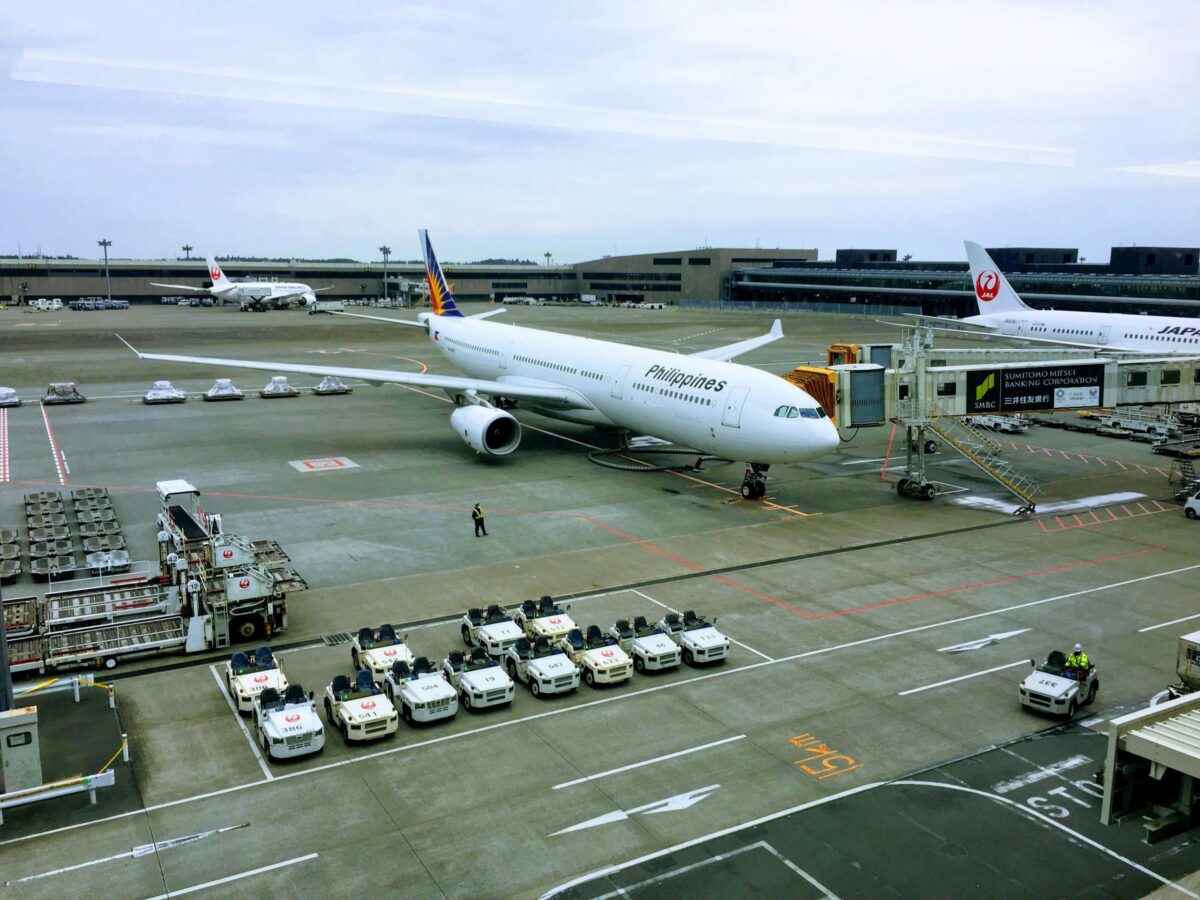 Bringing liquid to international flights used to be 200ml to 100ml (unopened)
The next seat is a Filipino woman working in Japan, and she will return home after a long absence to see her family.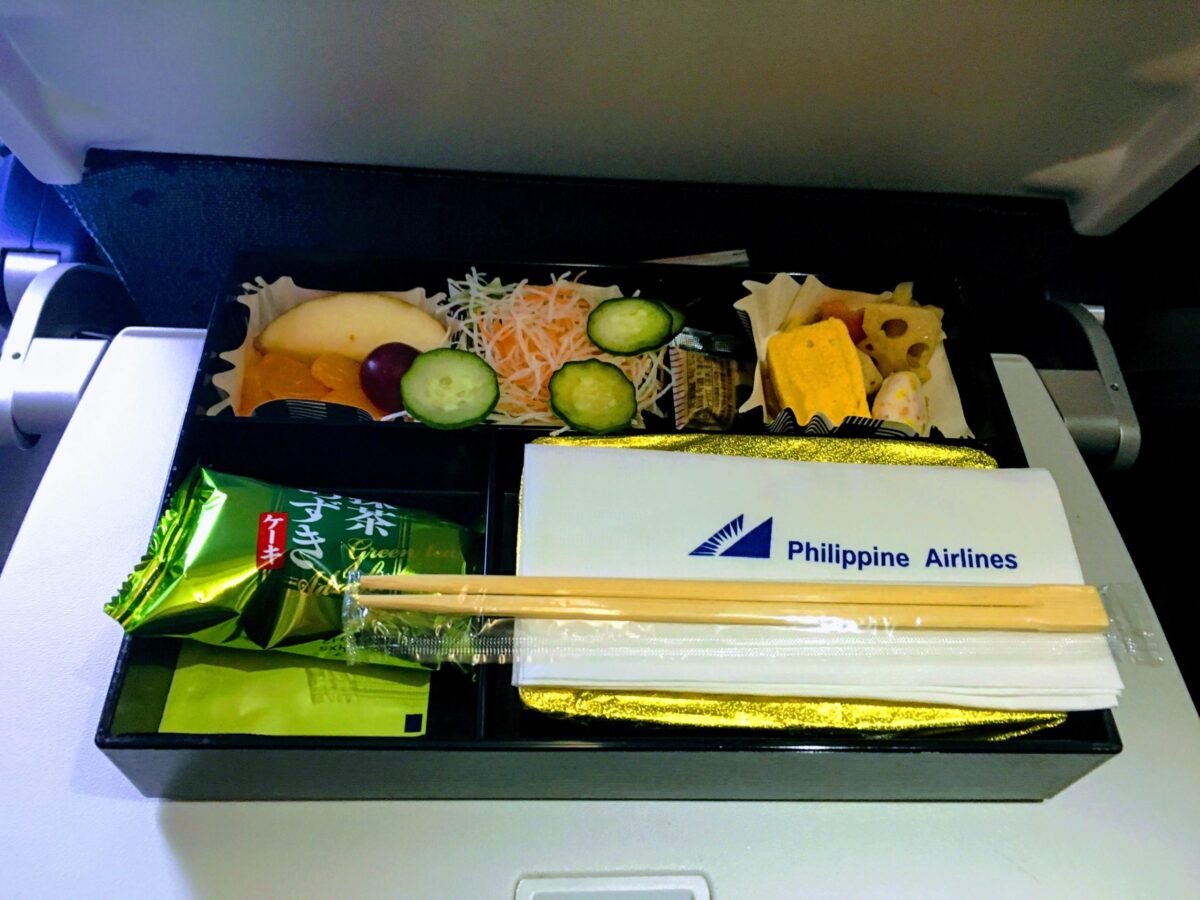 An hour and a half later, lunch, followed by two documents for entry and tax exemption to the cabin attendant.
I do not know if it is necessary because it is a relay station, but it seems that it is better to write it.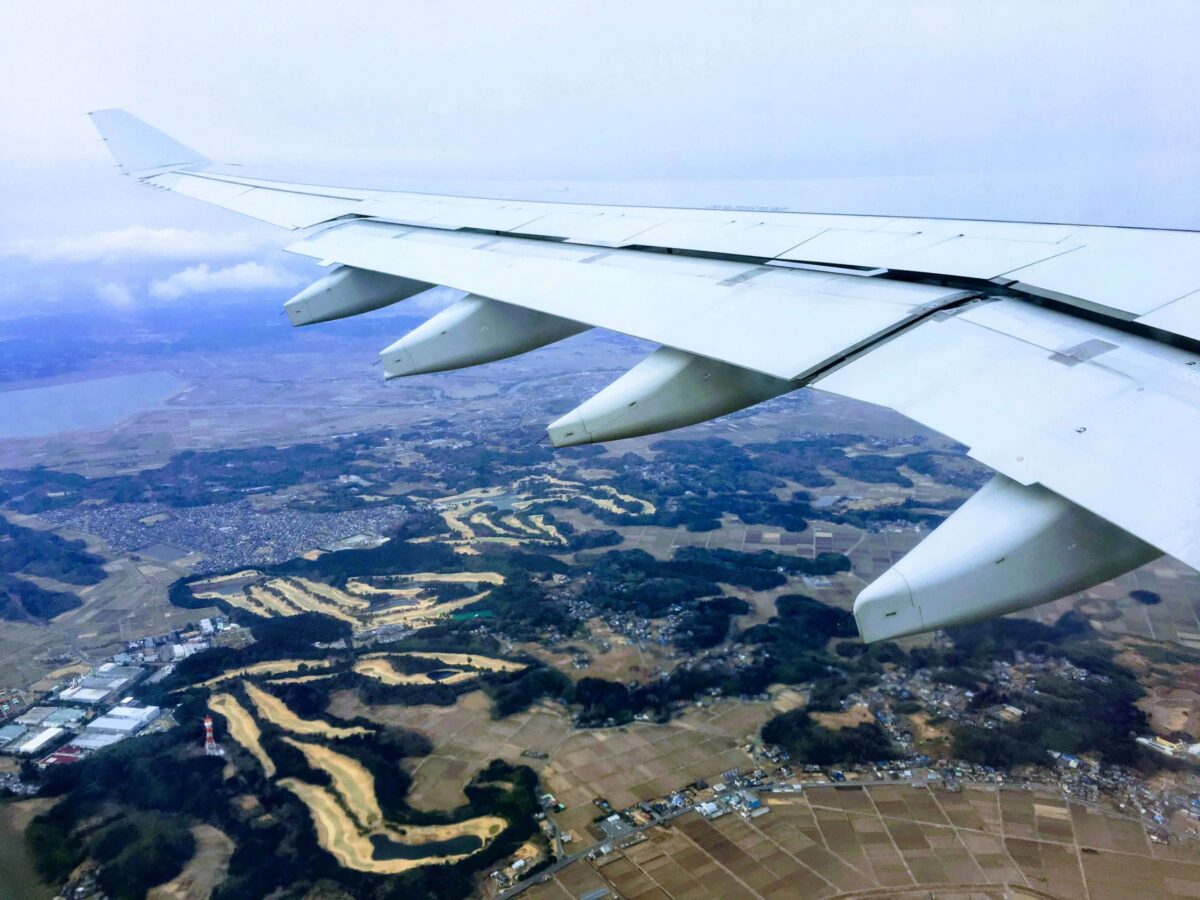 The view from the sky of the Philippines. paddy field? There are many and the broken mountain makes a characteristic pattern.
It was interesting because it was different from the scenery when I came back to Honshu from Hokkaido!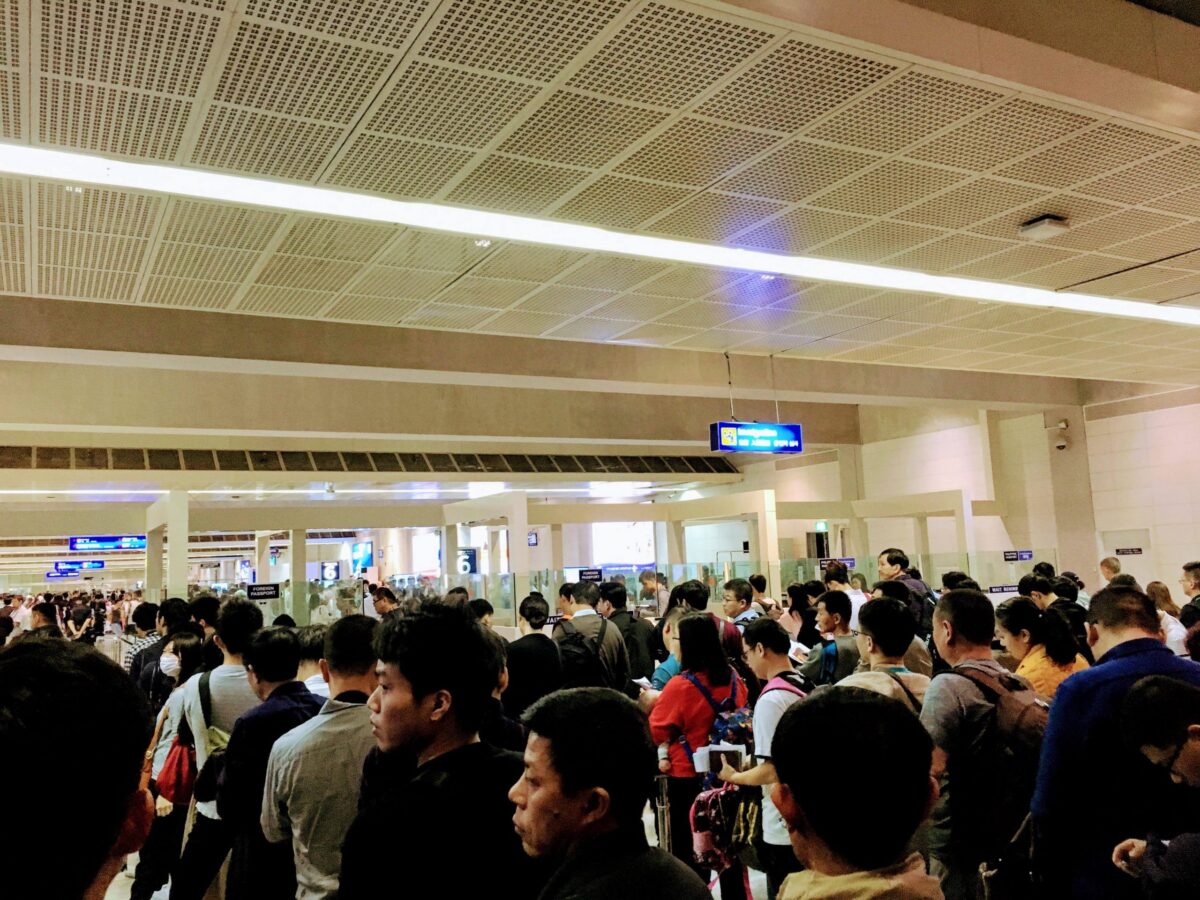 Arriving at Manila Airport in the Philippines, I will go somewhere because there is nothing (the temperature at this time is 32 °C)
The smartphone has pulled out a SIM card, and WiFi is not flying, so I was wondering where to go.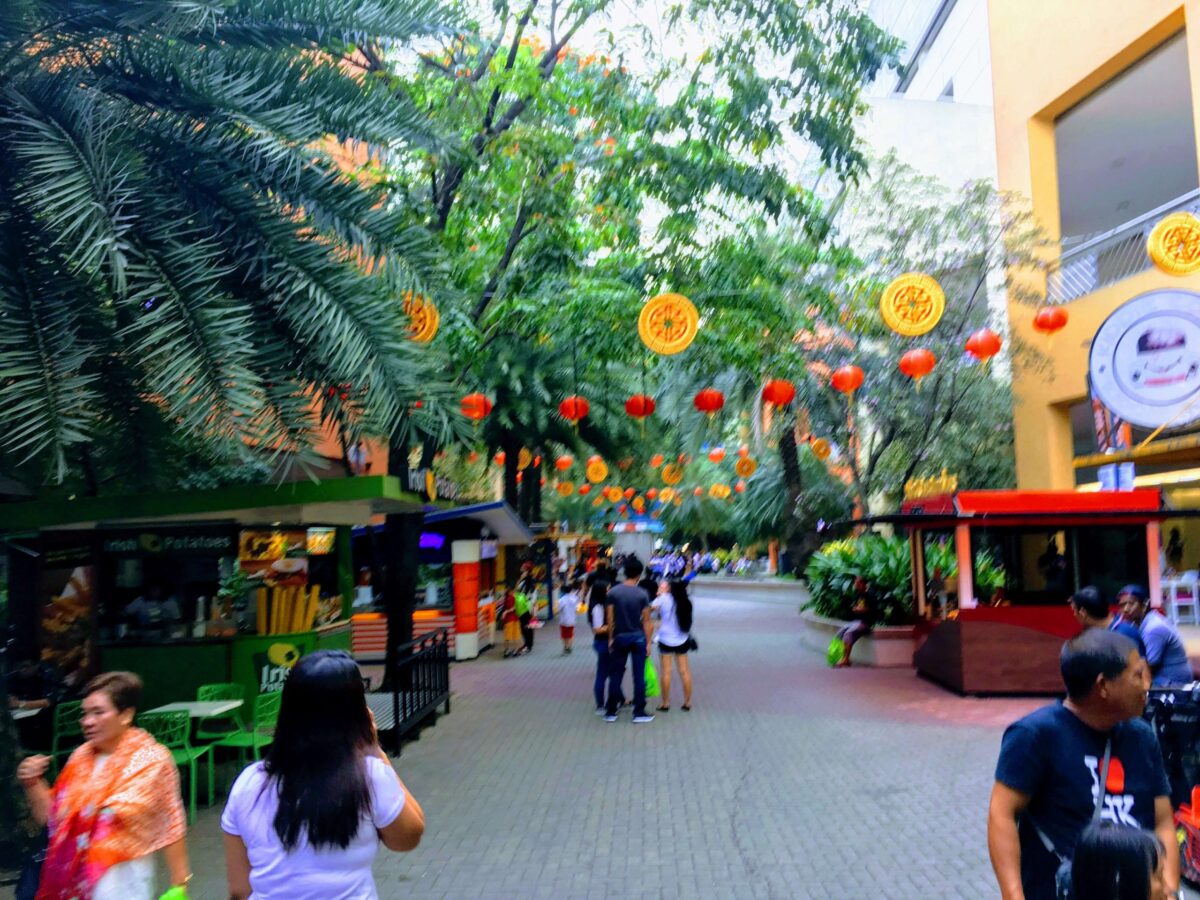 Because there was no other way but to ask people, I went by taxi to "Moa" recommended by the uncle of the security guard at the airport.
After returning to Japan, it stands for Mall of Asia, and it seems to be the largest shopping mall in the Philippines.
Is it a shopping mall that comes overseas… I thought, but it was fresh because everything was a foreign language!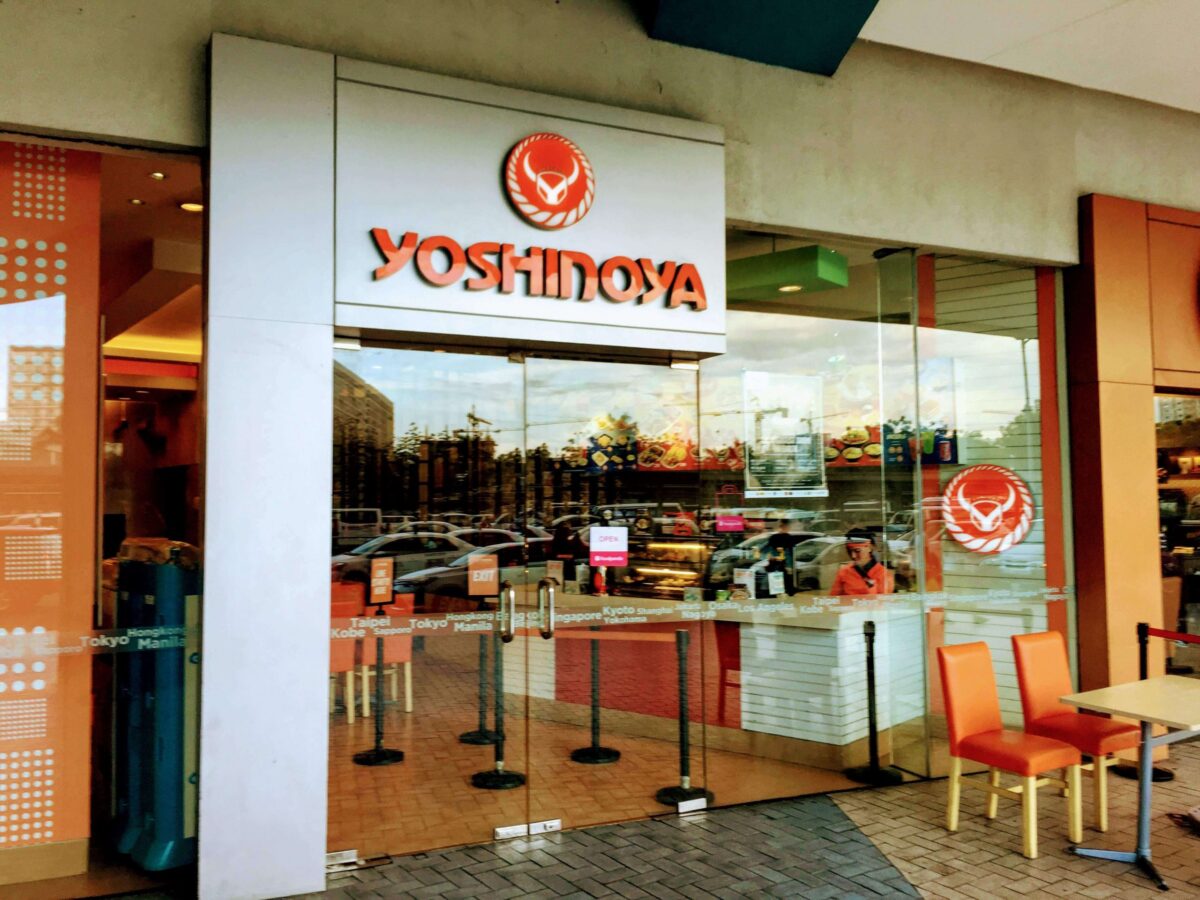 Did it be a sukiya, silver?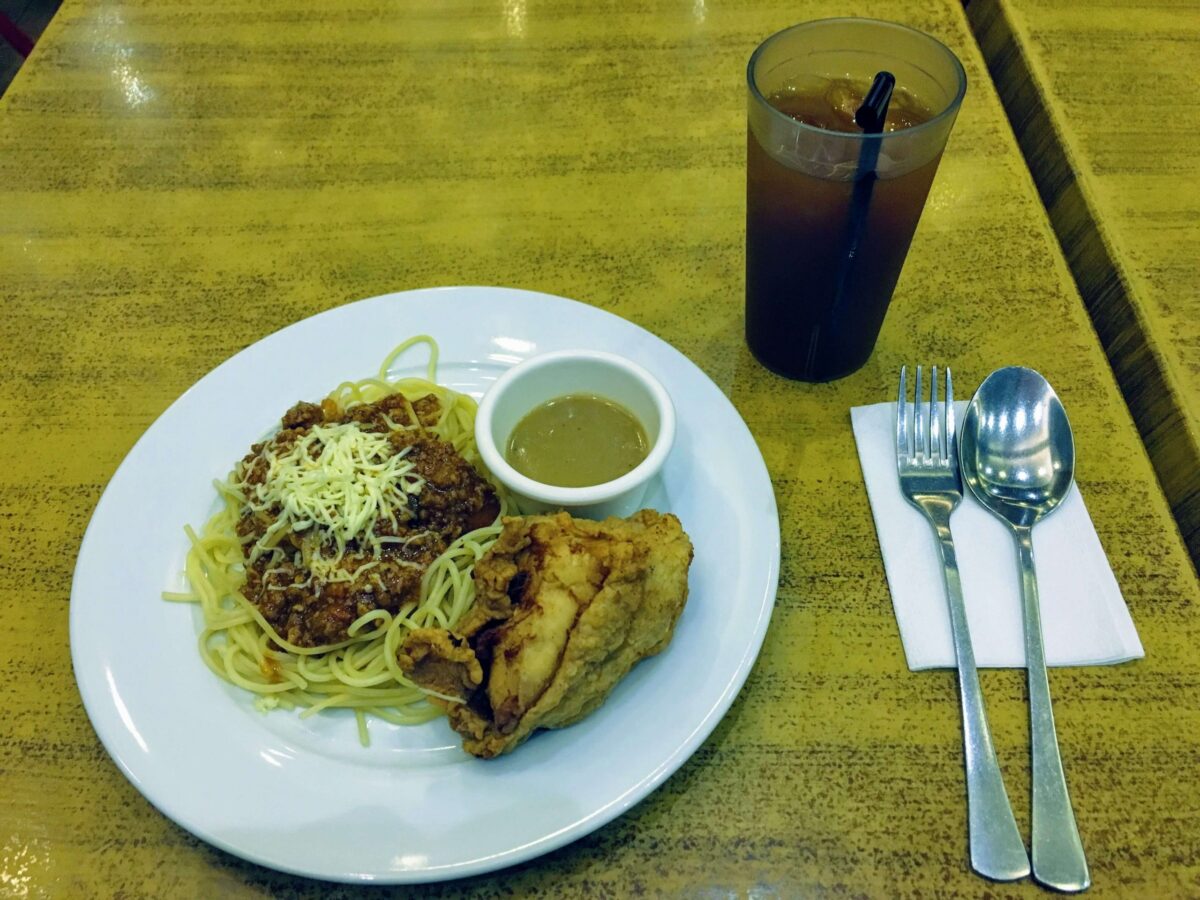 It is a chain store, but I ate chicken at a restaurant where you can eat Filipino food.
I almost got a taxi on my way home, but I pushed through if I didn't have any money.
I came back to the airport around 17:00 local time. I bought chocolate for the remaining 40 pesos.
I'll stay one night at the airport and arrive in Thailand tomorrow!
Day 2: Bangkok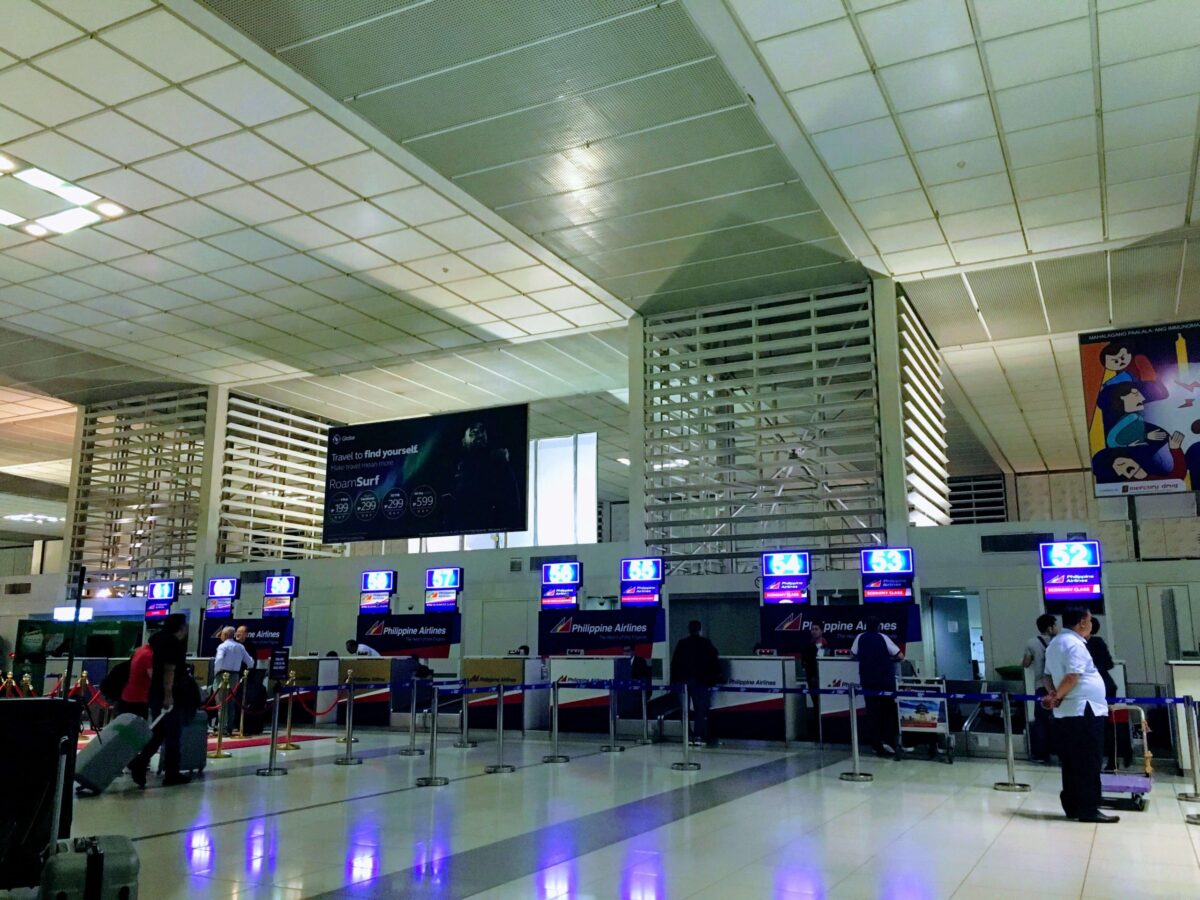 I couldn't sleep at all whether I was feeling high, and at 6 o'clock I was in front of the boarding gate … and wait for the departure.
This time, two Japanese people of the same age were next to me, and they went to an orphanage in Thailand to volunteer.
It is also convenient at the time of job hunting, so it is also good to go to volunteer overseas!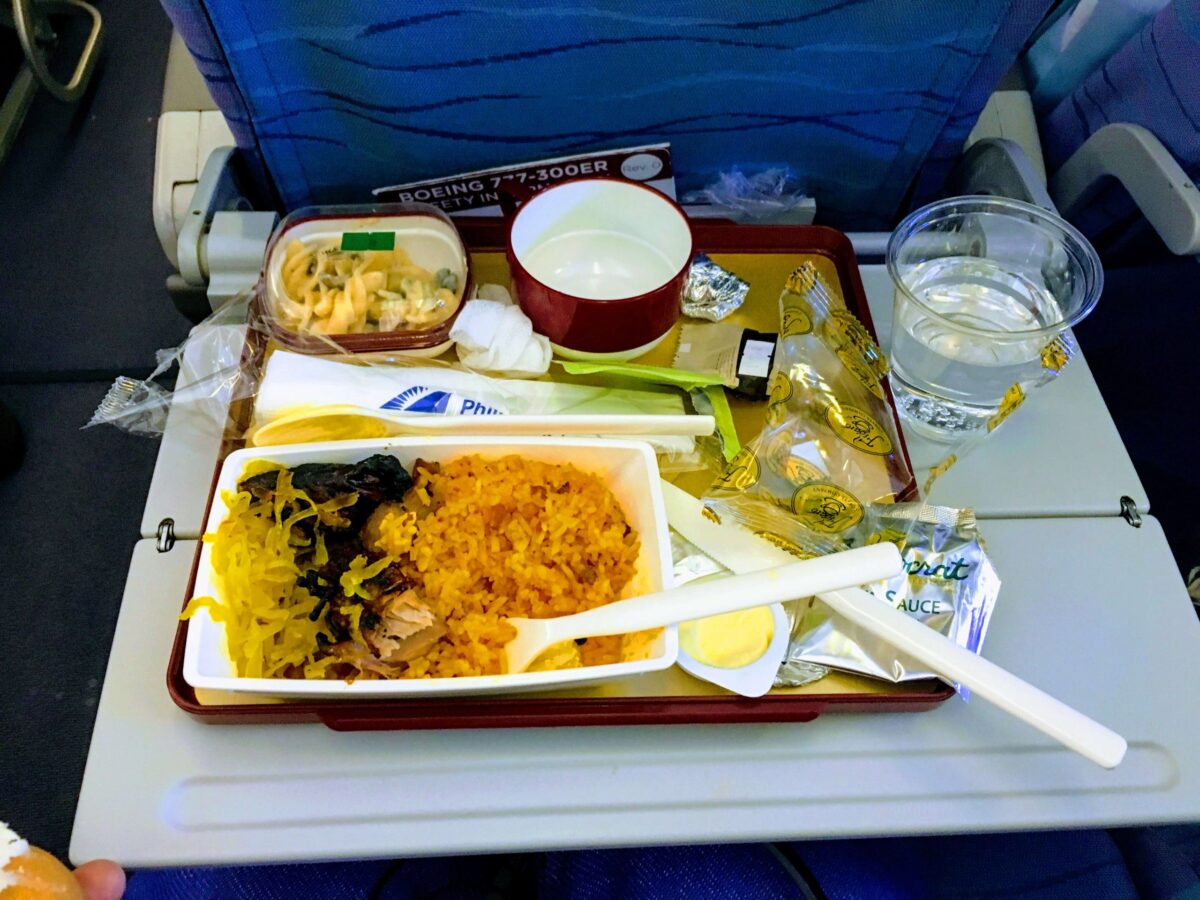 This time the airplane rice was gorgeous, but I notice that I have not taken a picture since I ate …
Because the time difference is 2 hours, the belly clock is paralyzed, and Thailand is late, so I feel that lunch comes twice!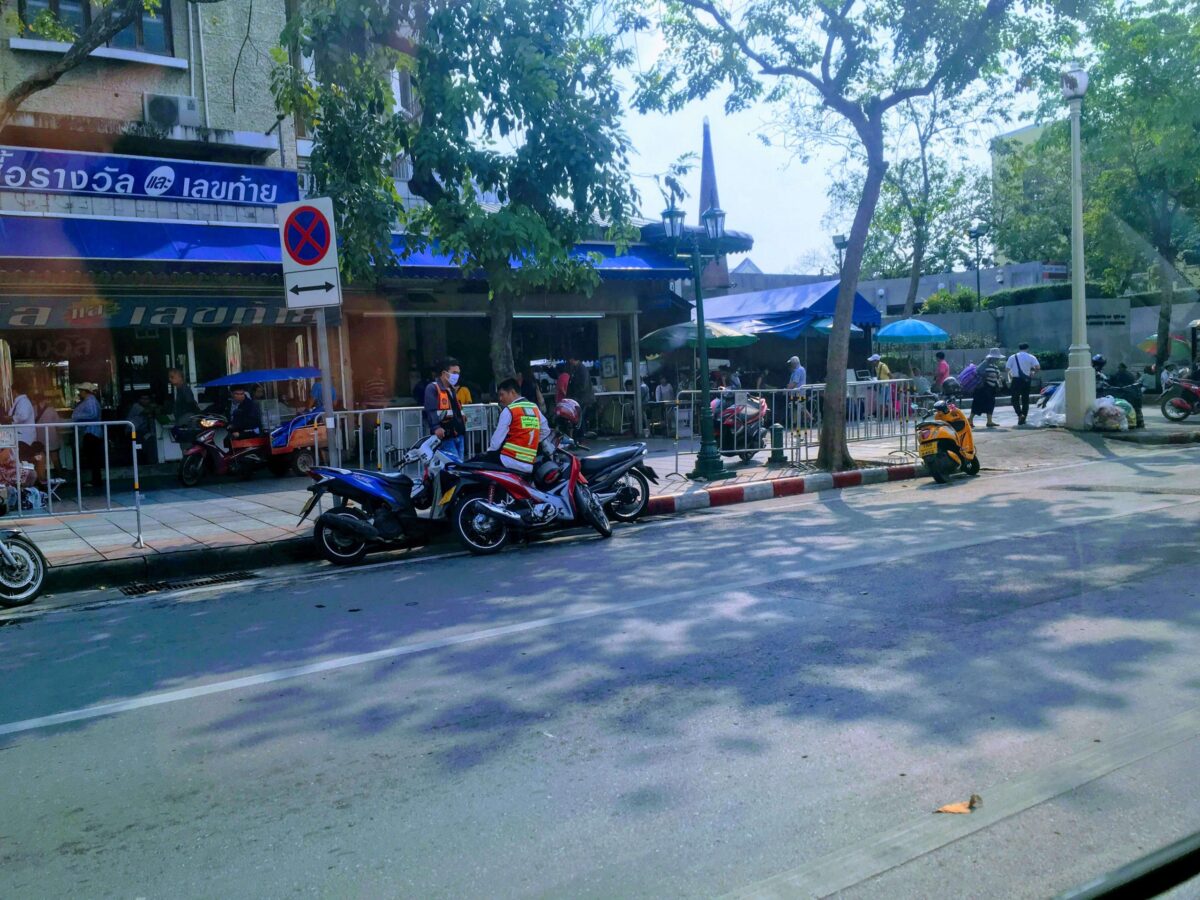 A serious thing has been discovered from about Thailand! !
It seems that the iPhone6s I brought thinking sim-free were not exactly SIM-free…
When I couldn't use the Filipino SIM I got on the plane, I had a somewhat unpleasant feeling.
If you go to the hostel, WiFi is flying and there is also an offline app, so I will go as it is first.
Worst of all, I'd rent pocket WiFi at the airport!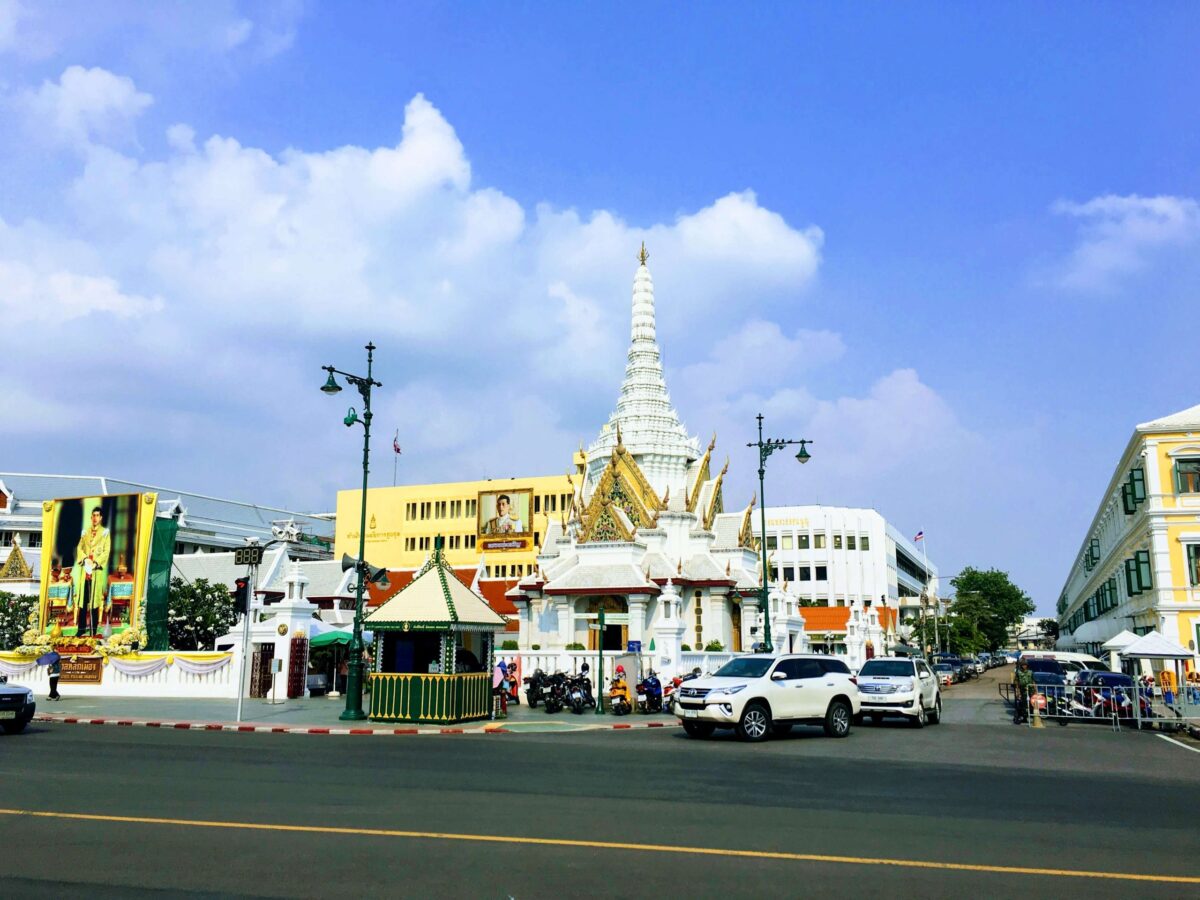 Grand Paris from the airport? I also had 1000 baht in the taxi to.
I learned later that trains are recommended because it is a luxury taxi that is introduced at the airport.
However, it is not a big price if you think that it takes more than 30 minutes using high speed, but it is about 3,000 yen in Japanese yen!
Multiply the Thai currency unit "Baht" by 3 to display it in Japanese yen units (100 baht = 300 yen)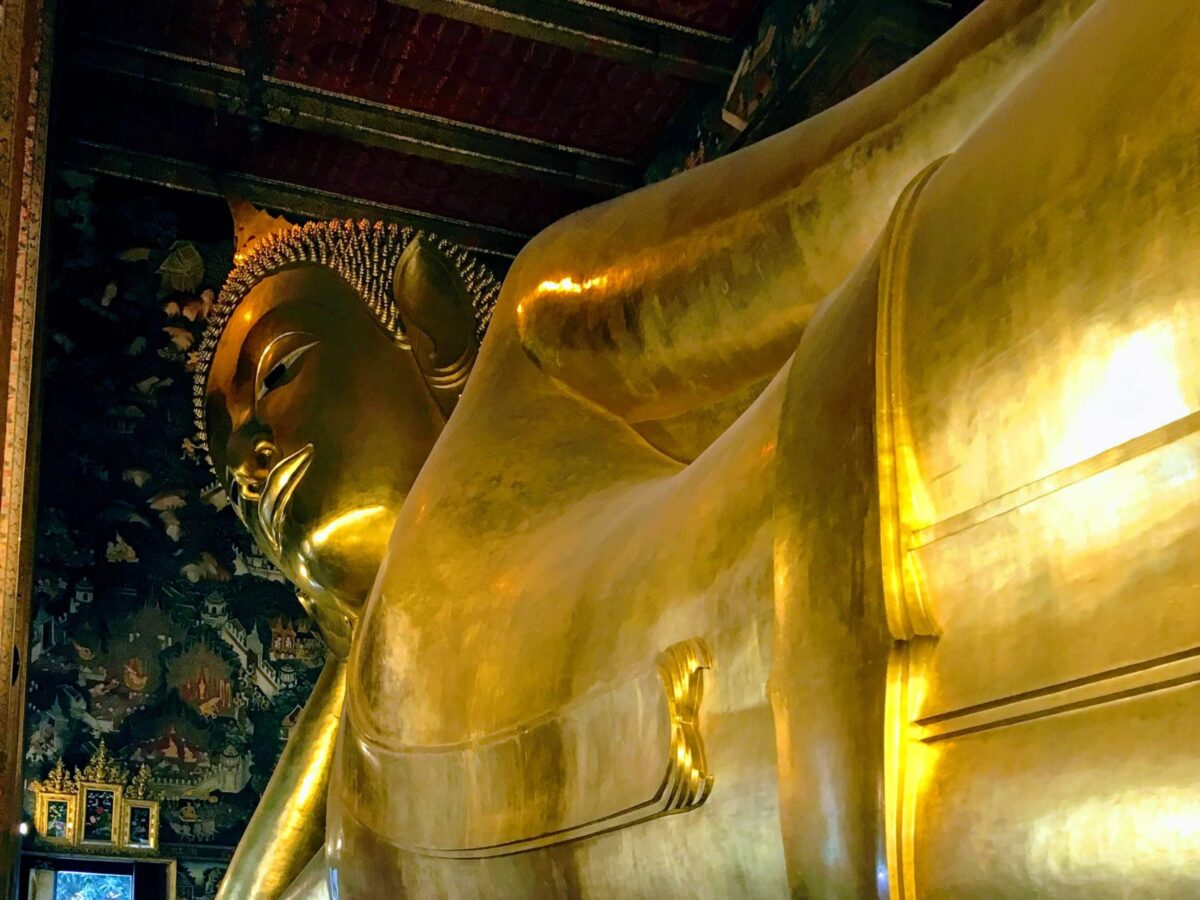 As the planned "Wat Phra Kaew" was closed, we went to the nearby "Wat Pho" and "Wat Arun".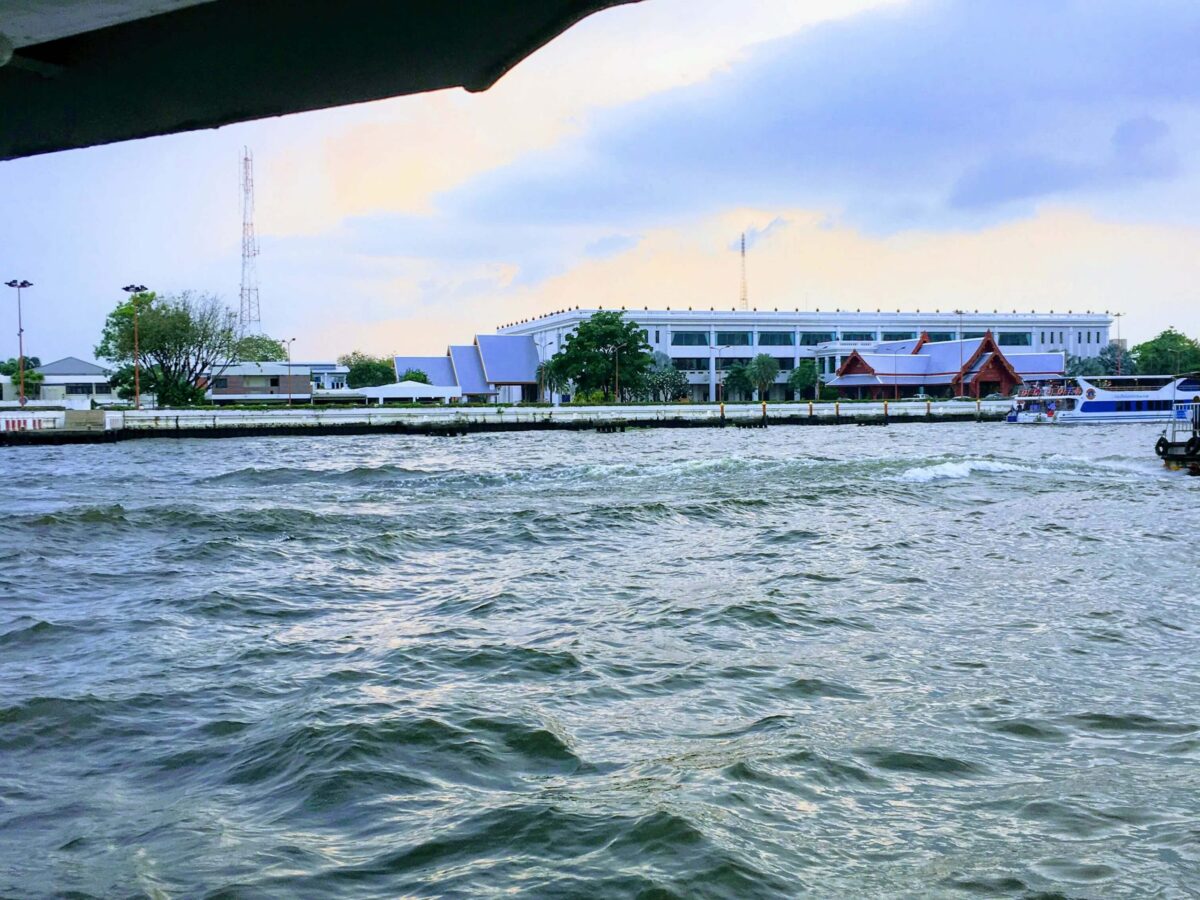 In Wat Arun, you can use the ferry to get around. (THC 8 round trip)
I ate pineapple (20 baht) skewered at the platform.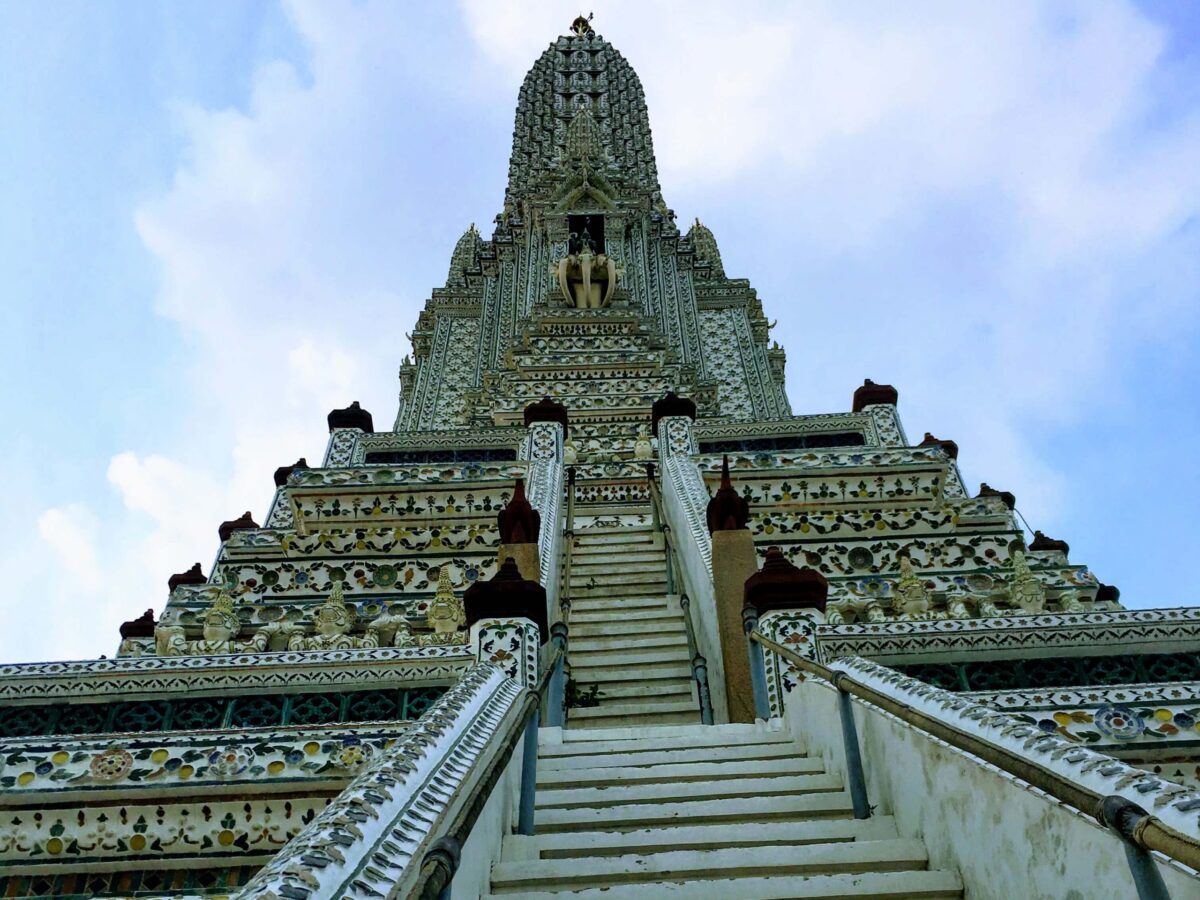 I felt that there were many buildings and statues with detailed patterns.
By the time you finish watching the temple, the surroundings are getting dim, so we will have dinner in Thailand for the first time!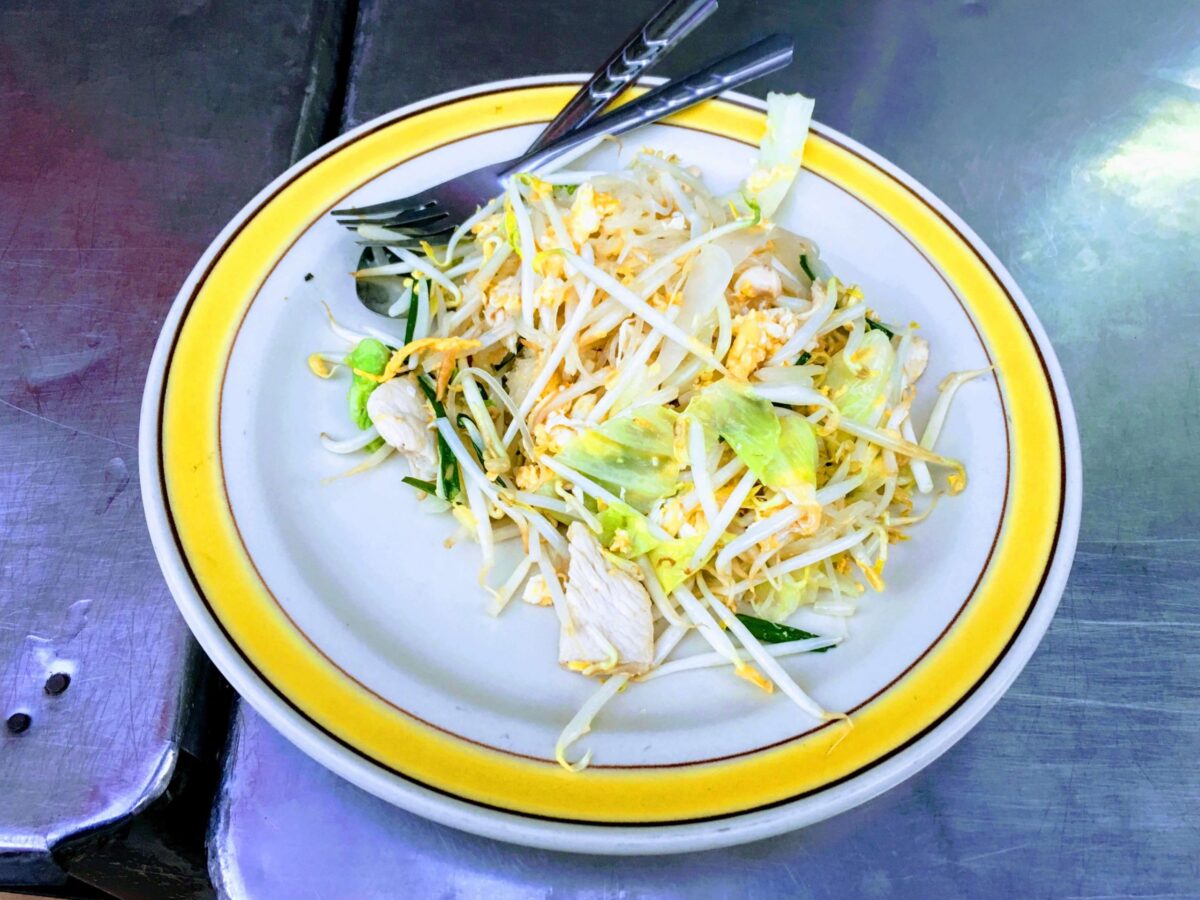 I wanted to know the local taste, so I ate Pad Thai (50 baht) at a stall instead of a restaurant.
The freshly cooked on the spot, the citrus seasoning was sour and delicious!
After that, I will go to the inn, but I will not use a taxi called tuk-tuk yet because I am afraid.
I'm going to try riding as an experience, but I'm going to walk as much as I can to save money!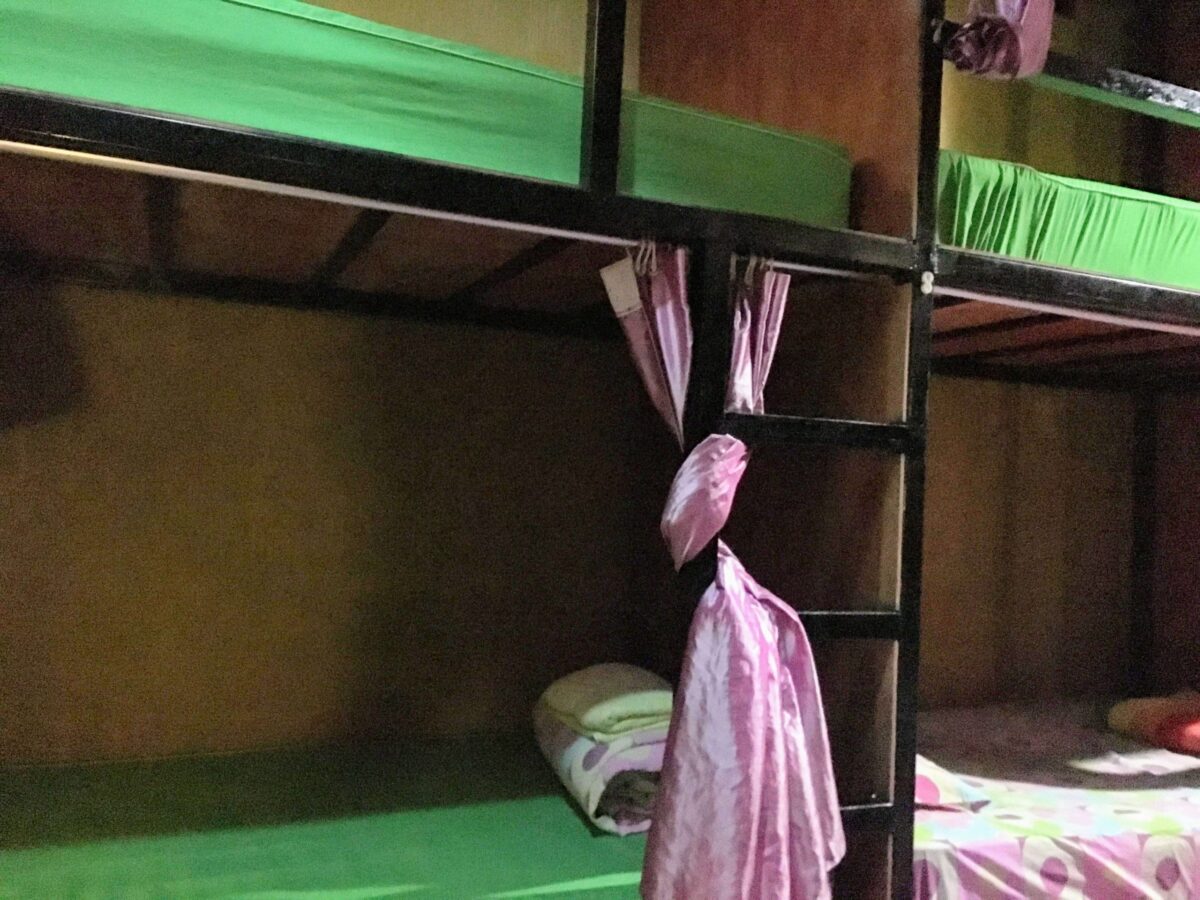 I'm writing a blog post for today after I arrive at a youth hostel on Khao San Street.
All hostels on this trip are booking.com app, and I'm looking for it on the day.
It is a shared room for 10 men and women, but if you are used to the Changmanbe dormitory of 4 people room for 1 year, it is not a matter!
The next door was a German brother and an English macho, and I was able to talk a little while it was not boring.
Day 3: Wat Phra Kaew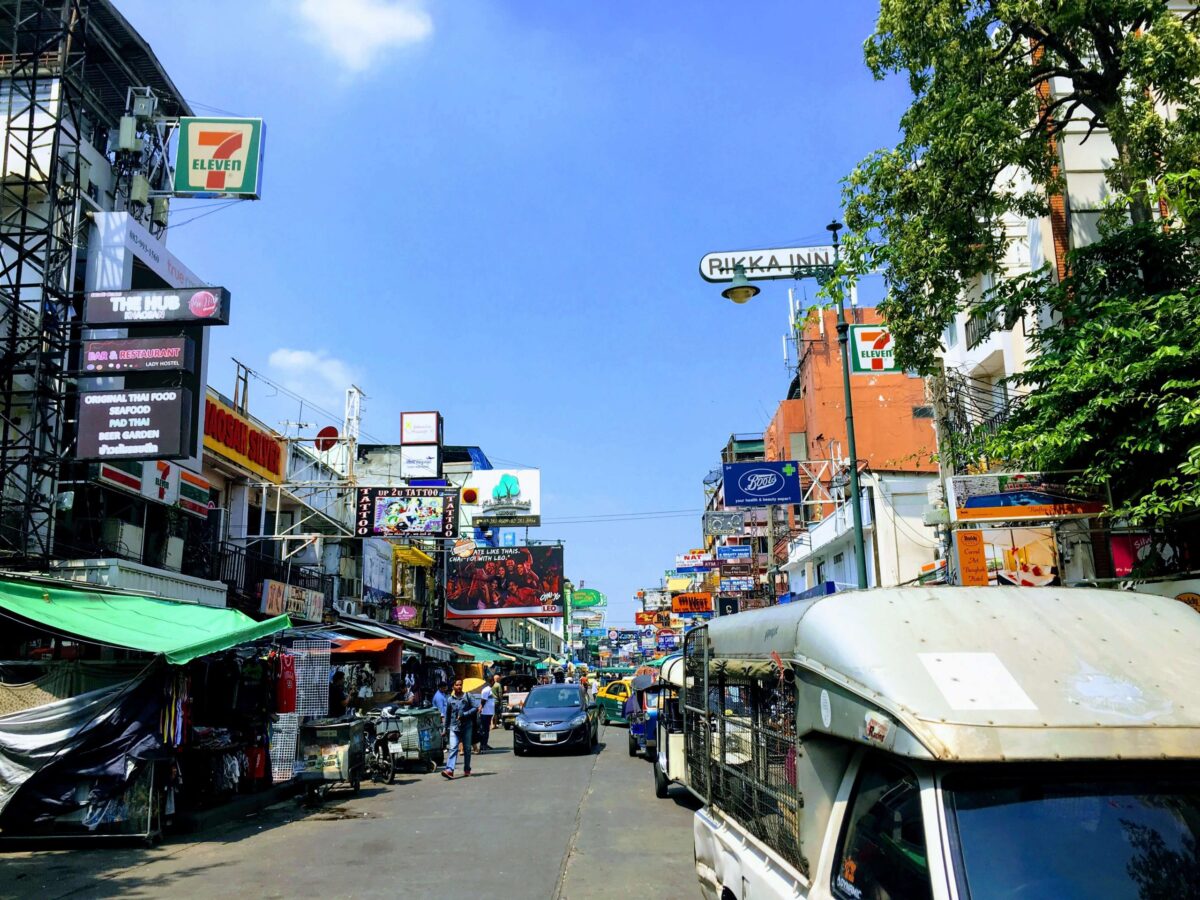 Before going to Wat Phra Kaew, we strolled along the backpacker's sanctuary of "Khao San Road".
There are two reasons why this is said to be a backpacker's sanctuary.
Youth hostels are very cheap
International student ID cards can be forged
The international student ID card is a student card that can receive benefits all over the world, but it seems that there is no trust because it can be forged …
I wanted a long pair of trousers, so I bought it and lost 120 baht to 100 baht.
I feel that it was more expensive because it was a messy making that was hard to move just by sewing the cloth into the shape of pants.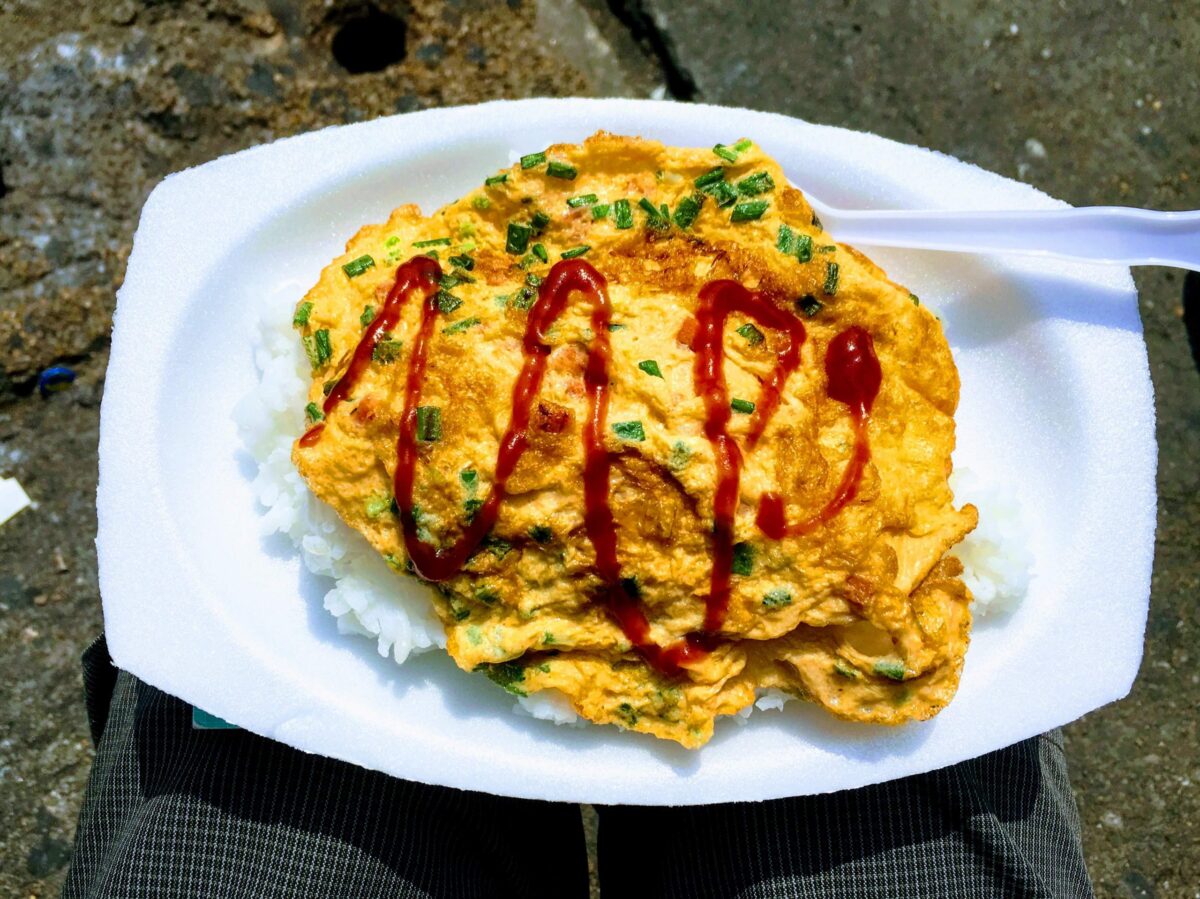 I had an omelet made at a stall (it was a mystery whether it was Thai food)
Wat Phra Kaew, but only here the admission fee is 500 baht and quite bullish (because it is huge, maintenance costs?). )
On this day, I was gutted by the heat somehow, but if you think about it now, it may have been a light heat stroke.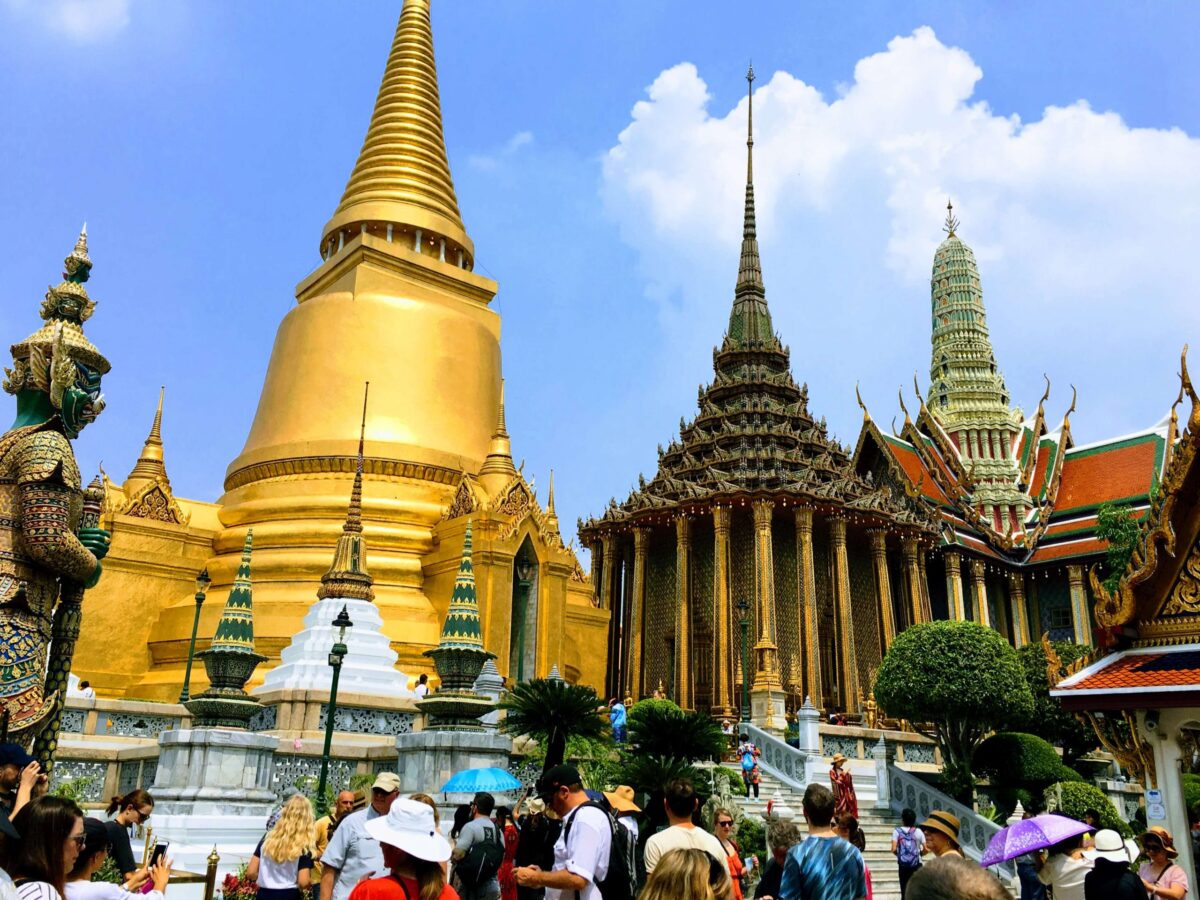 At two o'clock, the police blew the whistle and kept the tourists out of a palace-like place.
I do not know because I did not put it at the last minute, but the police say that it is clised today.
I went outside without knowing what had happened or why I was kicked out.
(Please let me know if anyone knows))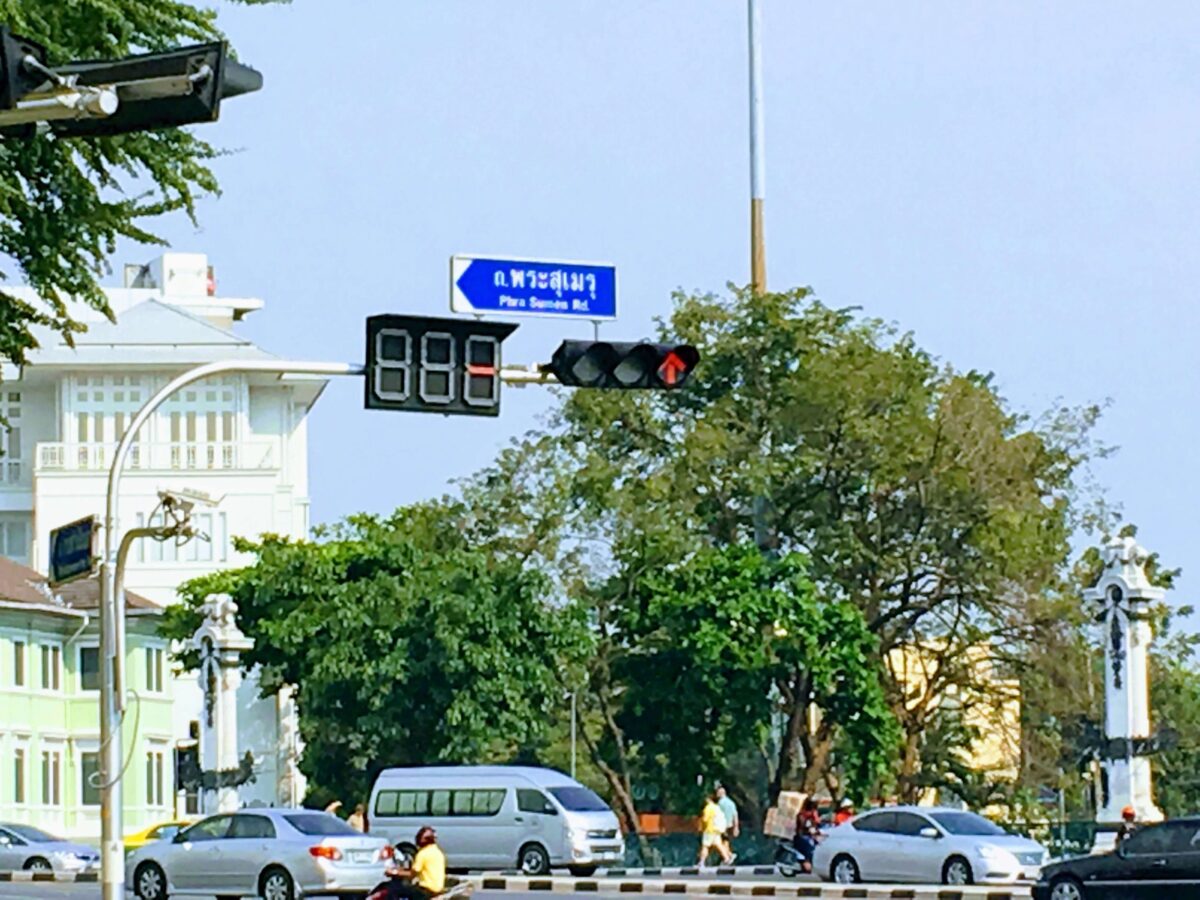 There was a fair distance to the inn, but I did not want to be ripped up by tuk-tuk and walked.
The new tuk-tuk avoidance method is to be mixed with tour guests (I moved with a Chinese tour today)
The way the road crosses moves the same as the local people.
The bottom of coconut is like 20 baht.
Note that those sold near the Royal Palace are expensive!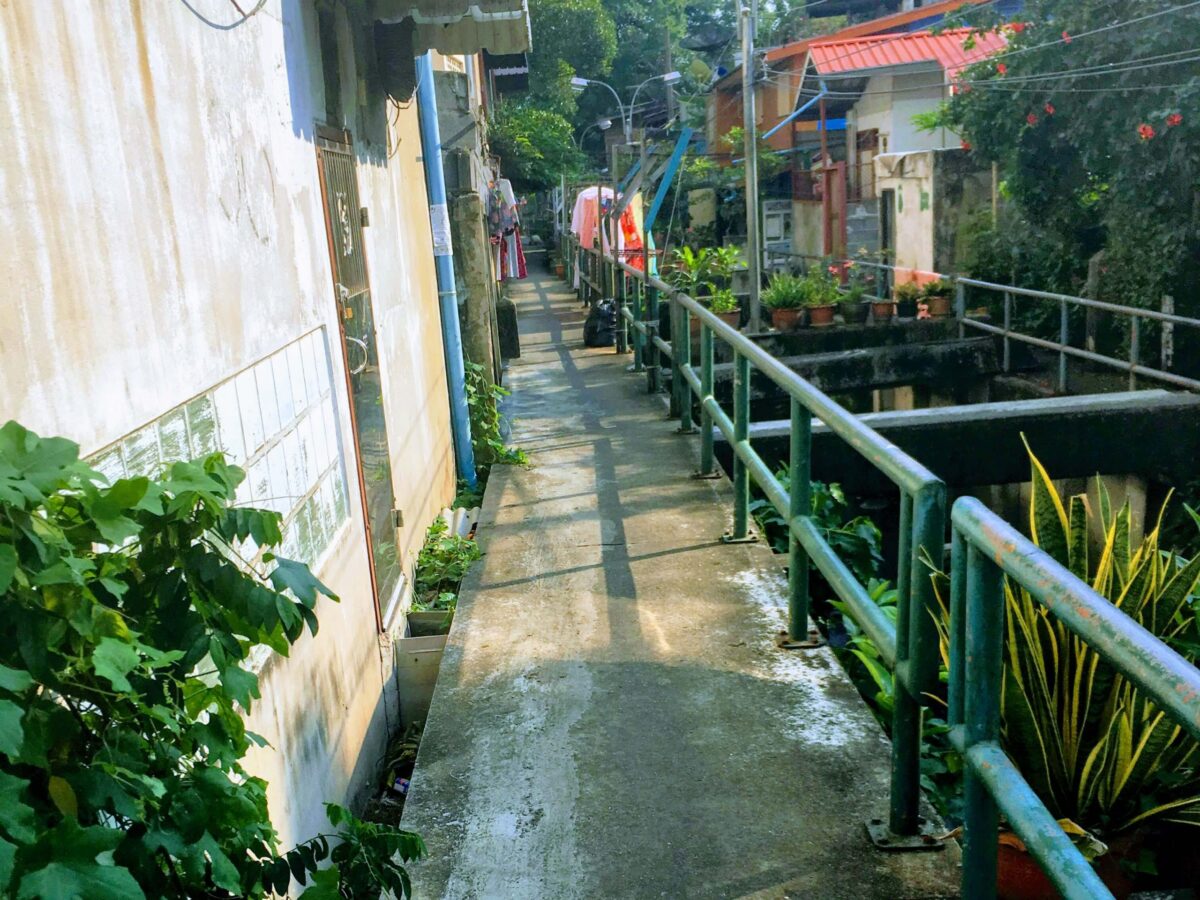 Offline navigation app "maps.me" will guide you on a fairly narrow road …
There was a road which seemed to be dangerous at night, too and it walked while pounding whether something was done.
However, it was good to see a market that only speaks Thai that does not go on a tour, a waterway where laundry was dried, etc.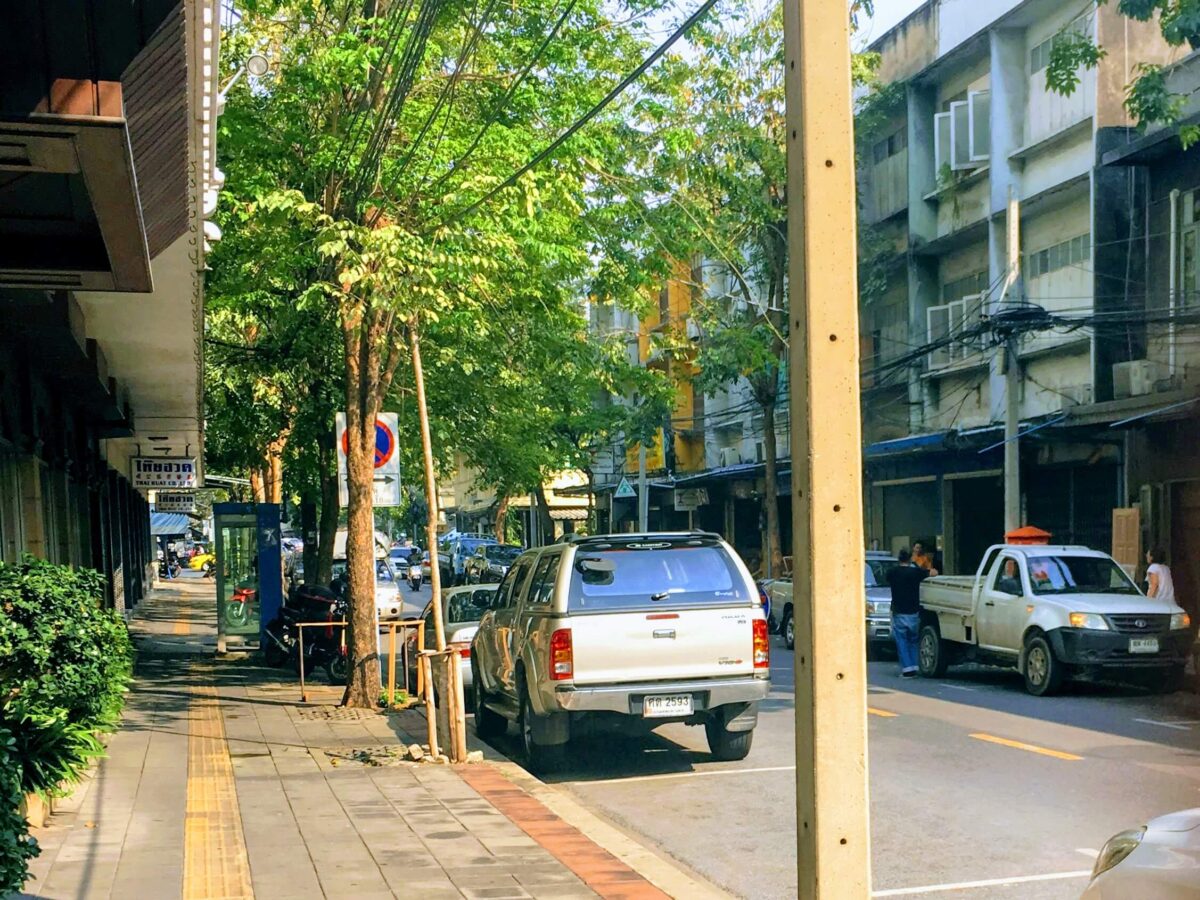 People have passed unabashedly since the railroad crossing got off, and it is quite long from getting off until the train comes …
Even so, I burst out when the railroad crossing opened while the train was passing.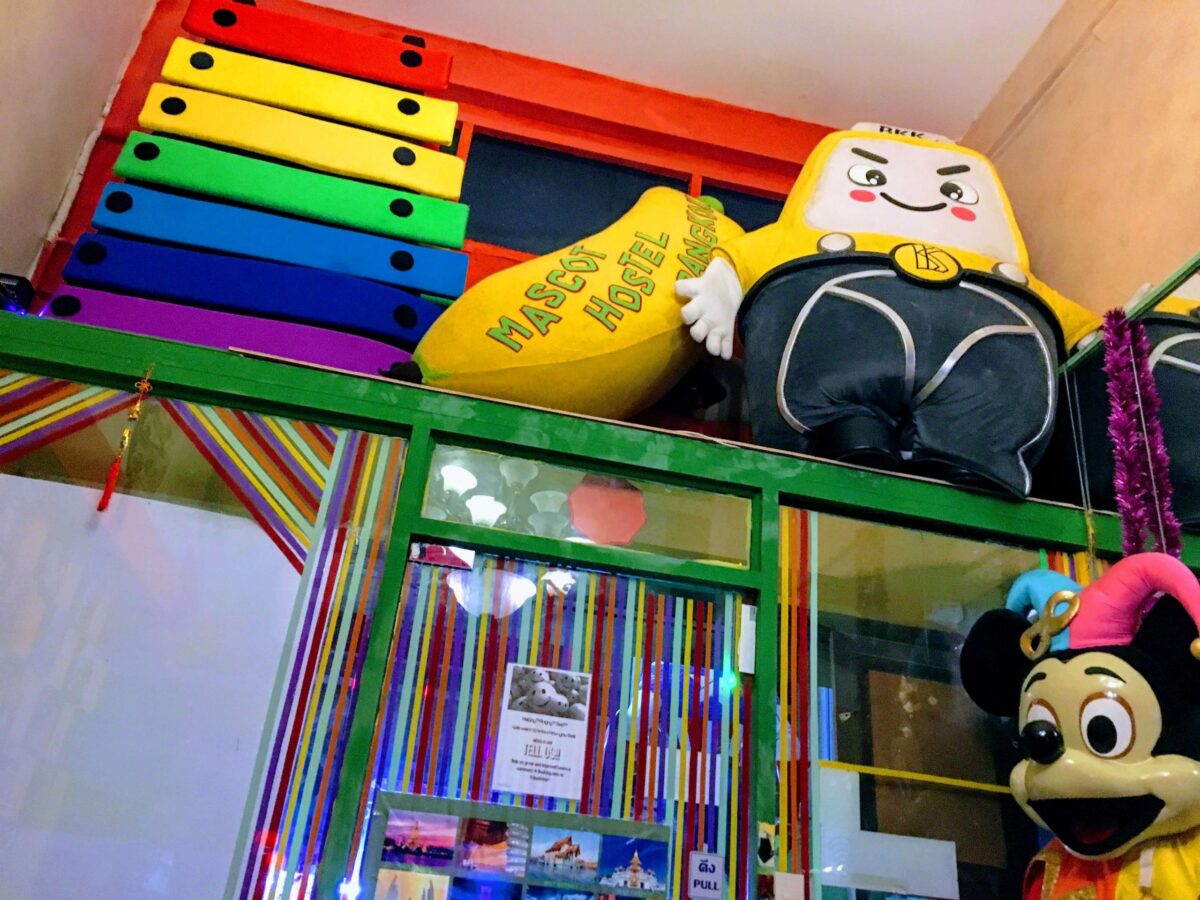 I entered the hostel "Mascot Hostel Bankok" early today (THC 148 for 12 people)
The hostel was checking in at 11:30 and I watched Prime Video.
This makes my sense of travel fade, but sometimes I want to touch Japanese things.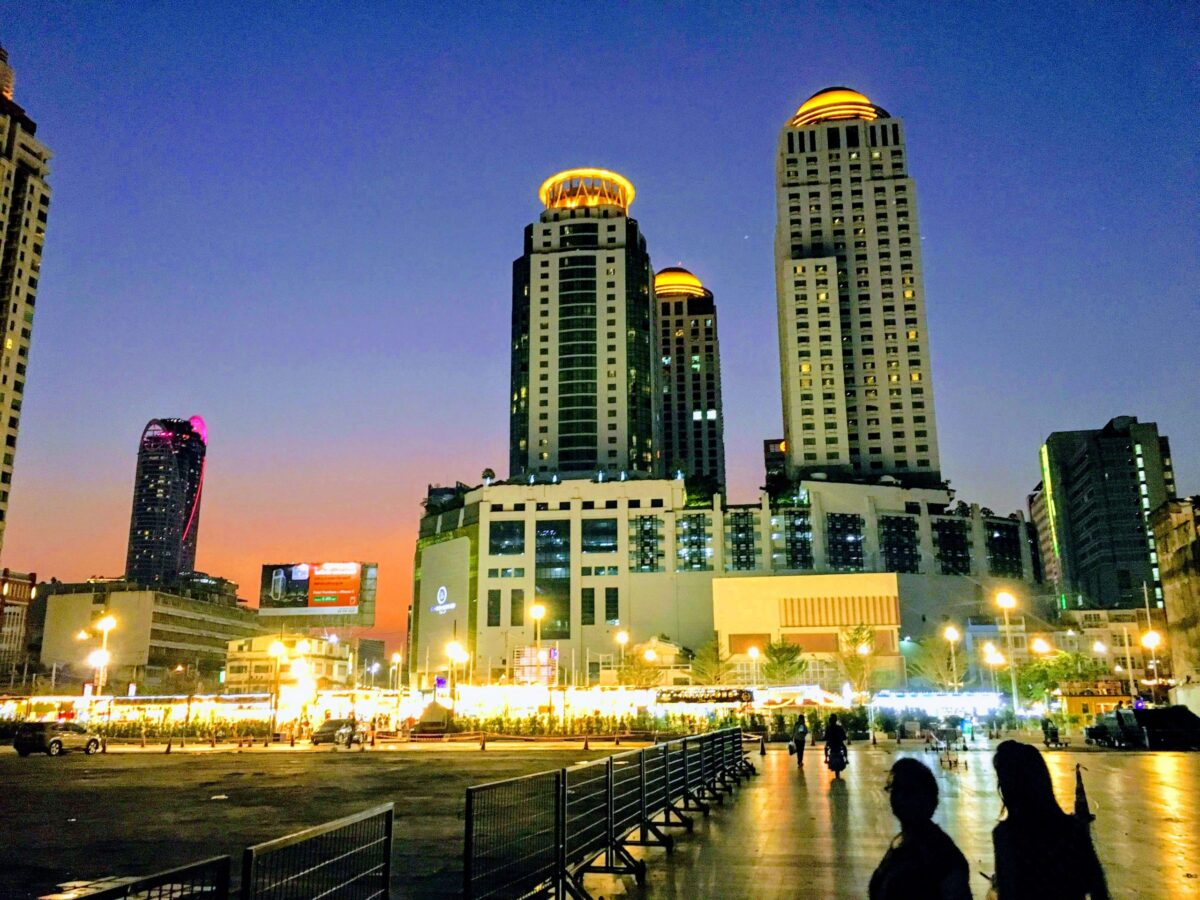 I was getting better after resting at the hostel, so I decided to walk around with the French people I became friends with.
I was saved because I was worried at night if I was alone, but when I walked, it seems to be quite urban.
That should be it, and the hostel was located in the center of Bangkok where the redevelopment called Siam took place!
It was a strange sight because there were a small shopping street and a huge shopping mall.
I bought a skewered skewer that I didn't know what meat at a big market, probably a bird in terms of texture.
After that, the Korean woman I talked to at the hostel has been to Japan and Taiwan, and she has been in Thailand for three weeks.
12:30 is check-out, so it seems to be a pretty slow start
Day 4: Father of silk industry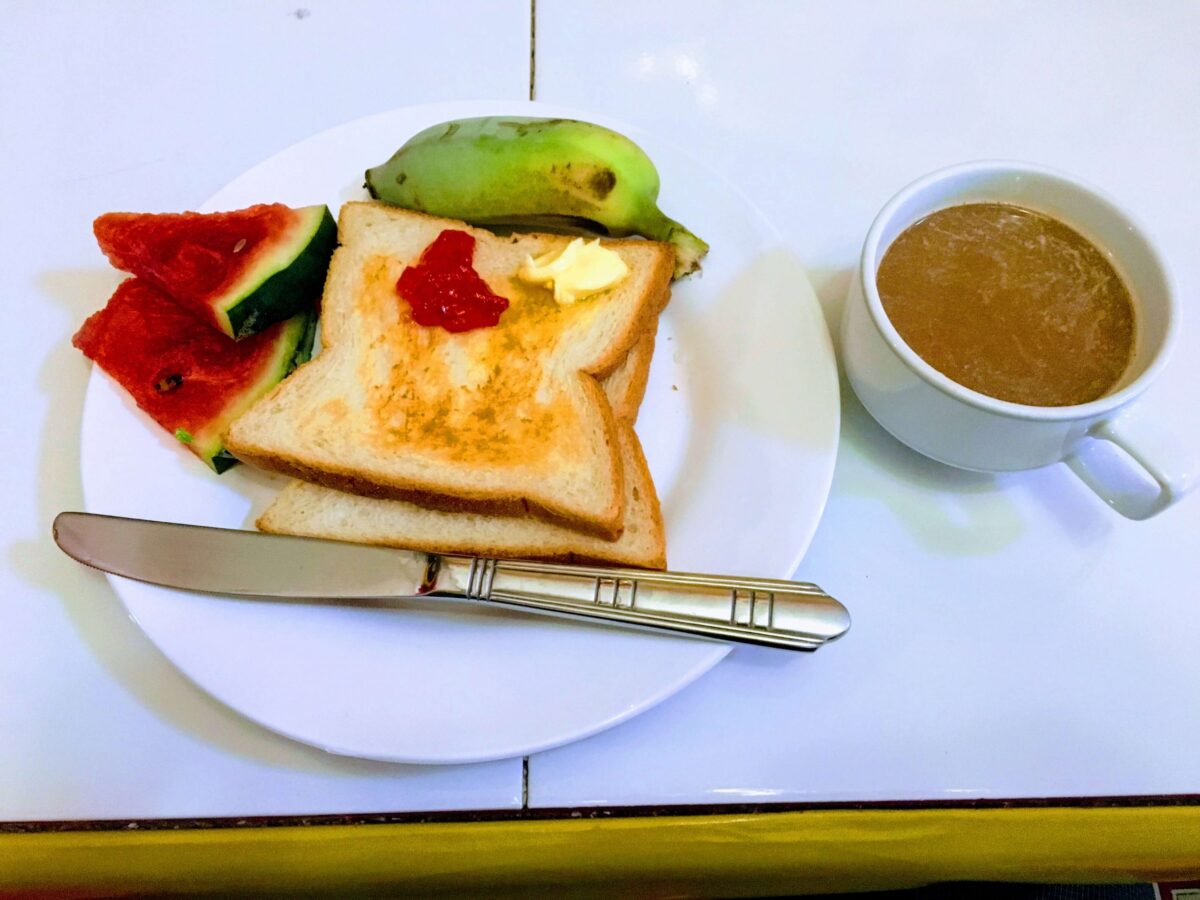 I left the youth hostel around 9:30, so I walked first to Jim Thompson's house.
Transportation is also convenient, but I would like to walk as much as possible because it is interesting just by walking on the roadside!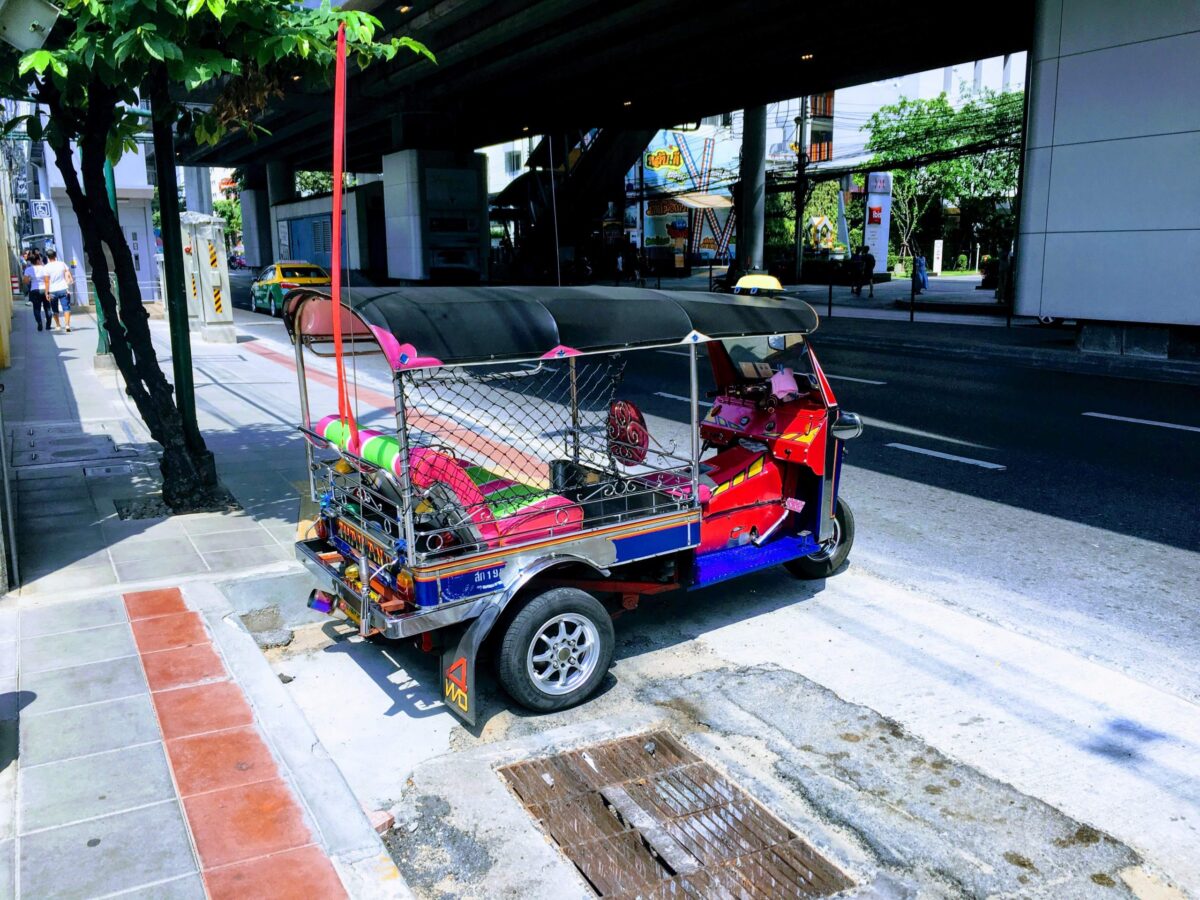 Thai three-wheeled taxis and tuk-tuk are cheap and convenient, but be careful with those who actively talk to tourists.
I hear rumors that you will be charged more than the price you said at the beginning or taken to another location.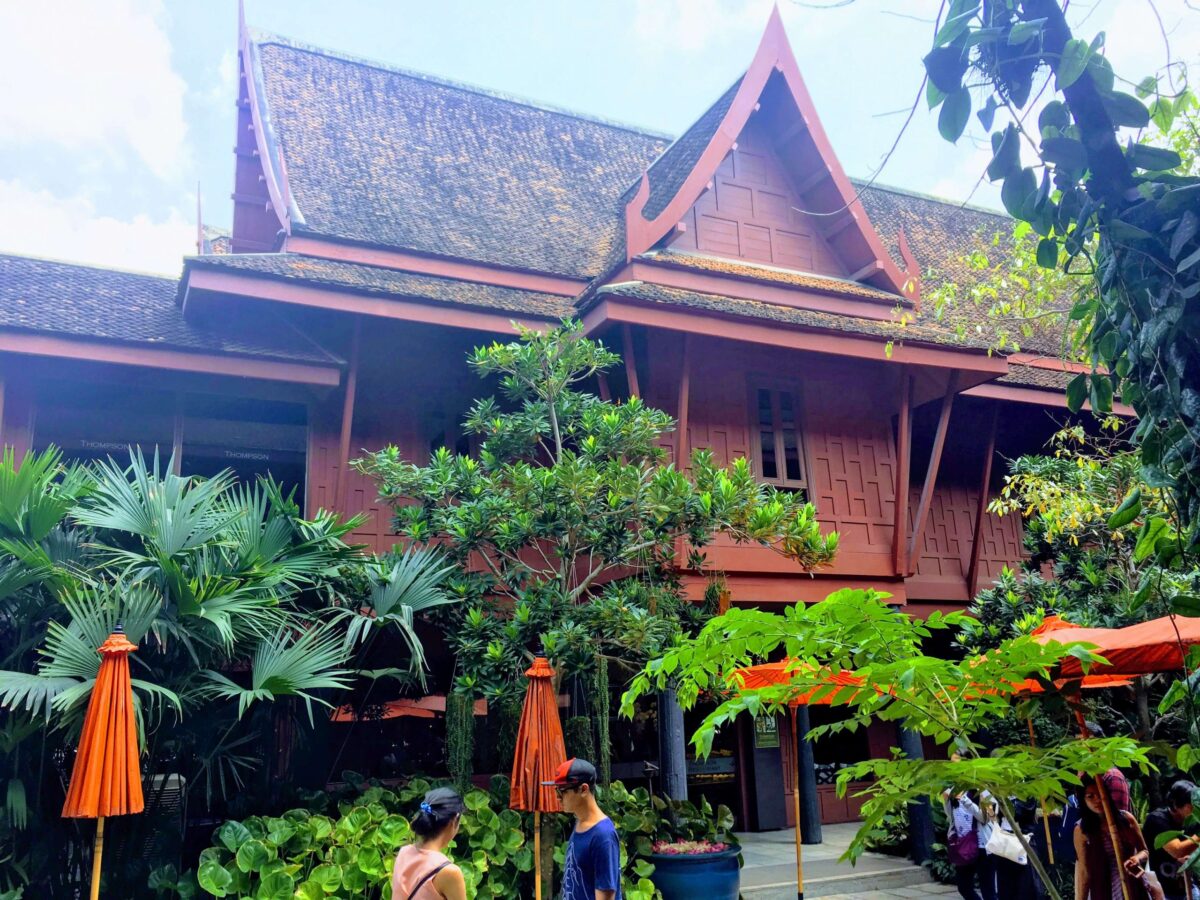 Jim Thompson seems to be an American who spread the silk industry in Thailand, and it seems to be famous as a brand.
Only Japanese people were collected and asked to guide me in Japanese, so I talked a little with my uncle from Niigata.
There was actually a corner where threads were taken from boiled cocoons, reminding me of the silkworms I grew when I was in elementary school.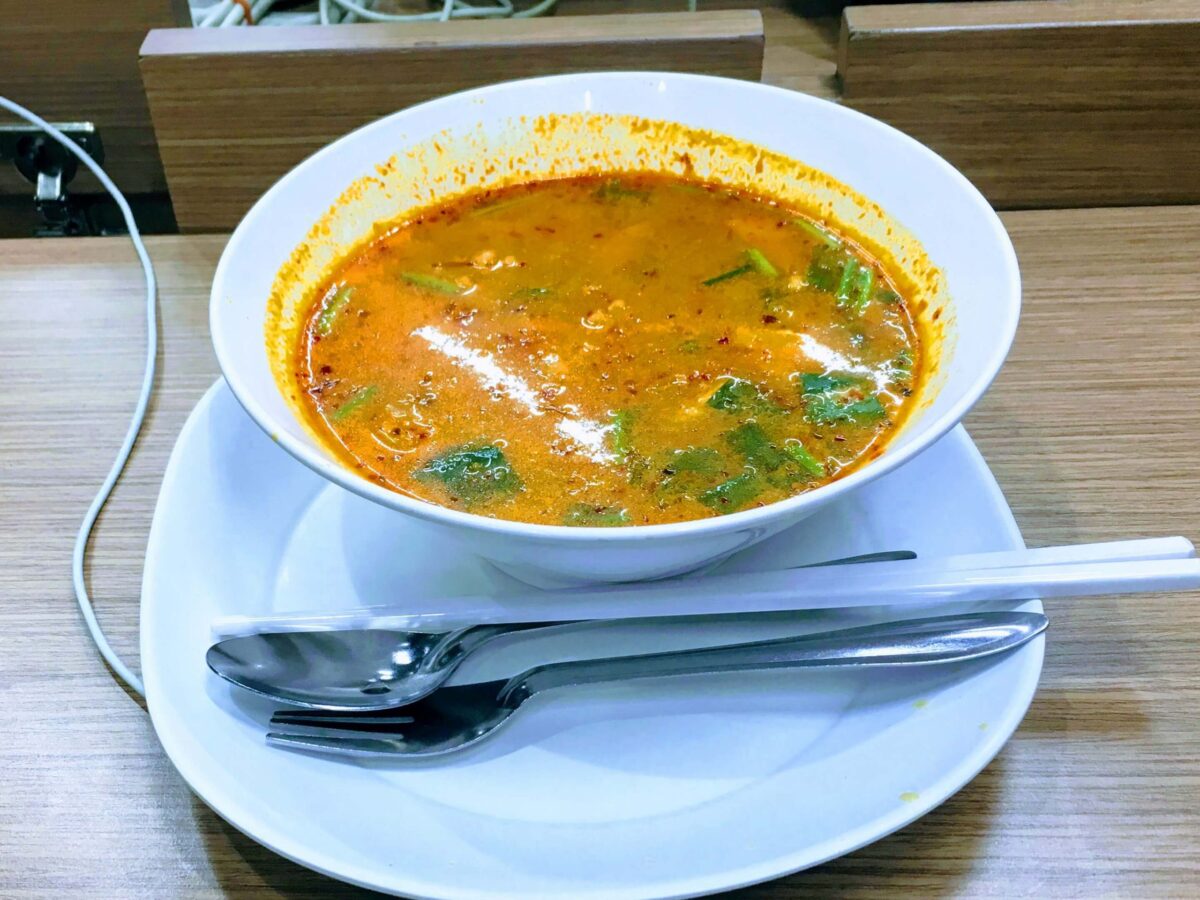 The Thai food in the food court was surprisingly cheap, so I came back to Siam.
Many food courts charge money to the card first (the remaining money will come back later)
Tom Yang Kung is a mysterious taste mixed with spiciness, sweetness and sourness (THB 90)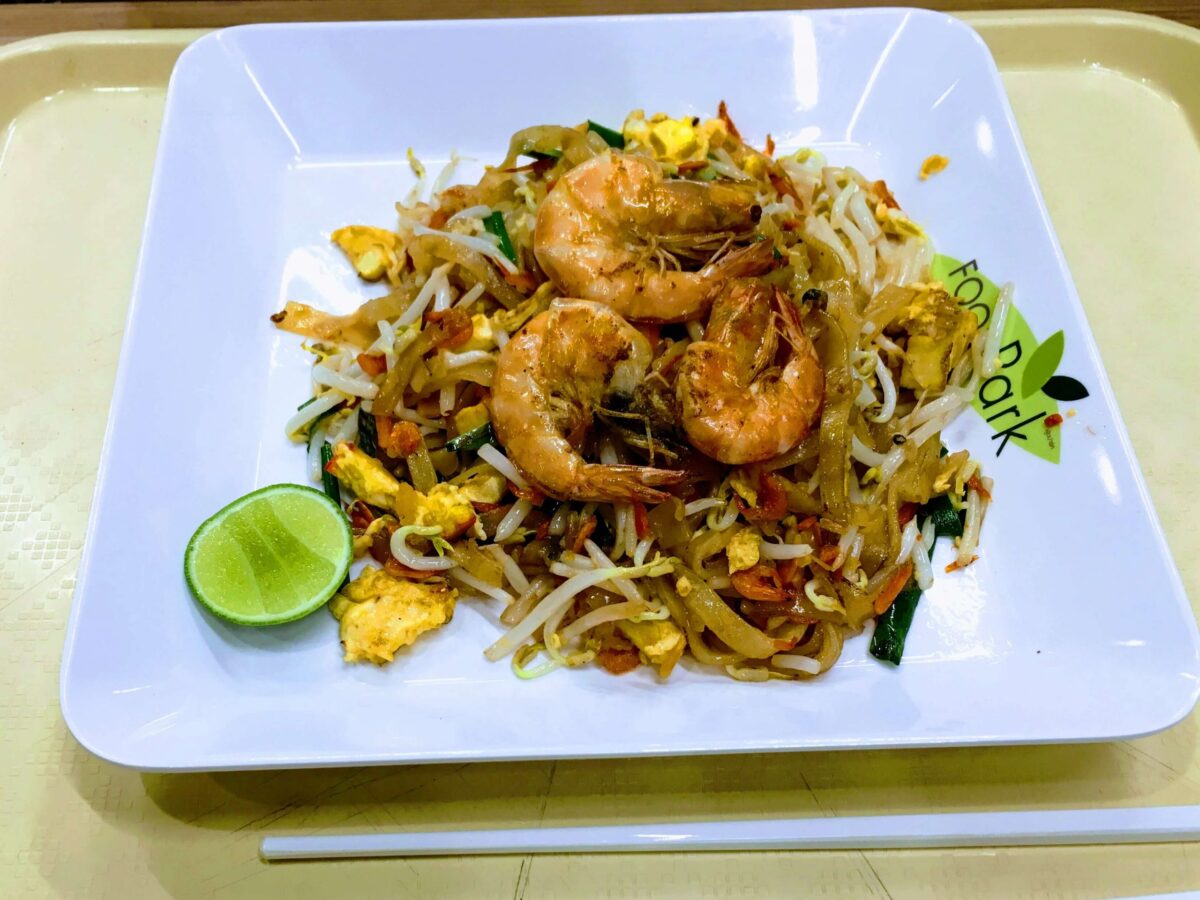 Pa Pa Thai Gung Seo had eaten in Japan before, so I wanted to eat the real thing someday.
The flat noodles are thicker and chewy than those eaten in Japan, and are they sudachi? I put it and sapari (65 baht)
I am currently charging pocket Wi-Fi in Siam's food court and writing this article.
What is different from Japan is that there are outlets everywhere, and that even if you stay there for a long time, nothing is said.
I heard that there are too few charging stations in Japan, so I think you should emulate Thailand!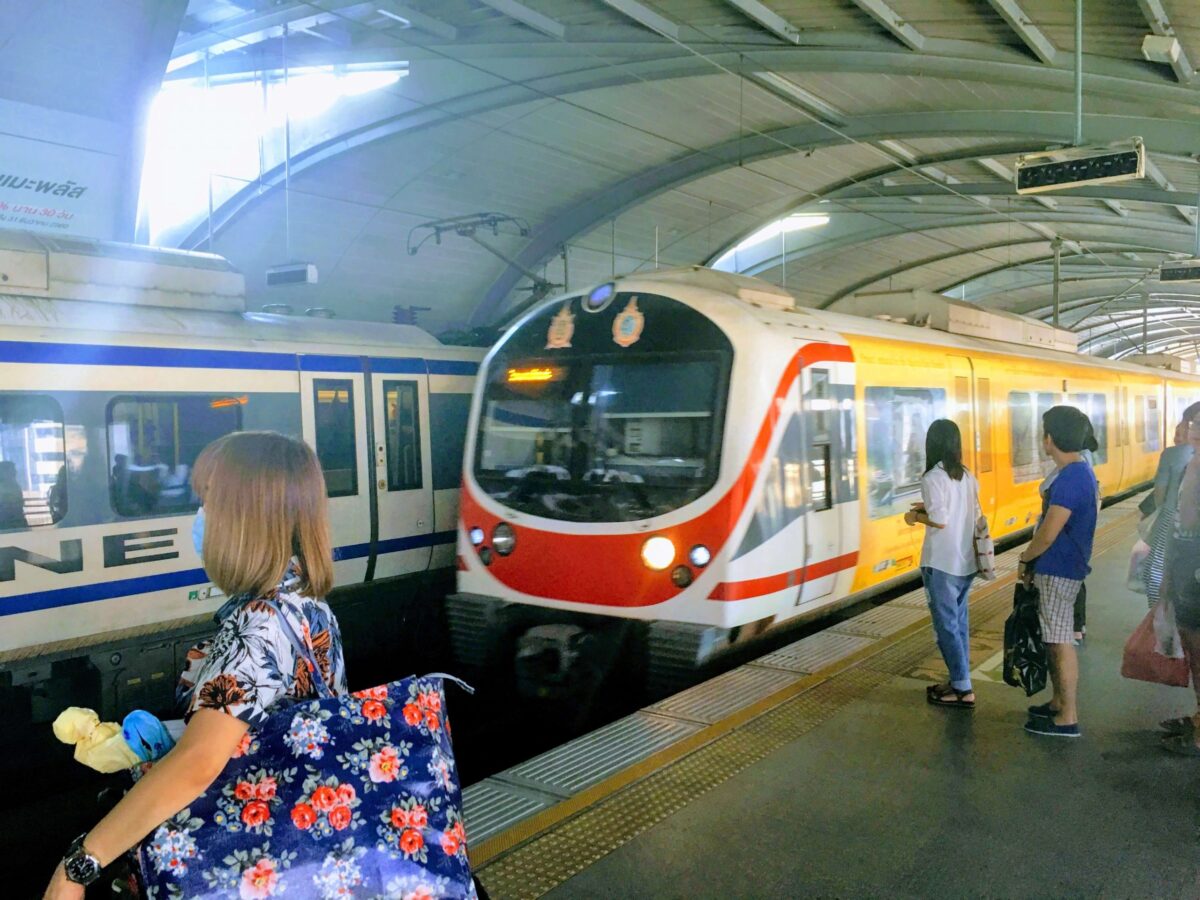 In order to decide the future policy, I decided to head to Suvarnabhumi Airport for the time being.
The Airport Rail Link (ARL) from the station to the airport is very convenient because it was made several years ago.
The airport is TH$40 and the 1000th baht taxi fare to the airport offers 12 round trips.
Please be careful (crying)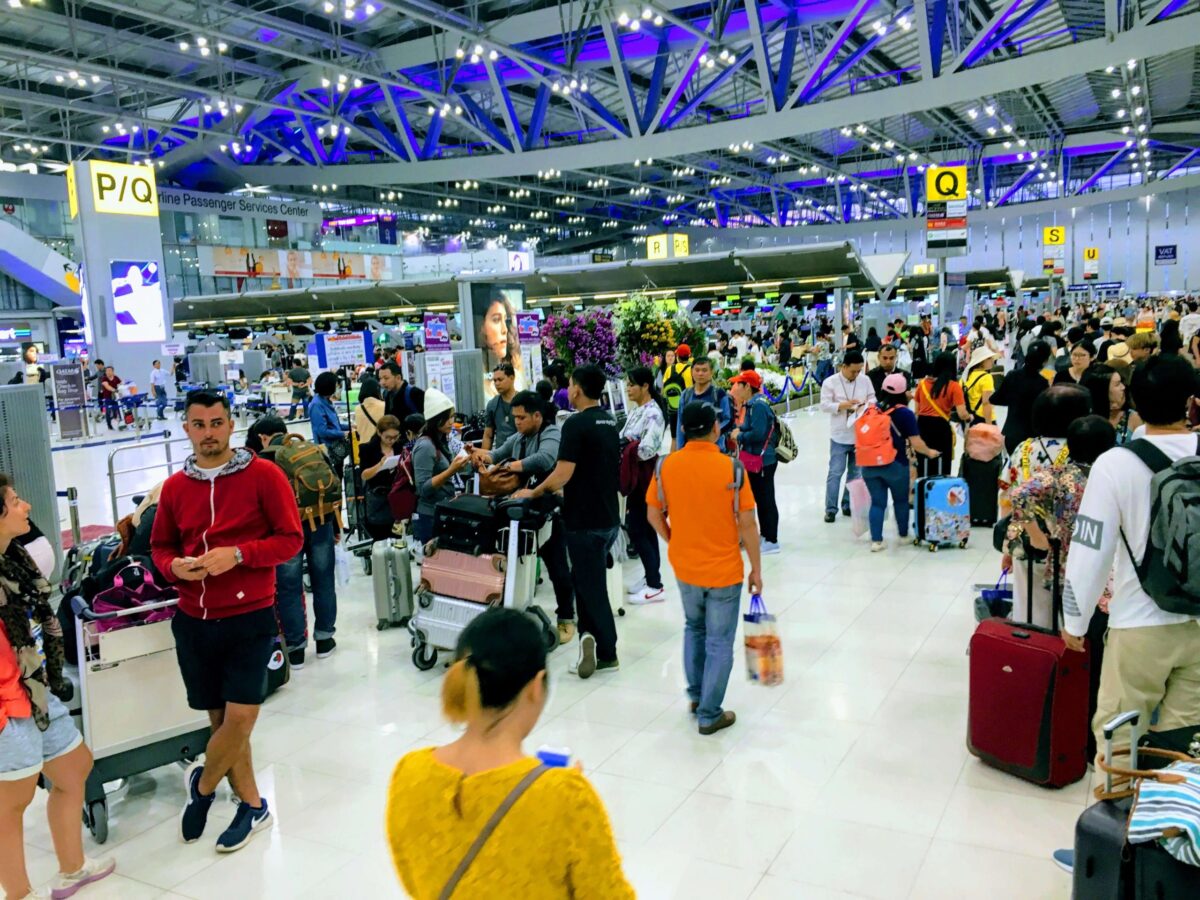 I decided to rent pocket WiFi at the airport for only one day and think about what to do in the future at the airport.
I'm staying at Suvarnabhumi Airport, but it looks pretty safe as far as I read other blogs.
Pocket Wi-Fi is due at 23:00 tomorrow, so I'm wondering if I should leave at night after return …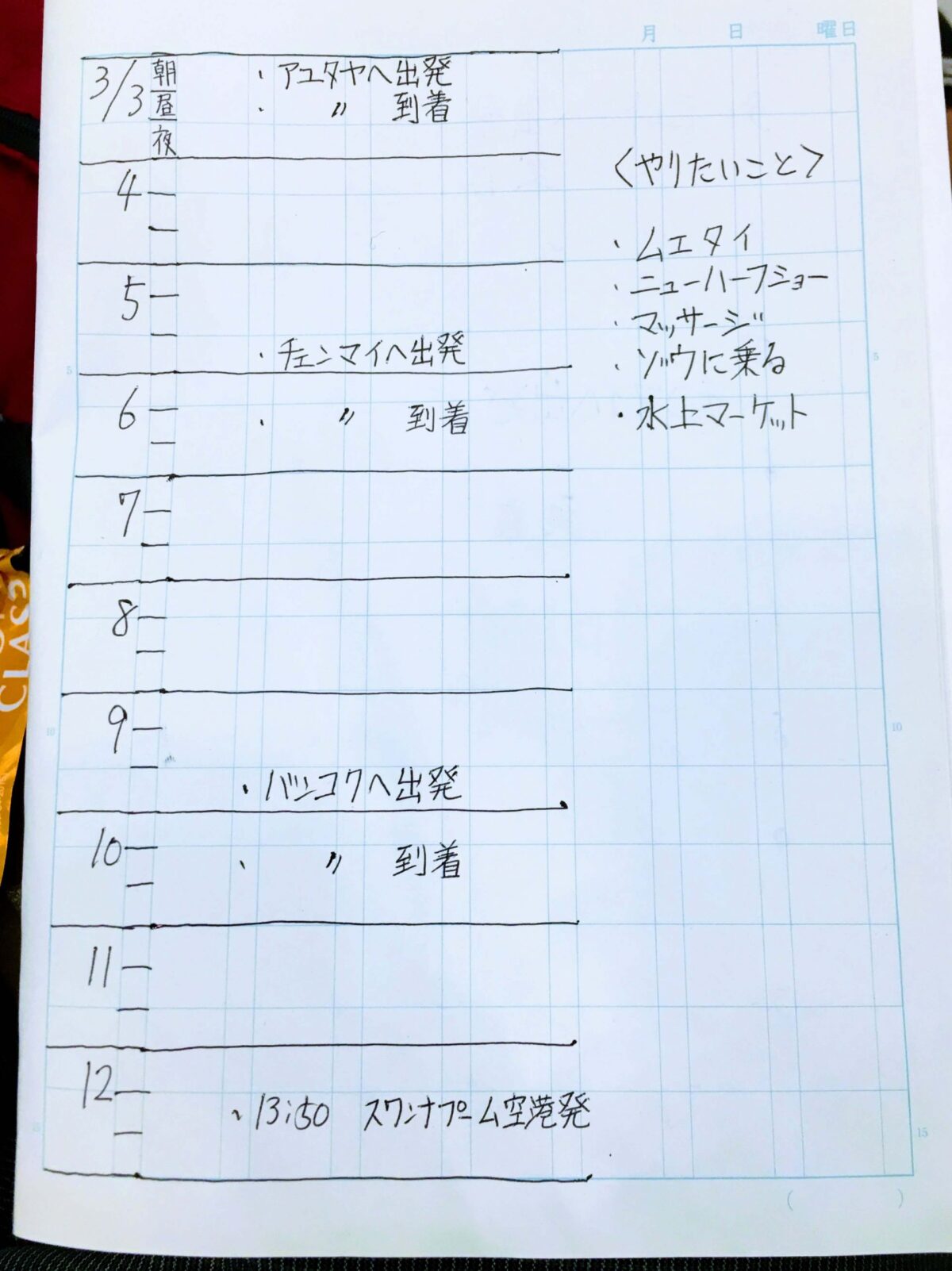 I decided like this as a rough plan (before leaving the country, it was no plan, I examined it now and decided)
I'm worried that Ayutthaya and Chiang Mai will be offline during the day, but it will come true.
My parents told me that I would come back without dying, so I'll try various things.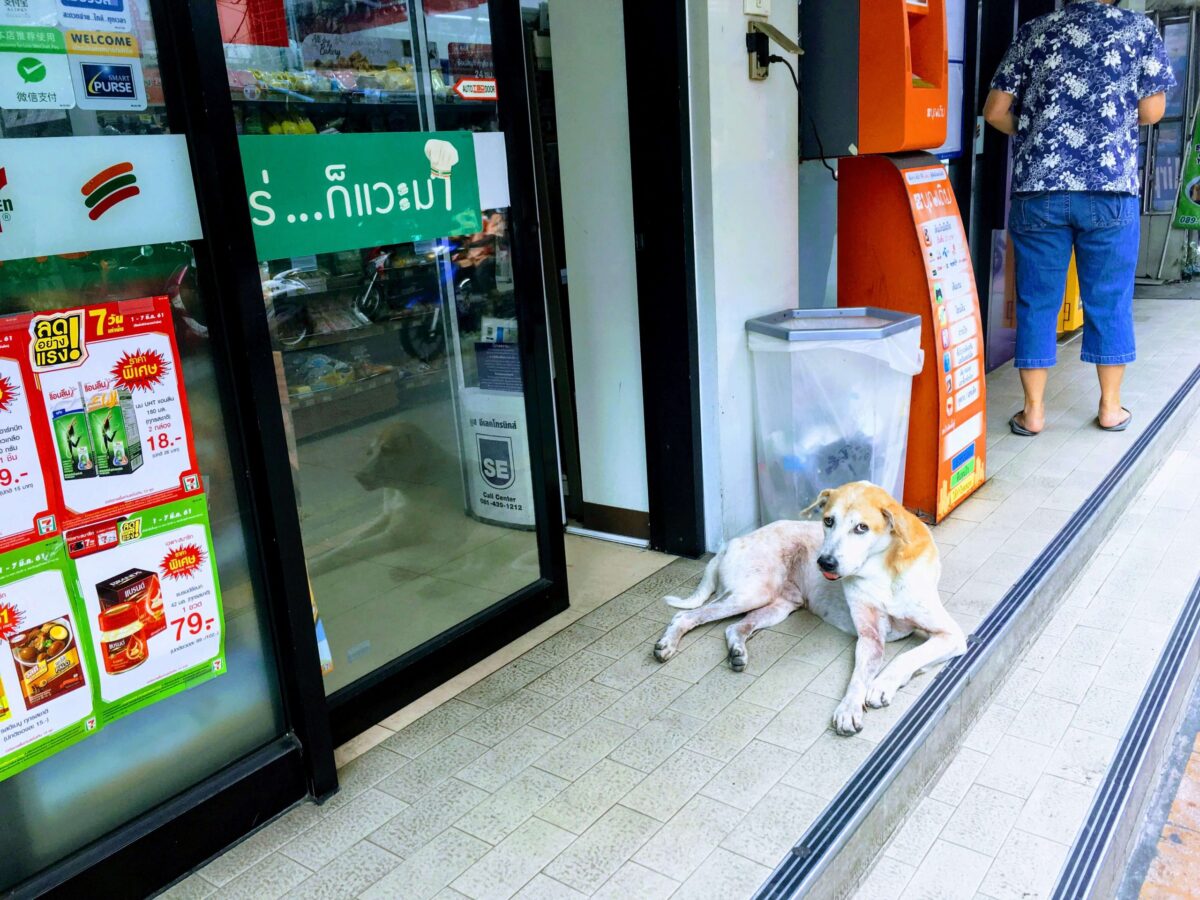 When I came to Thailand, there is almost no sense of refusal, but when I think about it, I think that it is because it is a city that I visited after all.
This is my first trip abroad, so I haven't been to places where there are not many tourists.
(Youth hostels also try to choose the best points of evaluation)
On the other hand, it becomes painful because it does not know what to do when the shop selling approaching the car and the begging without the foot of the roadside are seen.
We also hear stories that when tourists give money to begging children, they are left trying to get a job.
I want to know more and find answers to what I should do for myself.
Articles on overseas travel