This time, I will introduce my impressions of going to the uninhabited island "Sarushima" in Tokyo Bay.
How I went to Sarushima
I hadn't tried anything new lately, so I was thinking of going out on Sunday. The museum has no European finish yet. I was staggy recently, so I wanted to go to a quiet place and decided to go to a "deserted island"!
What is Sarushima?
Sarushima is an uninhabited island located in Sarushima, Yokosuka City, Kanagawa Prefecture.

It is the largest natural island in Tokyo Bay. Most of the island is Sarushima Park, and Yokosuka City is developing it.

It is an uninhabited natural island suitable for leisure such as swimming, barbecue, fishing, and walking, and it has been popular with people since ancient times, such as excavating Jomon pottery and Yayoi period earthenware and human bones from the island, and legends related to Nichiren remain.

Sarushima – Wikipedia
From the end of the Tokugawa shogunate to World War II, it seems to have been the key to the capital defense line as a fortress island.
On the island, you can also see historic sites such as battery ruins and ammunition depots, and the feeling of ruins is reminiscent of "Laputa, castle in the sky".
It seems to be an unexpectedly famous island, such as being used as a shocker base for "Kamen Rider", which is a special effects work.
How to get to Sarushima
The stations near Sarushima are JR Yokosuka Station and Keikyu Yokosuka Chuo Station.
Keikyu Yokosuka Chuo Station seems to be closer to the ferry pier, but I got off at JR Yokosuka Station without knowing well.
Yokosuka seems to have a base of the Maritime Self-Defense Force and there are battleships and submarines.
Outside the park of Mikasa Park, there is a ticket office for ferries going to Sarushima.
Ferry information to Sarushima
The ferry ride fee is 1,300 yen for adults and 650 yen for elementary school students.
In addition, the entrance fee is 200 yen for children over 15 years old (excluding junior high school students), and 100 yen for elementary and junior high school students.
The route operates every hour from 8:30 to 17:00 from March to November, and from December to February from 9:30 to 16:00.
There is no convenience store near the ferry pier, so I think it is good to procure rice.
Sarushima island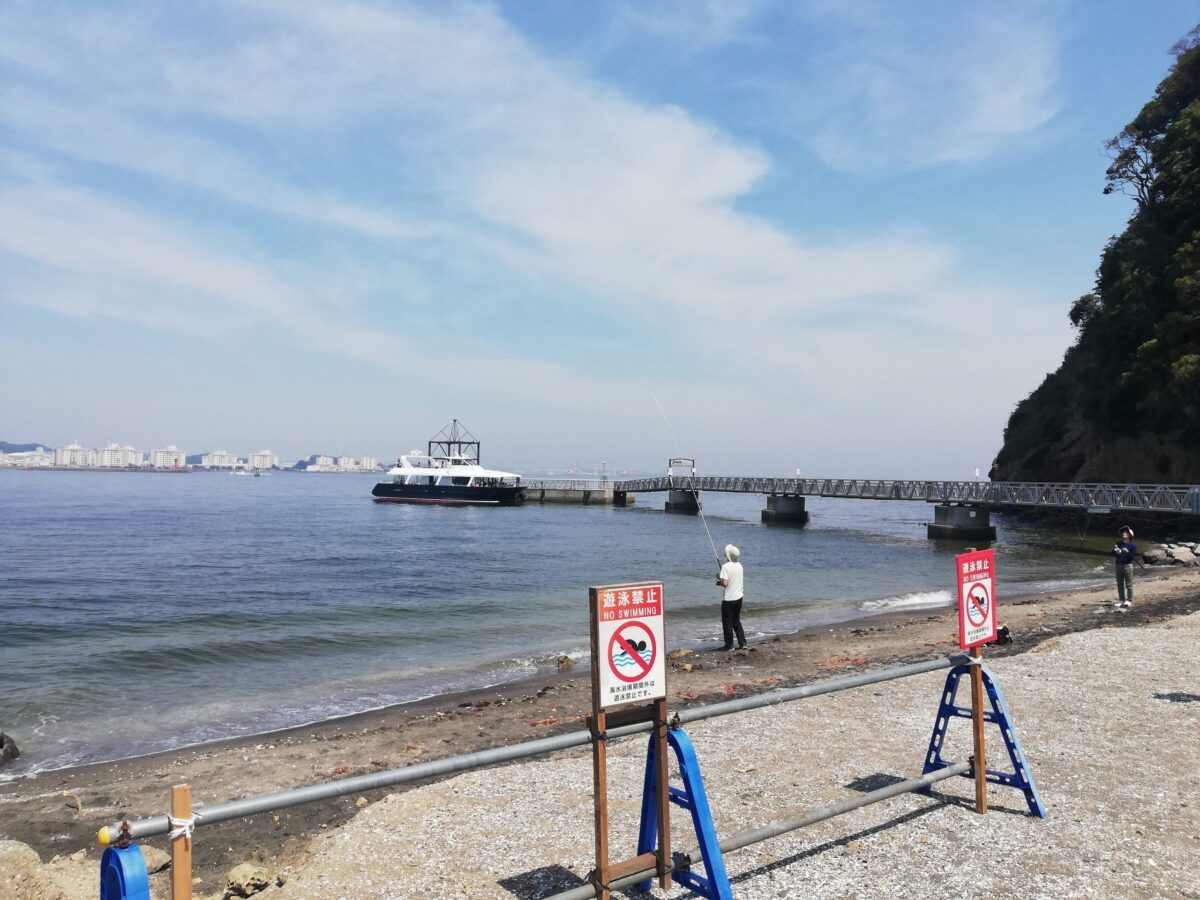 The ferry can accommodate a large number of people, so you may not have to worry too much about not being able to ride.
It takes about 10 minutes to get to Sarushima because it is so far from Mikasa Park that you can see it. There is a letter of "SARUSHIMA" on the pier.
By the way, there seems to be no monkey on the island.
Bbq and fishing can be done on the beach, and the beach is also open in summer.
The resting place is like a villa on the southern island with a stylish exterior!
Amazing is that it's basically just the entrance to the bustling island.
There is no restroom, let alone a shop in the future.
Nature, which is not very in the hands of people, welcomes visitors. After this, please enjoy it only with photos.
Notes when going to "Sarushima"
There are a few caveats for those who are thinking of going to Sarushima.
As it is written on the homepage, I will take up some important things.
I can't stay at this hotel.
As mentioned earlier, there are no accommodations on the island.
In addition, camping is not allowed, so you need to leave the island by the final ferry.
I was counting the number of people at the ferry pier, so if the number of people does not match, it will be a serious thing …
The food is only restaurants and shops.
Meals such as navy curry are sold at the restaurant at the entrance of the island, but the price is high.
Drinks and sweets are sold at the shop.
There are no other shops, so all BBQ ingredients will be brought in.
Pets are prohibited.
Pets are not allowed in Sarushima.
Impressions of going to "Sarushima"
I realized it in Hokkaido, but I like nature very much.
Therefore, the walk around Sarushima was very relaxing.
Not only was there a lot of nature, but the former military facilities had a sense of ruins and it had a very nostalgic atmosphere.
I was able to go in the morning, which seems to have few people, so I was able to enjoy the quiet Sarushima.
Is it a place where it takes 2 hours to go around slowly?
It may be just right in time to combine it with BBQ, fishing, and sea bathing.
Official website
Sarushima |, an uninhabited island 【TRYANGLE WEB】 YOKOSUKA Naval Port Tour / Uninhabited Island Sarushima / Yokosuka BBQ Triangle
There are a lot of places to play in Kanagawa, too.