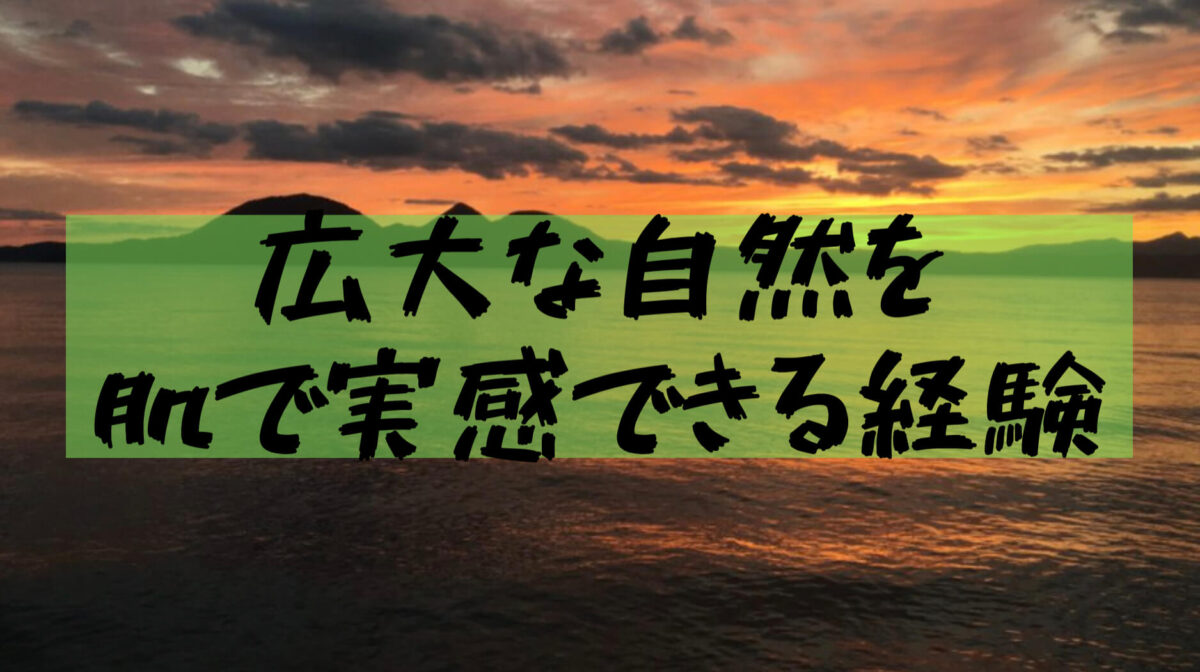 In September 2018, I spent a month going around Hokkaido by bicycle.
The first half was from Hakodate and Nagamanecho Campus to Hamanakacho, where Lupin III author was born.
Click here for a page summarizing the trip ↓
【Hokkaido Bicycle Tour】Introducing routes, dates, and belongings that university students traveled in one month!
Until the trip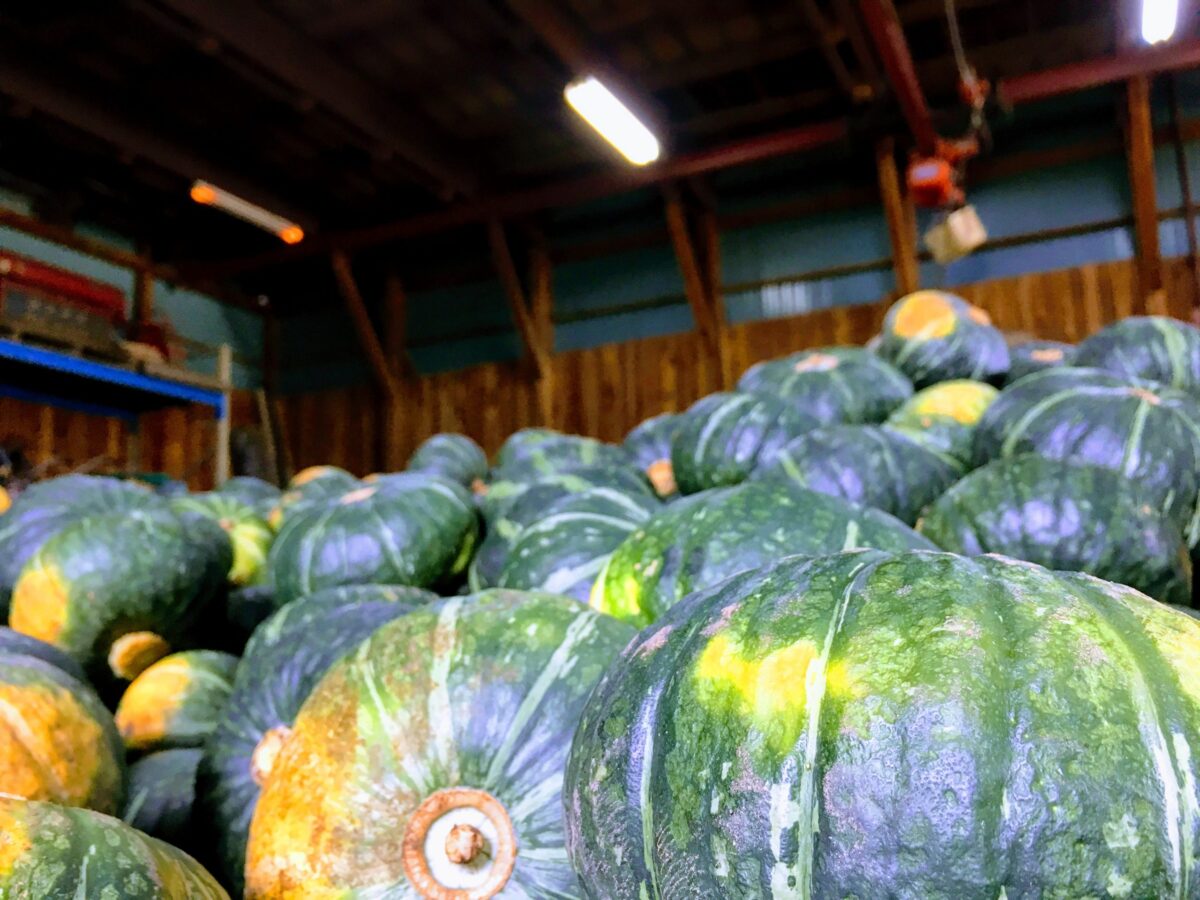 There were two months of summer vacation in Osabu, but the dormitory will be closed during the holidays.
Before my bike trip, in August, I worked part-time in agriculture in Atsuzawabe Town.
I worked for a month and saved travel funds, so I was sent to Hakodate for sightseeing!
【Agricultural part-time job】University students experience farming in Hokkaido during summer vacation! Is it hard to work?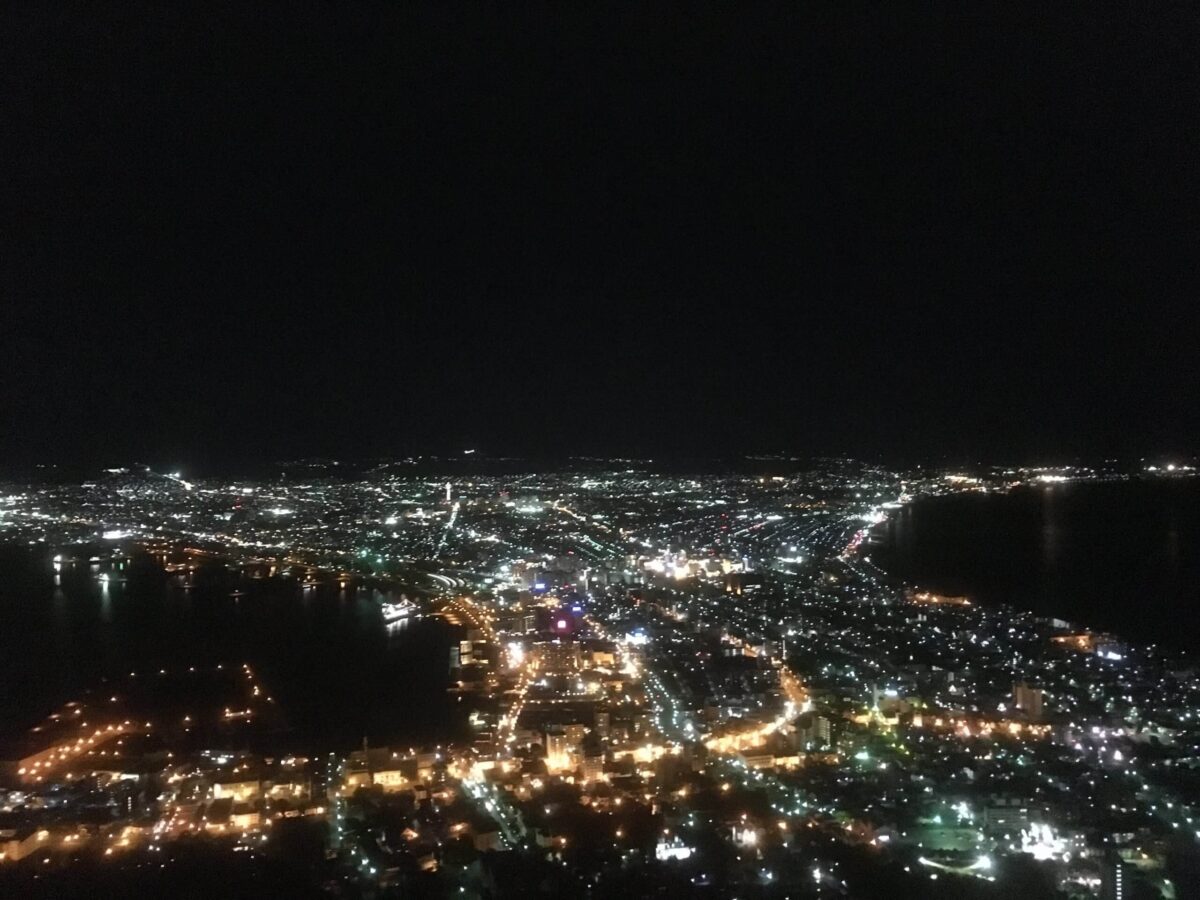 Eat a yakitori lunch at Hasegawa Store and see a million-dollar night view at Mt. Hakodate.
I didn't think about where to stay at all, so I take a nap with red bricks in preparation for a field inn holding 120,000 yen.
Then, the person who worked there introduced Necafe by treating beef bowl!
It was almost over before the bicycle trip, but I was saved by the goodwill of a gentle person …
I was told the story of him as a former backpacker, and I slept in necafe for the first time.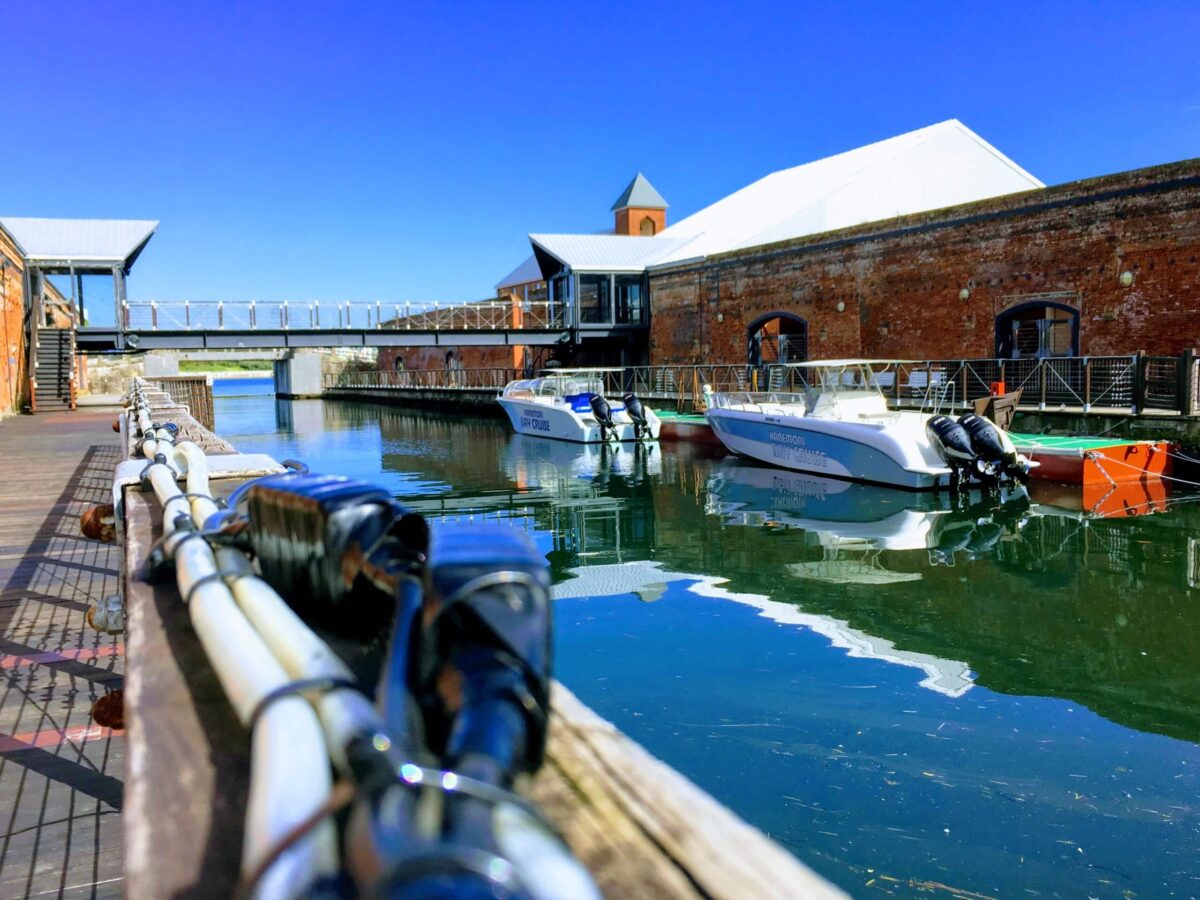 The next day we explored the city of Hakodate that was dark and invisible, and had breakfast at the seafood market before that!
The famous squid fishing is not so much fishing, it just hooks a needle on the swimming squid (laughs)
I caught squid that seemed to be as energetic as possible, but in no time I made sashimi.
Even after being cut, the squid was moving, and I felt a strange feeling in my mouth.
I also ate sashimi rice bowls for tourists, but the price is still cheap, but it feels like a fishing port.
Board a cruise ship, see the world's oldest power pole, and eat a chichiki burger.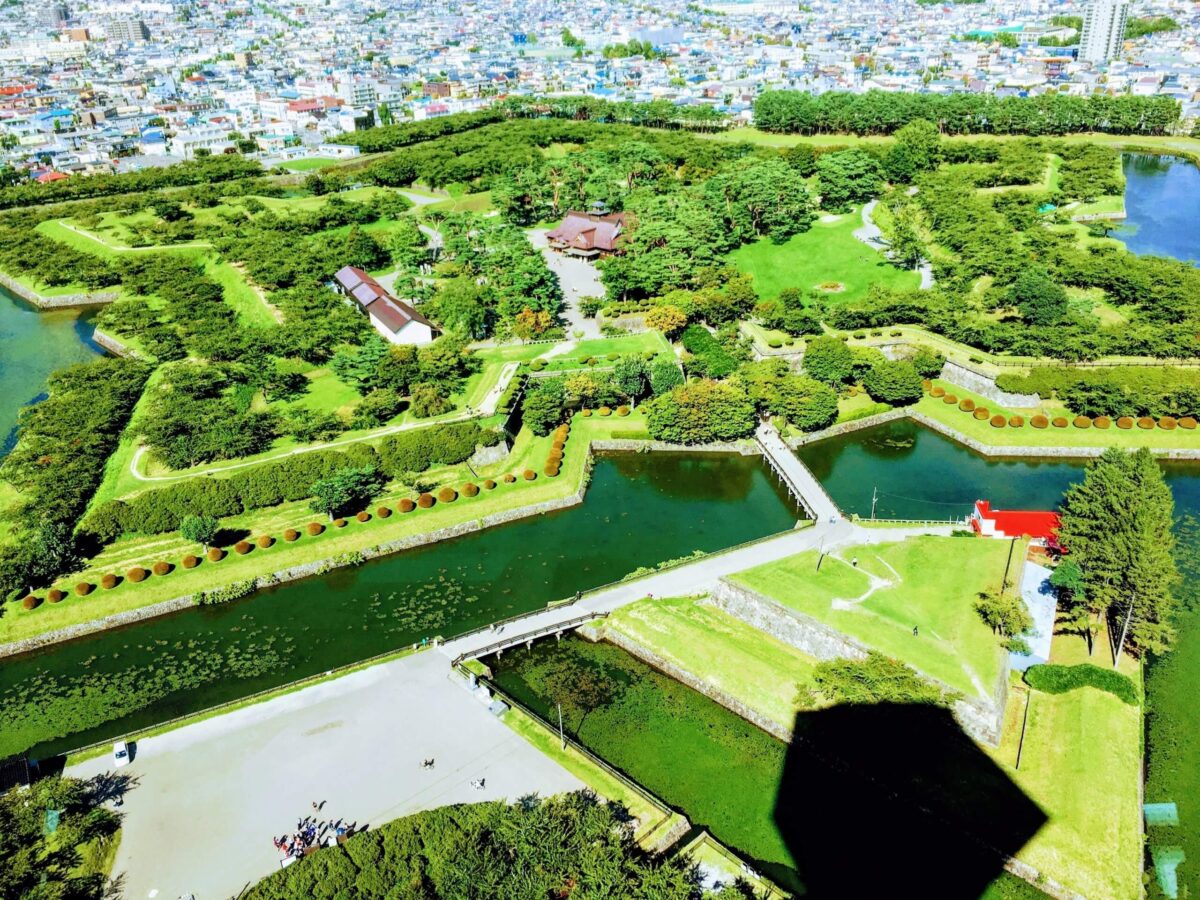 There was a little distance to Goryokaku Tower, but I like to walk, so I stepped through it.
We also stock travel goods on the road, spend another night at Necafe and prepare for tomorrow.
Day 1 (9/1): Camping in Lake Toya!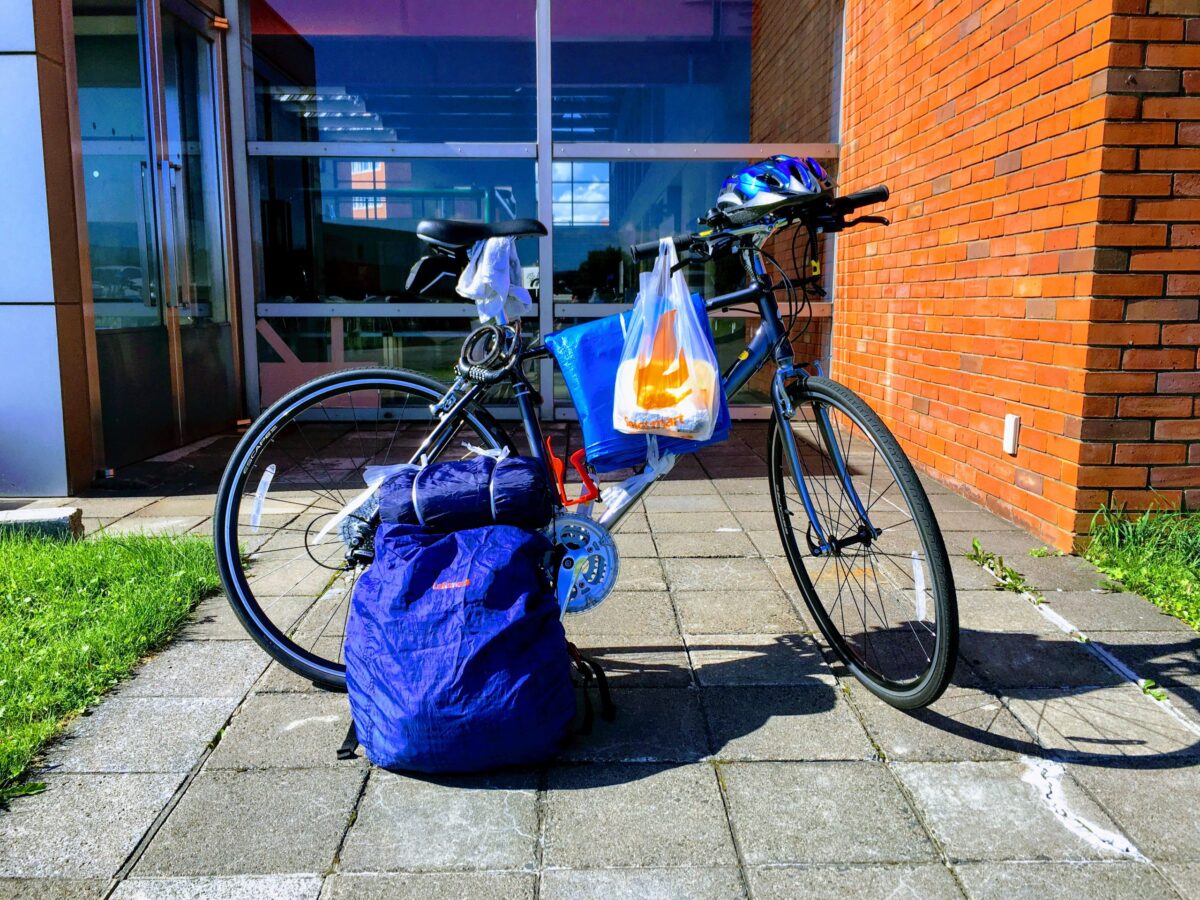 Take the first train in the morning to the Chang manbe campus and take your bicycle out of the dormitory.
The dormitory is closed during long holidays, so I talked to the security guards in advance.
This is all I had at the time of departure. The blue sheet tied to the bicycle is a secret.
While eating the beef bought at Secoma, we will cultivate your spirit in preparation for the upcoming trip!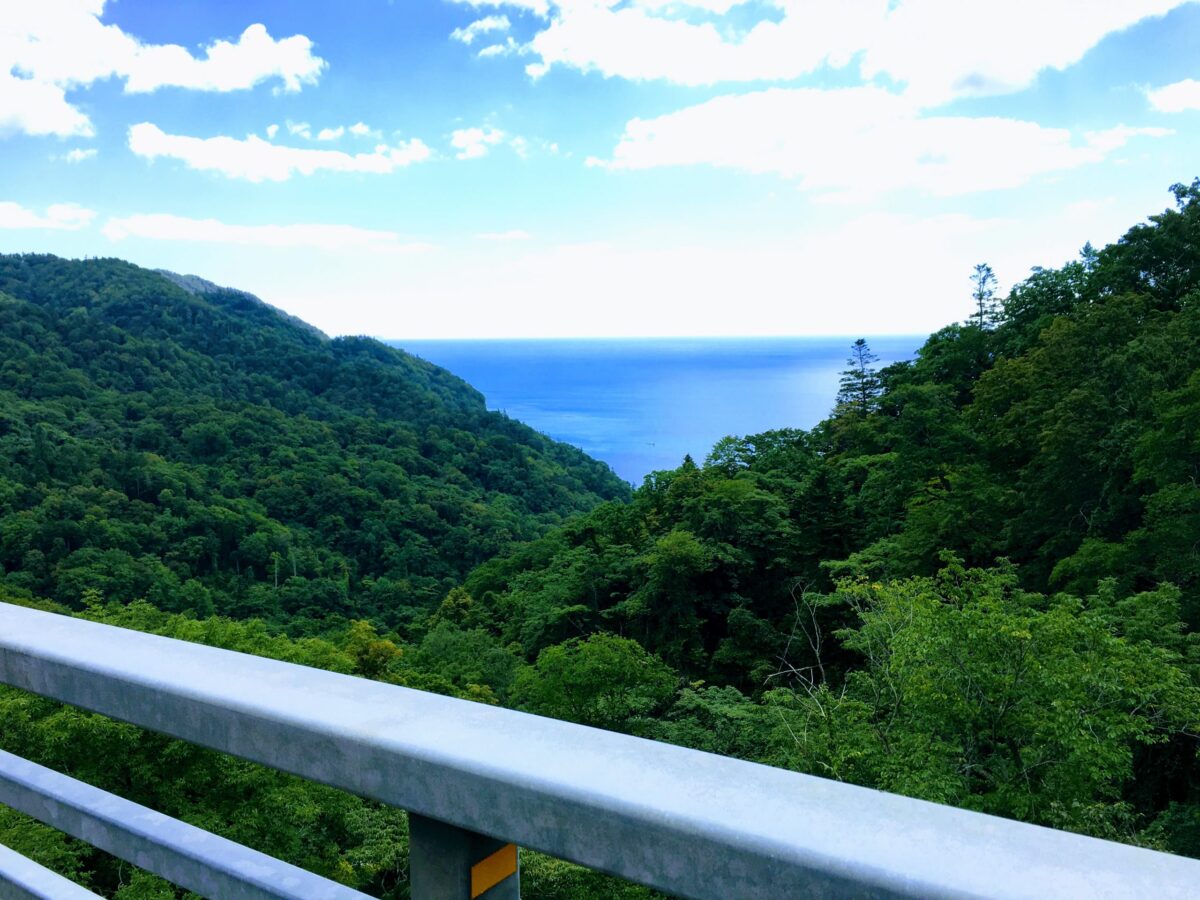 First of all, in order to get out of Nagamanbe, we will go single-mindedly on the road to Lake Toya.
Since the test ride has only been done for up to about an hour, I am worried about the pain in the buttocks …
When passing through the tunnel, it is very scary because the sound and wind echo the wall!
I foresaw death many times when the truck passed next door, that was indeed a lie.
This is the only photo because the scenery does not change on the mountain path, and if you stop on the slope, you will not be able to row.
When the violent mountain path was cut off, it seems that I was impressed by the sea seen between the mountains and took a picture.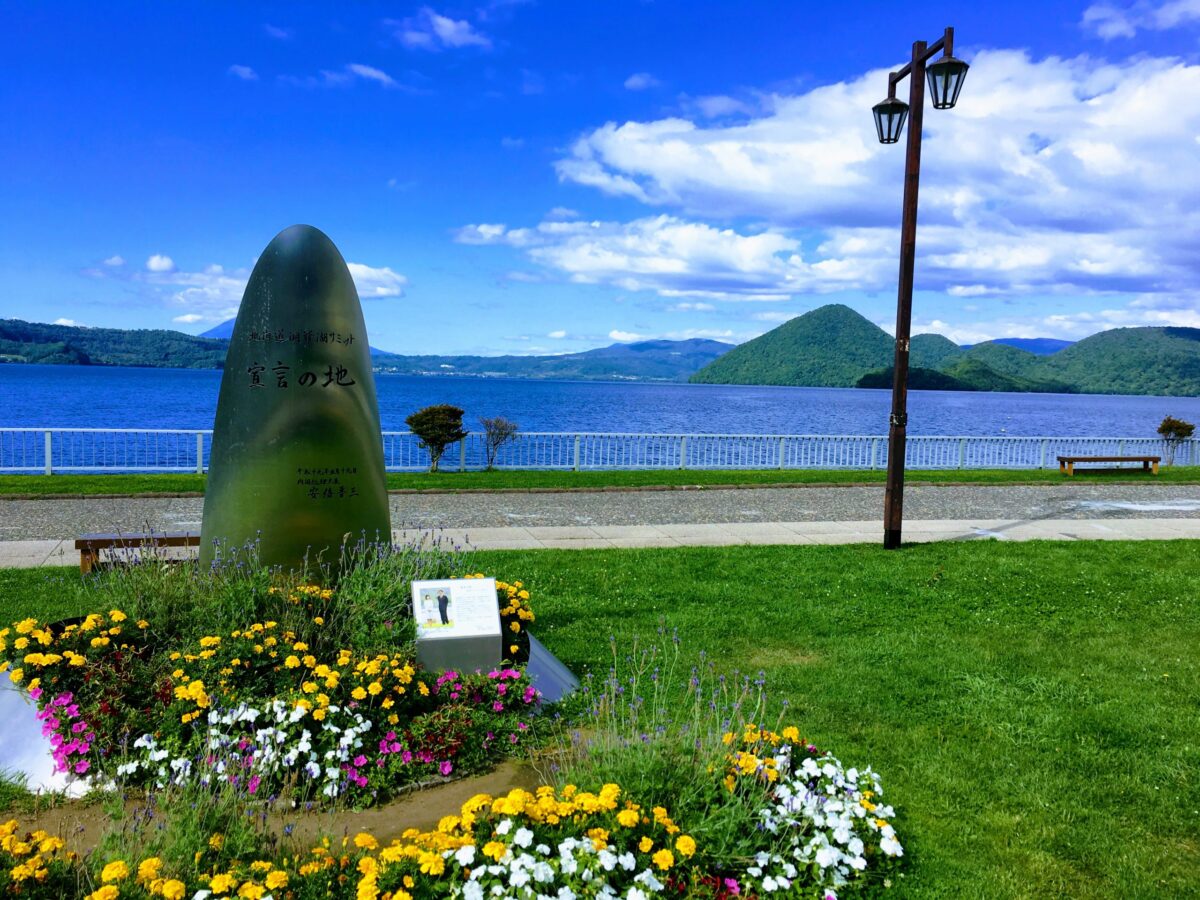 "It was Lake Toya when passing through a tunnel with a long town boundary"
Finally, I arrived at my first destination, Toyako-cho, and saw the exhibition of the eruption of Mt. Usu.
It is isolated from the outside world in a tunnel, and it seems to be serious if something happens, such as being next to a volcano …
The day-trip hot spring of the inn is chartered from the daytime, and at night, it is a field inn at "Nakatoya Campground".
By wrapping the sleeping bag in blue sheets, this trip realizes no tent.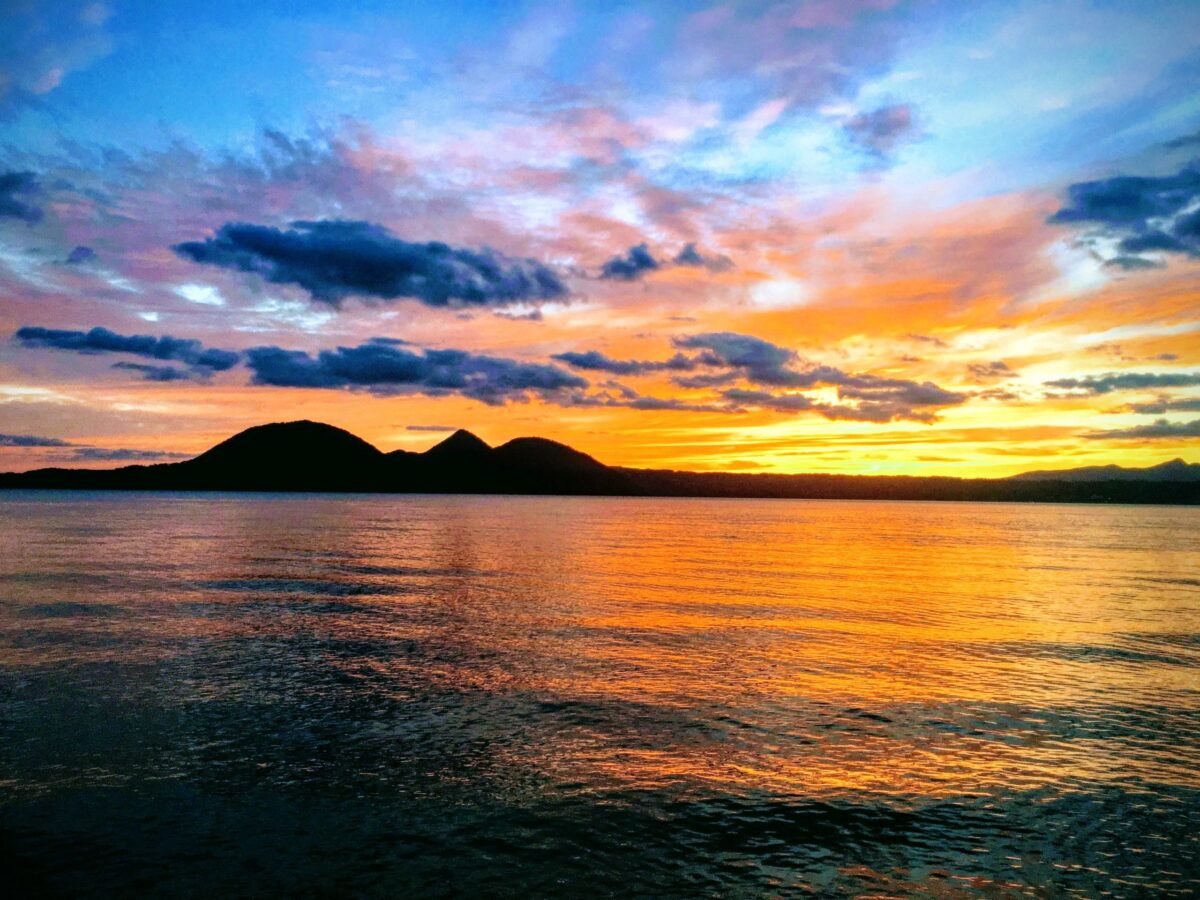 There seemed to be a fireworks display on the other side, and I heard a sound, but I could not see the actual fireworks.
I put calorie mate in bread and slept while listening to the insect's voice for dinner.
Day 2 (part 9 of 2): Touching the Ainu in Shiraoi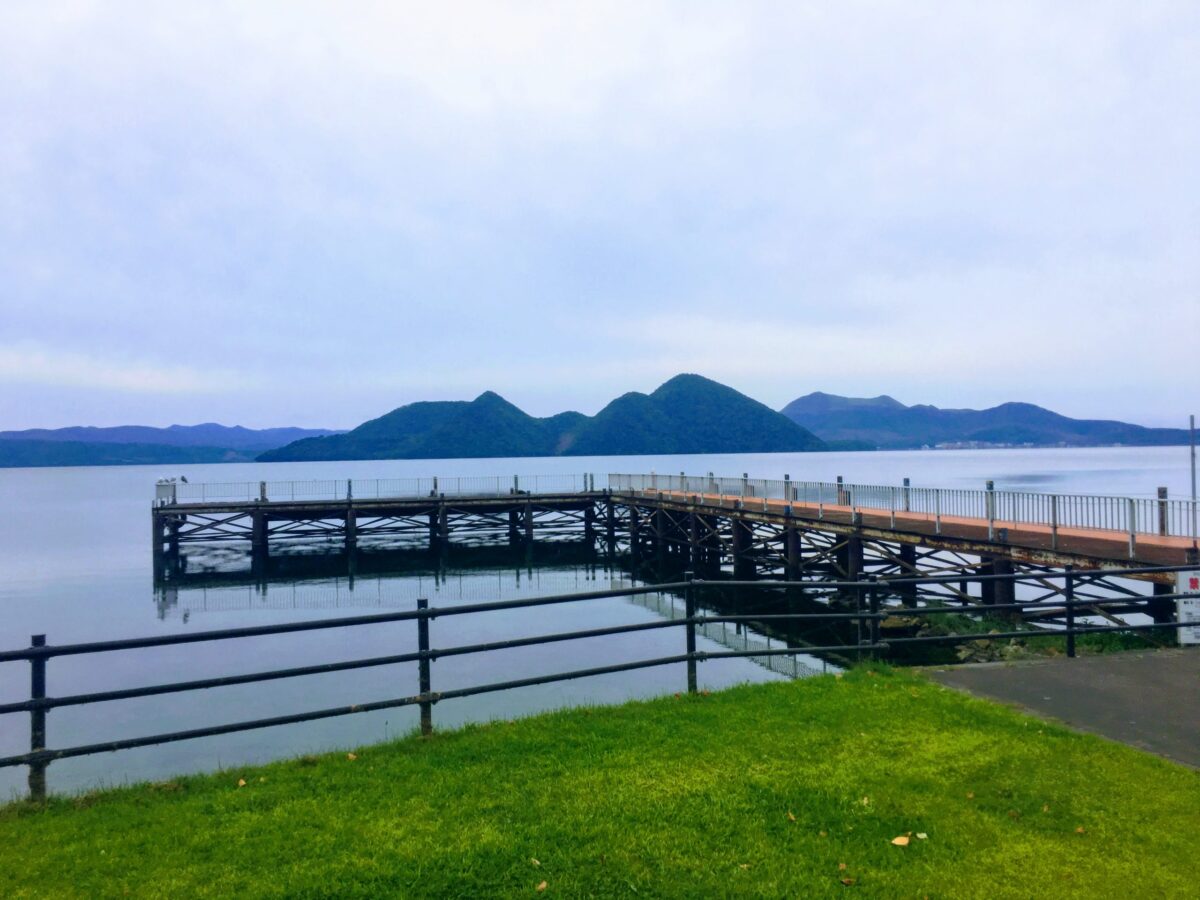 Get up around 6:00 in the morning and leave the campsite for your next destination.
There was an uninhabited vegetable sales office, so I ate it while running a little blue-smelling tomato.
It is boring to go back on the same road, so it is a little detour, but I will try to go around the lakeside.
The roadside station "TateShi no Mori" has just opened, so we secured bread for breakfast.
During the agricultural part-time job, I was surprised that corn, which was free and all-you-can-eat, was 200 yen!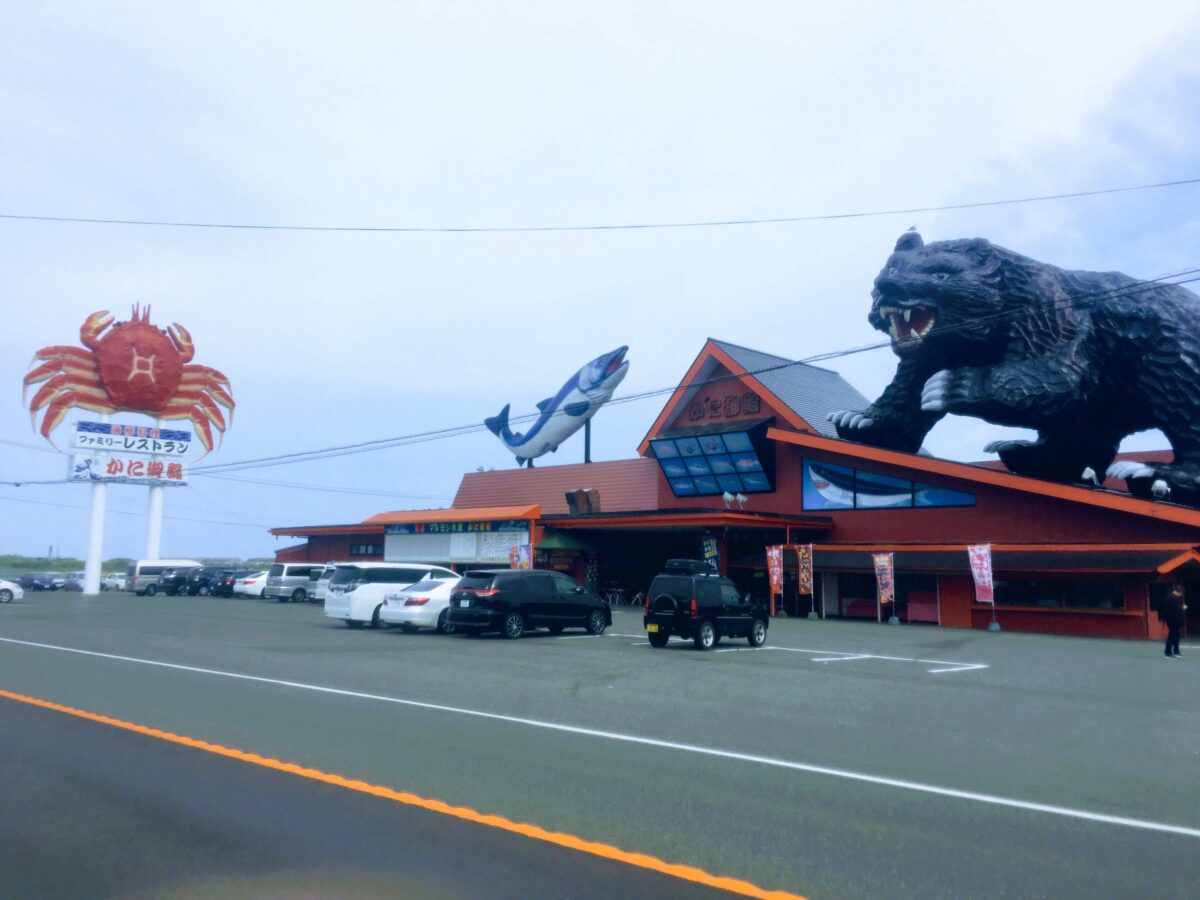 When I thought I was going to stop by Muroran, I gave up crying because bicycles were prohibited.
I saw a large amount of dried sleen in a terrible building where huge "crabs", "salmon" and "bears" fight.
The clouds have become suspicious and it has rained a little, but we have arrived at today's destination.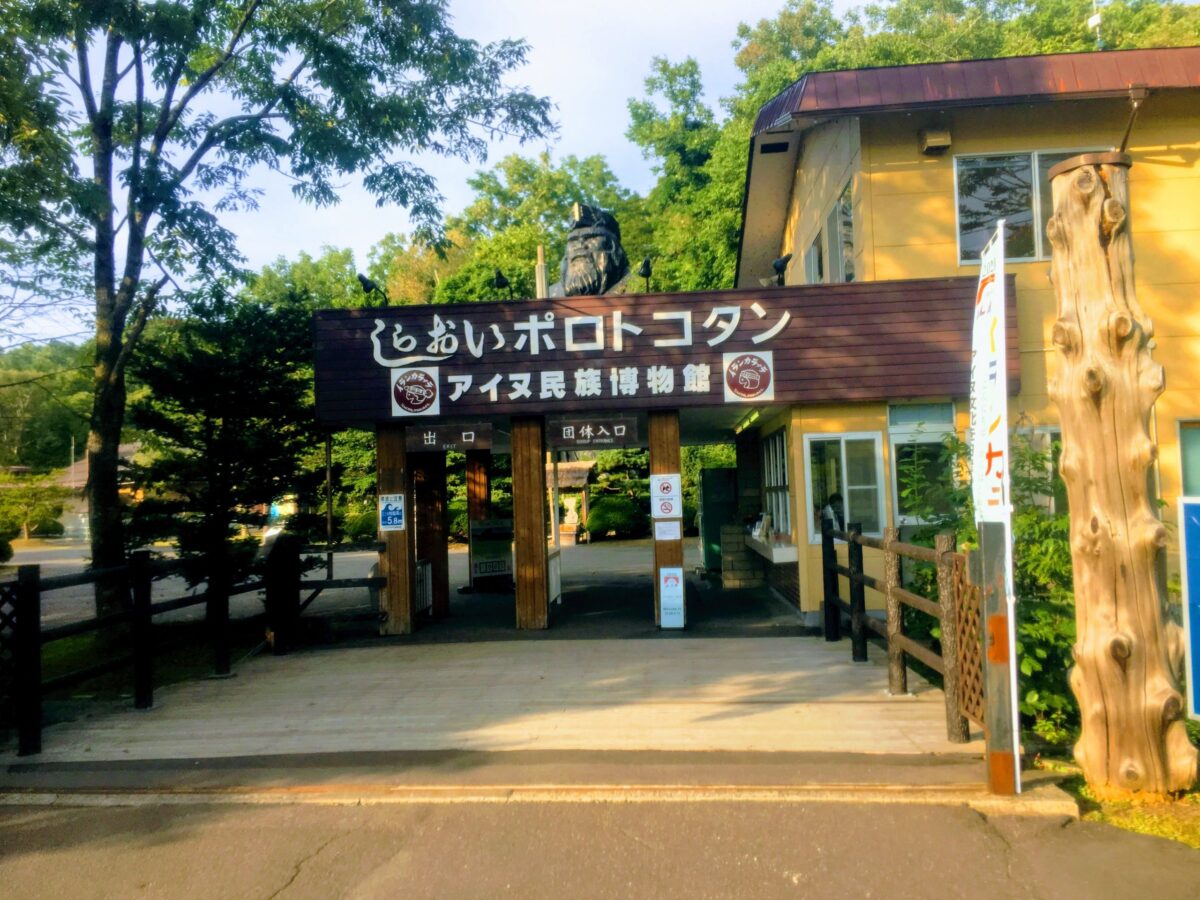 When I was in high school, I thought that if I wanted to move on to the humanities, I would become an interpreter or a humanities person.
I was interested in the Ainu people in Hokkaido and wanted to go to "Porokotan".
It was a pity that I couldn't see the exhibition slowly because it was quite a good time.
While eating penneimo mashed with frozen potatoes, I found "Golden Kamui".
I read only one volume here, but it was quite interesting, so I read the whole volume later.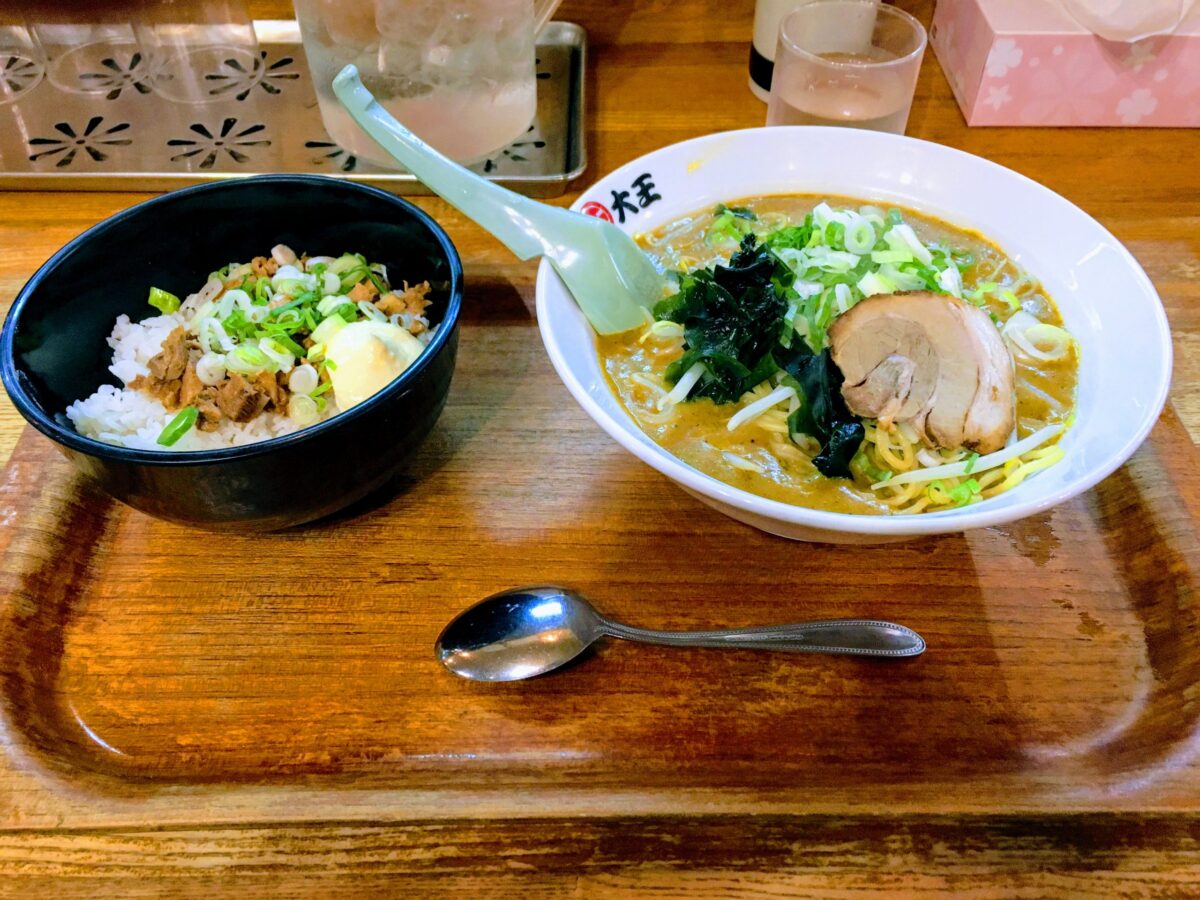 When I was eating curry ramen in Tomakomai, it was pitch black and I couldn't find a roadside station and I was impatient …
There were other riders pitching tents at the roadside station, so I was a little relieved.
Day 3 (9/4): Unexpected Field Lodgings in Yubari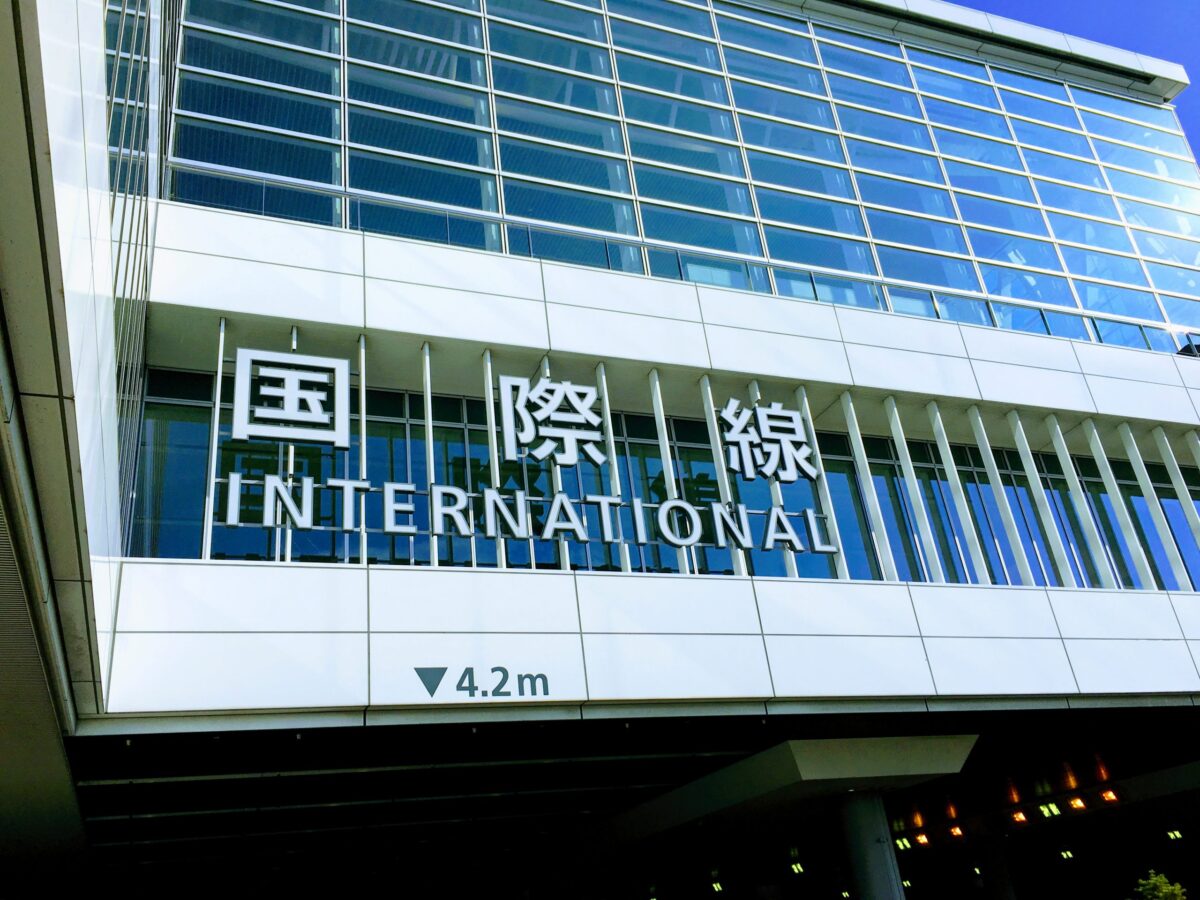 I stopped by and did a stamp rally at New Chitose Airport, and I lost my stamp book.
I was going to stamp a lot of stamps that were at the roadside station, so I was a little depressed.
I don't know I'm going on a trip to Thailand in six months, so I want to go abroad … I thought.
【University Student Thailand Trip】Student Backpackers Go to Southeast Asia! Belongings, schedule, etc.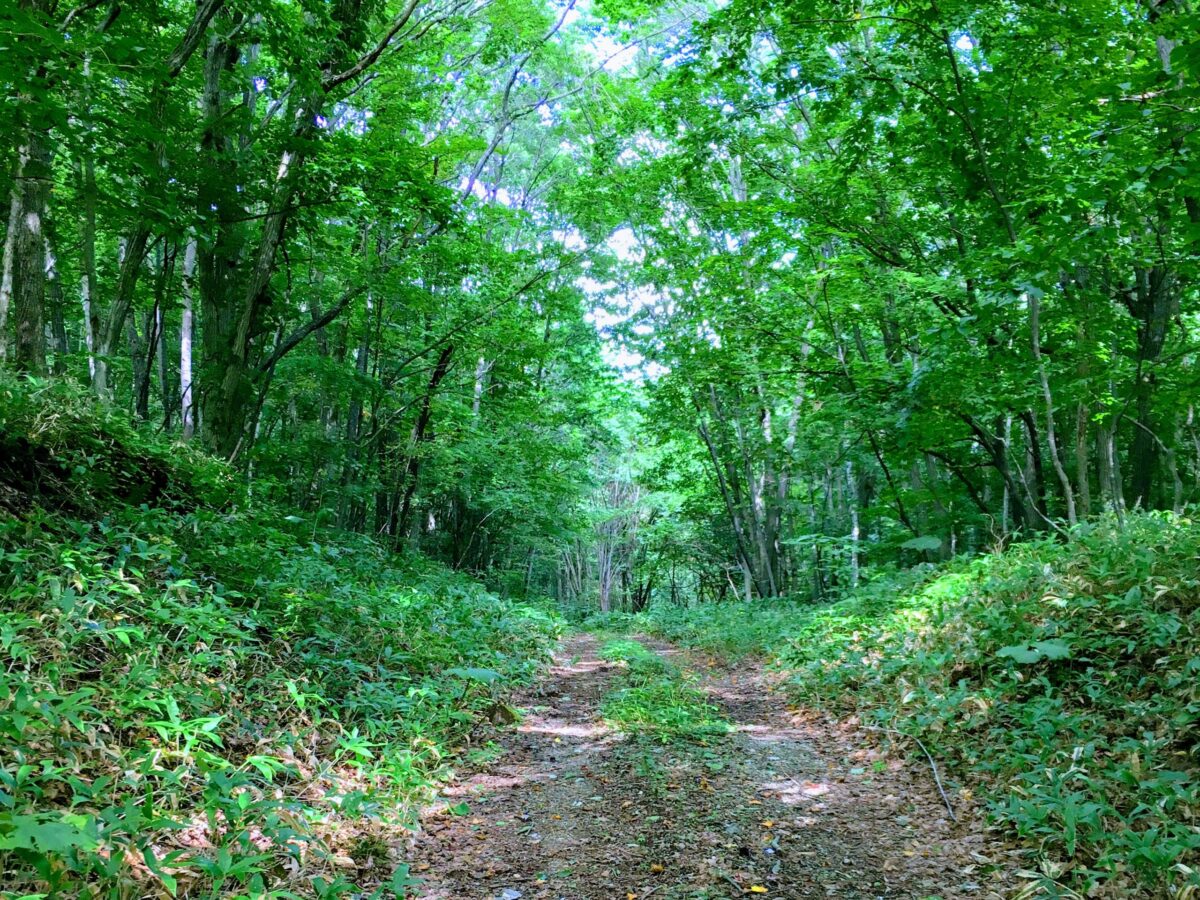 Today's destination is Yubari, famous for its melon and financial collapse, and mountain roads continue to the destination.
The maps.me I used will guide you on the road without a road, so I may carry my bicycle and walk.
You can eat melons as high as 800 yen per piece at the tourist office where melon bears are located, and see the valley.
Yupalo-no-Yu, which is scheduled to stay, is in the guidebook that you can stay 24 hours a day!
I take a hot spring for the first time in a day, eat Oyakodon, and sleep in the chair in the facility for tomorrow.
… I thought, but I was woken up by an employee at the facility around 23:00.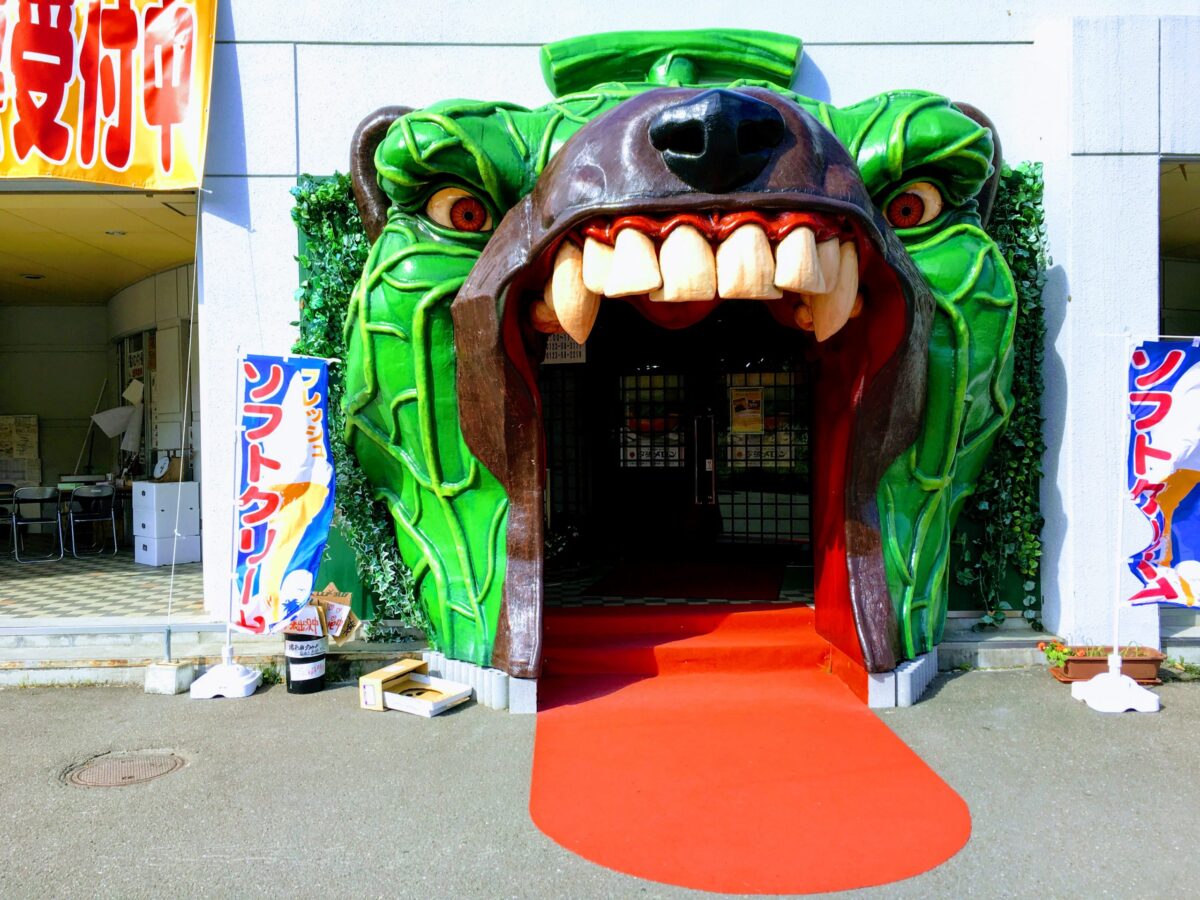 Business hours have changed since the guidebook was issued, and they were unable to stay 24 hours a day.
It was so low to the difference in temperature on the mountain that it was hopeless and at a loss to sleep outside.
Then, an employee who could not see rented a mattress and a futon of the facility!
I didn't think I needed the latest guidebook, but the latest information is important.
Day 4 (Part 9/4): No Mukawa Ryu was seen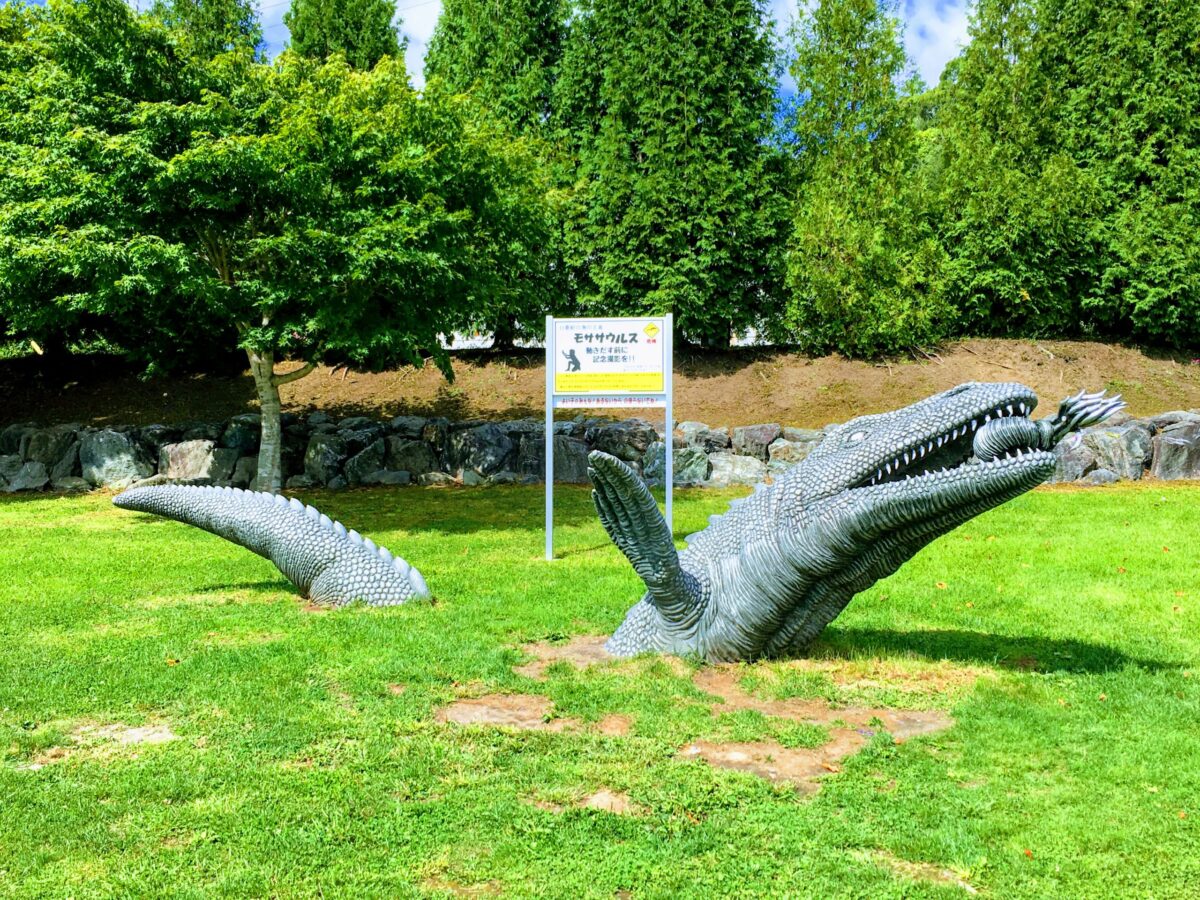 I left a futon and a letter, and when I went to "Happy Yellow Handkerchief Square", I saw two deer.
However, there is no photo because the charging of the smartphone is zero due to forgetting to charge the smartphone and the cold.
I saw the "yellow handkerchief of happiness" after the trip, but it was a good work, so it was recommended!
If the charging of the smartphone does not revive, you do not even know the path of travel.
Emergency charging in the toilet of the newly opened Seicomart (not open 24 hours) …
Don't imitating a good boy! (I purchased a mobile battery later)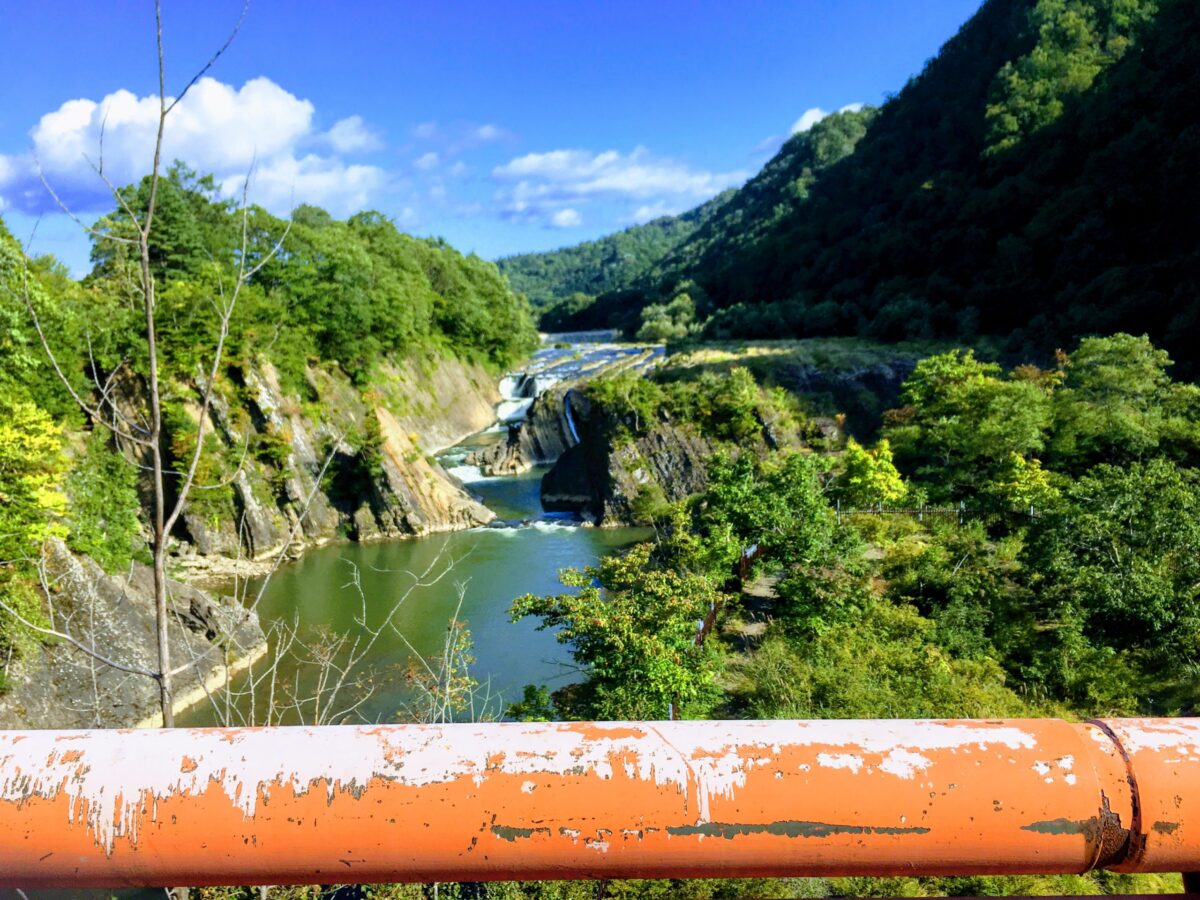 Mukawa Ryu, who had been aiming for it, abandoned the museum on display because it was a Monday holiday.
However, the town itself is famous for dinosaur fossils, and you can see dinosaurs all over the town.
It would be nice because tourists will be happy if the whole town is excited!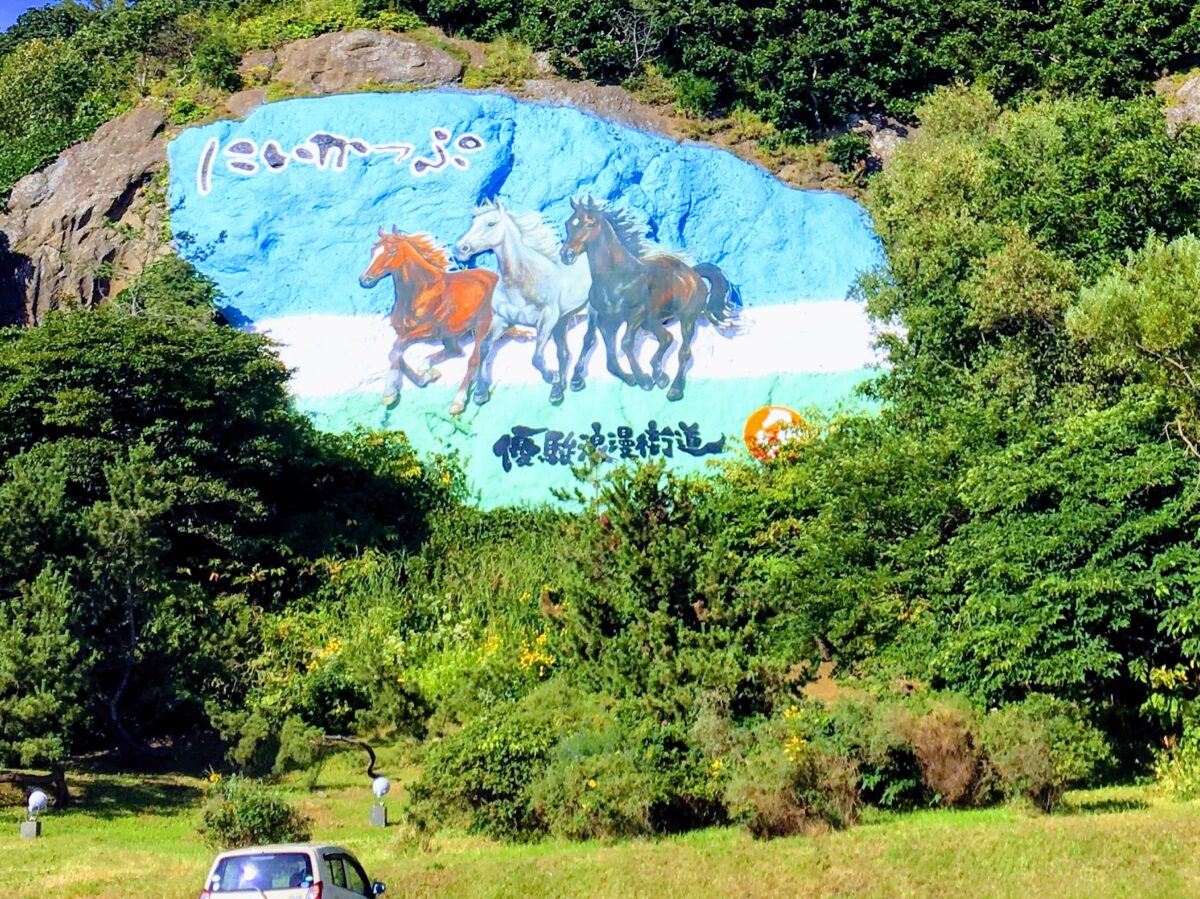 Niikappu Town, famous for its horse racing stallion, is likely to be ranked as an obfuscable place name.
It stayed in the field on the street of the roadside station on this day. I want to take a shower soon…
Day 5 (9/5): "Kaze-no-Yakata" in Cape Erimo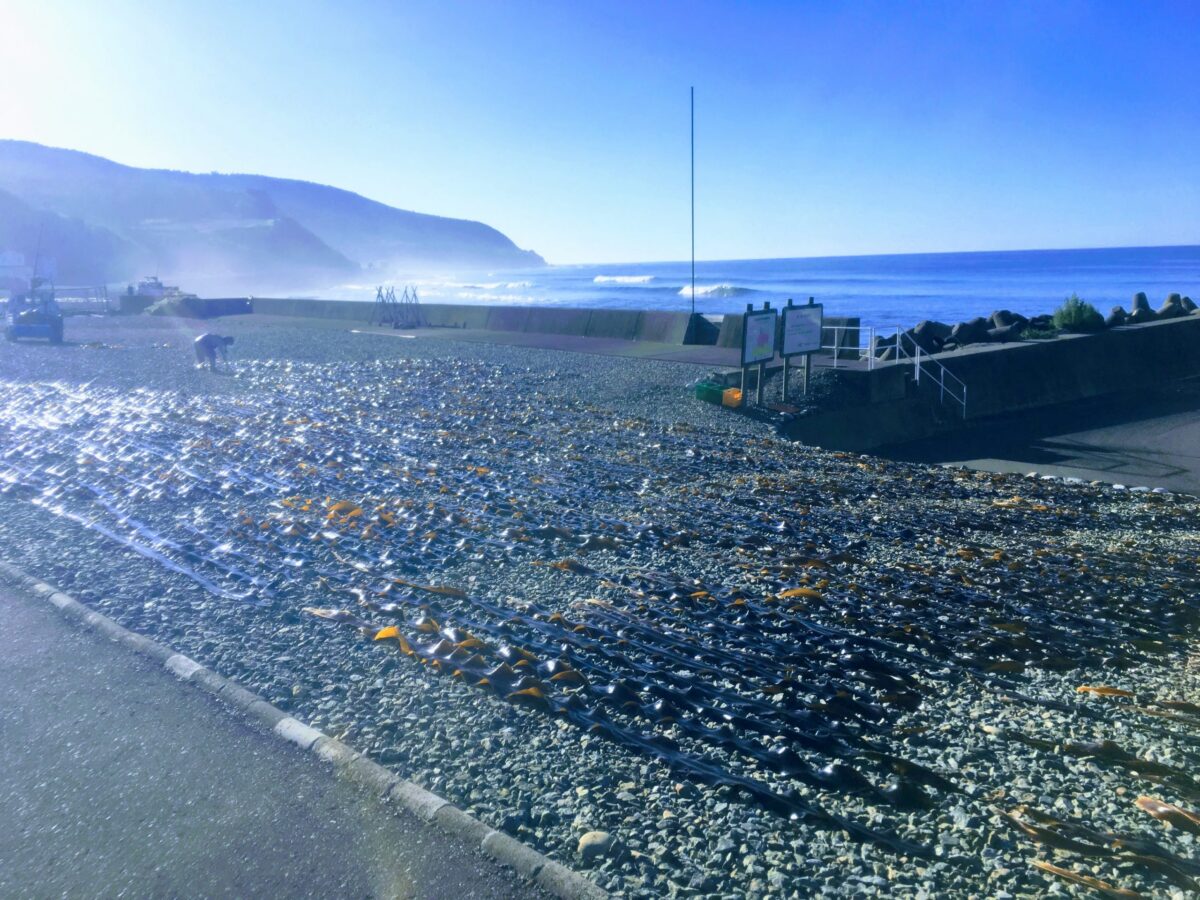 Today, we will continue by bicycle from the morning, and today's destination, Cape Erimo, is just around the corner.
On the coast, the kelp harvested from the morning is dried, and a mysterious scenery spreads out.
There are also places where chariders and riders are recruited, so if you have a chance.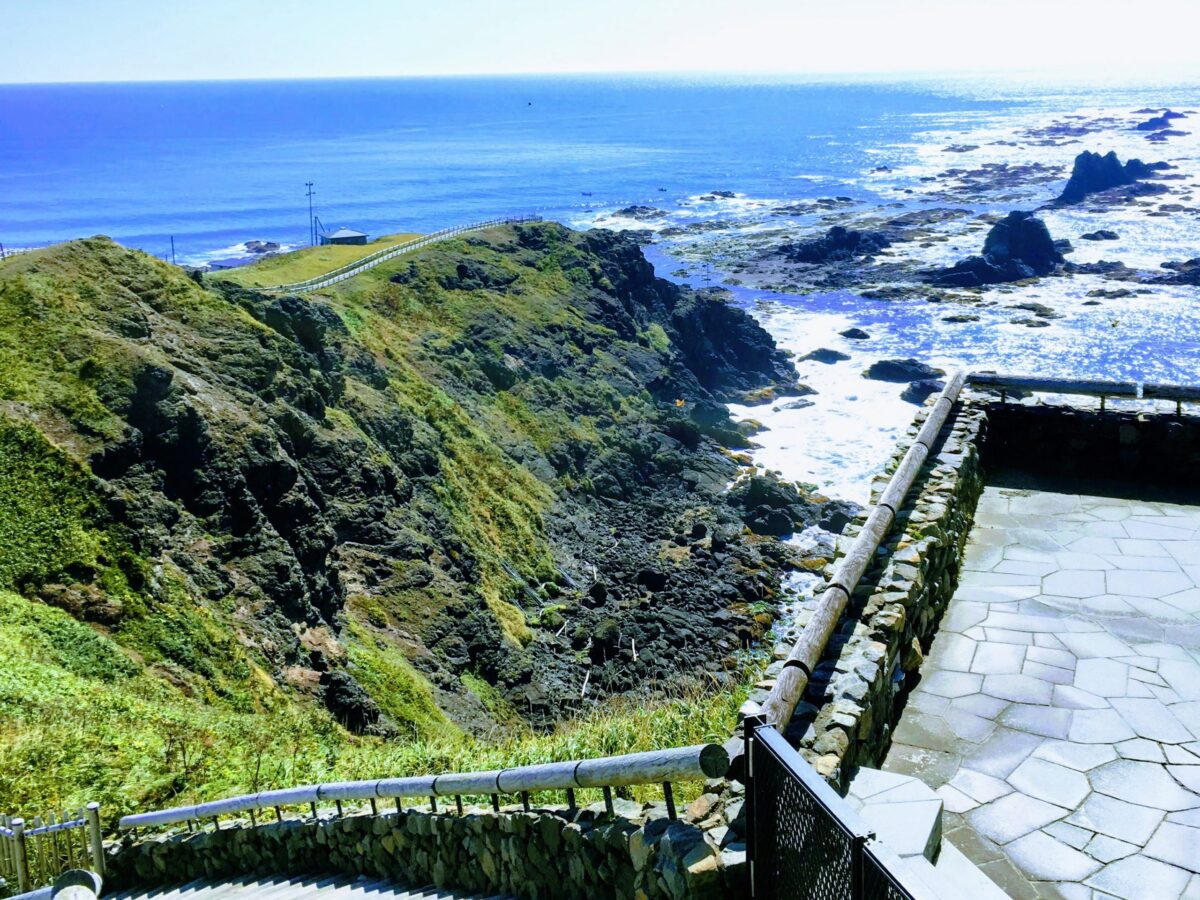 I think it was my first experience as far as I can remember coming to a place called Misaki.
At the forefront, I was impressed by the fact that the earth is really round.
At the "Kaze-no-Yakata" facility where you can learn about the cape, a seal of zenigata was observed with a telescope!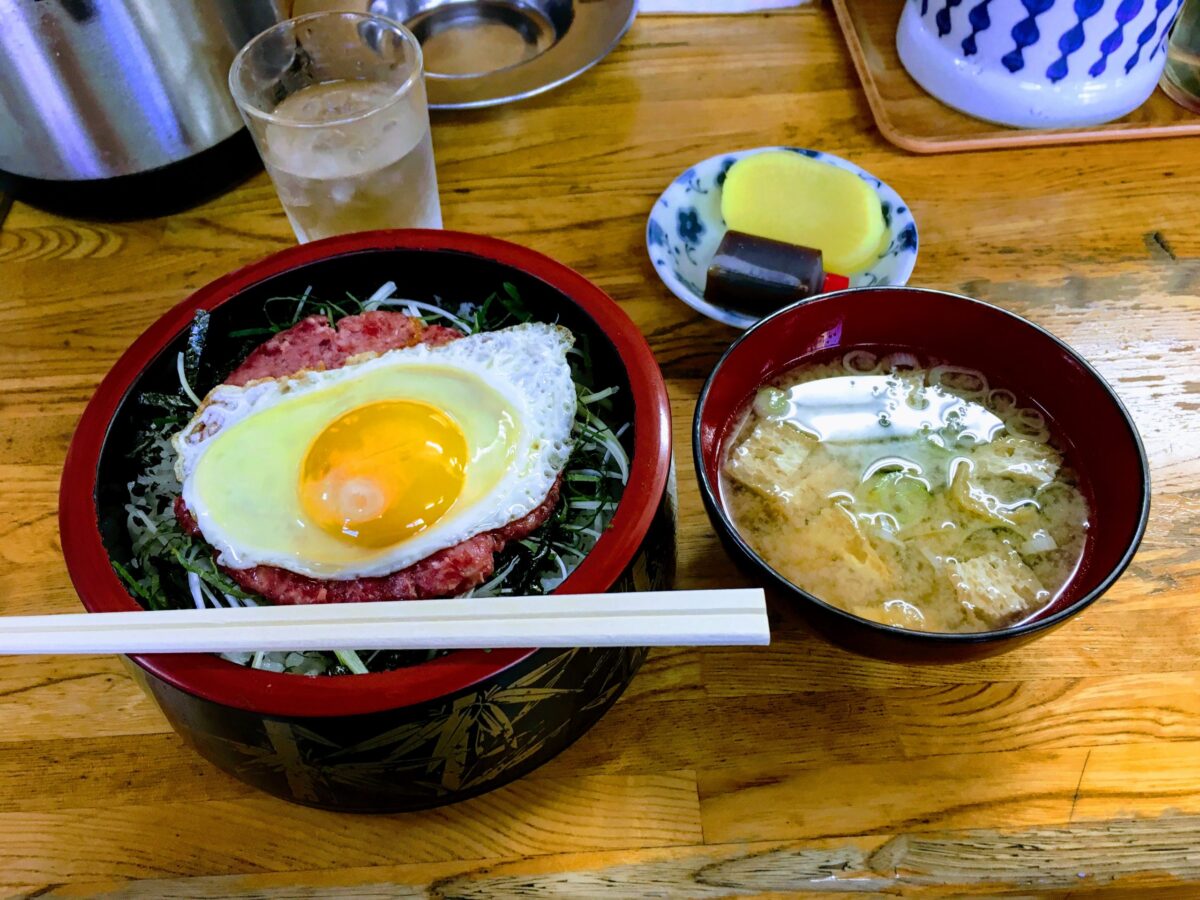 Taiki Town, sponsored by Takafumi Horie, is listed on the private rocket MOMO.
When I was eating the guidebook beef bowl, the general gave me salmon roe.
Here, the accommodation place should have been secured, but there was a mistake and it was a field inn for 4 consecutive days.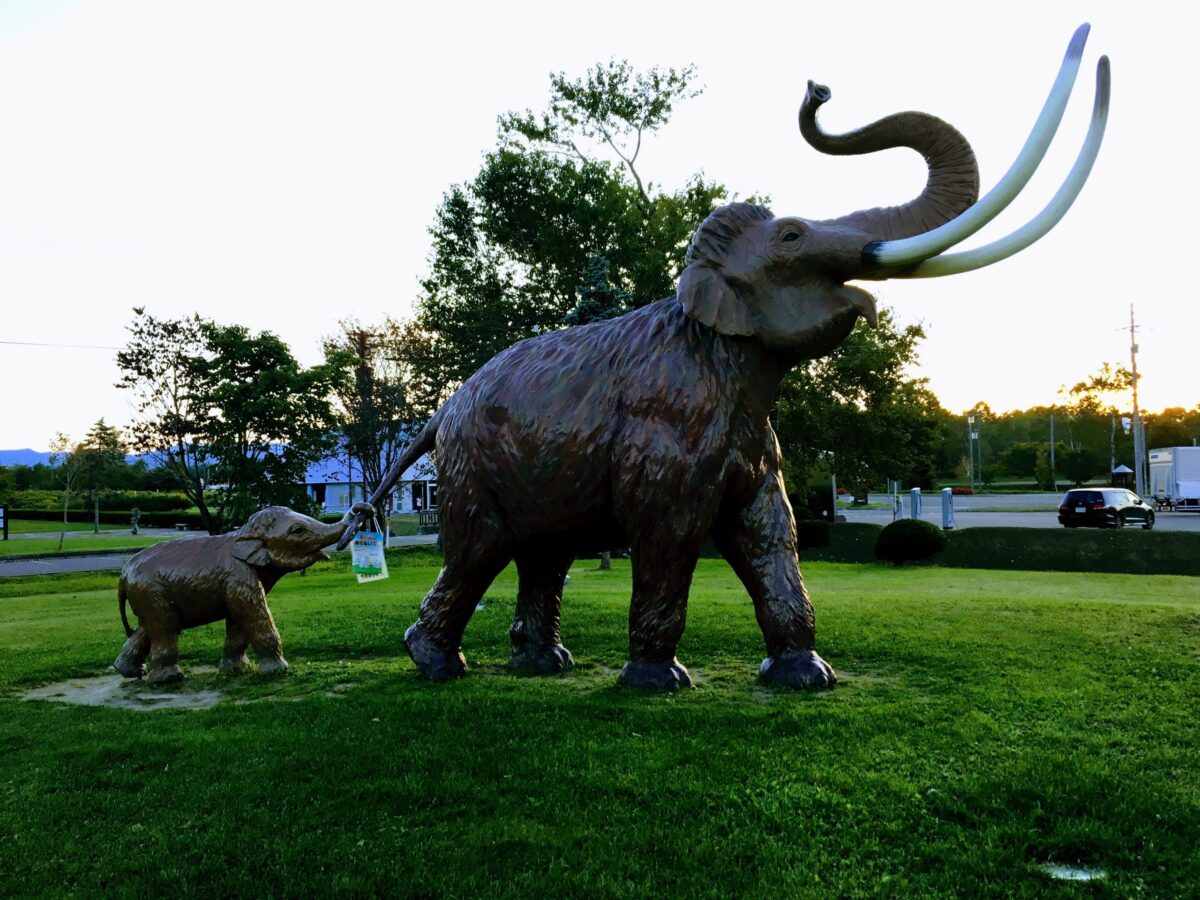 Mammoth parents and children buy croquettes and stay in the field at the dazzling "Roadside Station Chuei".
There was a large group of mosquitoes overhead, so I slept around in a blue sheet (it was hot …)
Day 6 (9/6): Raining into Ryder House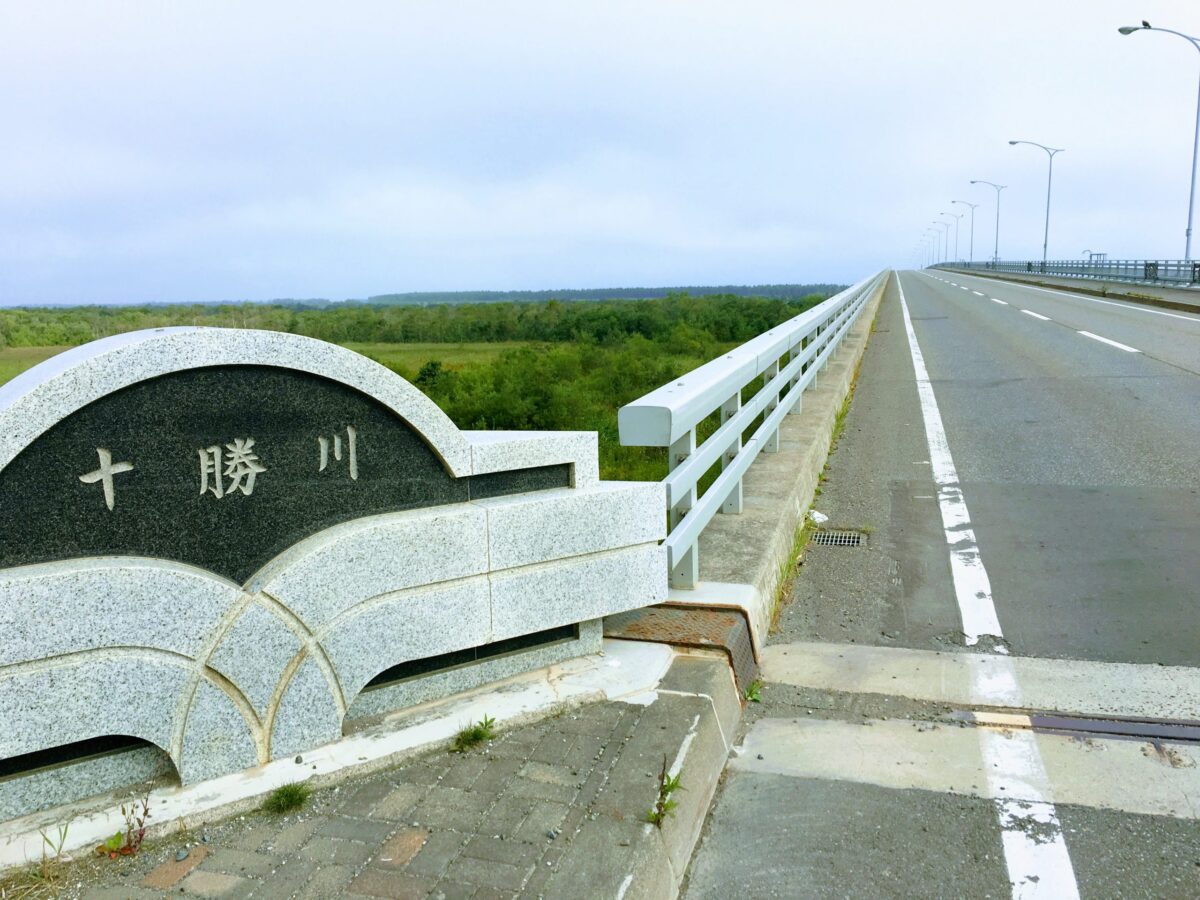 Before arriving at your destination, it was the first heavy rain on a bike trip…
When I was at a loss, the car uncle who was passing next to me called me.
According to the story, there is a cheap rider house a little further.
I was really grateful for this proposal because it was raining and my heart broke!
When I'm doing a bike trip, I feel that people who go along the road are kind …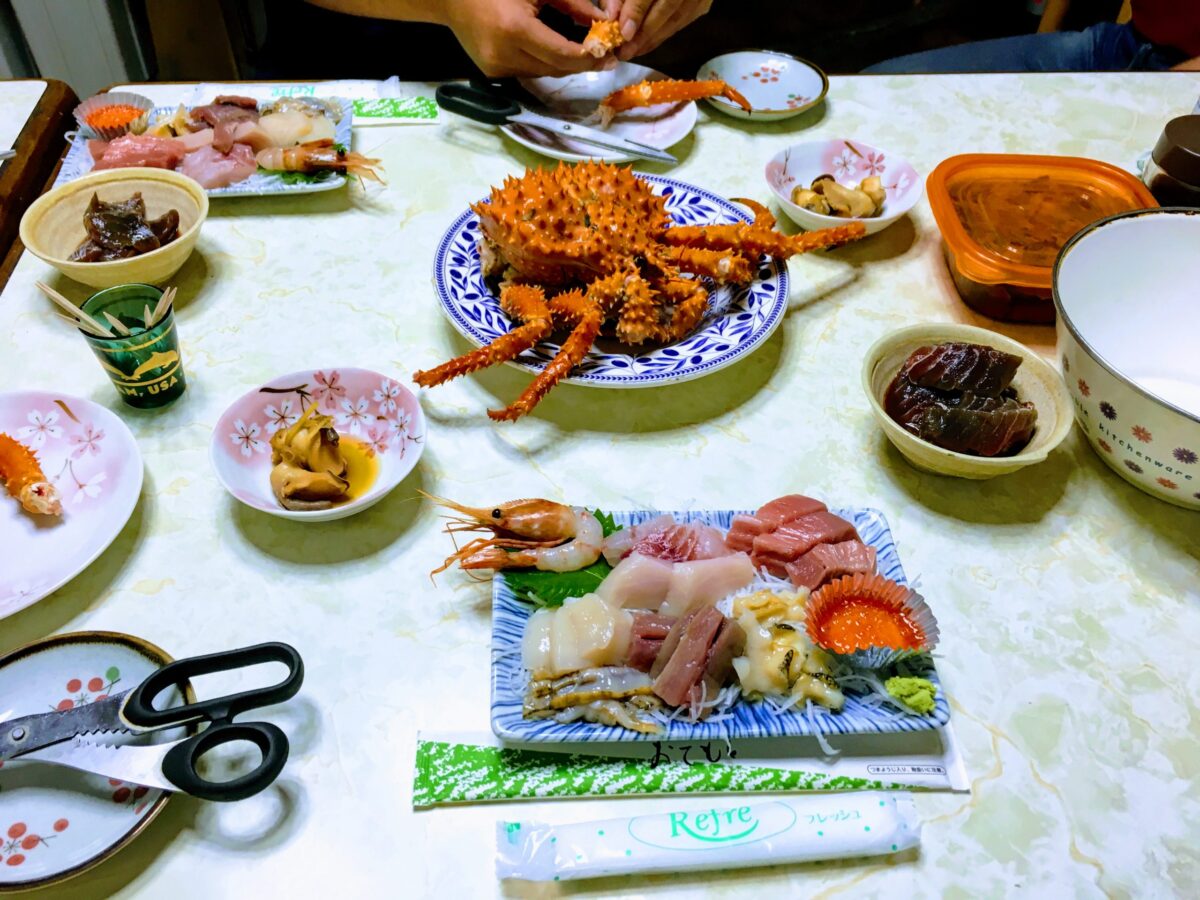 The Ginrinso where I stayed is a ryokan on the first floor and a rider house on the second floor.
Relax your body in a warm bathtub and enjoy seafood that you can't eat and monopolize the rider room!
I'm so happy to be able to sleep without being bothered by it while listening to the sound of rain …!
Day 7 (9/7): Oysters and Lupin III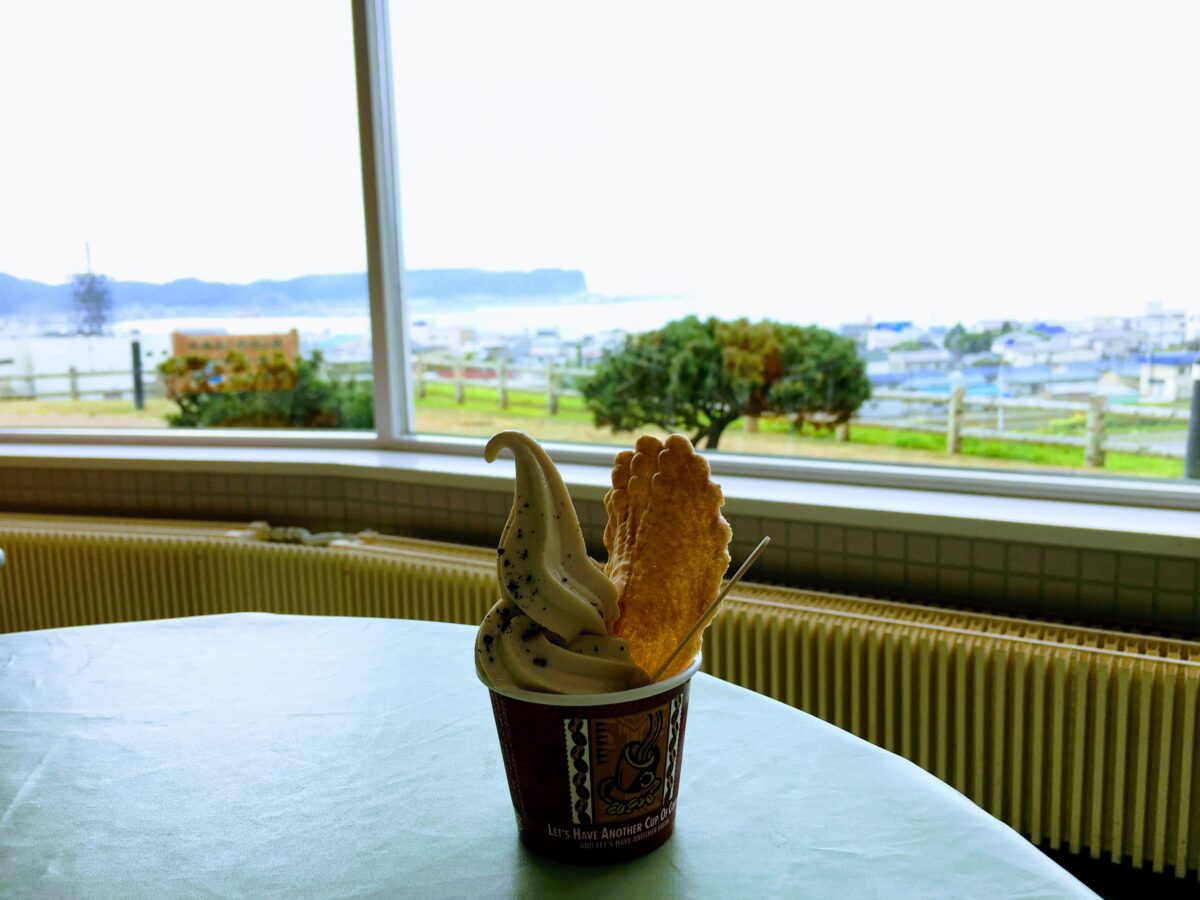 I ate oysters yesterday, so I eat ice cream called oyster mocha at the roadside station.
It's kneading oyster sauce inside… Yes, I'm not sure.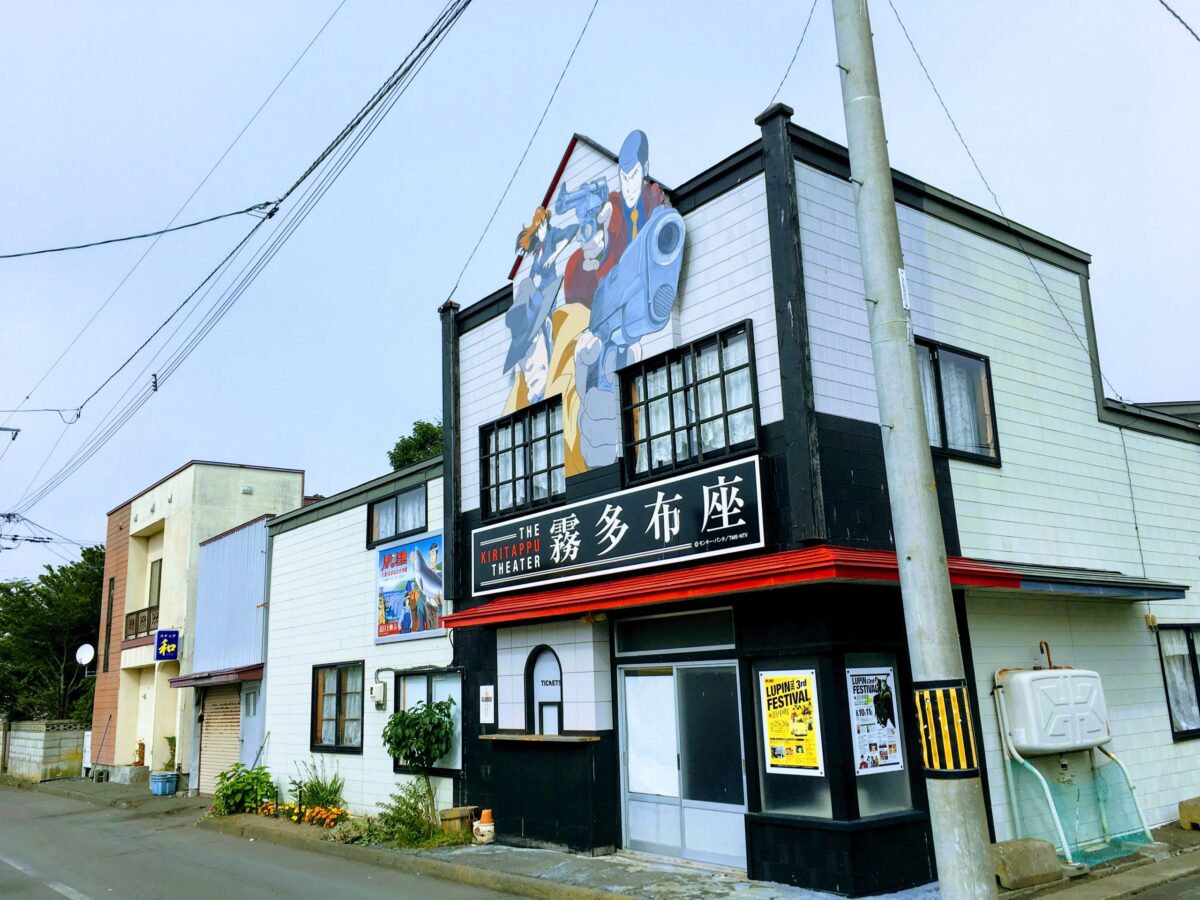 The hometown of Lupin III author, Monkey Punch, is also popular in Hamanaka-cho.
There was a Lupinn village in town and a lot of shops they themed!
The memorial hall was under renovation and could not be entered, but I am satisfied that I had a good time.
Click here for other Hokkaido travel articles