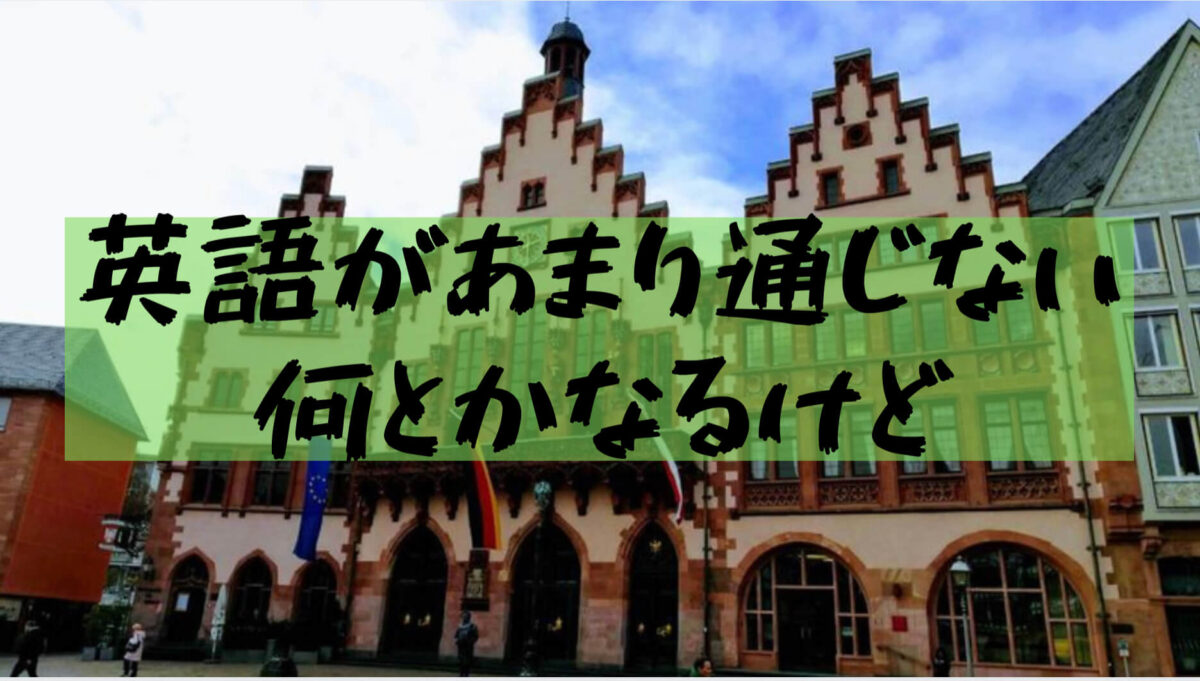 In the month of February 2019, we reworked the record of traveling without planning eight European countries at a later date.
(Germany→→ Italy→ Vatican city→ Switzerland→ France→ United Kingdom→ Spain→ Portugal)
This time, I will look back on the state of Germany, the first country across Europe! ↓The outline of the trip is in this article ↓
【University student trip to Europe】University students cross Europe for one month (cost, schedule, belongings, etc.)
Day 1: Moscow→ Japan
From the day before to Narita Airport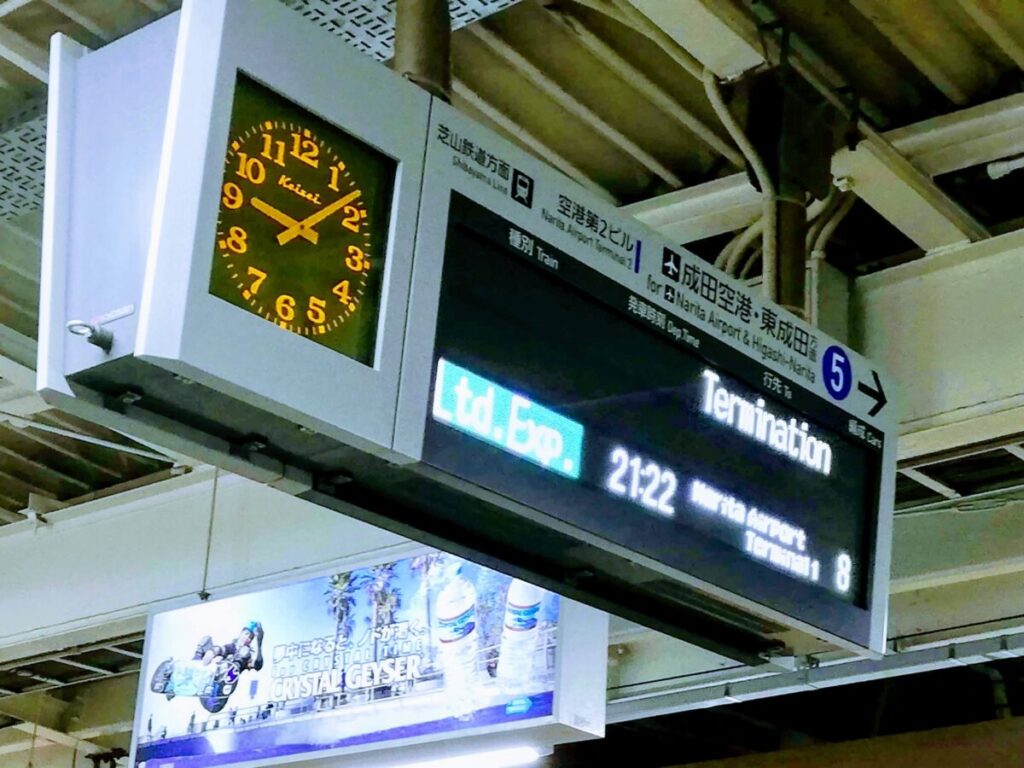 I found out that I could go over the night at the airport in Thailand, so I got used to sleeping in the noisy the day before.
It was a long time since it took a while to get to bed, but I secured the necessary sleep time.
I like to feel the excitement before the trip at the airport, so I want to enter as much as possible the day before.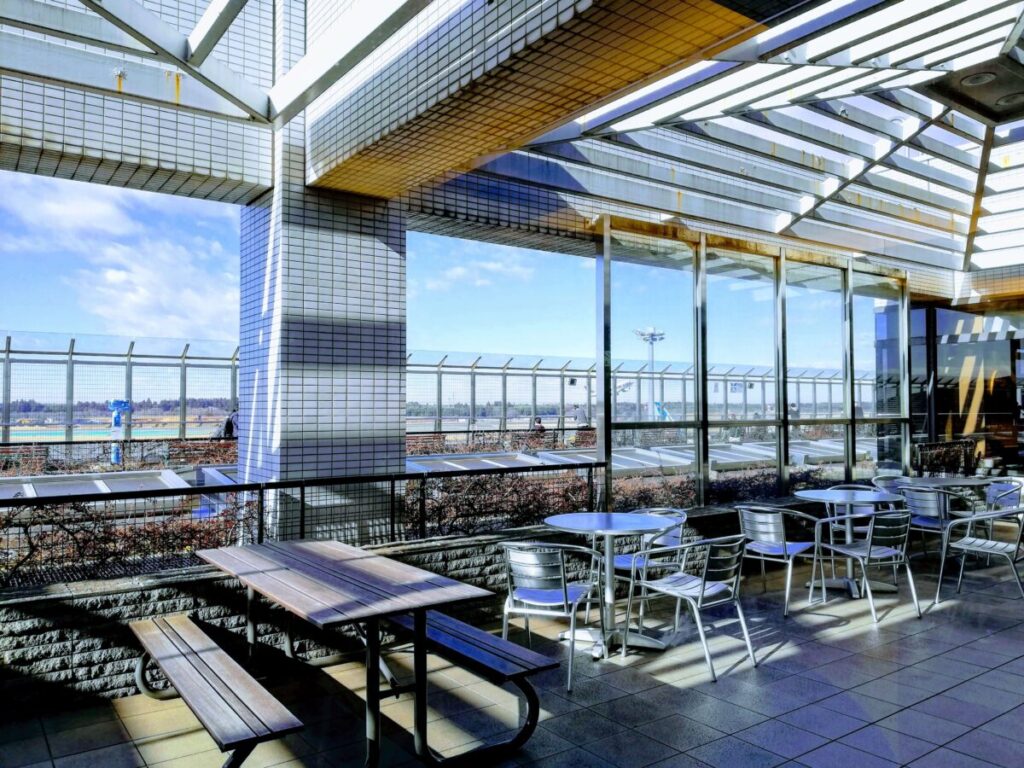 When I thought about eating beef bowl before departure, I was seriously wondering if I should go to Terminal 2 in terminal 1.
I thought about what route to travel while eating breakfast, and decided about the order of the country to go.
However, I did not control the hotel, so I did not decide what to do with the schedule at all.
I made friends with a Russian student in Japanese fluent who lined up behind me with a ticket at 10 o'clock!
Personally, the hardest part of traveling abroad is "Can I talk to others?" and it takes courage to put a word.
I can talk as much as I can when I start talking, so I was talking about my surprise when I came to Japan for about an hour!
Stores where cash can only be used (cash or card or card only)
Different things count differently (1, 1 rod, 1…)
There are many university students who do not study (my heart hurts …)
Poor public WiFi (no signal)
First of all, to Russia of the connecting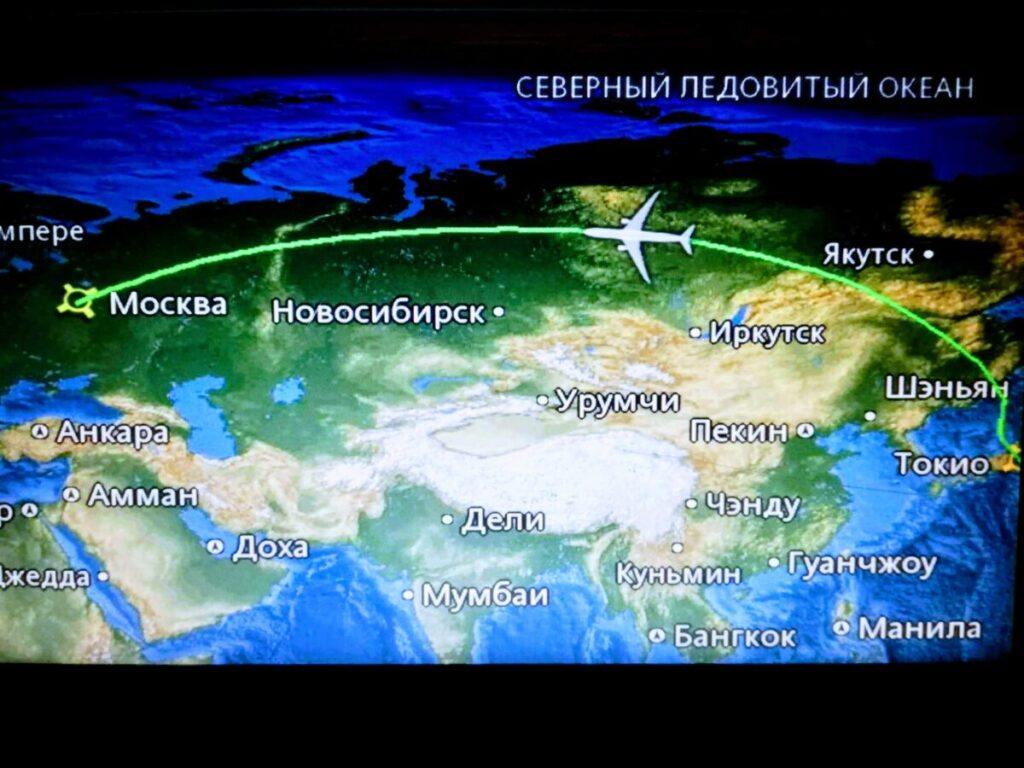 It seems that the "Aeroflot" used had a bad reputation when bread flew, but it seems to have improved in recent years.
The next seat was a woman working for a broadcasting station going to Egypt, and I learned to hear about the industry and travel.
Aeroflot's WiFi is paid, so I couldn't do some research and watched the Russian cosmonaut's film and "Venom."
There are no English subtitles, and I watched it in Russian, but MARVEL can be enjoyed because I can predict the story.
I had two meals because it was a long flight, but when I was in front of my eyes, I just forgot to take a picture …
Cheap flights are not "beef or chicken?", but "chicken or fish?" Most of them are chicken or pork.
I heard that alcohol in the sky was easy to go around, but white wine worked quite well …
I really wanted to go sightseeing in Russia.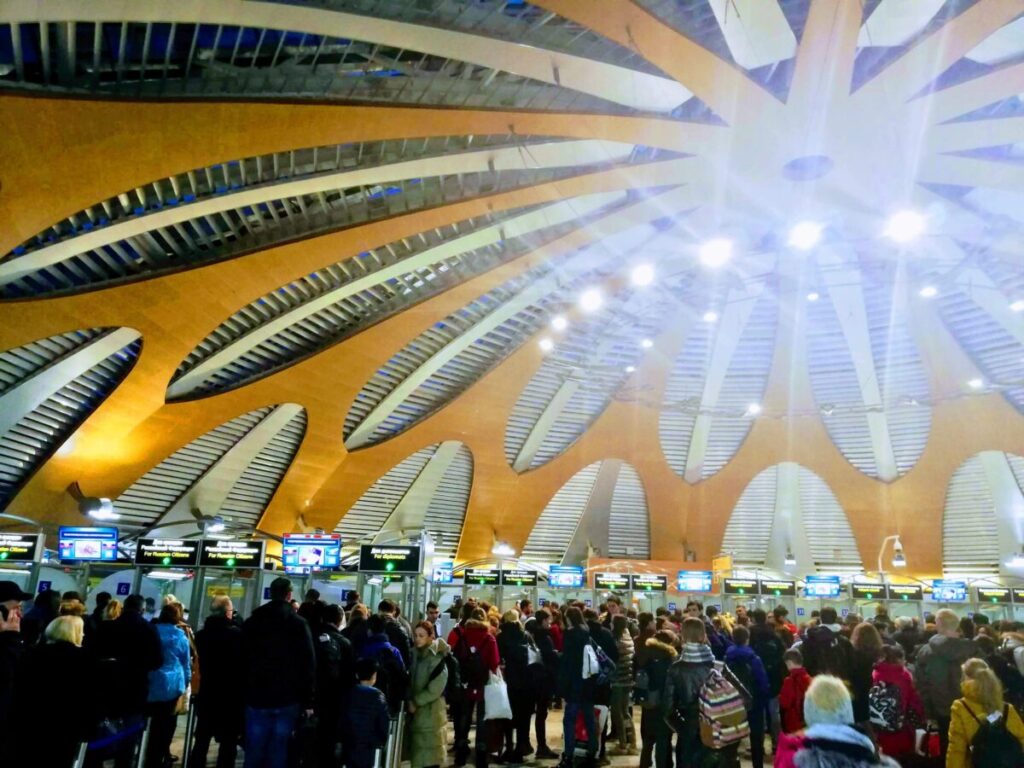 We arrived at Moscow's Sheremetyevo International Airport on time and applauded from passengers!
I lined up in a long line at immigration, but the line seemed to be different and I had a lot of trouble with the procedure.
Even if I ask the uncle in charge, I talk so that the correspondence is cold or rolled up, so I will be mindy …
Just as I was sightseeing in the Philippines on a trip to Thailand, I was opening up time for transit for sightseeing in Russia.
However, when I heard at the reception desk, I heard that you can not go outside unless you issue a visa in advance.
A transit visa is not required for foreign nationals who have transferred international flights at airports in the Russian Federation (limited to airports with transit zones) and have the appropriate documents to enter the destination country and a ticket with a confirmed departure date and time within 24 hours of arriving at the airport route in the Russian Federation to be transferred.

Transit visas are only required when exiting the airport transit zone.

https://tokyo.mid.ru/web/tokyo-ja/tranzitnaa-viza
If it is a single transit visa, the application fee is free for receiving after 2 weeks, so it was good if I had to leave it at the embassy …
My trip is basically not planned, so I think there will be many happenings like this in the future.
I can't help but explore the airport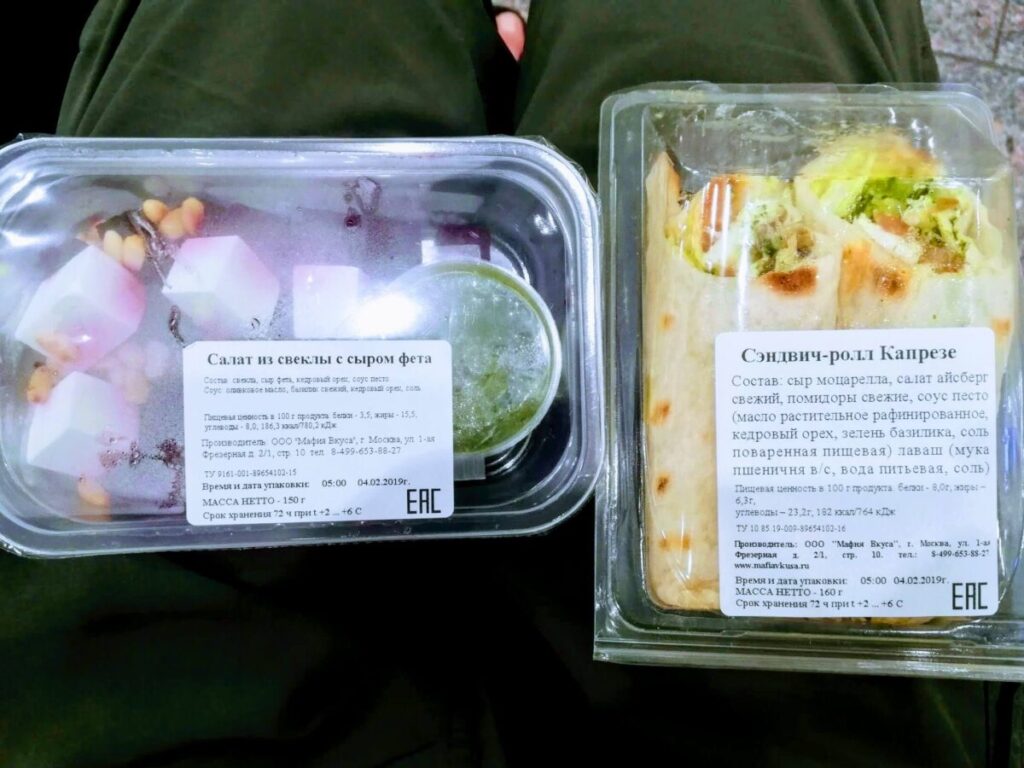 Explore the airport all over and have dinner at the cheapest shops? (saving in such places is important)
The tortillas were delicious with a lot of cheese, but I didn't like red gnabyo salad.
It tasted as subtle as if the vegetables had melted something and re-hardened, and I didn't feel it was very delicious.
P.S.: When I examined it after returning to Japan, it seems that it is a vegetable called "beets".
After that, I tried a vending machine that supports credit cards, but juice does not come out !
Then, the skinhead guard who was standing nearby who seemed to appear in the movie told me silently!
The gap between appearance and correspondence is cool …! And I am impressed without meaning.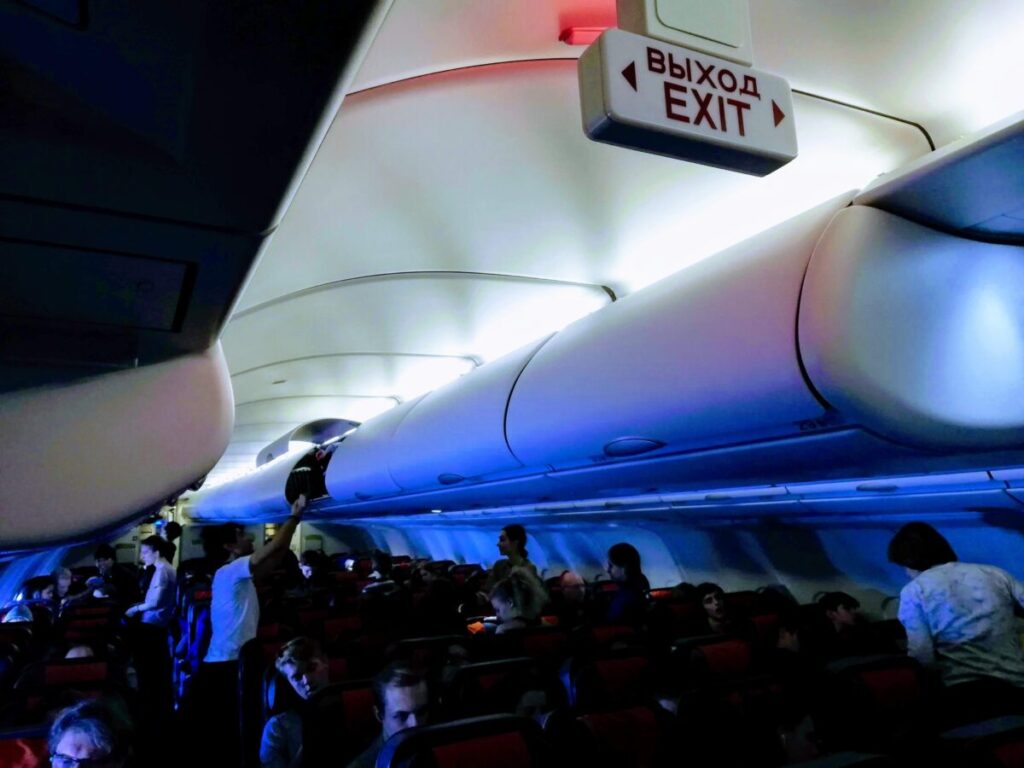 While walking at the airport, a Kazakh woman called me and asked me if I could lend me a ticket.
If you know you are from Kazakhstan, you won't be able to sell products from Russians, so you want to use tickets.
On the spot, I left if I didn't have it because it was like a scam, but when I examined it, the relationship between the two countries seems to be subtle.
Kazakhstan' delicate relations with Russia "after Nazarbayev" uneasiness
I don't know if it's a scam, but I realized that I didn't have enough knowledge about social conditions…
Sleep till morning in the airport chair and arrive in Frankfurt, Germany tomorrow!
Russian greetings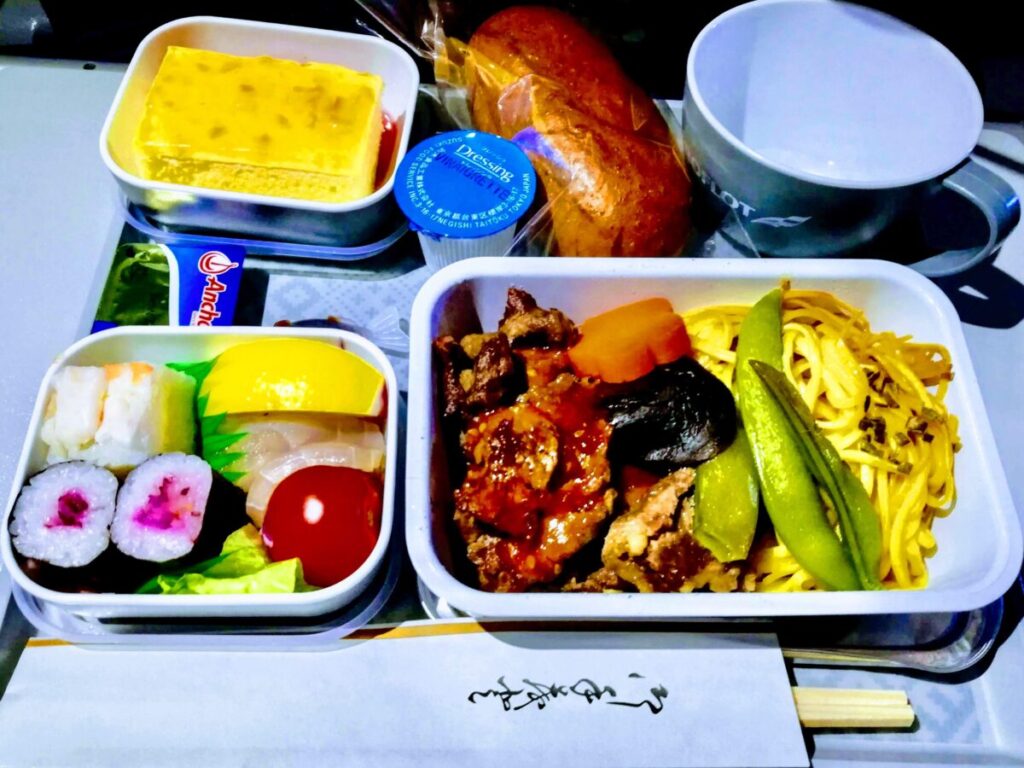 It seems that the correspondence of the clerk will change even if the greeting is just made a local language, so I would like to remember the minimum greeting.
Hello: Strastviche
Thank you: Spasiva
Goodbye: Dospedanyen
I used "Thank you" five or six times today alone!
If you ask a local person who understands a little English, it is recommended because you can understand it in one shot, and the numbers are good.
Day 2: Arrive in Frankfurt
I don't sleep to eliminate gender lag.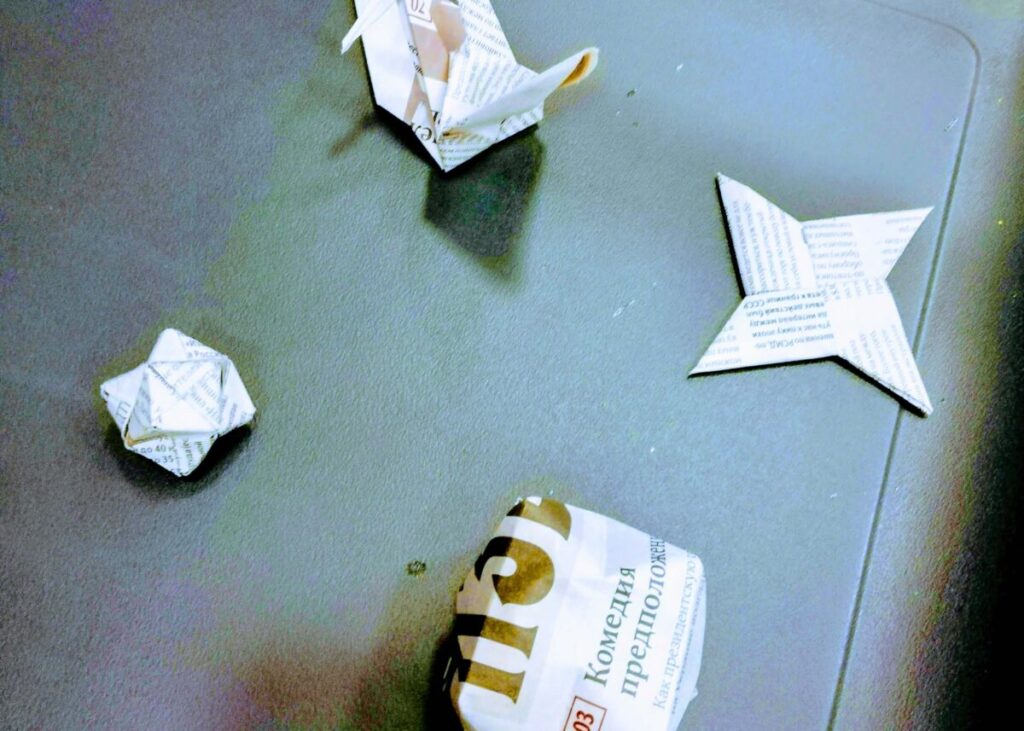 I heard the opinion that it is better to adjust without sleeping rather than sleeping a lot in order to fix staging.
I put up with it until Tokyo time 4:00 according to the arrival place. (Tokyo⇄Moscow for 6 hours, Tokyo⇄Frankfurt for 8 hours)
I've already spent two nights at the airport, so I might want to sleep in a proper place…
I talked to a German woman who goes to Shanghai at the airport and Thailand, but I have nothing else to do.
I picked up Cyrillic from newspaper and origami.
Cyrillic is famous for the mouth part of (*́Е'), but in Russia it seems to use "tsu" to express a smile!
I'm tired on the first day of my usual trip.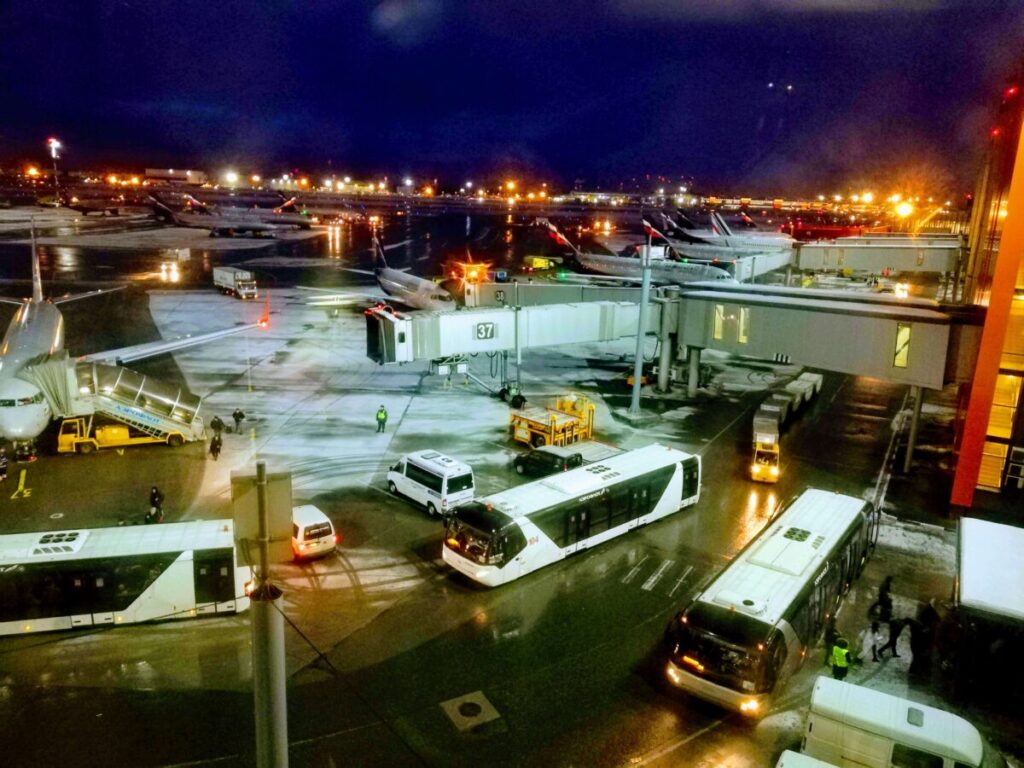 On the second day, I'm already getting somewhat tired, but this is always the case.
The cause comes from the mental damage to the evil treatment that is not often in Japan.
Immediately after going abroad, you may inadvertently seek "awareness" and "kindness" that are common in Japan.
I don't mind if I get used to it, but on the contrary, I'm surprised at the feeling I forgot when I came back to Japan.
Japanese disappears from the in-flight broadcast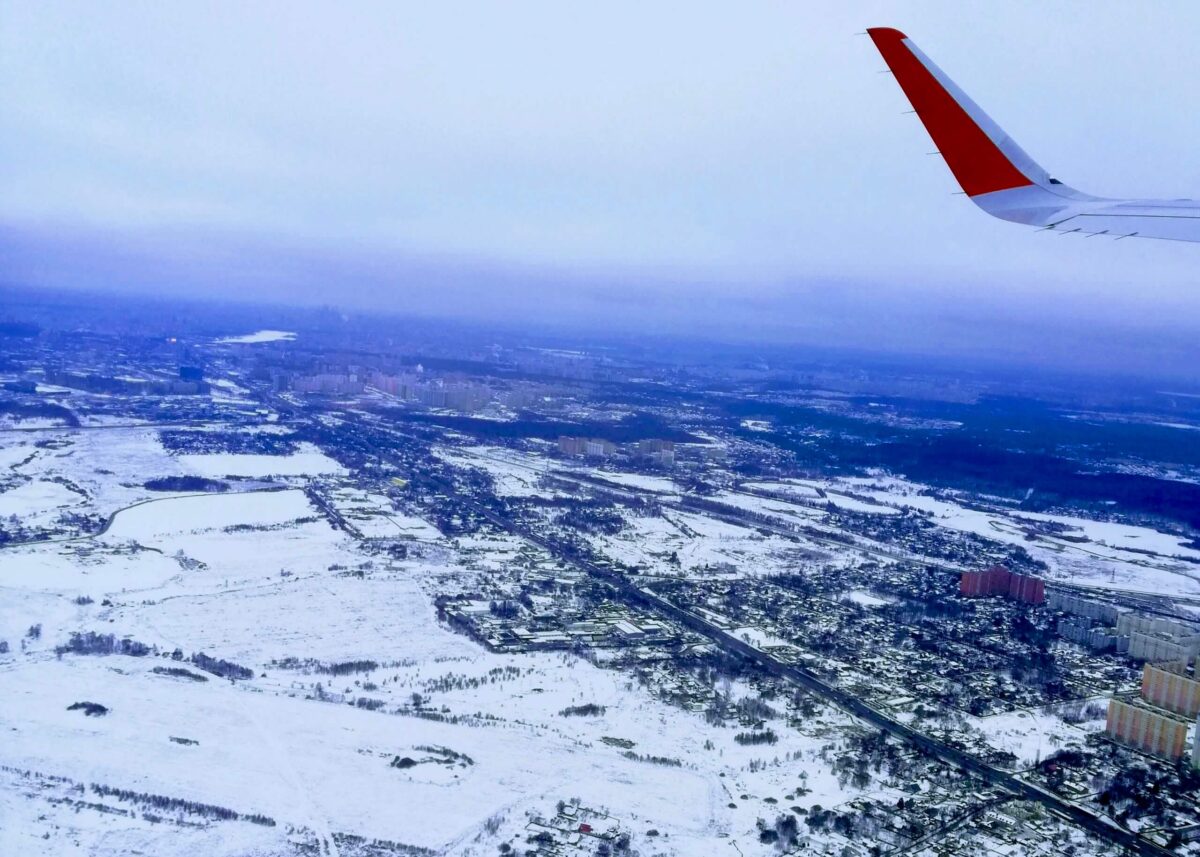 On flights to Frankfurt, in-flight broadcasts are available in Russian→ German → English, and there are only a few areas to be heard.
When I had little idea what I was saying, I was really anxious …
There are few people on the plane, and the next seat can be used spaciously (this is not the way if you go with multiple people)
There was no WiFi this time, and there was no TV, so I ate lunch and watched the clouds from the window.
The clouds seen from above on the plane are very beautiful.
The silver world as far as the eye can see, but there is no one there … Isn't that romantic?
The way of handing out in-flight meals was miscellaneous, and I laughed unintentionally before thinking about anything …
There is no particular problem with taste and quality.
It looked pretty delicious and delicious when I rearranged it beautifully.
Arriving in Frankfurt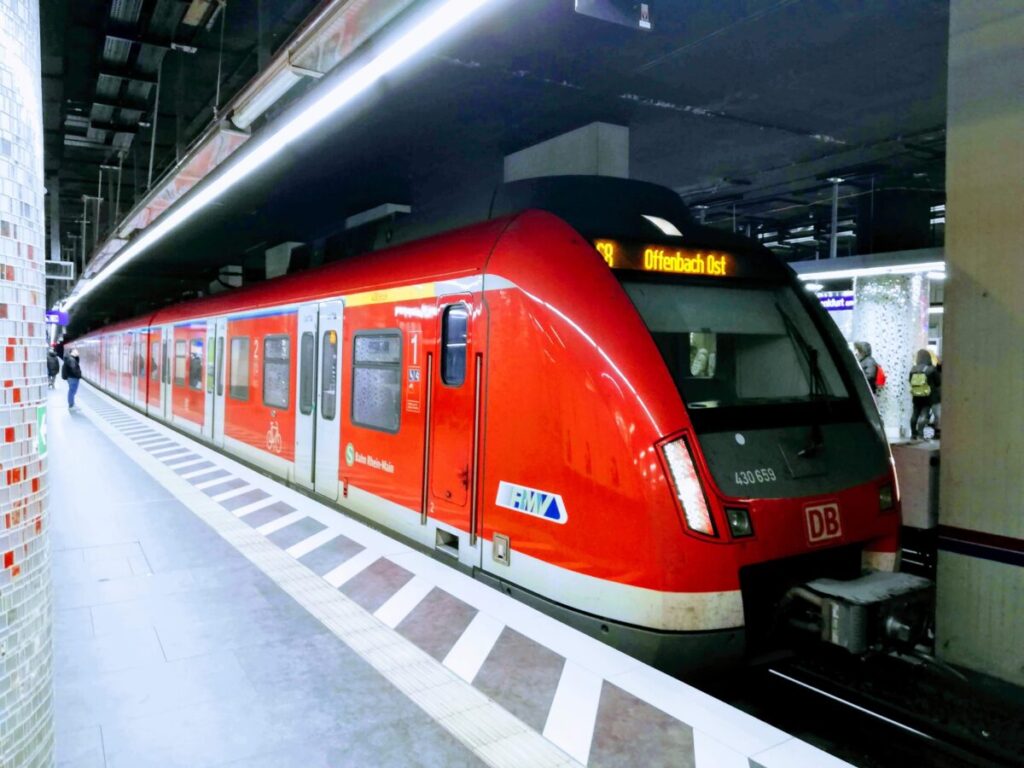 We arrived at Frankfurt Airport three hours later and it was the most beautiful landing I've ever had.
First of all, exchange 50,000 yen worth of Japanese yen into euros at the airport. (At this time, it is about "100 yen ≈ 1.4 euros"))
Then, take a free shuttle bus to catch the subway from the airport's Terminal 1.
I get along well with a German woman and ask how to buy a subway ticket. (€4.9 one way from the airport to the center)
In front of the station in the center, people like sellers were chilling because of their minds, and I was a little scared …
This is the cityscape of Europe.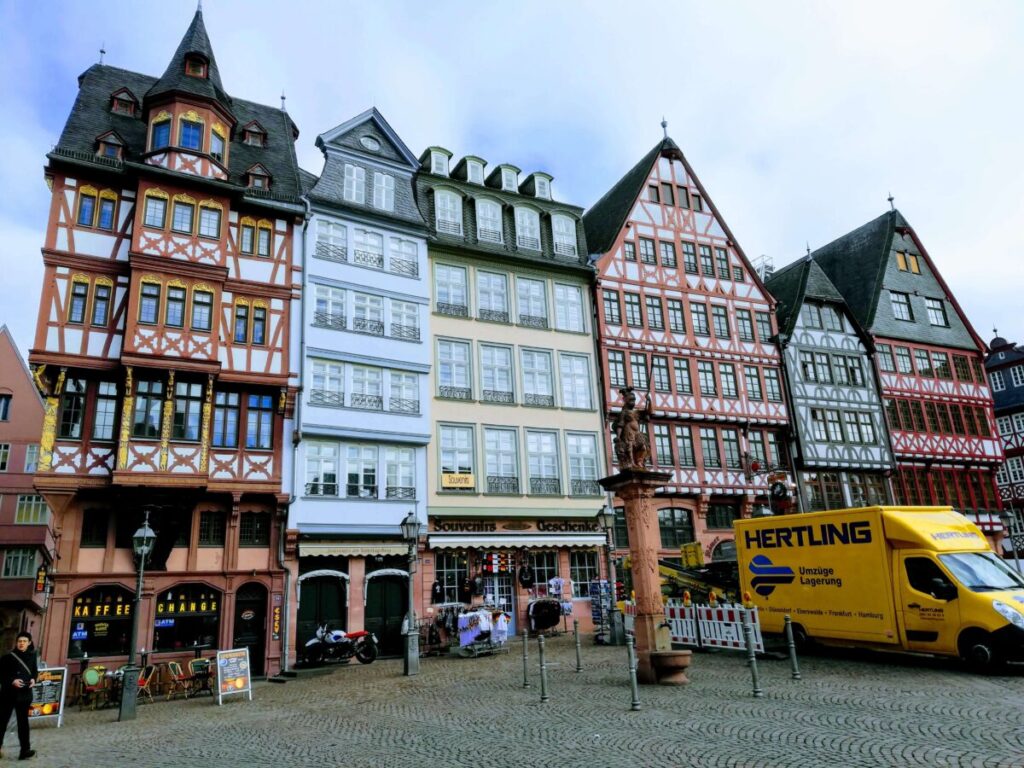 When you go out into the city area, you can see the scenery of "medieval Europe" that you have only seen in photos.
(You don't really know what it's like, but where did this image form?) )
Because the center is a scenery like the photograph above, I walked freely without any purpose, but I can enjoy it enough.
The picture above is RömerPlatz. I don't care about my name while traveling, so I'll look it up with Google Photos after I come back.
【google photos】There are many other useful functions of the photo storage app that is convenient for traveling!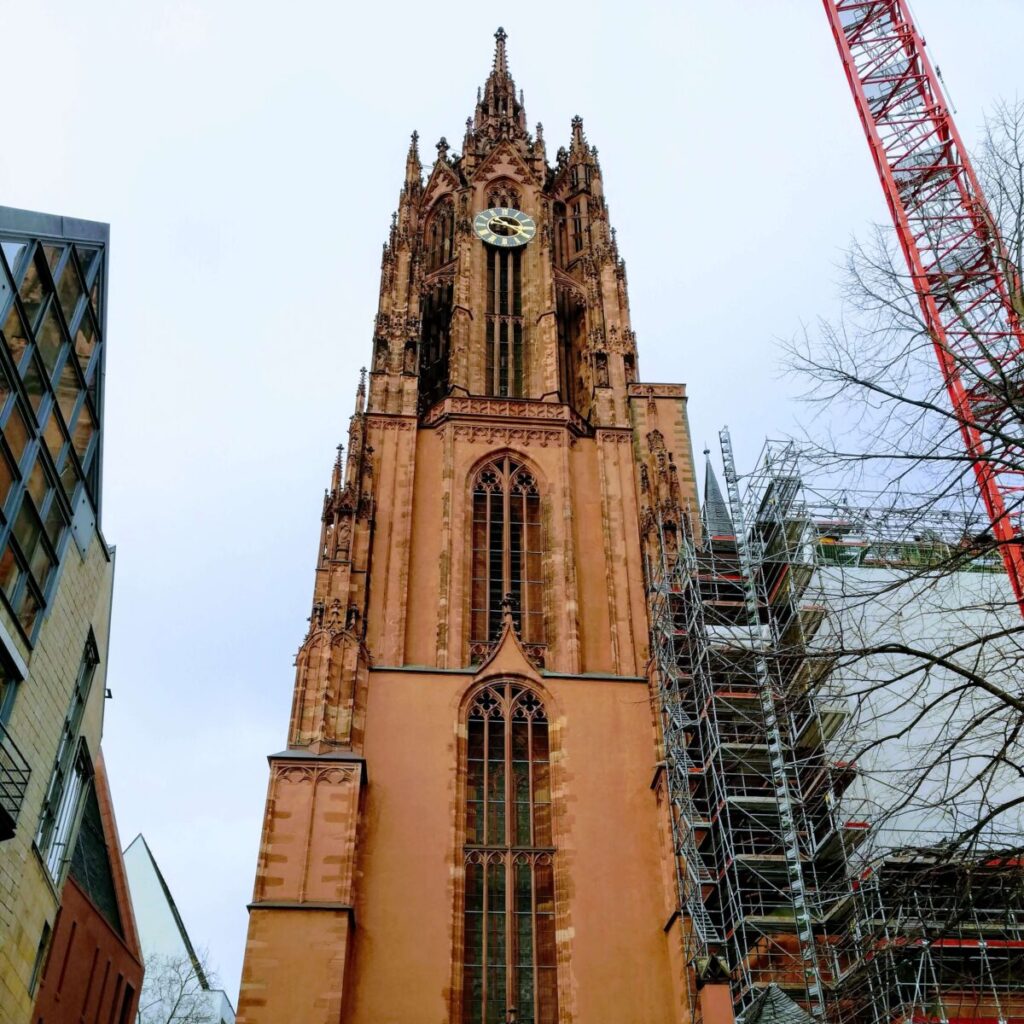 St. Bartolomeo's Cathedral seems to be named. I've never really been interested in the name of the building while traveling…
Because of the coronation of successive Holy Roman emperors, it is also known as the "Kaiserdom Cathedral", and it has become a tourist attraction as a historically important building in Germany.

http://tabilover.com/2017/04/post-4188/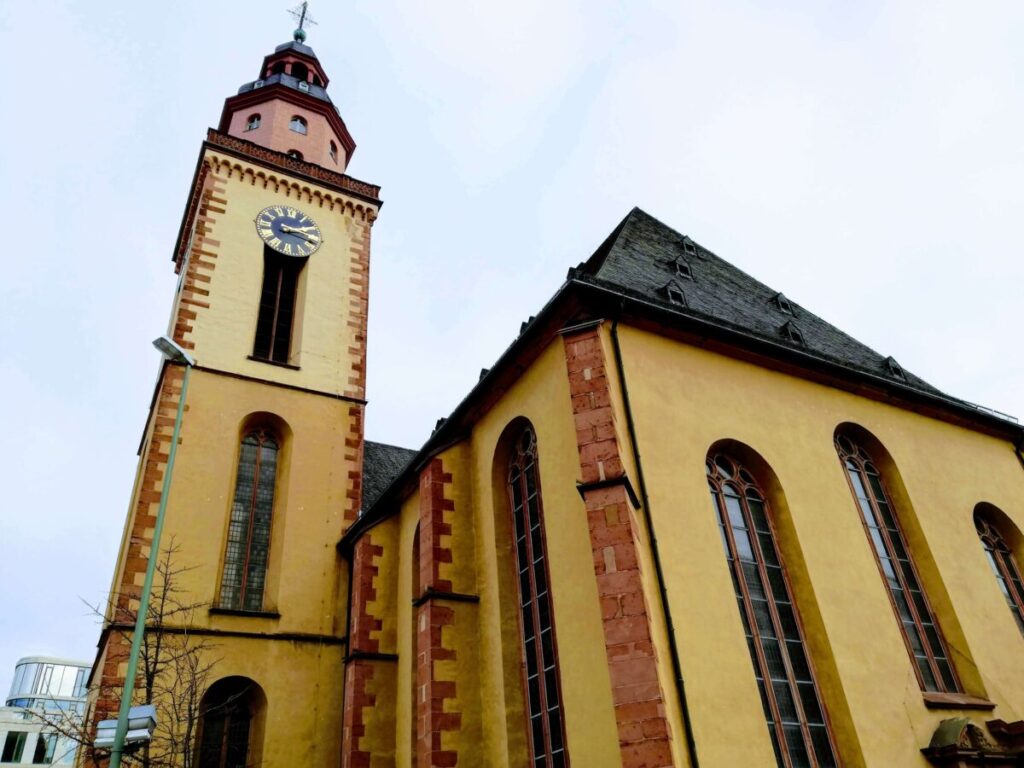 St. Catalinen's Church is about 1,650 feet from The Market Square and is located near the port and the warehouse district. It is a church built in the 13th century as it seemed to have been an association for sailors. The spire of the church is characterized by a Baroque spire built in the 16th century.
There is an episode that Japanese people know well in katarinen church where yellow is dazzling.
Heidi, a girl in the Alps, climbed the mountain in the Alps from the top of the tower.
I checked it later and learned that it was Frankfurt that Heidi was brought in …
The Eiselner Bridge, built solely by voluntary movement and donations of citizens, was built at the citizens' own expense in the mid-19th century, when they continued to complain about the congestion of the only bridge on the River Main, but who had been dismissed due to lack of budget.

https://www.expedia.co.jp/Eiserner-Steg-Frankfurt.d553248621532509072.Place-To-Visit
The padlocks of lovers are staggered. Some of them are very messy things that can be put in the key.
Even if you forget to bring a padlock, there seems to be a place where you can buy it properly nearby.
I was worried that the bridge would fall due to the weight of the padlock.
What is this building?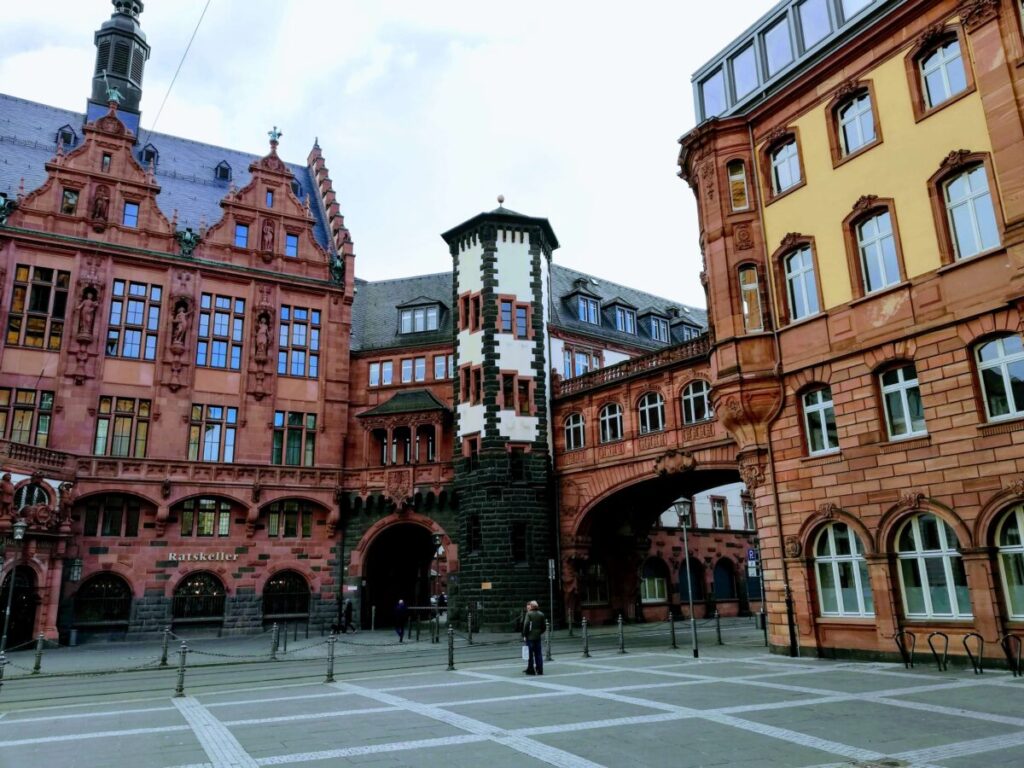 I liked the color very much, but there seems to be a history that you can not understand even if you examine it.
It's like a government office, but I'm not sure. Tell me who knows who you are!
When you see a building like this in the city normally, it makes me feel that I've come to another world.
I'll have a hot dog.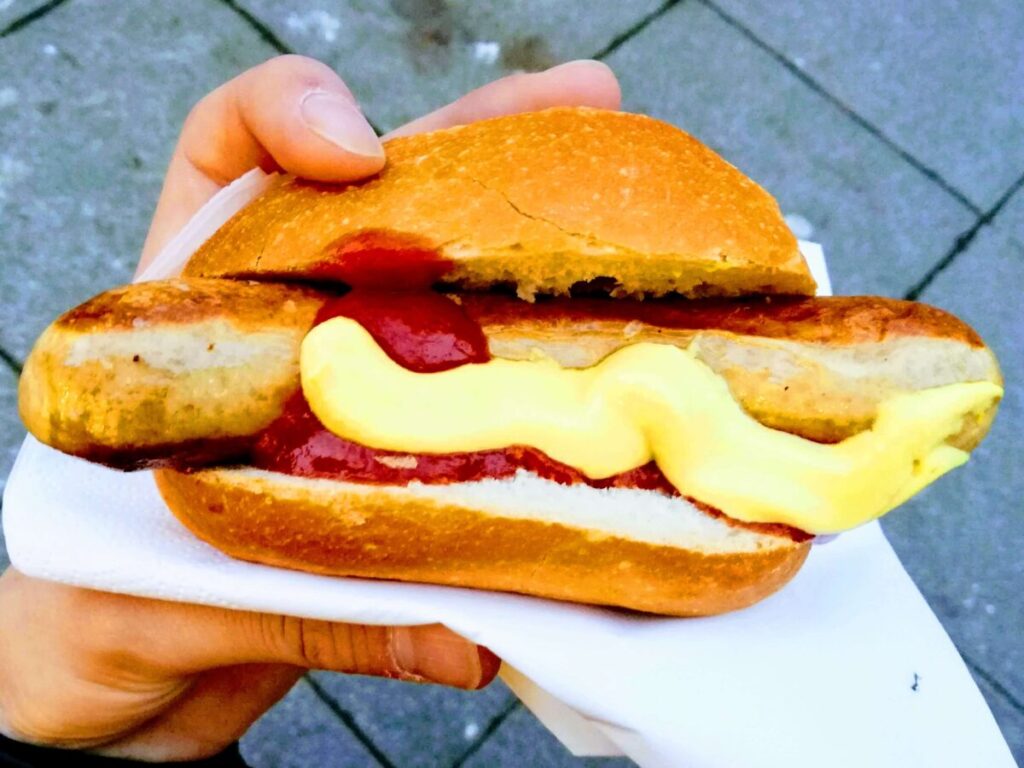 I'm in Frankfurt, Germany, so I'm sure to eat hot dogs.
However, there are no hot dog shops around, and even if they are sold, there are only shops that ordinary people use, such as butchers and bakeries.
Hot dogs may be more ingrained in German life than for tourists!
Basically, I was introduced in the guidebook, and I went around places where I could go around by the time the sun went down, such as somehow interesting buildings.
Five Elements Hostel Frankfurt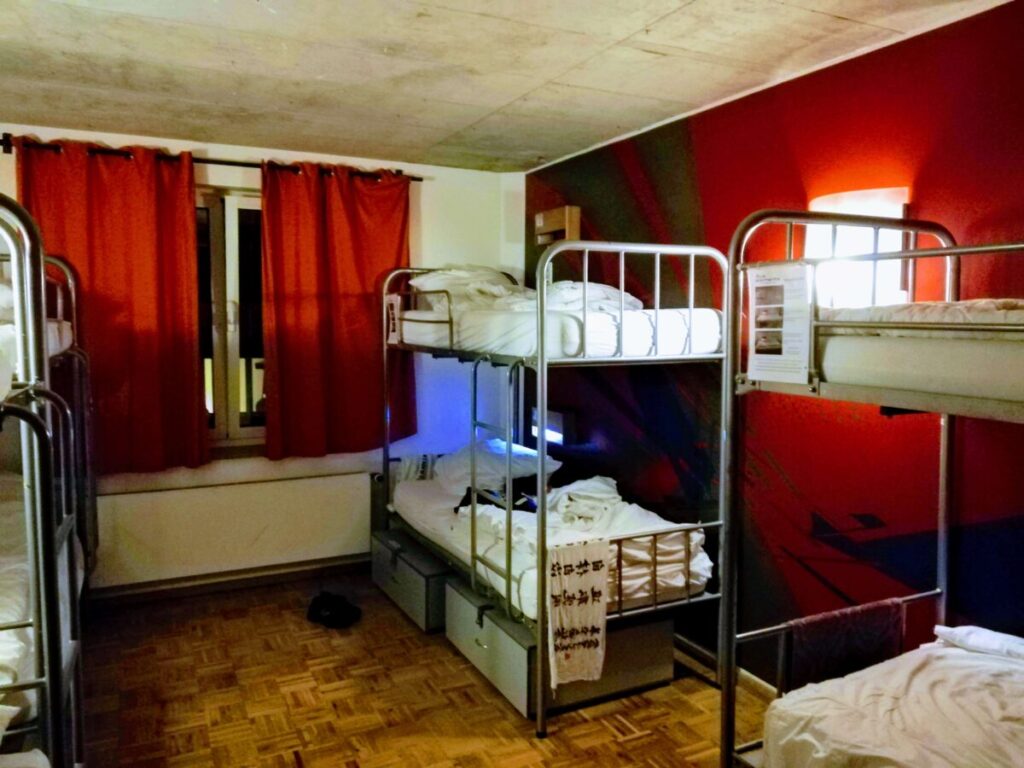 Since there is no radio wave, we rent WiFi that was flying from a nearby café and secure an inn with "booking.com".
The location of the accommodation can be displayed on the offline map of "maps.me", and the evaluation can be seen, so it is useful not only for overseas travel but also for domestic travel!
Stay in a hostel with WiFi
Book a nearby hostel for prediction of next day's action
Stay at the hostel you booked (return to the beginning)
The hostel I stayed at is Five Elements Hostel Frankfurt.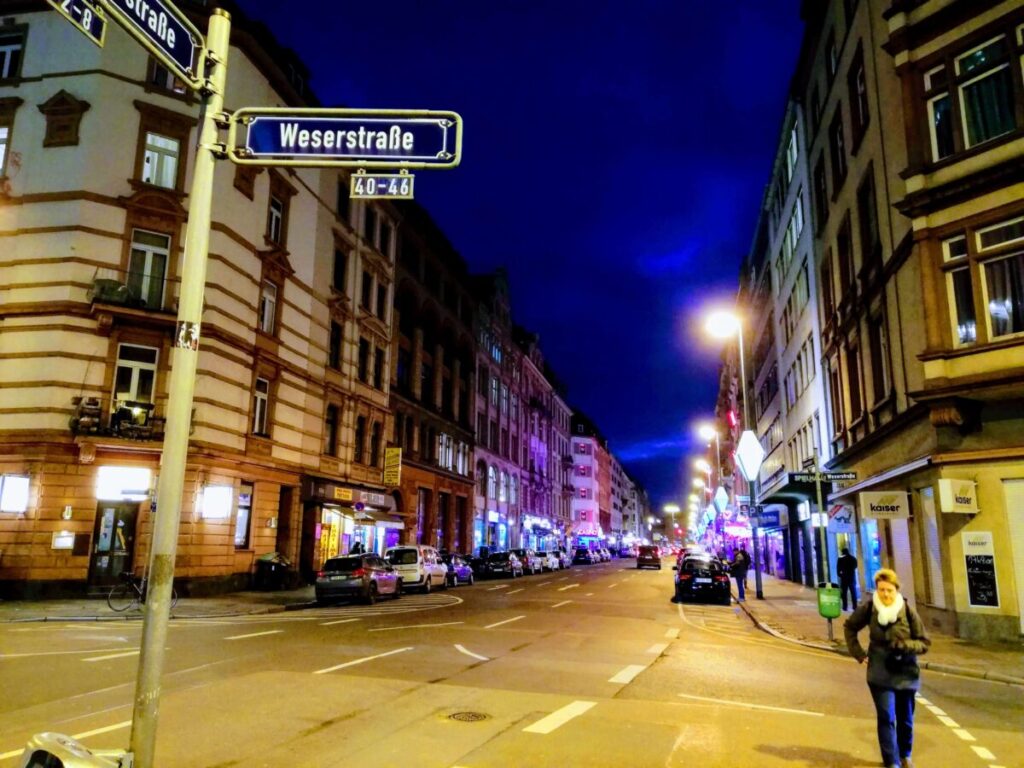 It is a good place for about 20 euros per night, but it seems that there was a facility called "FKK (Evkerker)" which is famous in Japan in the middle of the sex district.
I am very excited because the scenery of "Europe" spreads out in front of you!
Speaking of Germany, wiener, but it is surprising that it was not sold everywhere.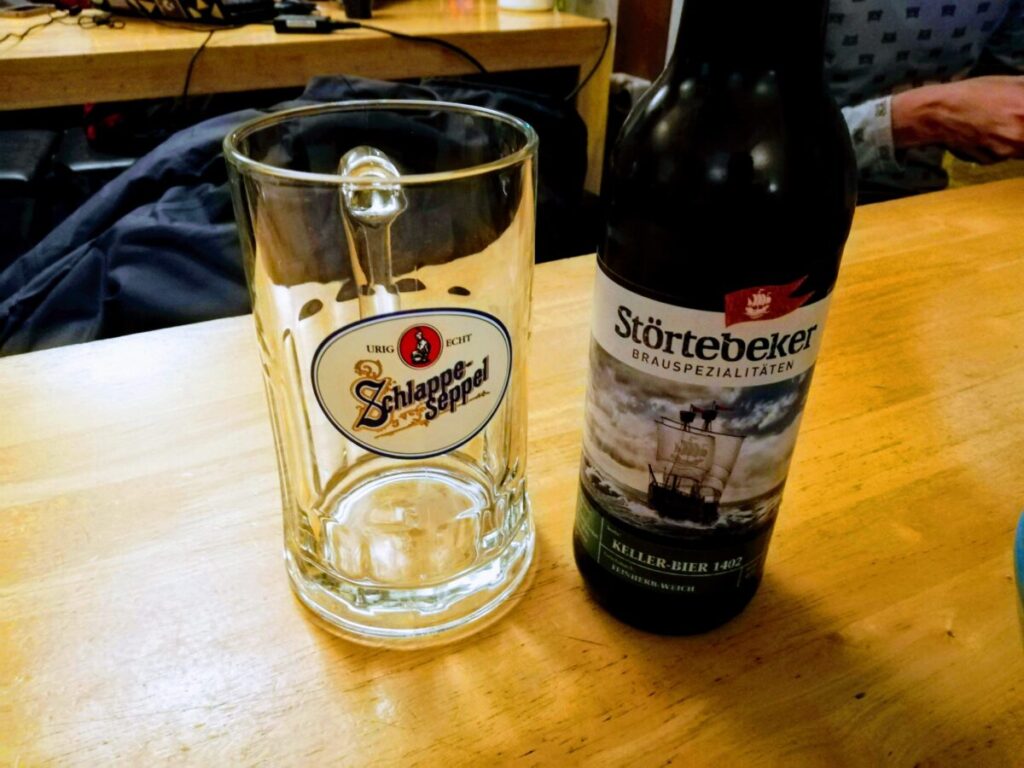 I was still sleepy with staggy, so when I was drowsy eating soup on the first floor of the hostel, I got along with a journalist in Singapore and feasted on a beer!
Day 3: Transfer from Frankfurt to Berlin
The Capitol building was full of reservations, so I was exploring around the Arc de Triomphe tomorrow!
Start moving in the morning
The breakfast at the hostel was quite luxurious because there were many places such as bread and cereal, a few side dishes and coffee!
The sausage seemed to have to be cooked, and it was a strange touch.
Take a luxury train by mistake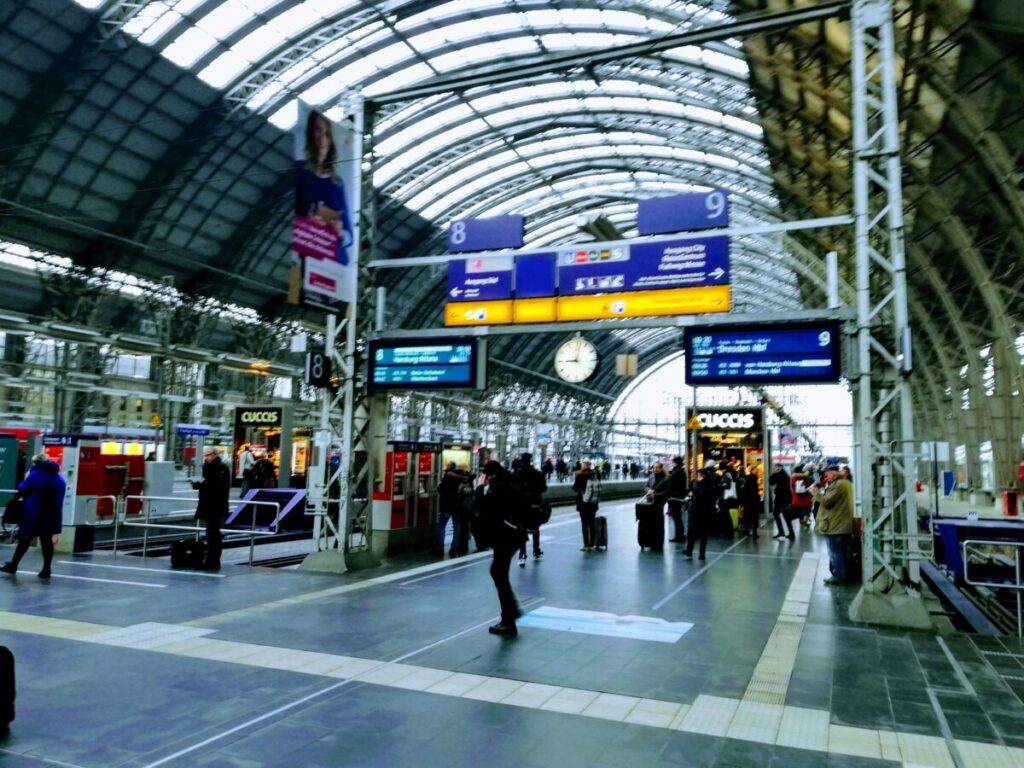 I was staying in Berlin on this day, so I bought a ticket using a credit card at Frankfurt Station.
You can read the English explanation and buy it, but if you ask a staff member wearing a red vest nearby, you can tell me how to buy it.
As I learned later, this time I got a luxury train called ICE, which costs 132 euros one way to Berlin.
Maybe I would have looked for a cheaper train…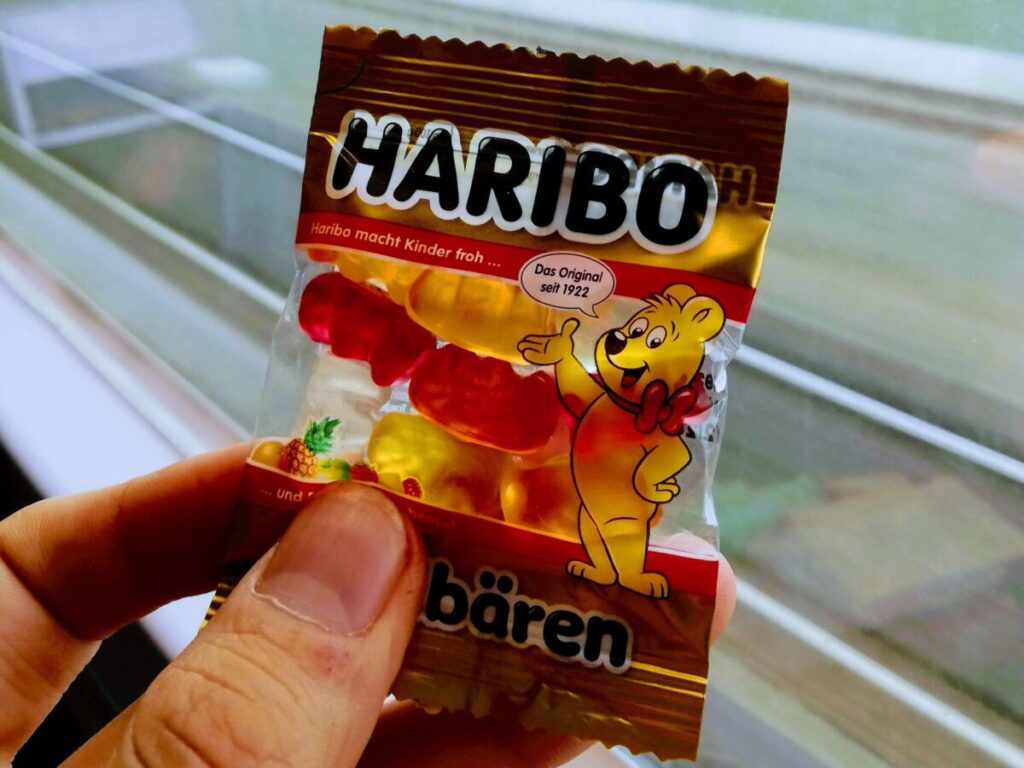 The ride time was about 4 hours, and on the way, the station staff handed out haribo gummies to customers.
I got Haribo at ICE! I didn't know it was a German treat… It is said that the world's first pair was manufactured #ヨーロッパ pic.twitter.com/BzYF3HlJ0R — Itsuki @ Europe! (@Itsutsuki3) February 6
Wi-Fi was flying on the train, so I was looking at where to go after this!
Looking out from the train window, I felt that there are a lot of windmills. I feel that I learned that in high school geography, Europe was more advanced in introducing clean energy than in Japan.
There were a lot of windmills in Hokkaido, but there were more windmills!
Arriving in Berlin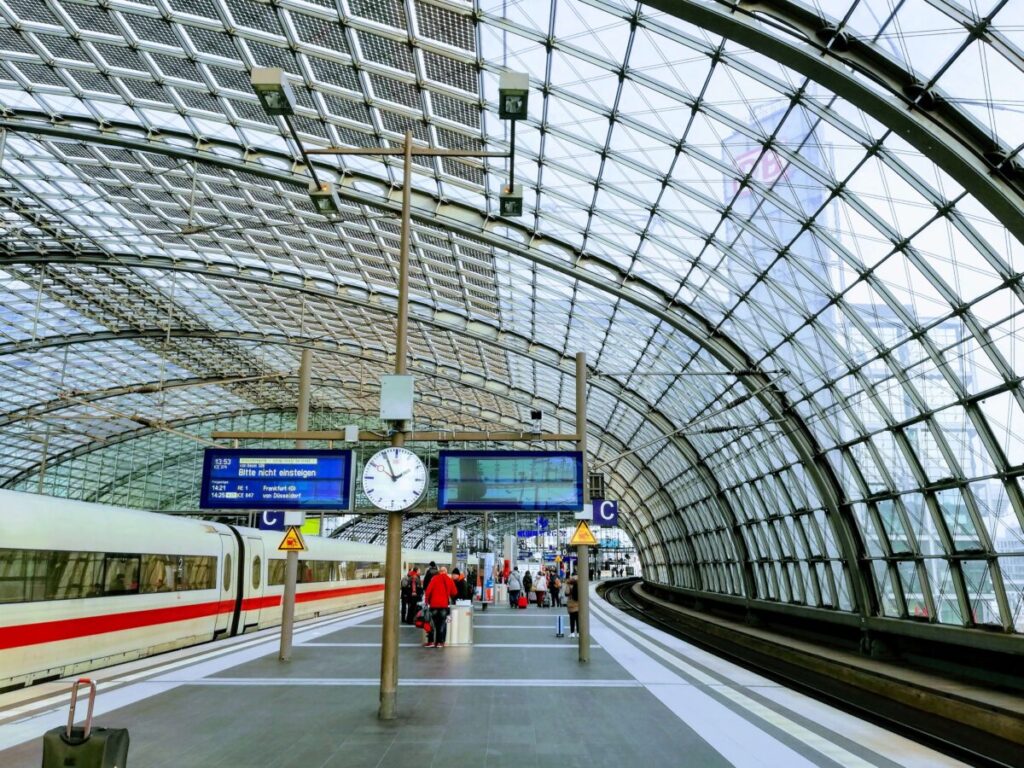 We arrived in Berlin at about 14:00, and from there we will go to the hostel we booked and look at some of the architecture!
It was more than 10 kilometers, so it is subtle whether you will arrive at the hostel by sunset .
Berlin Parliament House Reservations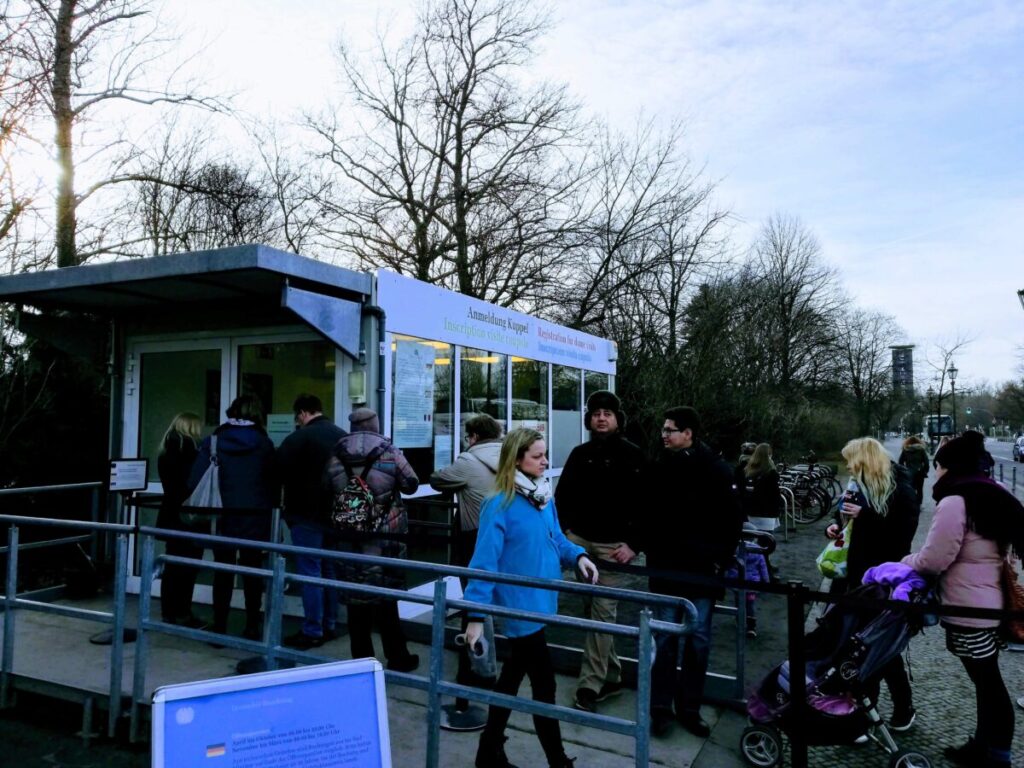 The German Capitol abandoned the need for internet reservations.
However, you can make a reservation by showing your passport at the reception on the other side of the road (free of charge)
German Bundestag – Registering to visit the dome of the Reichstag Building
The reservation on the day was full, so I made a reservation between 10:00 and 11:00 the next day.
Brandenburg Gate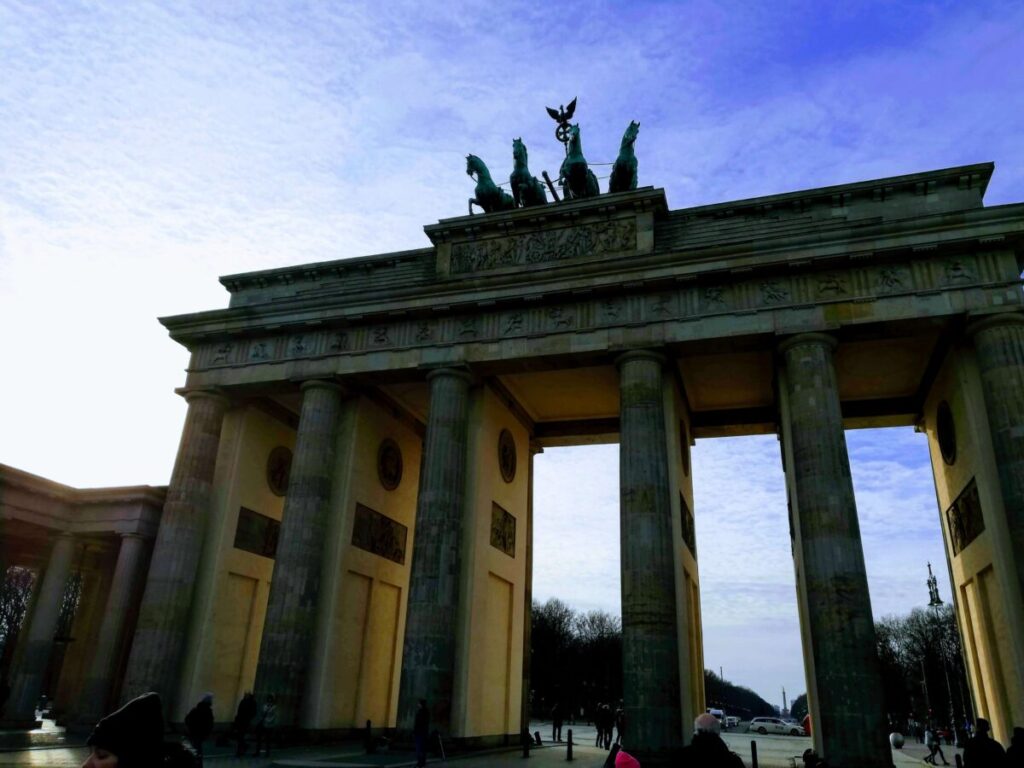 The front faces the west side of Piazza Paris and belongs to the Mitte District. With a height of 26m, a width of 65.5m and a depth of 11m, it is a classicist gate made of sandstone.

https://itsuki-campuslife.com/wp-admin/post.php?post=5618&action=edit
Originally a gate for imposing tariffs, it became the gate when Prussian royalty went out and became a representative spot in Berlin.
Four horses running against the blue sky are beautiful!
Ampelman Shop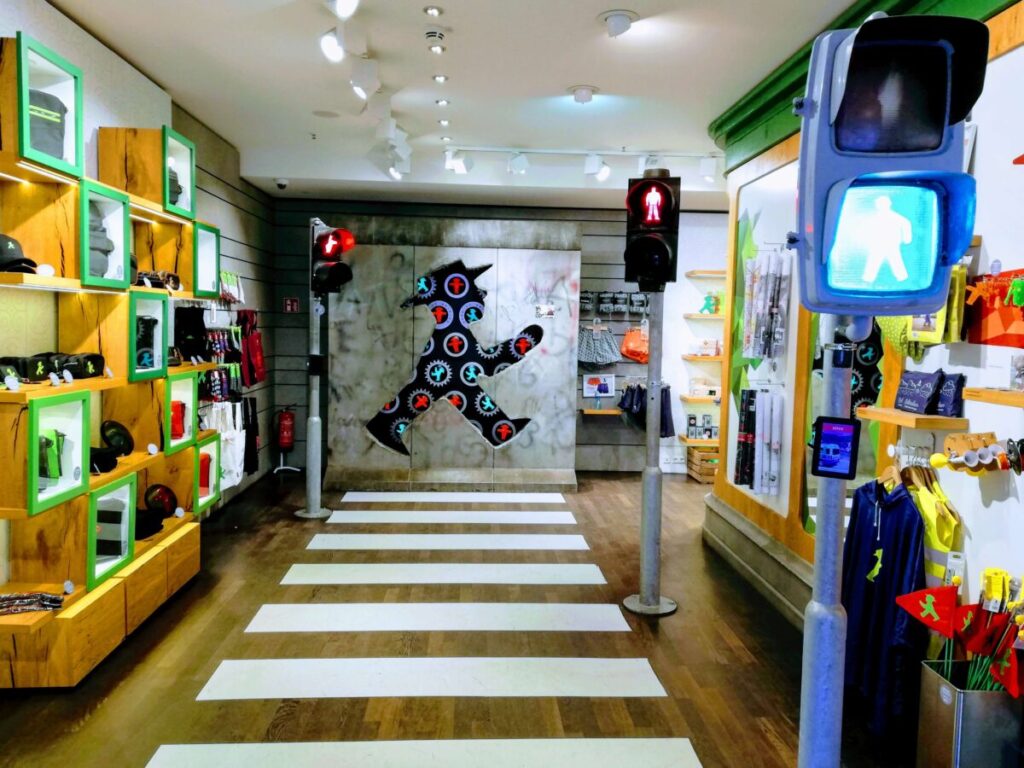 The mascot "Ampelmann", which was born from the German traffic light mark, is a representative character of Germany.
The official shop was decorated with traffic lights from various countries, and there were Japanese traffic lights.
There are quite a few kinds of goods such as can batches and T-shirts, and I also purchased stickers! 
Heilig Kreuz-Kirche (unreadable)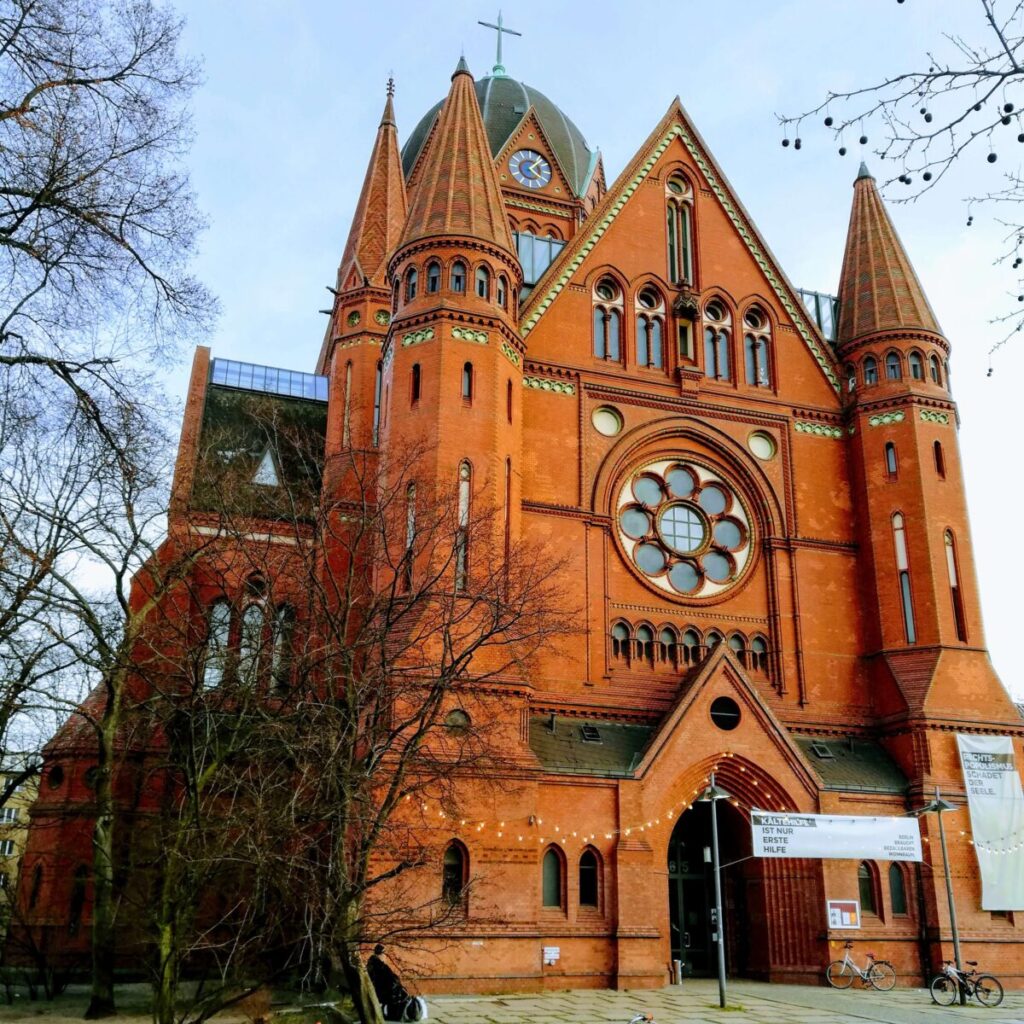 My favorite church on my trip to Europe.
I feel a soft image because I use a lot of circles overall.
Neukeln Ward Office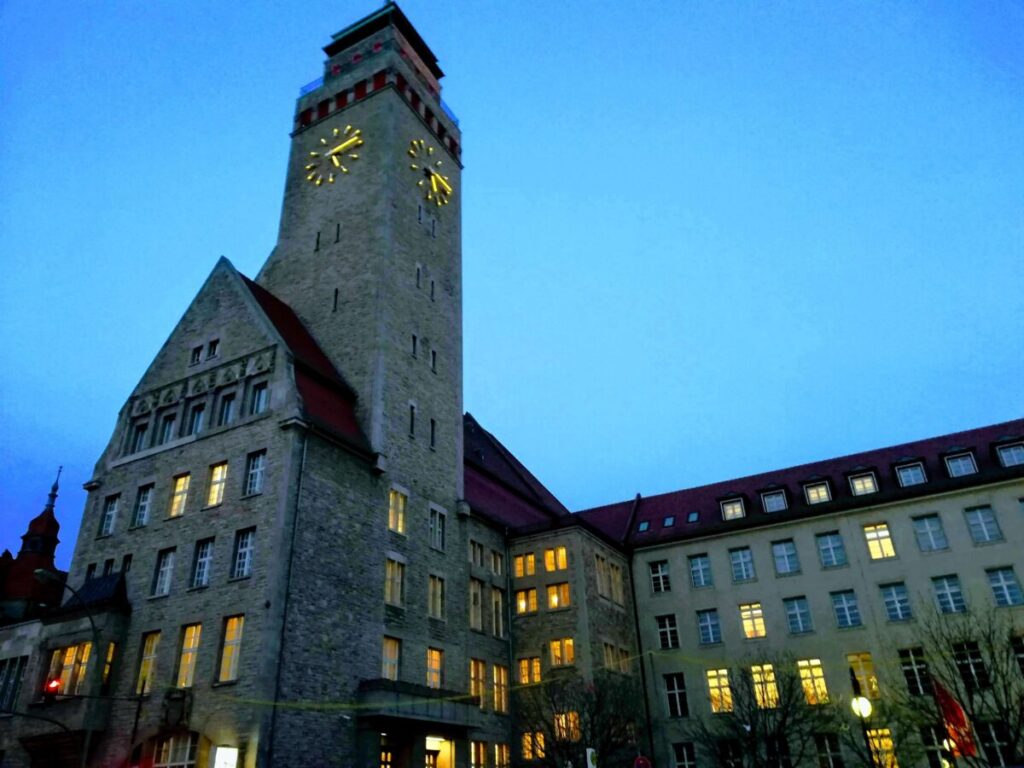 If you have a watch that can be seen from anywhere, it is convenient because you do not have to check the time one by one!
It's getting darker and darker outside, so I'll speed up my steps to the hostel.
A little break, snacks.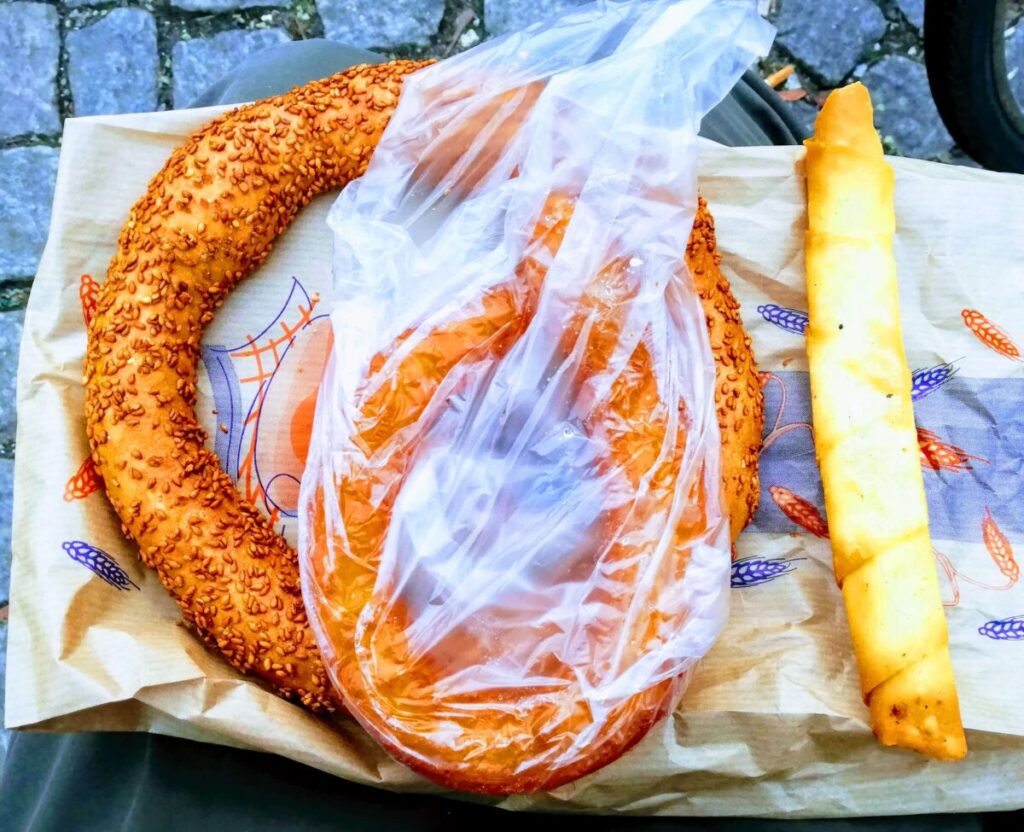 When I noticed that I hadn't had lunch, I was hungry, so I got a fried spring roll with sesame bread and cheese or something wrapped in it at the street stall, and something that was balinese with honey pickles. I bought bread!
I can't read the characters, so I don't know what kind of dish it is…
Leave your luggage at the hostel and explore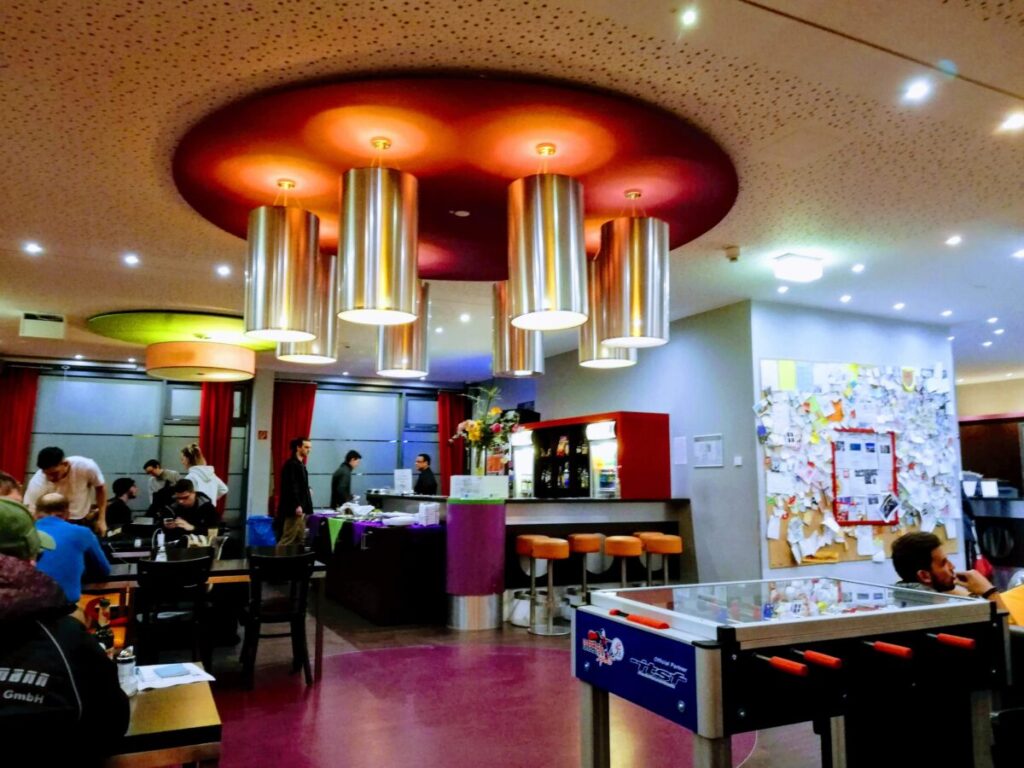 The hostel (2A Hostel) I stayed at this time had relatively shops around.
There seemed to be a room on each floor of the building, and there were many people in the common lobby where the restaurant was in the picture.
The sun went down, but it didn't seem to be that dangerous, so I left my luggage in my locker and explored Berlin at night.
Calebrust in Berlin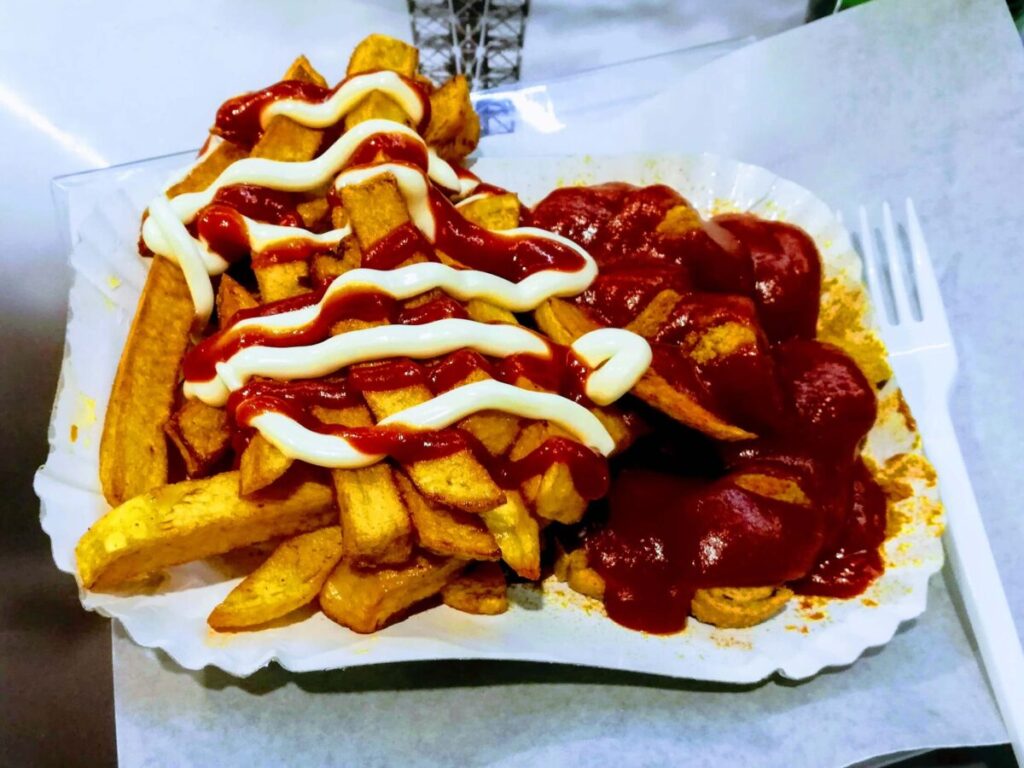 A set of curry sausages and potatoes that I wanted to eat in the guidebook, and German beer! (EUR 4.95)
On the right side of the photo is a sliced sausage, which I ate at the counter with beer!
Talk to Japanese people studying in Germany
When I saw and called out people who looked like Japan in the hostel lounge, it was still so.
He is currently studying to get phd at university, wondering about a large company that has been in question for two years.
Instead of judging people at all by nationality and gender at graduate schools overseas, they put great importance on grades such as GPA!
I decided to take the IELTS exam because I thought this was the fate of something because the name "IELTS" that my friend invited me to do before my trip came out. (↓ Impression article that I took the exam at a later date)
I gained a lot of valuable experiences that I would never come in normally!
Have a wide range of choices
You can get off the road, but you need some kind of qualification.
they study English
I study for the university.
I'm going to get up early tomorrow and go to the Capitol!
The official language of Germany is German, and the alphabet is normal, but it cannot be pronounced.
Basic greetings, only this is what I have to remember.
Hello: Gutentak
Thank you: Dankesh
See you: Chus
Day 4: Explore Berlin
I went to the Berlin Parliament Building first thing in the morning, and then went to the Sachsenhausen concentration camp!
I went to the Houses of Parliament without time for breakfast.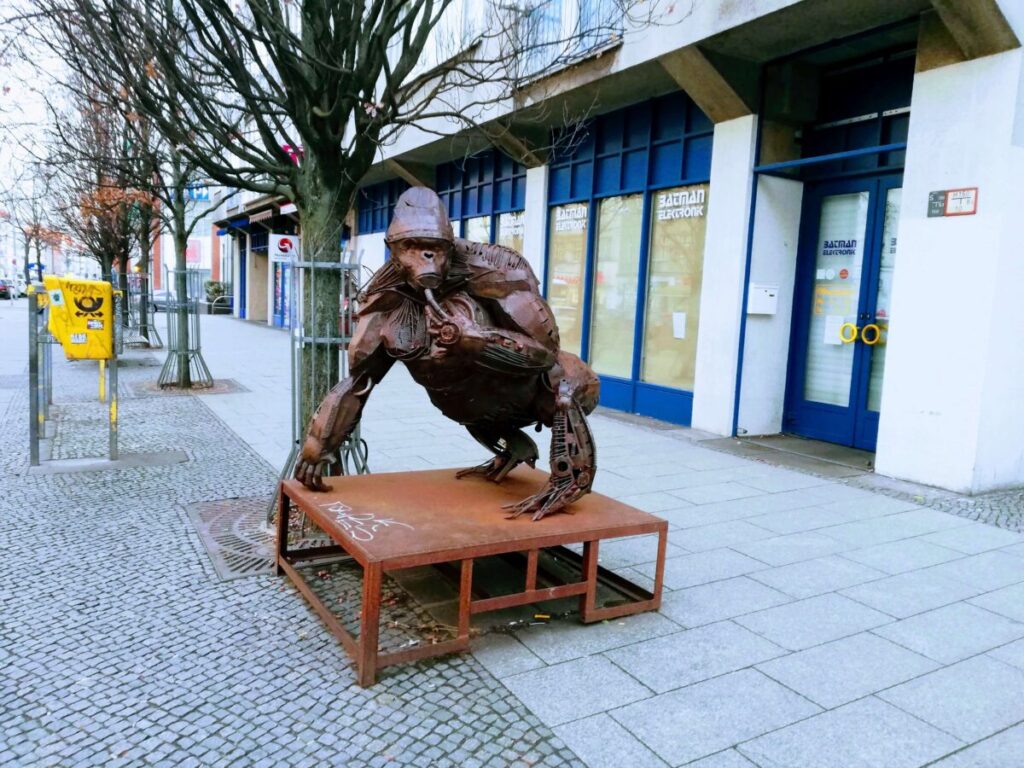 Today, I got up at 7 o'clock to go to see the Capitol and started my activities early in the morning, leaving as soon as I took a shower. (Breakfast is expensive, so pass)
Since I traveled to Hokkaido, I try not to go the same way to see various scenery while traveling.
When I broke through the park where there were few people at dawn, there were plants and wild squirrels that could not be seen in Japan.
I didn't get bored at all walking and reaffirmed that I liked nature.
Reichstag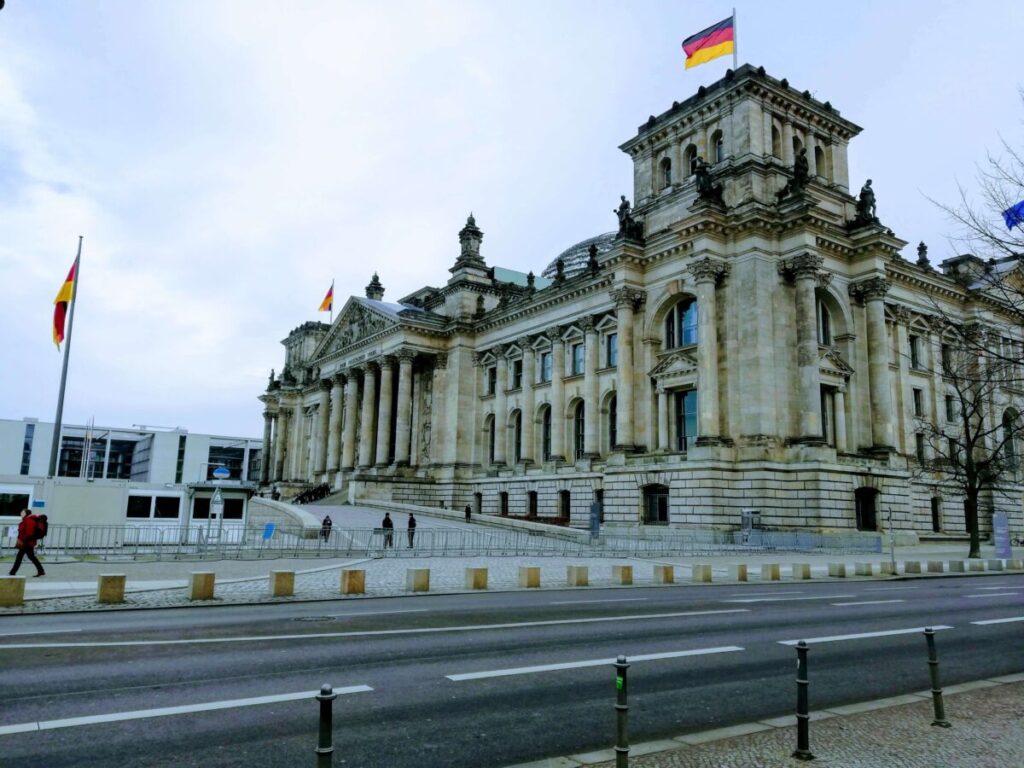 After all, it took 2 and a half hours from the hostel to the Houses of Parliament, and there was no time to see other places (I wonder if I chose the hostel wrong …)
The entrance of the Capitol was a passport-based identity check, X-ray and metal detectors, and airport-level security.
It was said that there was a big metal body in the backpack, and when I turned over all the contents, it was a disposable cairo …
After a certain amount of people gather, they are guided to the entrance, and after passing through the double automatic door, they move to the rooftop at once by elevator.
I was not able to enter the Diet, and it was a tour of only the transparent dome on the roof. An audio guide is available for free and will automatically provide commentary in certain places!
We'll be in concentration camps with the time left.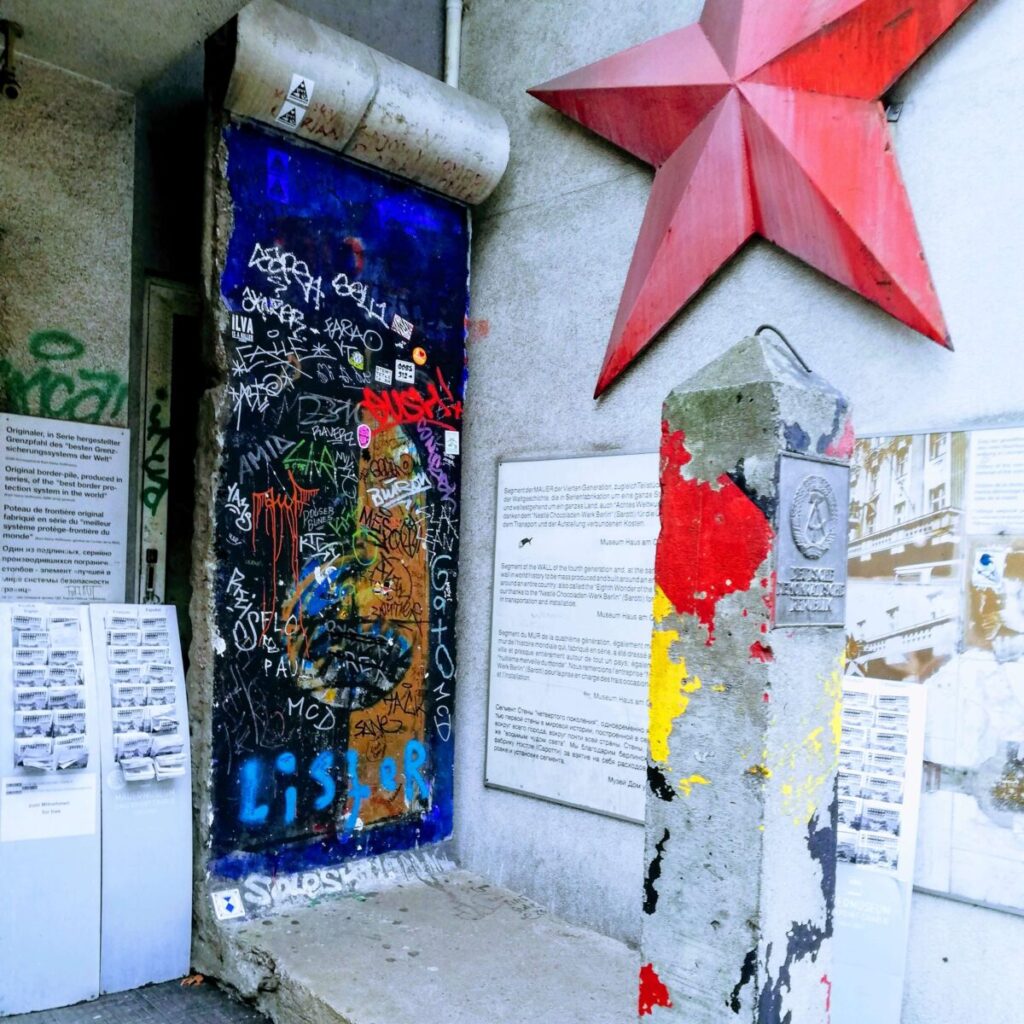 After that, we will secure a train to return to the station once and transfer to the next destination "Nertingen".
It seems to be quite rural, but it seems to be put in the morning with two transfers.
At that time I finally realized that there was a means of transportation called "bus", but even buying train tickets did not communicate well in English, and it was not a place to look for a bus.
In terms of time, I only had time to go to the "Berlin Wall Museum" or the "Sachsenhausen Concentration Camp", and after hesitation, I decided to go to the latter.
From Berlin Station, you will be taken to Orannierburg Train Station, from which you will be on a 20-minute walk.
It was a peaceful city and the atmosphere was good.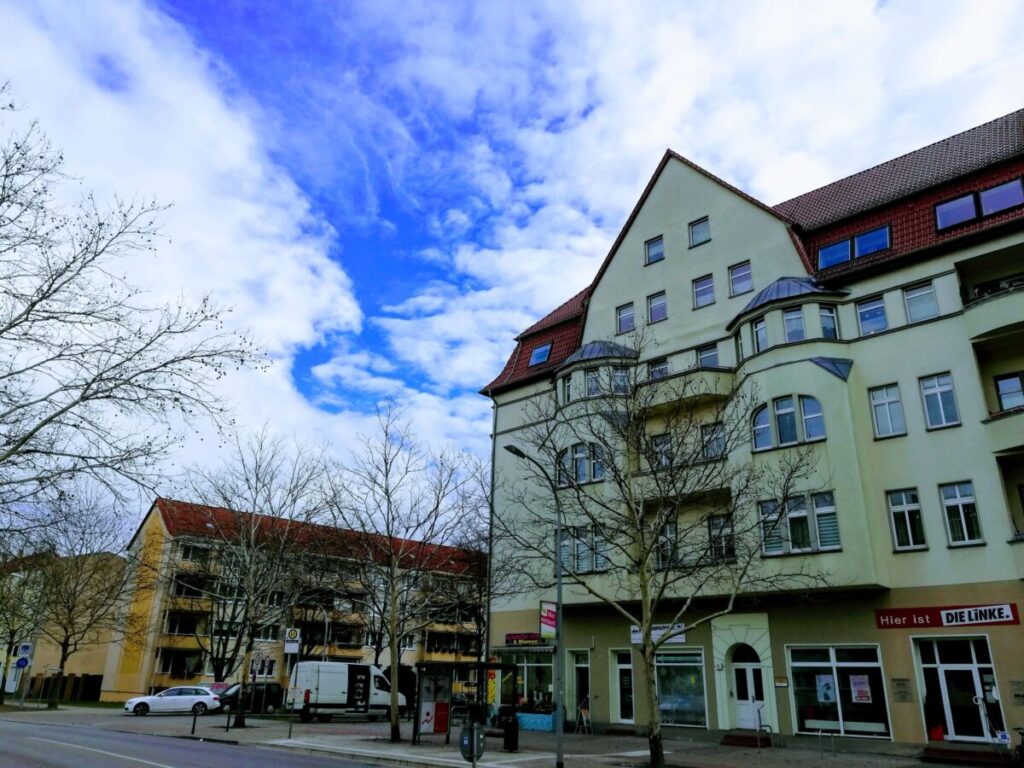 Sachsenhausen concentration camp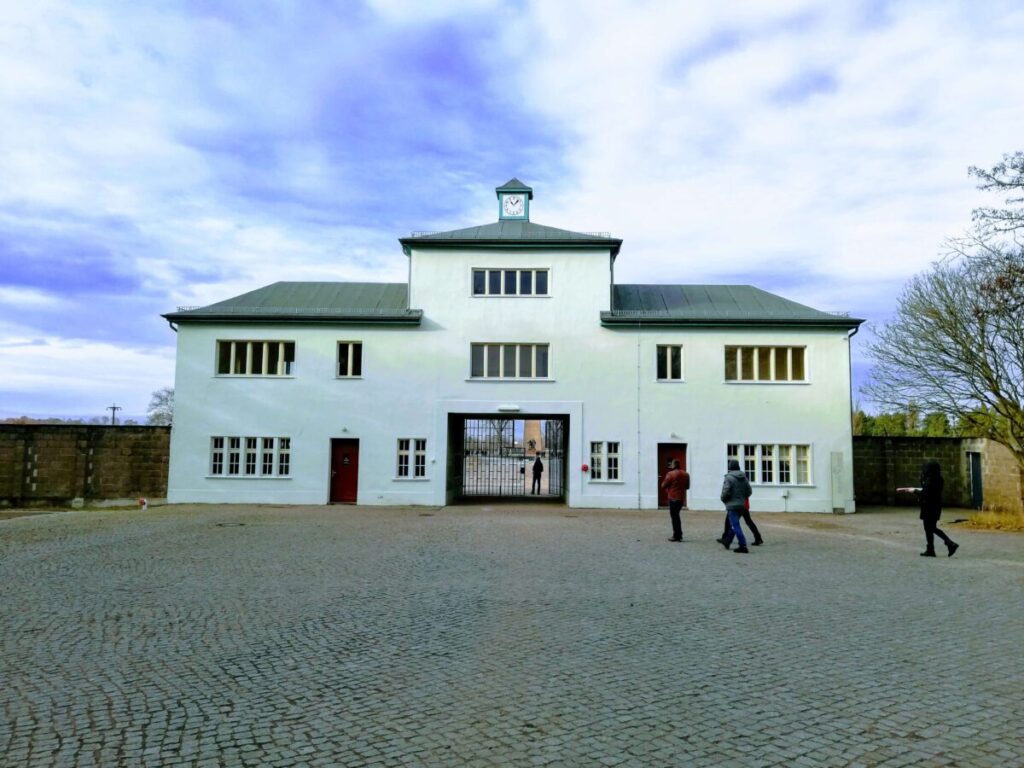 I thought that if I visited Germany, I should look at the nazi-related exhibits, so I went to the Sachsenhausen concentration camp.
I thought that I walked a moderate distance, and the entrance of the concentration camp comes into view.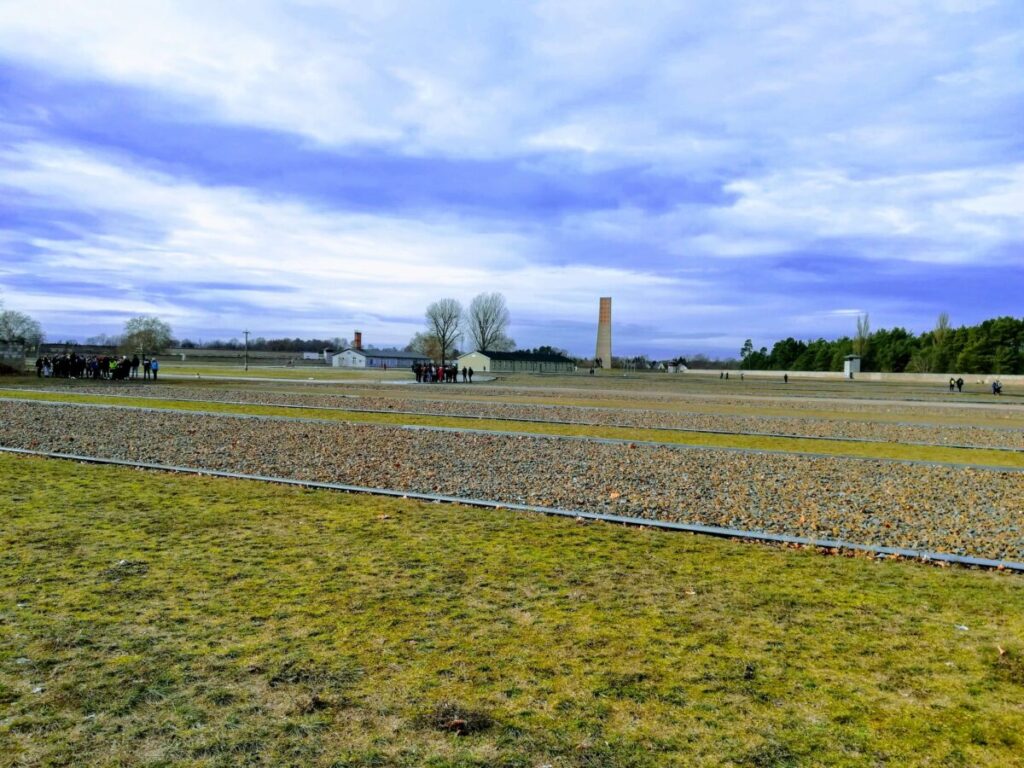 The camps have been partially restored, most of them are vacant, and are larger than you can imagine from the simple entrance (about one large park)
Many of them are now fields, but at that time, many huts were lined up here.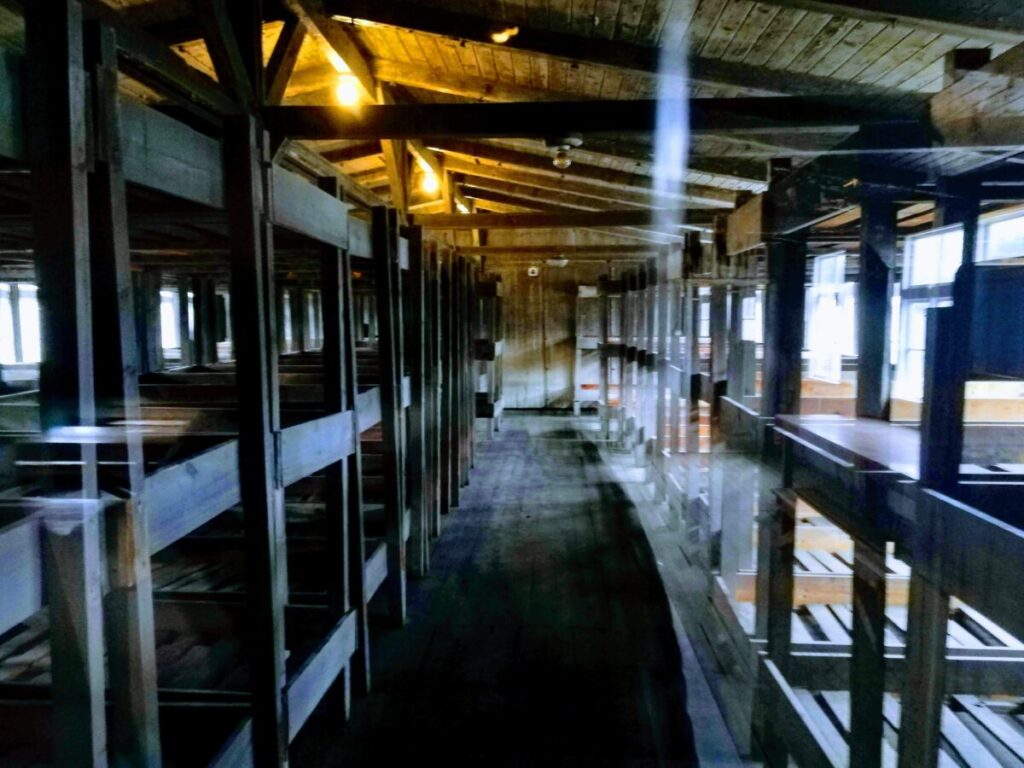 It remains in my mind that the bath was not a very bath, and that the bed spacing was horribly narrow.
There were many explanation panels in English, and the life of the person who was in the house was introduced with relics.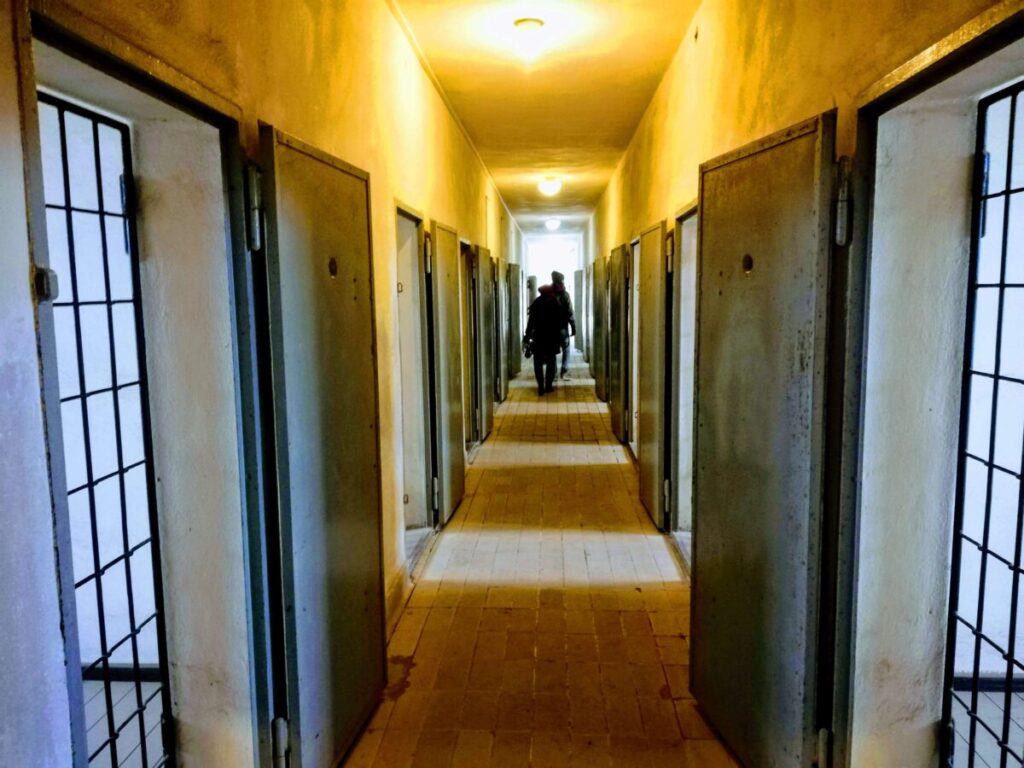 The atmosphere was similar to Abashiri Prison on a trip to Hokkaido, but considering that it is innocent people who were here in the first place, you can see the poor environment.
It was very different from Abashiri Prison that there were exhibits such as photographs, biographies, and videos of the people who were actually being held.
The explanations are in German and English, but there is a considerable amount of text, and I think it will take a lot of time if you want to read all the explanations.
Back in Berlin to Nerthlingen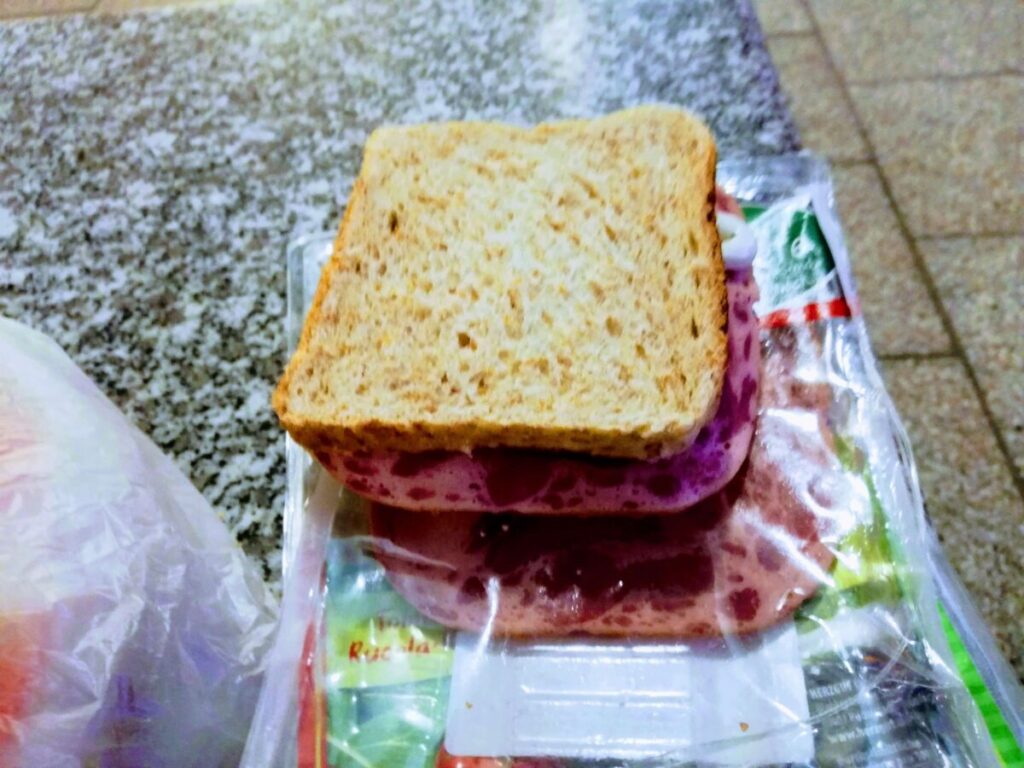 Buy today's lunch and what to eat on tomorrow's train (bread and cheese, ham, tartar sauce, etc.) at a local supermarket.
I got on the wrong train on the way back and lost 2 euros and 30 minutes.
In Germany, I can not even read the station name, so I need to show the local people a map and check the destination, but it was really hard because the local people are not very familiar with trains …
In the end, I was finally able to return to the original station by dashing at the beginning of the train and checking the destination to the conductor.
I was thinking of going to the Berlin Wall Museum if I had time, but today I gave up going this time because I ran out of time and spirit.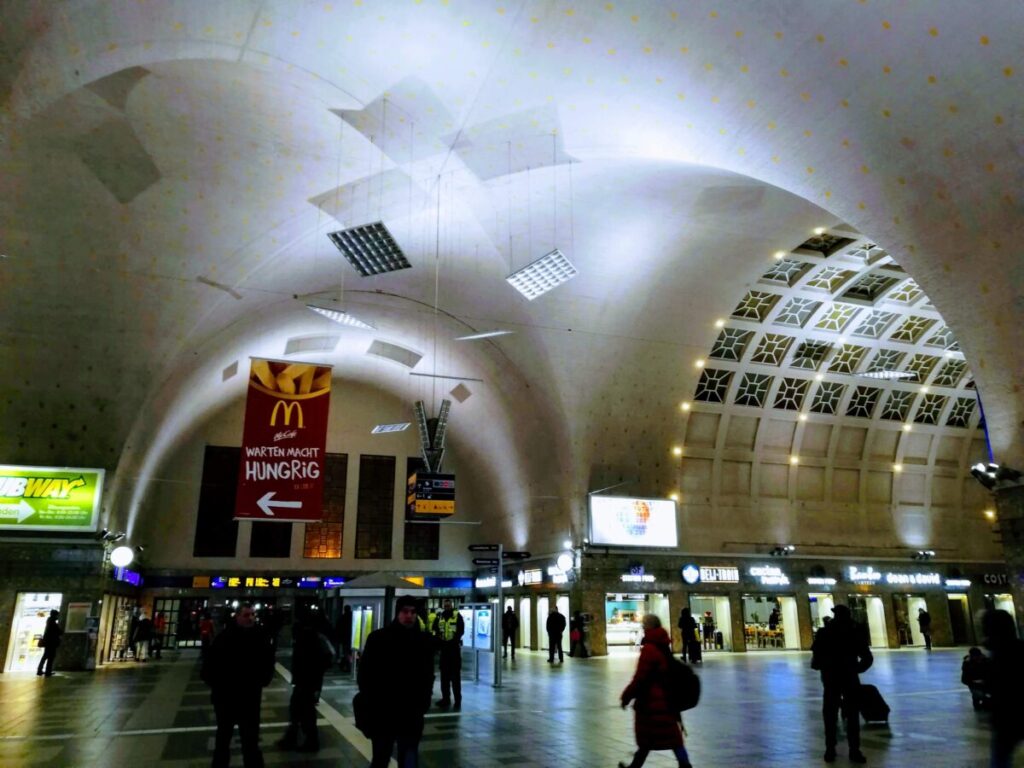 I wait until departure at the station, but it is not warm there because it is an atrium, and begging comes when I sit for a while.
I'm basically a stance of not giving me money, but overseas, is it normal to give rich things to poor things?
As a personal opinion,
The person cannot be independent at any time.
Why give the money you earn to others?
How about trying to get money without giving any returns?
It is an idea. At least you don't want to sell something or play?
… It became 21 o'clock while thinking about such a thing, and the train came, so it is up to here today.
Day 5: Nerthlingen of the Attacking Giant
It was quite rural, so I used it almost half a day to go!
Travel time Half day, 2 transfers
Wake up at 4:30 in the morning and wait for the transfer station.
I was especially careful because the station staff told me that ticket exchange would not work even if I missed the ride!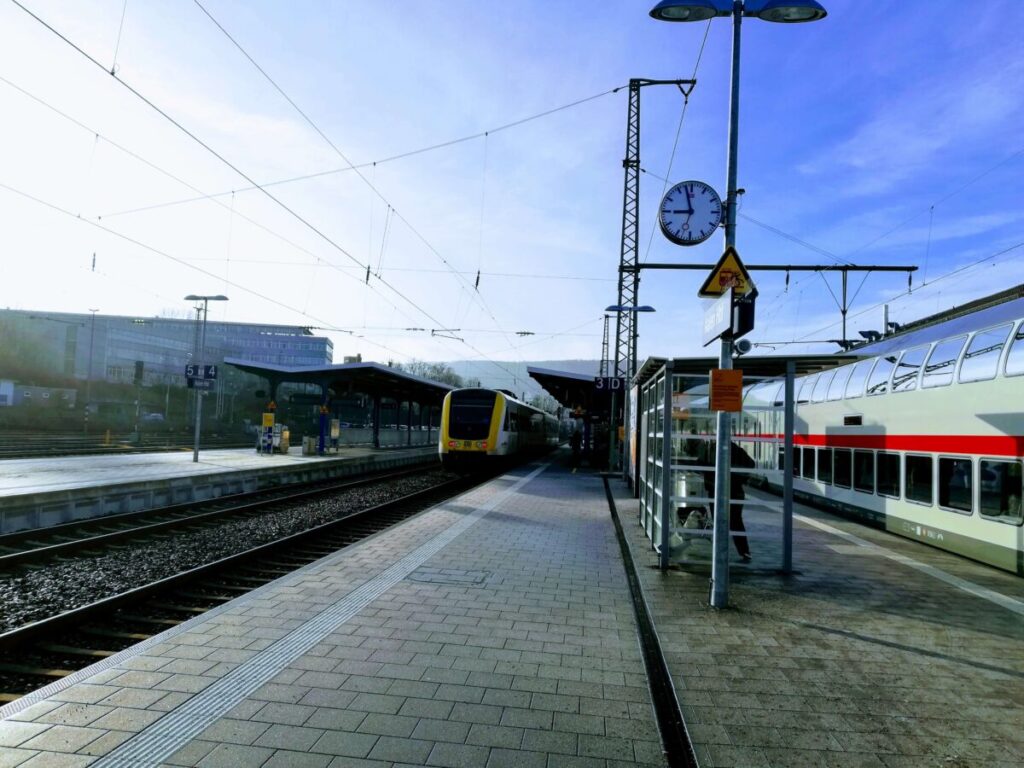 Today's second transfer station at 9:00.
Arriving in Nertingen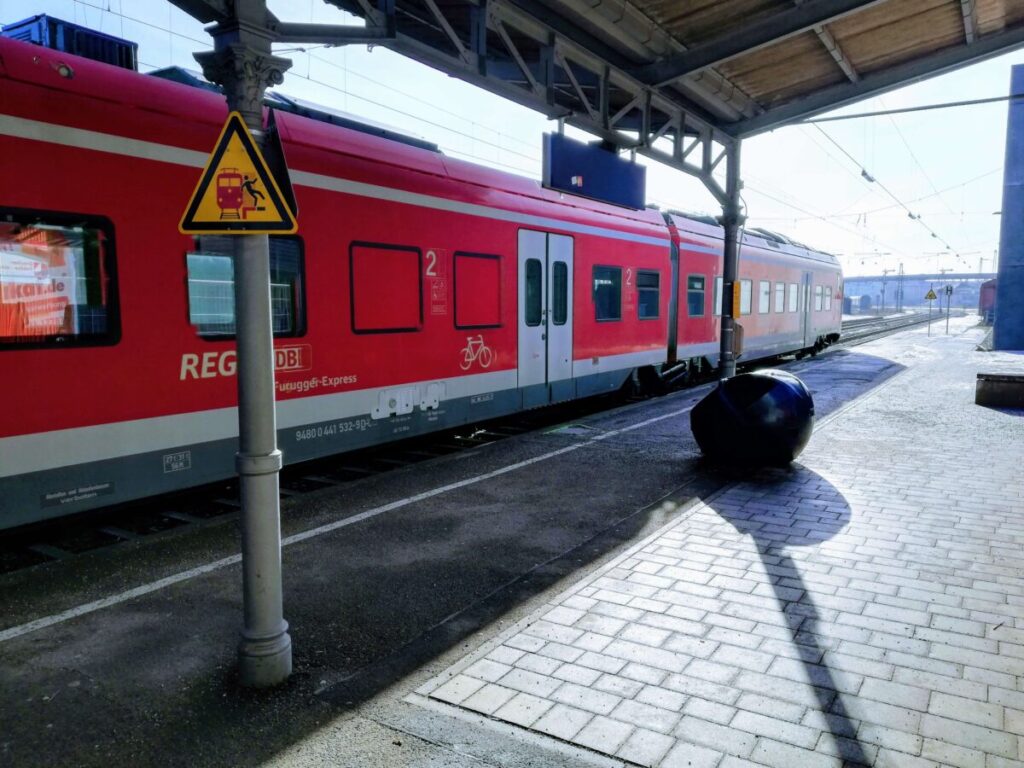 It took almost half a day, but somehow we arrived at the desired Nertingen station before 10 o'clock.
The place that became the model of the manga "Attack on Titan" is within a 5-minute walk from the station.
What kind of town is Nerlingen?
Entrance to the city. There are several other places.
Nerlingen is the name of the year people who studied geography in high school have heard of it at least once.
It is famous as a representative example of "Castle City" which surrounded the whole town with a high wall.
A castle city is a city that is surrounded by ramparts and defends firmly . Earthworks and moats are also used as defensive facilities.

https://ja.wikipedia.org/wiki/ Castle City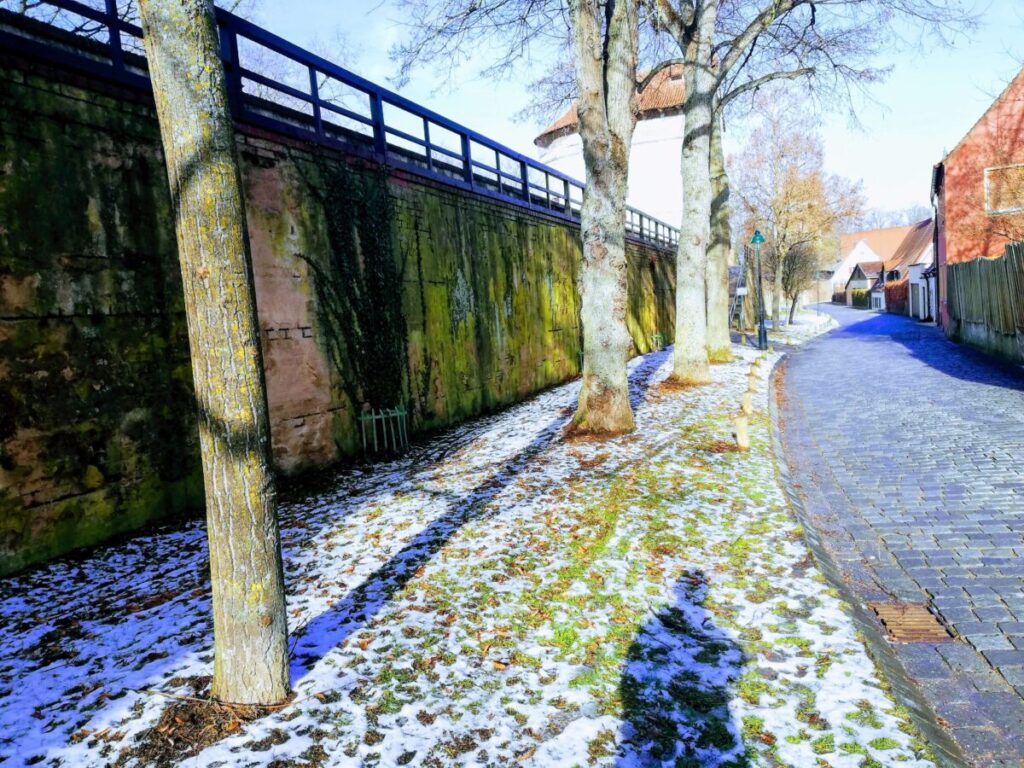 When you pass through the tunnel, you will see a townscape with a sense of pressure. There were few exits, so cars were crowded.
Is the wall 4-5m high? It is built to prevent the entry of foreign enemies, and there is also a window on the wall for archery.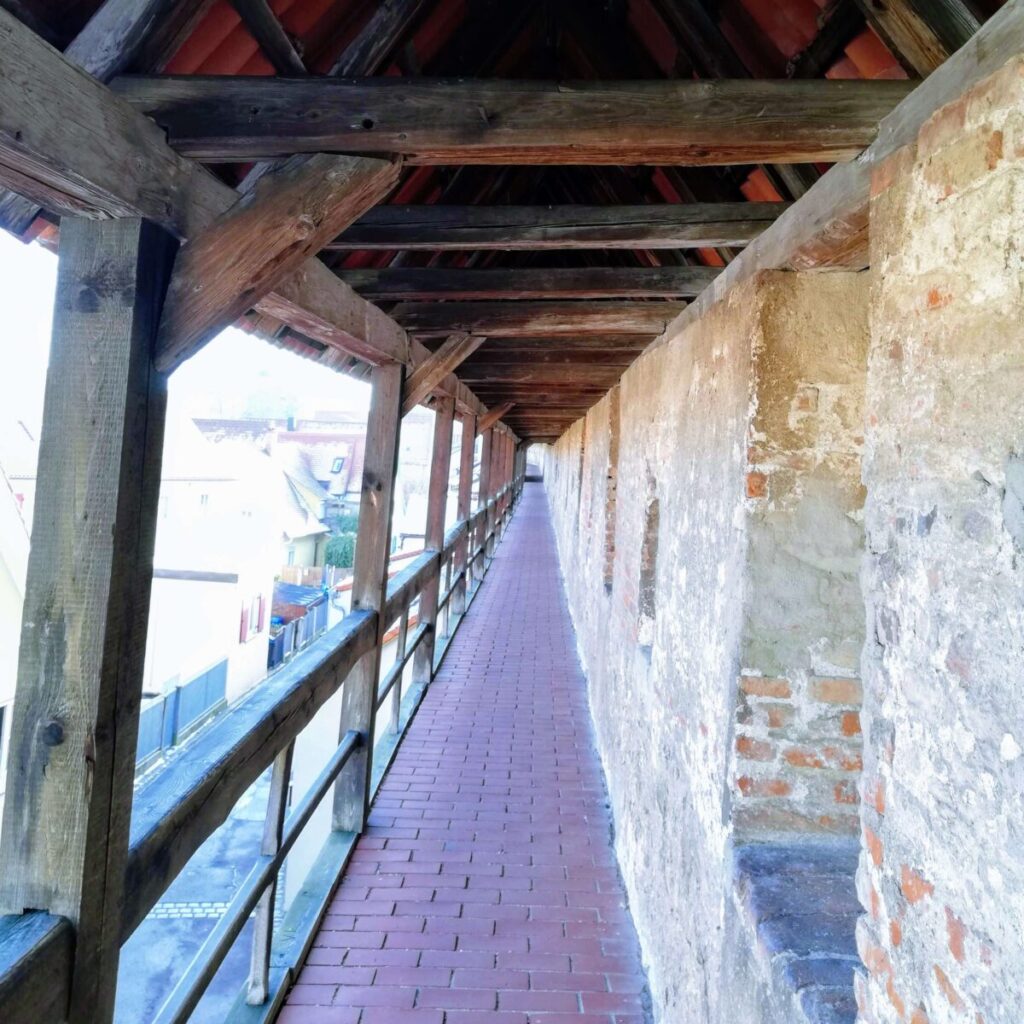 In the blog post I referred to when visiting Nerthringen, it was "smaller and disappointed than I imagined", but there was no such thing.
Sure, giants may not be able to prevent them, but they won't have trouble preventing human intrusion!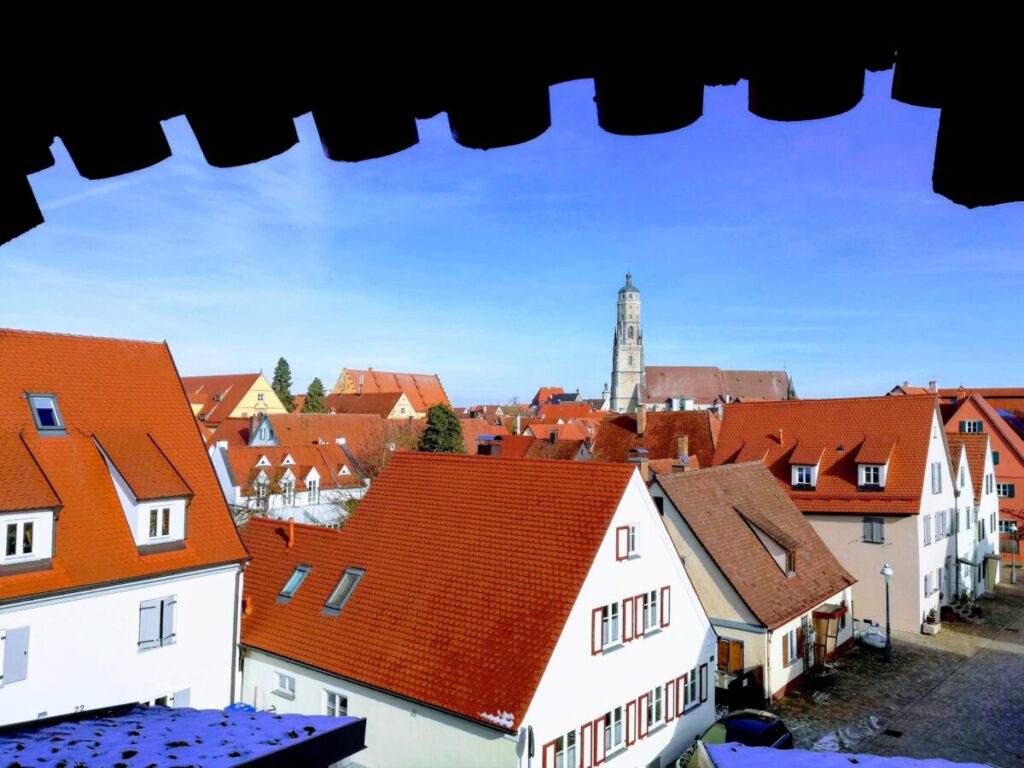 You can walk on the wall, you can go around in about 30 minutes while looking at the appearance of the town, and you can see that it is a fairly small town.
Germany ends! Where shall we go next?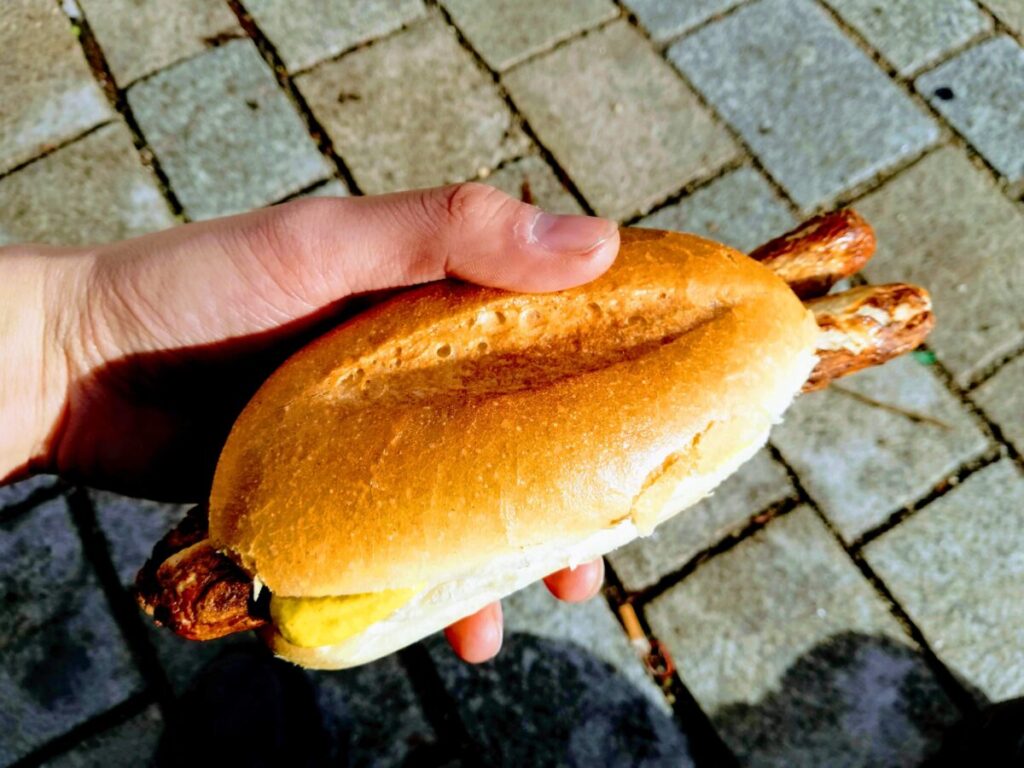 For the time being, Germany finished, especially because I didn't make plans, so I plan while eating a hot dog.
As a result of wondering whether to enter Italy or Switzerland, he decided to go to Italy.
When I went to buy a ticket, it was said that the border from Munich was good, so I decided to go to Munich which was not planned in a hurry.
I wish I had thought about the arrival airport of going a little more for this trip.
Instead of crossing Europe, it has become a wasteful schedule of European longitudinal (and round trip between Britain and France).
Munich
We went from Nertingen to Munich to go to Italy.
Originally a city with no plans to visit, we came to the conclusion that we should kill time until night considering saving lodgings by riding a train in the middle of the night.
It was the busiest of the cities I've visited in Germany and it was fun with lots of tourists!
St Michael's Church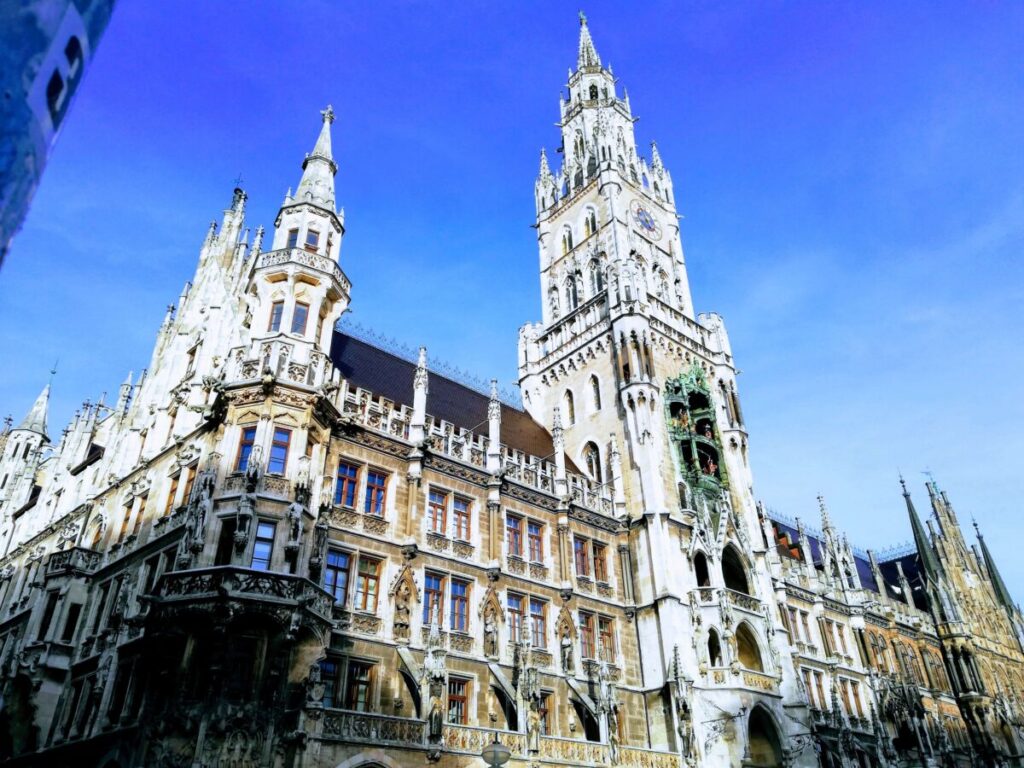 St Michael's Church was built as a Renaissance Jesuit church from 1583 to 1597 at the behest of Wilhelm V of Bavaria, based on an agreement with the Duke of Albrecht of the Jesuits in 1556.

https://www.tour.ne.jp/w_review/MUC/sightseeing/spot/1318736/
New Town Hall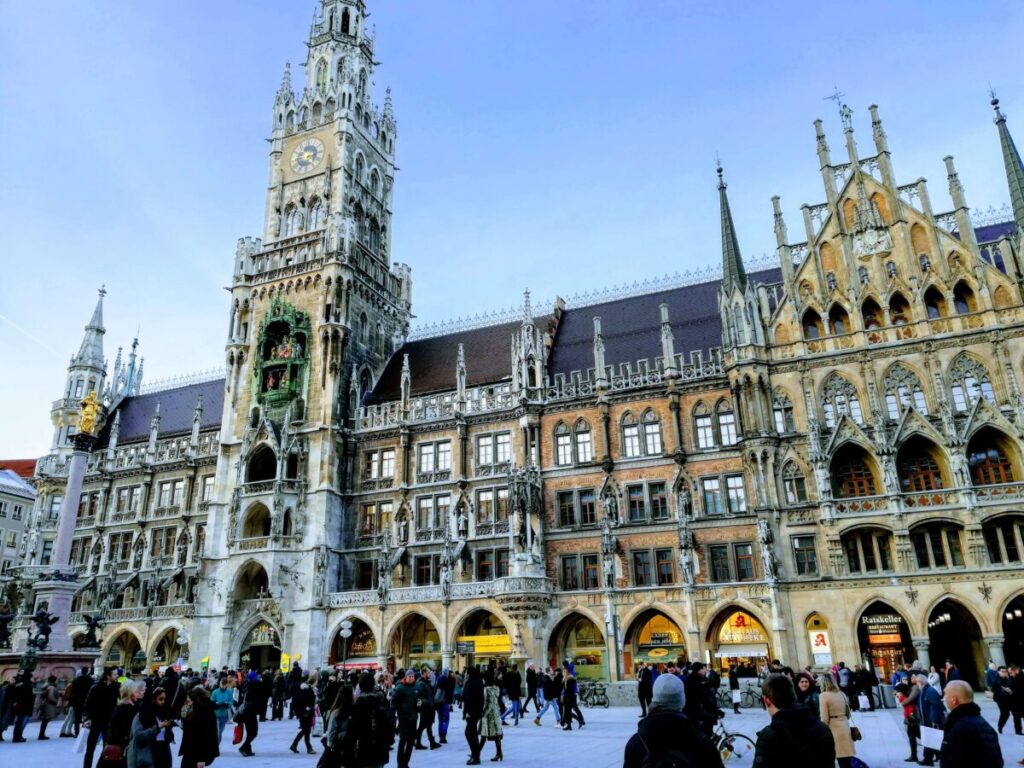 A neo-Gothic building built between 1867 and 1909 in the heart of Munich. Don't miss the clockwork of the doll attached to the bell tower. 32 dolls play various historical plays. From the top of the tower, you can see the city of Munich.

https://www.jtb.co.jp/kaigai_guide/western_europe/federal_republic_of_germany/MUC/118311/index.html
Tower of St. Peter's Church
Peter Tower was all stairs to climb the observation deck, so my feet died.
WiFi entered for a moment in the station premises, so I look up German food.
"How to walk the earth" has a lot of information on sightseeing spots, but it is a little disappointing in that there are few photos of food.
In that respect, the guidebook of the trip to Thailand was easy because I passed it if I pointed it because the name of the dish was written in Japanese and Thai with a photograph.
Belgium seems to be close, so Waffle 2.5 euros (eaten before taking photos)
Pretzels and AppleStogen
mezzo mix (drink mixed with coke and oranges)
Cutlet bread 2.5 euros
I got a ticket for 23:20, so I went out until about 20:00 wearing heattech underneath (it's quite cold)
I was a little scared when drunks were singing loudly, children were about to hit each other, and the police were yelling at people.
To Venice, Italy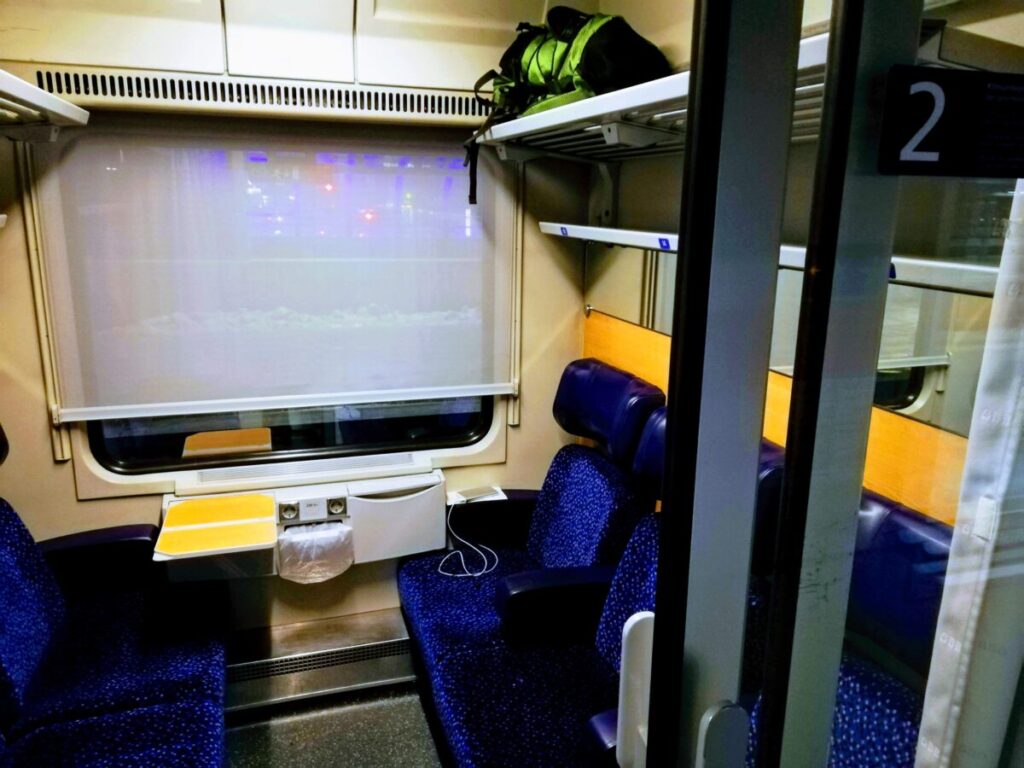 I wait for the train while I'm about to freeze at the station at night. There was a resting place where the heater was installed, so it was saved.
I also traveled by overnight in the car today and arrived in Venice around 8 o'clock.
I haven't taken a shower in a while, so I'd like to take a bath soon …
The difference between Frankfurt and Berlin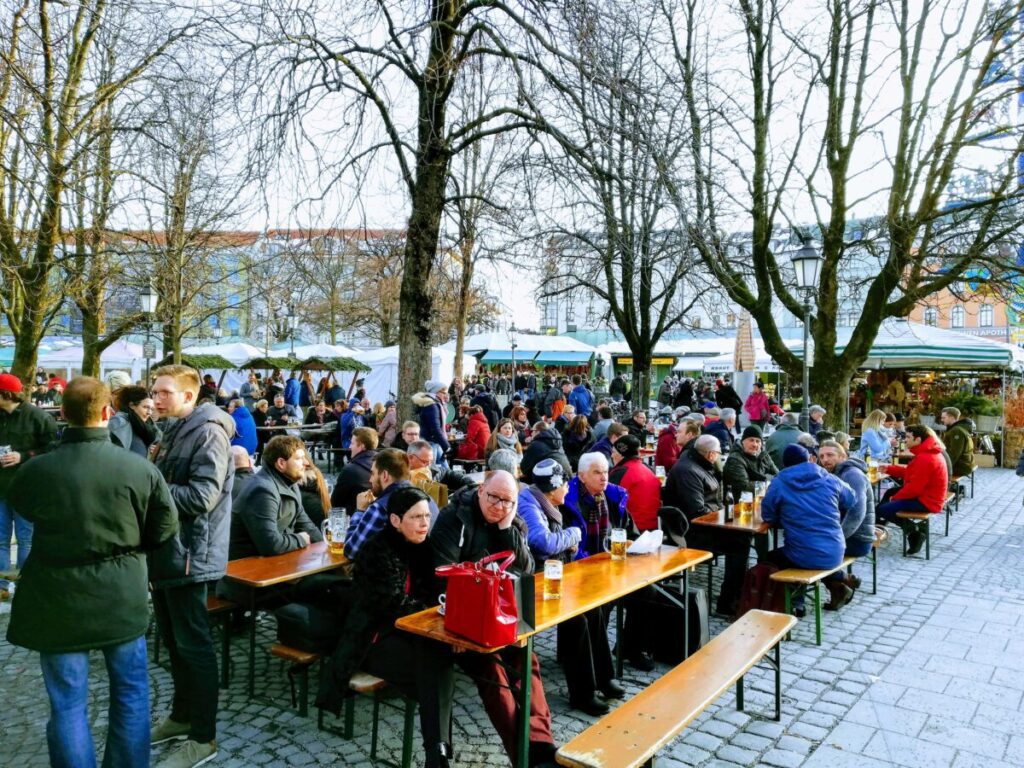 Personally, I thought Berlin was more interesting in Germany than in Frankfurt. As a reason
A mix of old and new towns
A downtown feeling that is not specialized in sightseeing
Such as.
If the sense of the city comes out or the number of shops for tourists increases, the scenery that can be seen by all means will be felt like a lie, and it will become like a certain famous dream country.
The next country is Italy!