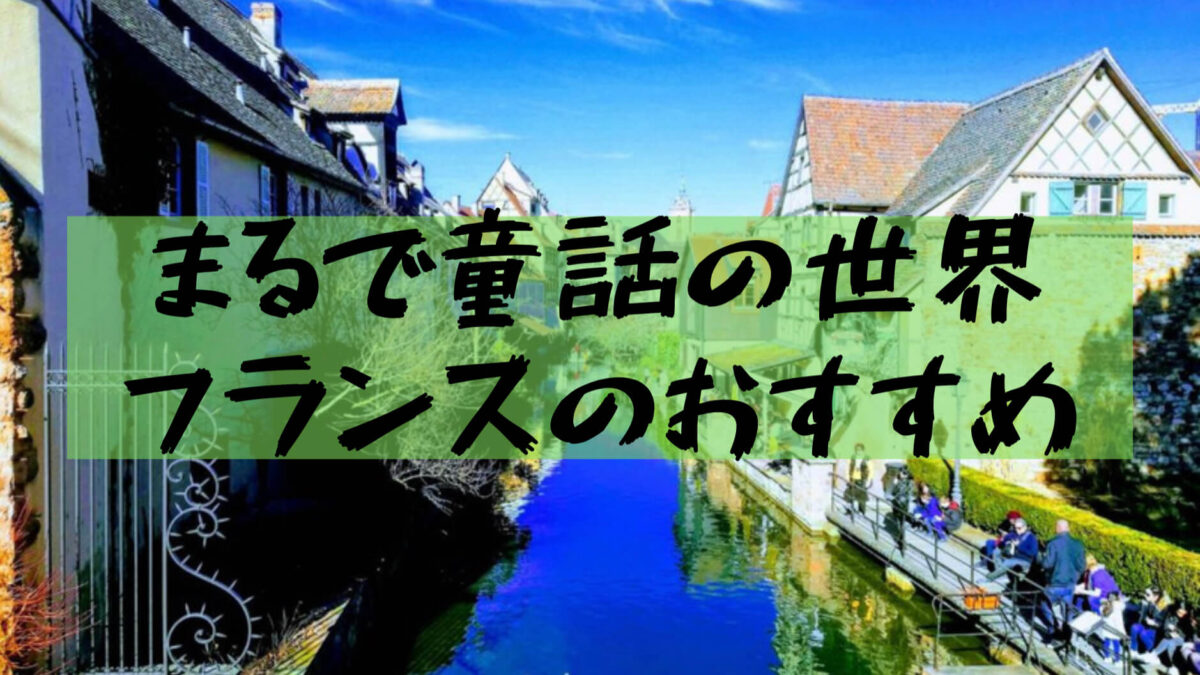 In the month of February 2019, we reworked the record of traveling without planning eight European countries at a later date.
(Germany→→ Italy→ Vatican city→ Switzerland→ France→ United Kingdom→ Spain→ Portugal)
This time, I will look back on the state of France, the fifth country across Europe! ↓The outline of the trip is in this article ↓
【University student trip to Europe】University students cross Europe for one month (cost, schedule, belongings, etc.)
2/25 (Colmar)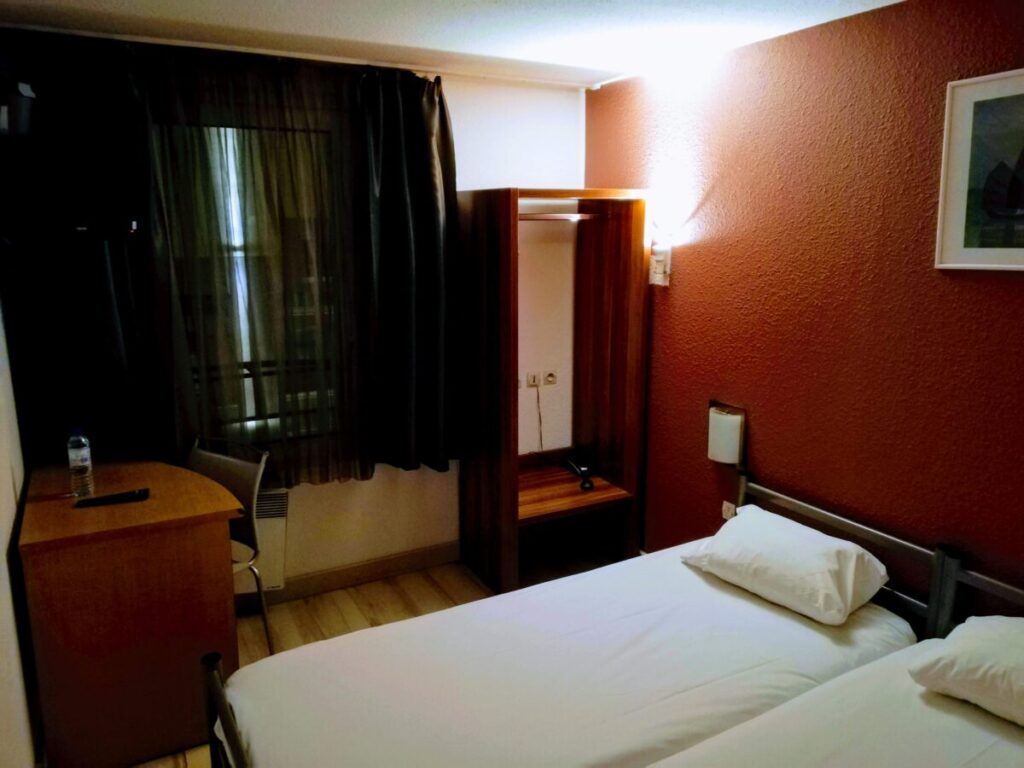 From Lausanne, Switzerland, we headed to the small town of Colmar in eastern France.
It is a place to stay, but the only hotel on this Trip to Europe (the lowest price in booking.com was the hotel)
I arrived at night, so I left my walk tomorrow and was able to sleep slowly after a long absence!
2/26 (Colmar)
Into the world of fairytale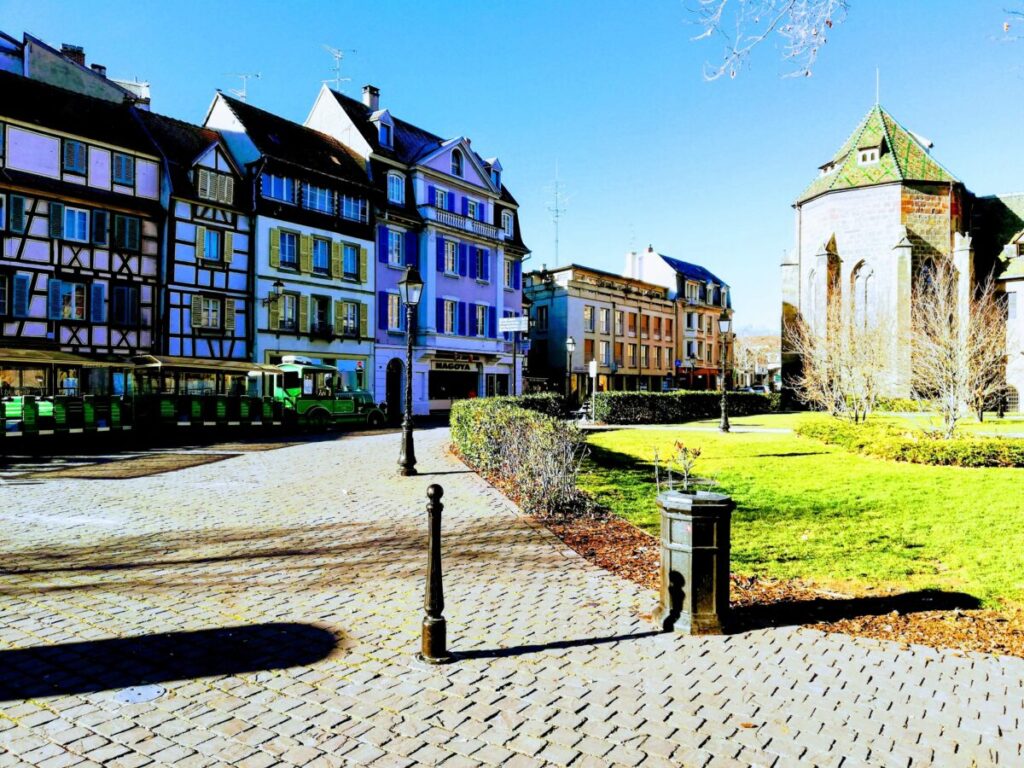 At the hotel, I got up to sleep well after a long absence, taking a shower and heading to Colmar Old Town.
Colmar is the model of the anime "Is your order a rabbit?", where you can see fairytale views!
First of all, I will make a pilgrimage to the holy place after seeing the whole cityscape!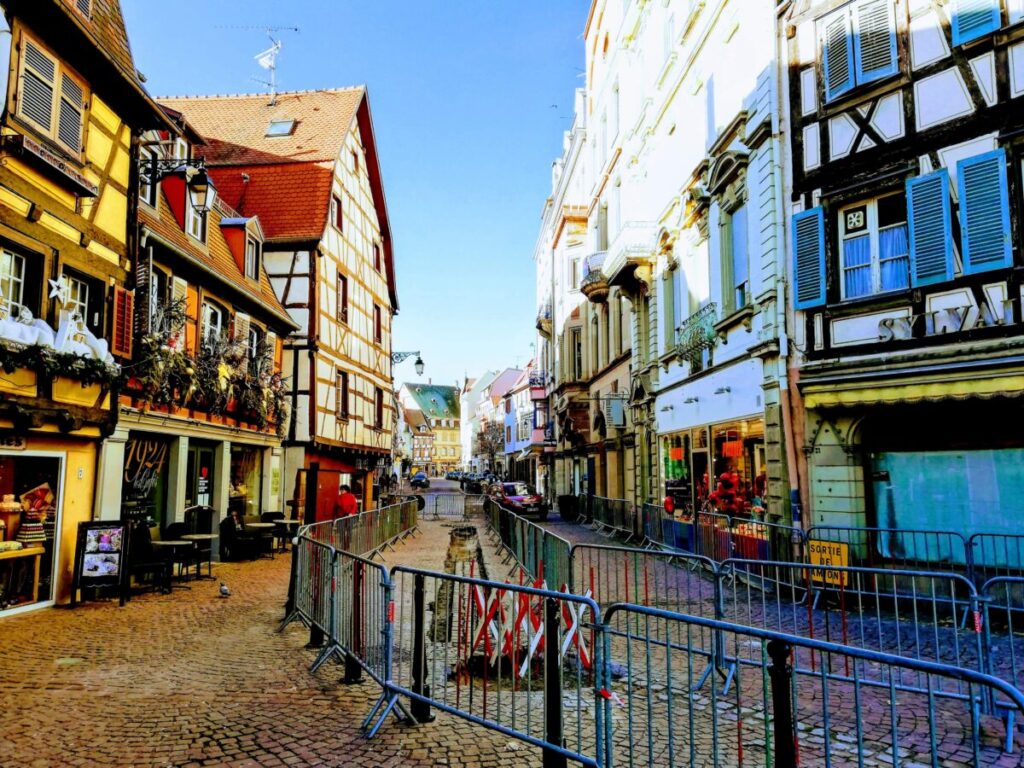 From yesterday's Switzerland, I feel very happy with only beautiful scenery …!
It is colorful, but it is a strange place that I do not feel noisy when I look at it.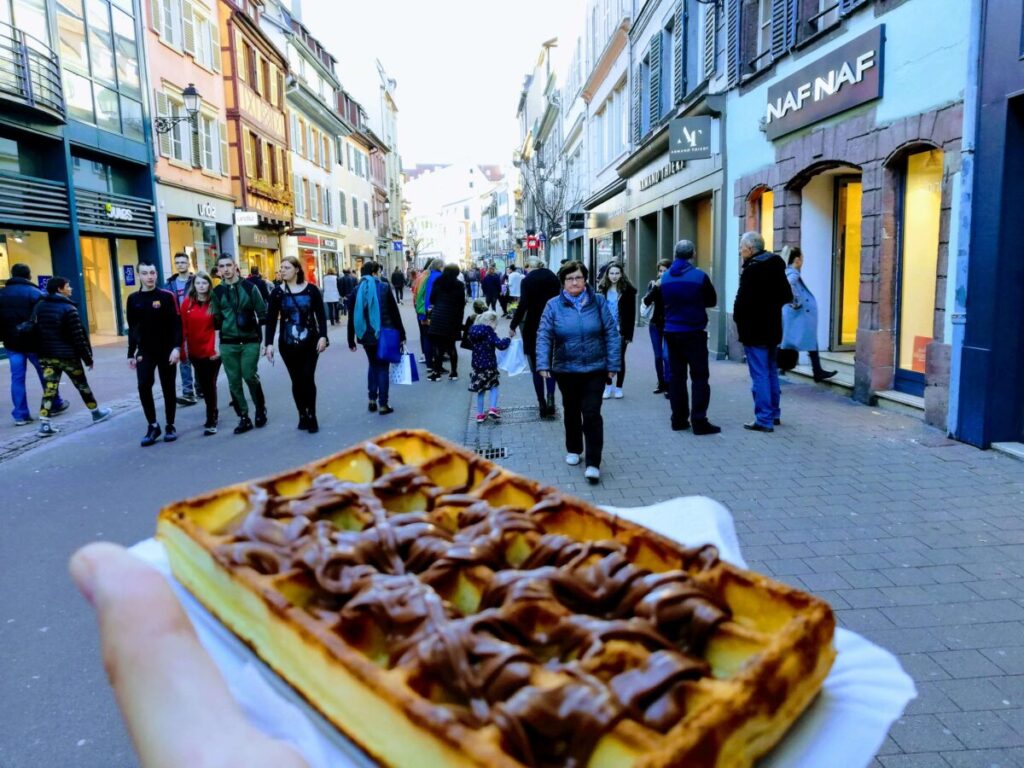 The bakery is not where there are people, but you can buy it quite cheaply if you buy it at a place off the main street!
I ate doughnuts and café au lait-flavored eclairs that look a lot like Misdo's "Sugar Raised"!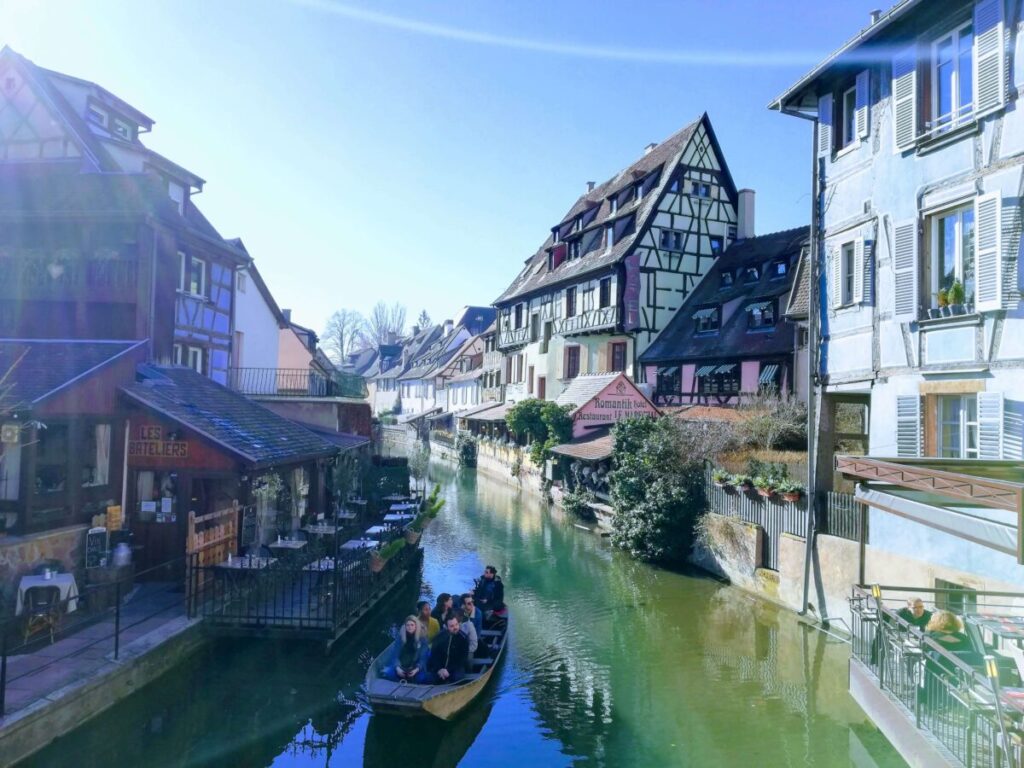 Pilgrimage to the Holy Land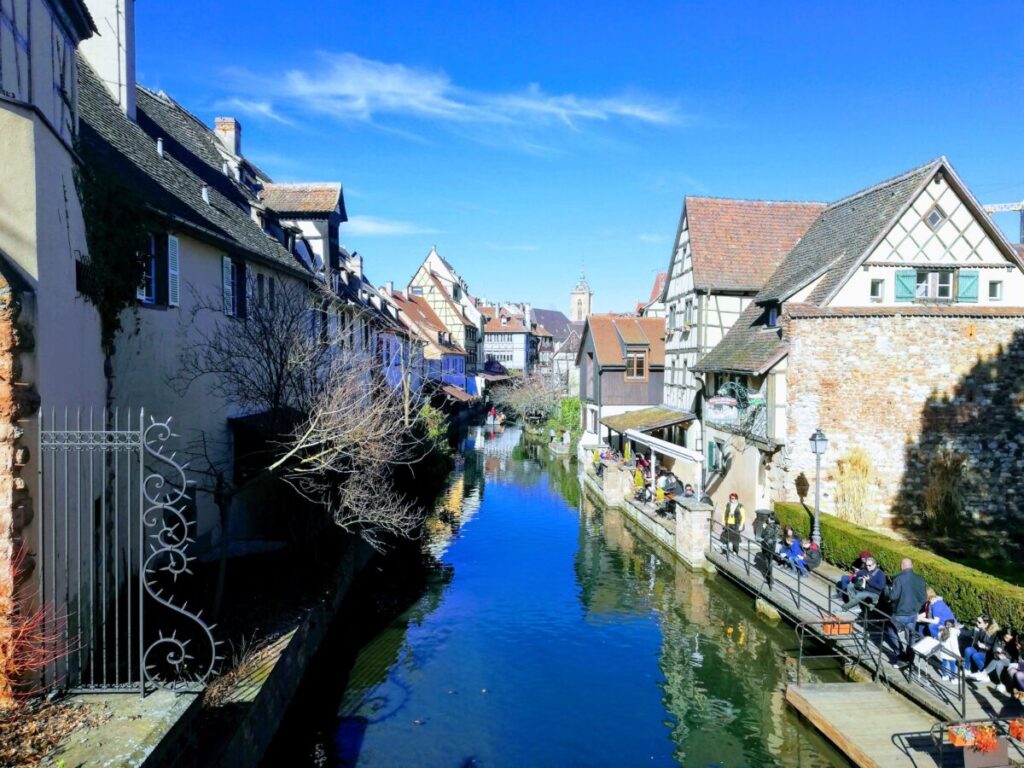 In the afternoon, I made a pilgrimage to the holy land of "Is your order a rabbit?". The site that was indebted is as follows.
A Trip to Europe with the TV anime "Gochiusa" [Pilgrimage to the Holy Land] | Anime Times
The pilgrimage map of Gochisa Kinmoza Holy Land was completed| wrapped in a hidamari
From top to bottom, start of episode 1, episode 1, ED background (Chimame Bridge), Rabbit House, Aoyama Blue Mountain Park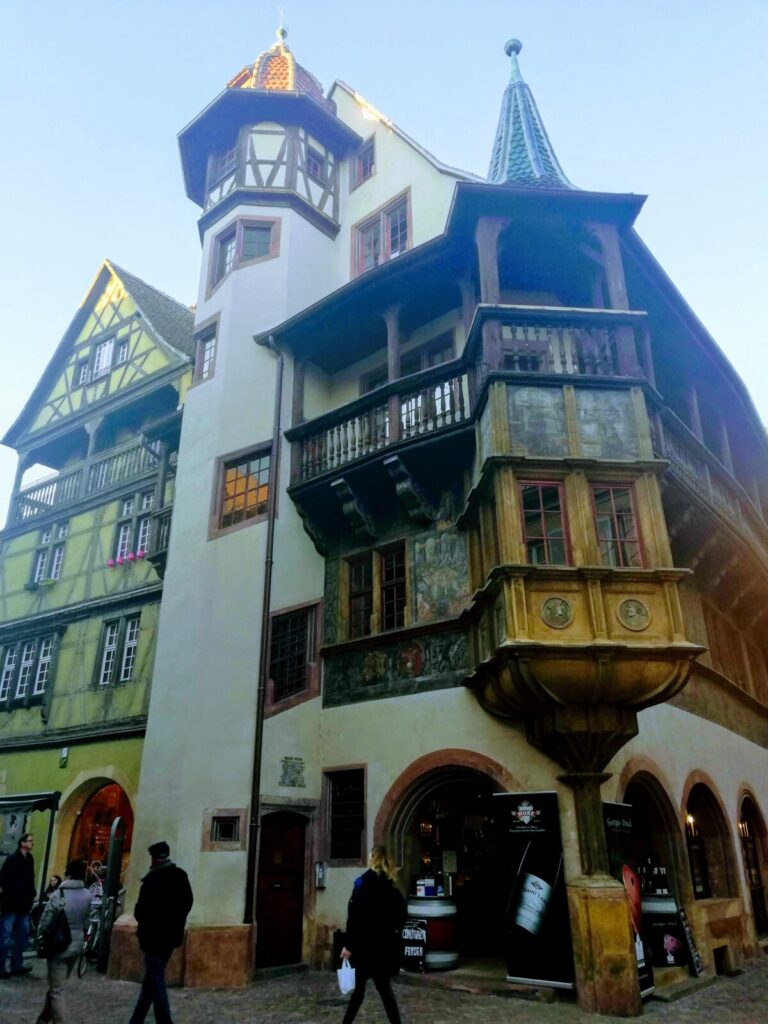 And, it seems to have come out to "Howl's moving castle". I only saw it twice, so I don't remember…
To Paris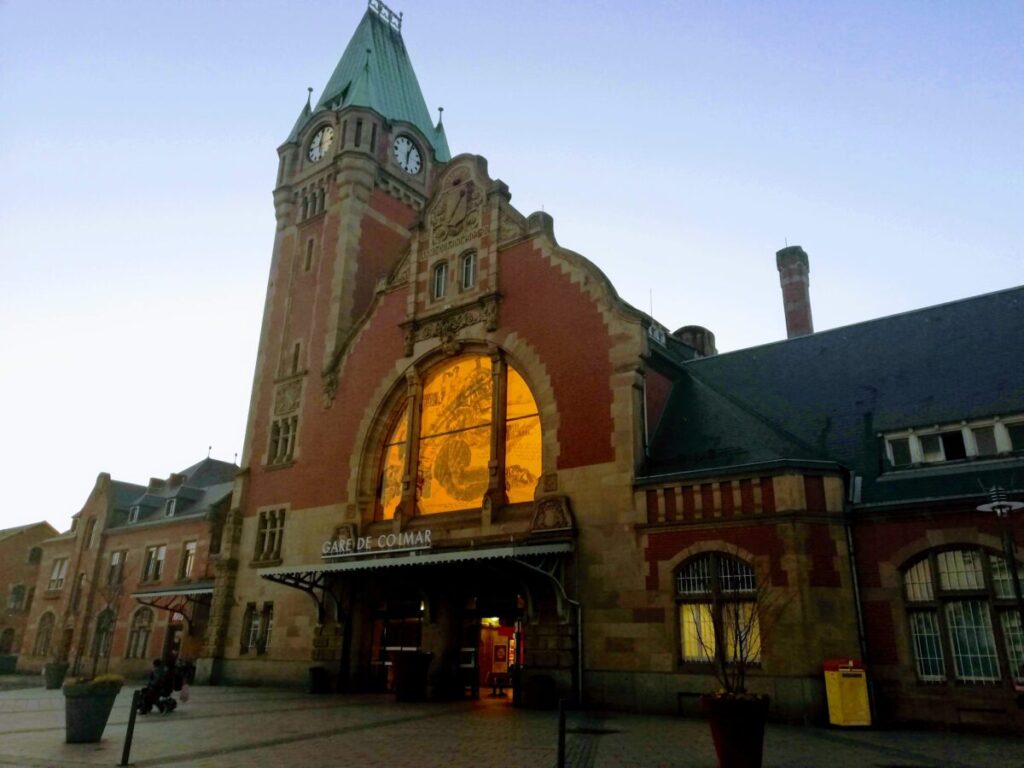 We will head to Paris. I changed trains in Strasburg for 30 minutes, so I went out a little.
Depart Colmar in the evening and arrive in Paris at night. I walked for about 3 hours in a plump and headed to the hostel!
Around this time, my senses became immathy, and I was getting used to walking in the dark.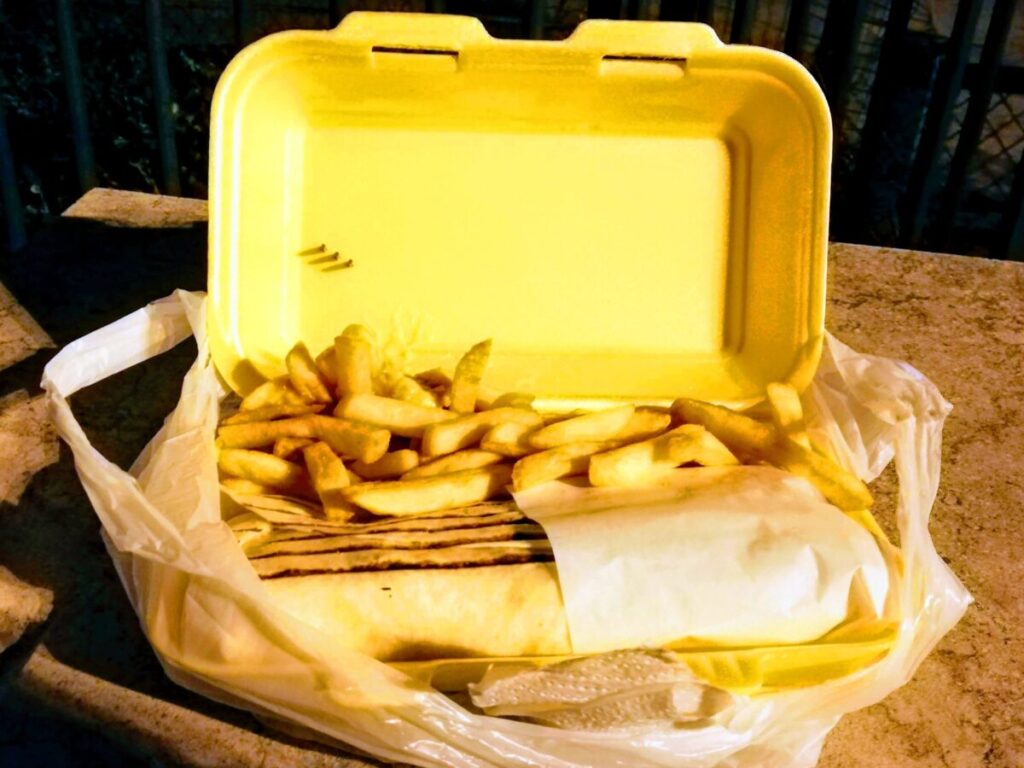 Potatoes and kebabs for dinner. I'm staying in Paris for three consecutive nights from today!
2/27 (Paris)
It's late in the morning in Paris.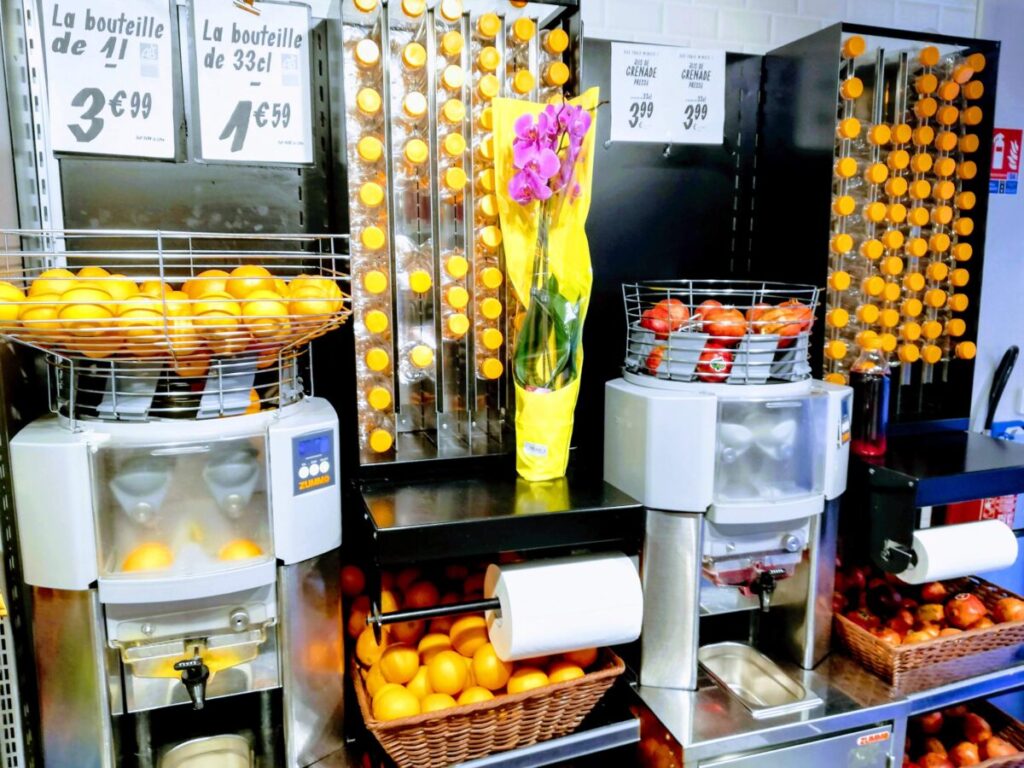 I woke up at six because the snoring in the same room was noisy. I can't sleep at all, so I take a shower and leave.
In France, it was not easy to find a restaurant in the breakfast so that the morning was slow and the shop would not open around 9 o'clock …
I came to France and bought French bread (around 1 euro), and freshly squeezed orange juice (1.3 euros).
There is a squeezer in the French convenience store "franprix", and you can drink juice squeezed on the spot!
To the dome church where Napoleon sleeps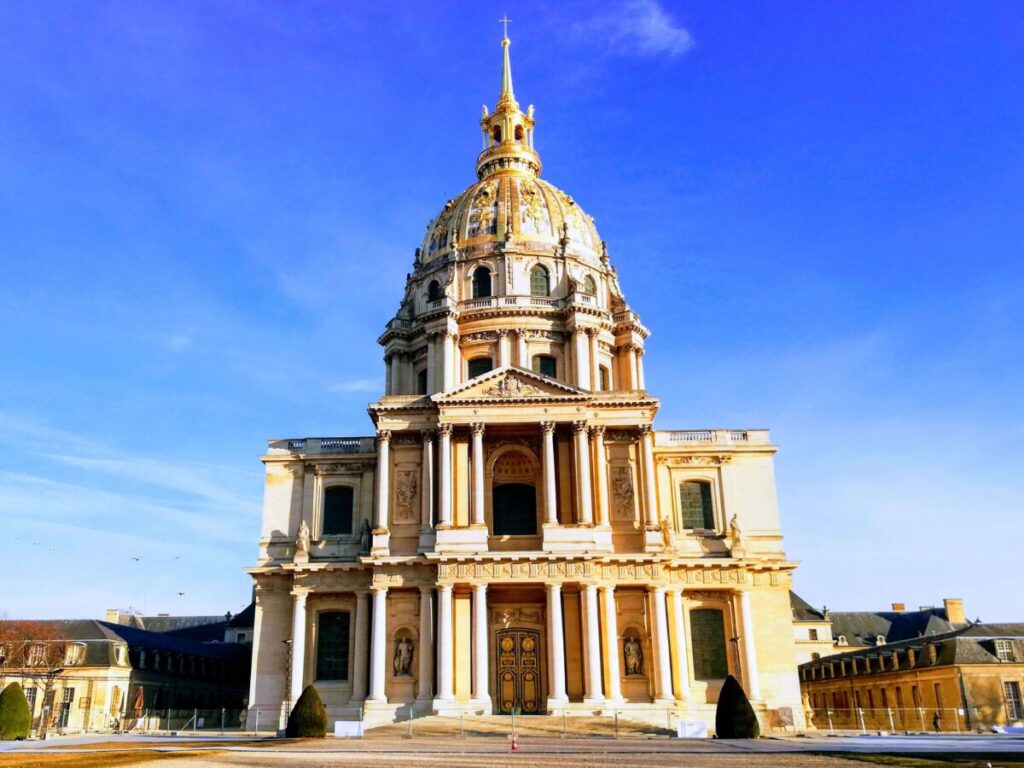 I found a beautiful domed church on my way to the Eiffel Tower.
If you look it up later, napoleon is sleeping in the place called "Invalides' Abandoned Soldiers".
Laws and regulations.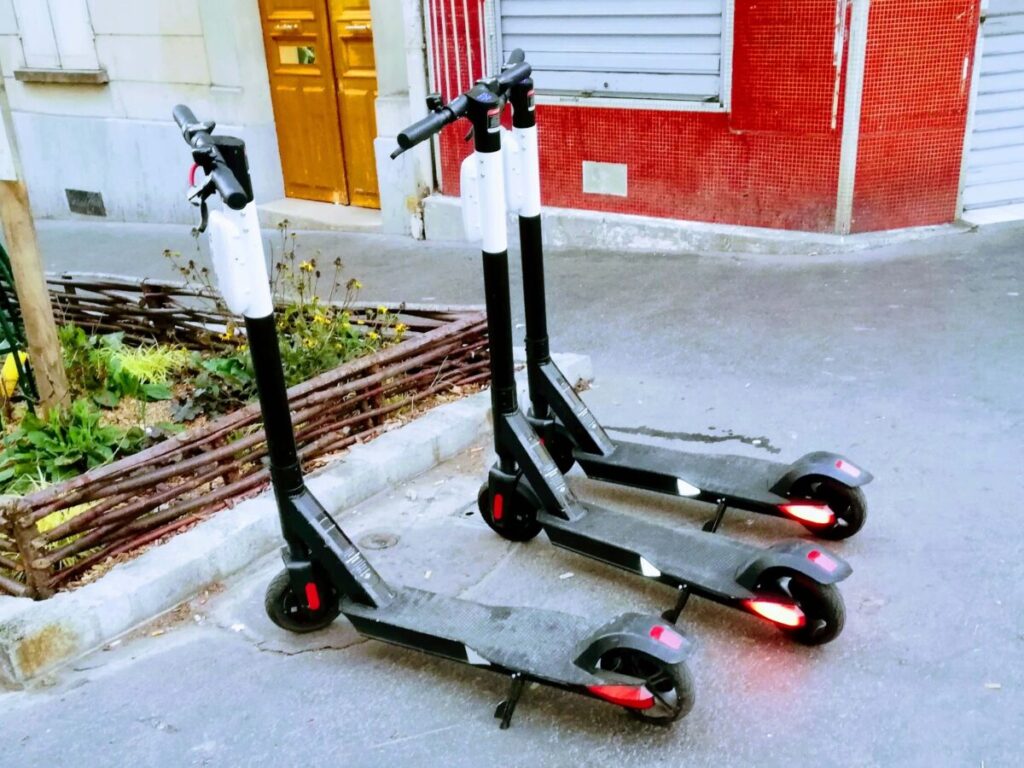 What I felt on foot was the wide variety of means of transportation in Paris. In addition to walking, cars, buses and trains
ship
Rental bicycles
Rental Electric Scooter
In-line skating
skateboard
He's just a Segway tire.
I hope that Japanese roads will also be able to run through various vehicles by revising the law!
P.S.: I finally got able to ride in Japan when I was rewriting
First of all, say hello to parisian specialties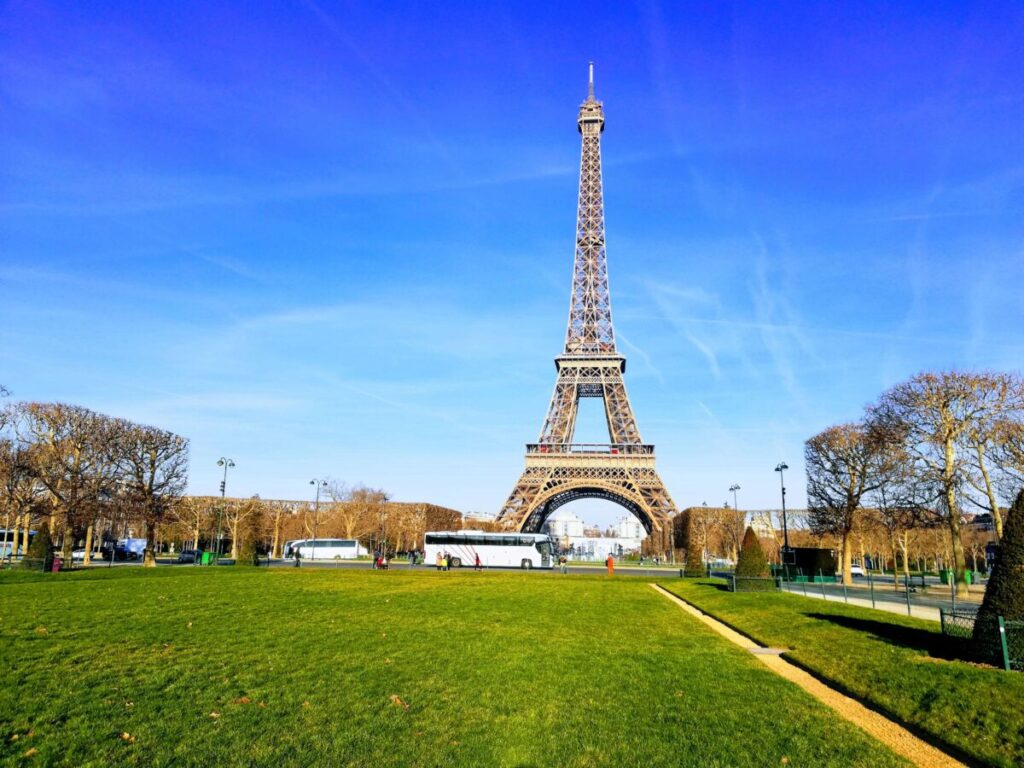 It seems that the distance is close, so I will go up to the Eiffel Tower first.
It was a famous tourist destination, and there were many Japanese!
The lawn to the Eiffel Tower seemed to be a dog run, with a lot of dogs and children running around.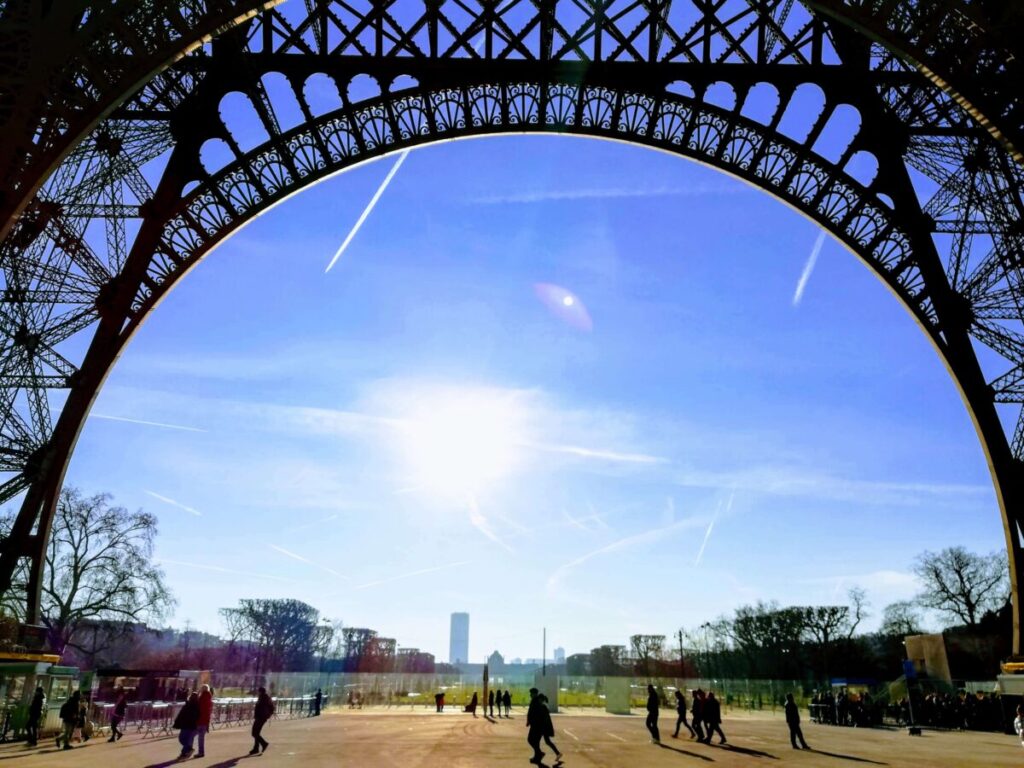 Before I came to travel, I read the article "Paris is boring", but at least I really liked the Eiffel Tower!
Thin parts that seem to be made from iron plates, fine modeling that also sought artistic beauty, and moderate beige exterior.
Any one is beautiful! !
Since the evaluation is different for each person, it is important to actually go and check it out by yourself.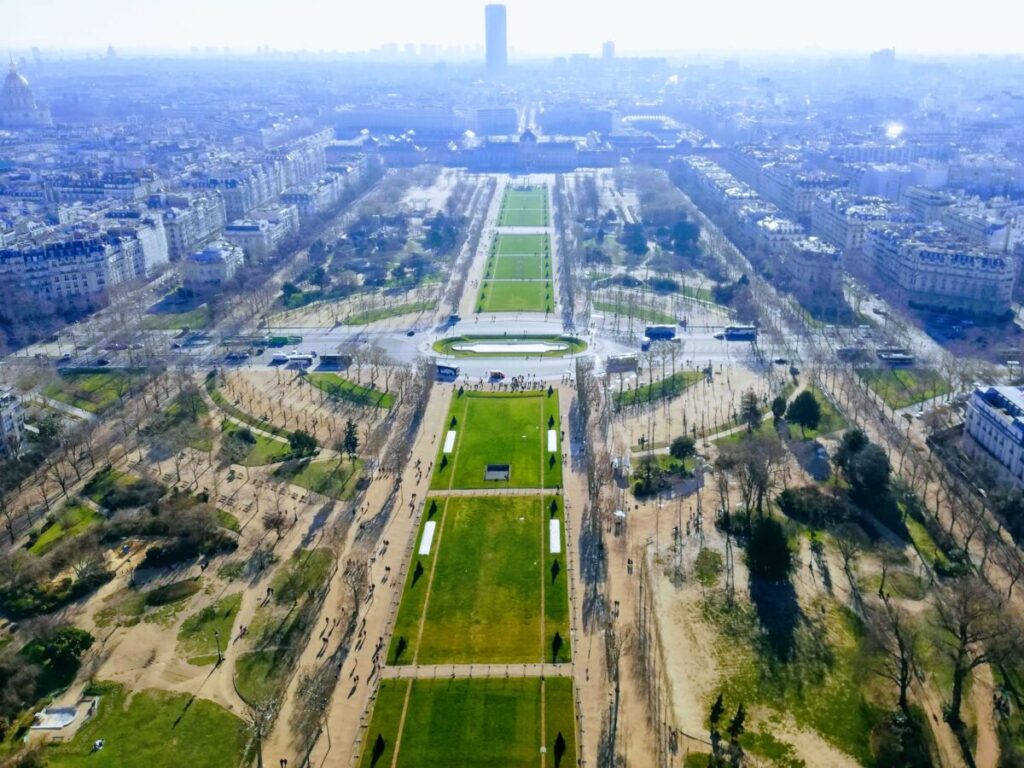 If you climb the stairs, the young person will be 9.7 euros. You need to verify your age with your passport.
It is not such a serious staircase, so I recommend that you try climbing!
Near Arc de Triomphe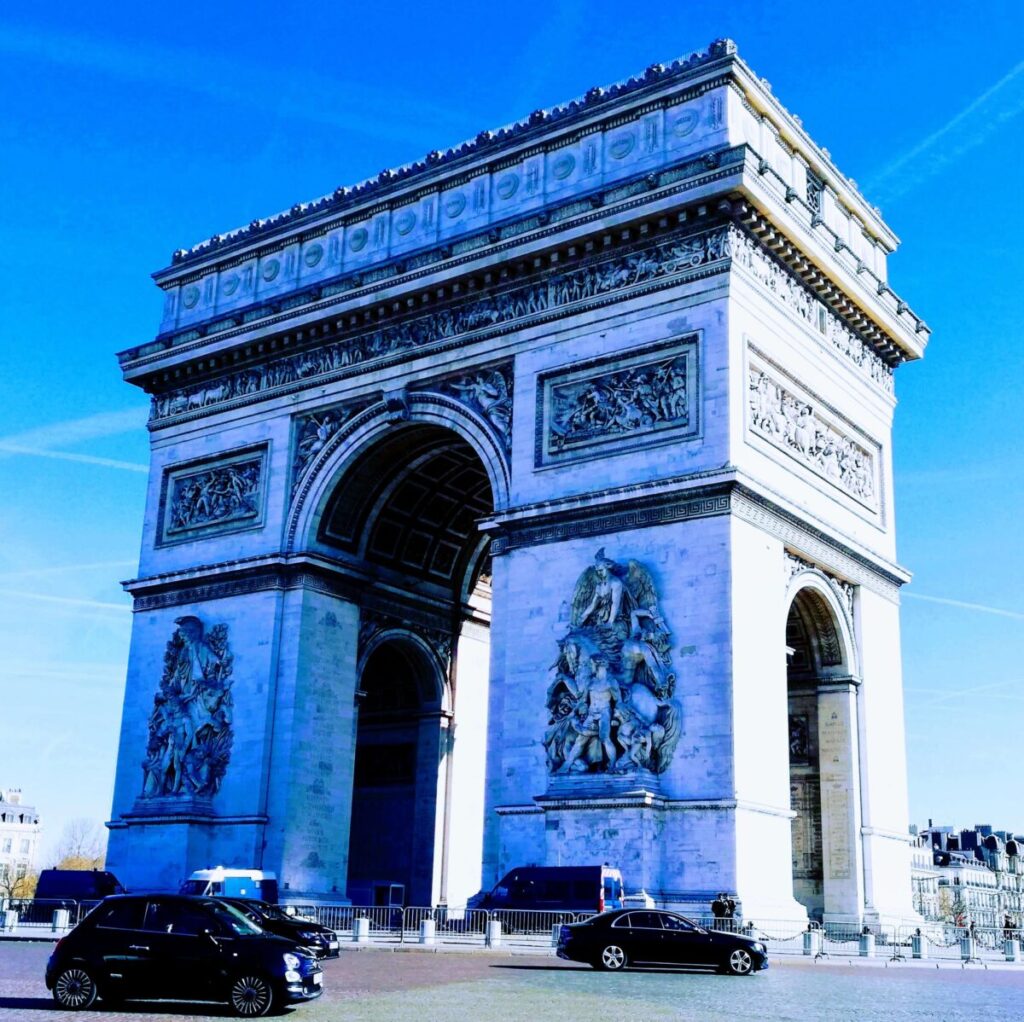 After saying to the Eiffel Tower, we went to the Arc de Triomphe with our feet.
In Europe, I sometimes saw the Arc de Triomphe, but is there any idea of a Triumphal Arch in Japan?
I looked closely, but it was just a splendid gate (the Arc de Triomphe I saw in Germany was cooler)
Located at the western end of the Champs-Elysées, it is a gate that seems to stand in the middle of the road at a glance.
The Champs-Elysées were lined with shops of famous brands. (I'm not taking pictures because I'm not interested)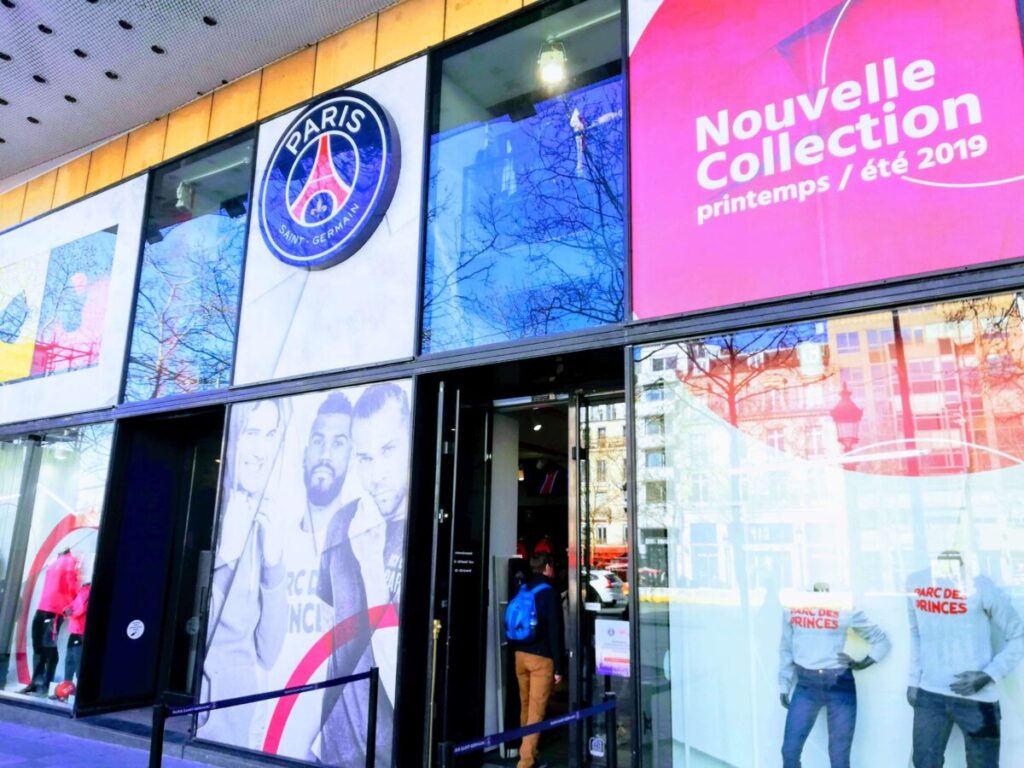 I went to the official shop of the soccer team "Paris Saint-Germain" to do the shopping that I had been asked to do by an acquaintance.
I'm not familiar with football, but I wish I had studied in advance just like it was a Europa League period …
The one I saw in the newspaper.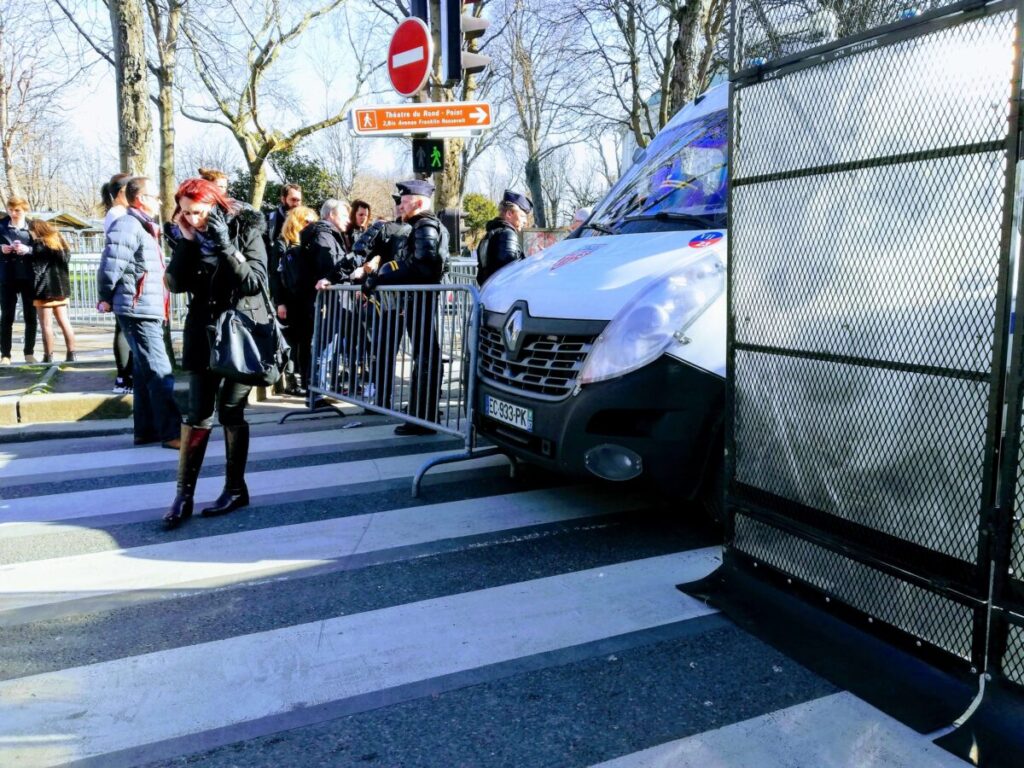 When I was about to go to the Louvre, the street was blocked.
If you look closely, there are barricades all over the city, and policemen are restricting entry and exit.
When I looked for a policeman who could speak English, it seems to be influenced by the "Yellow Best Movement" demonstration.
I learned after returning to Japan, but it seems that my activities have subsided only when I was in Paris.
It seems that it was a trip to Paris at the very last time.
Protesters (people in rural and urban areas) argue that "rising fuel prices," "soaring living costs," and "the burden of government tax reform extends to workers and the middle class." They are demanding "reduced fuel taxes," reintroducation of solidarity tax on wealth, raising the minimum wage and "resigning from President Macron."

https://ja.wikipedia.org/wiki/ Yellow Vest Exercise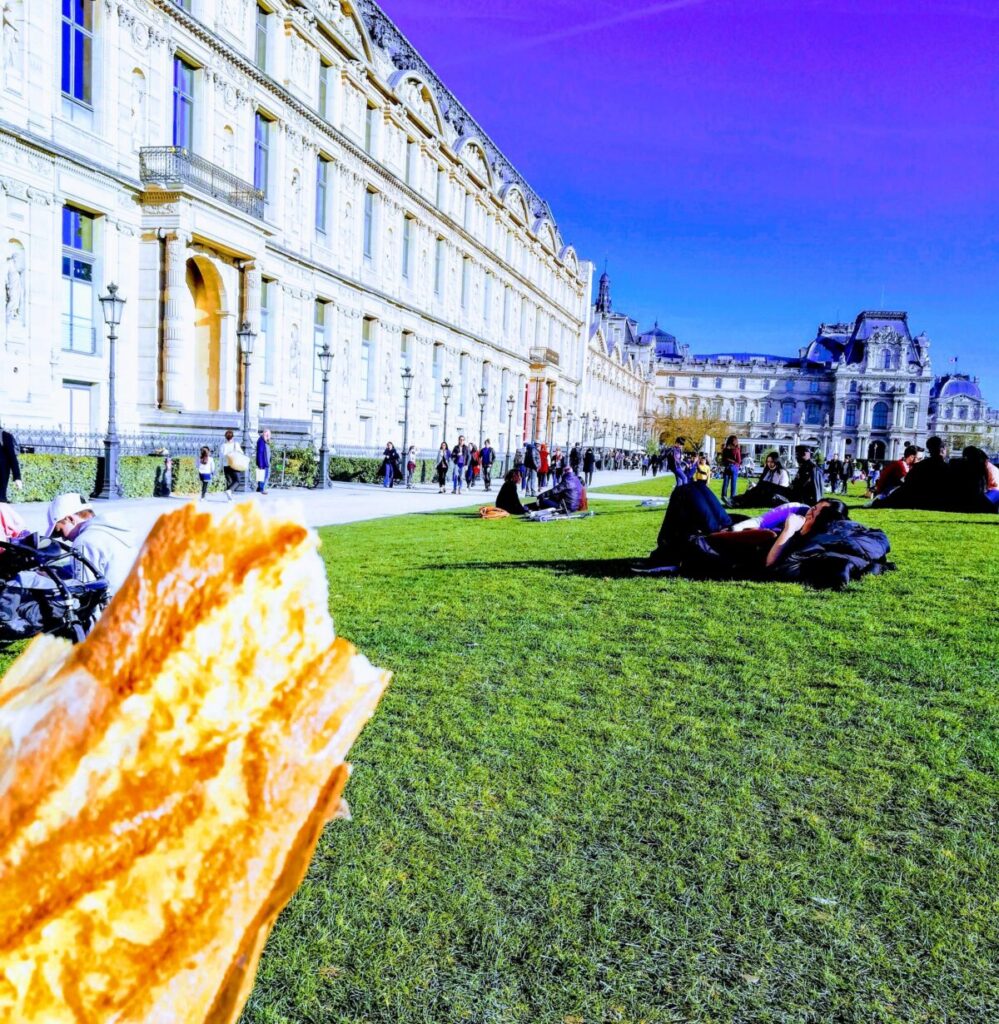 The grass behind the Louvre was crowded with people!
In addition to the morning, I bought another French bread (1.1 euros) and had a whole bottle.
I've always loved French bread, and I won't get tired of eating it for a long time!
I took a 10-minute nap on the lawn and thought about entering the museum, but it was an hour and a half before the closing (18:00).
I want to see the louvre's works slowly, so it's actually tomorrow morning to get inside!
Church of Saint-Tuthache, Notre Dame Cathedral
We still have time, so we will take a walk.
Notre Dame cathedral was not very conscious, but it was a shock that it was destroyed by a fire immediately after this.
https://ja.wikipedia.org/wiki/ Notre Dame fire
French food is difficult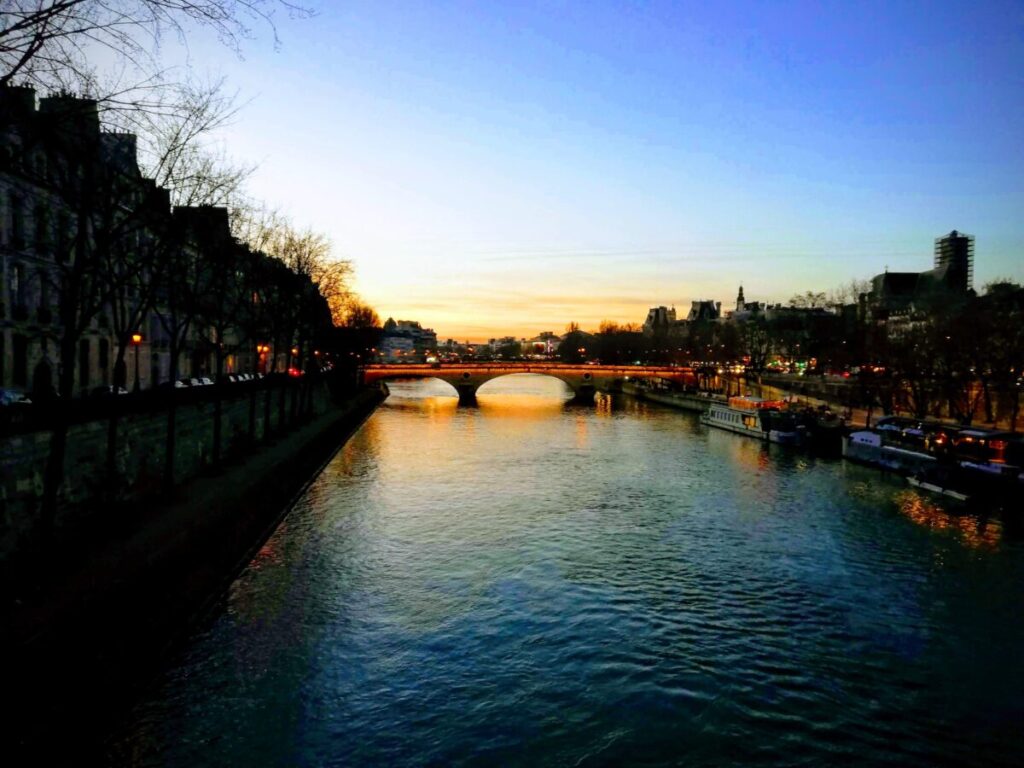 I tried to eat dinner on the way back to the hostel, but I can't speak English more than Italy in France.
The restaurant's menu is only in French, so I ordered something like that.
It's about €13 for a tourist set for restaurants off the big streets.
The phrase I often used on this trip was "What (showing the whole menu) is good one(thumbs up)?"
Kiwi Smoothie
Cheese, ham and egg galettes
Yogurt
Coffee
Even though it was dinner, I felt quite a lot of sweets. Maybe I wanted to eat a little more rice…
Take a picture of the Pantheon floating in the night sky and return to the hostel early today.
If you stay consecutive nights at the hostel, you will leave heavy luggage, so it is helpful to go around the city without stiff shoulders!
2/28 (Paris)
Nicholas Invasion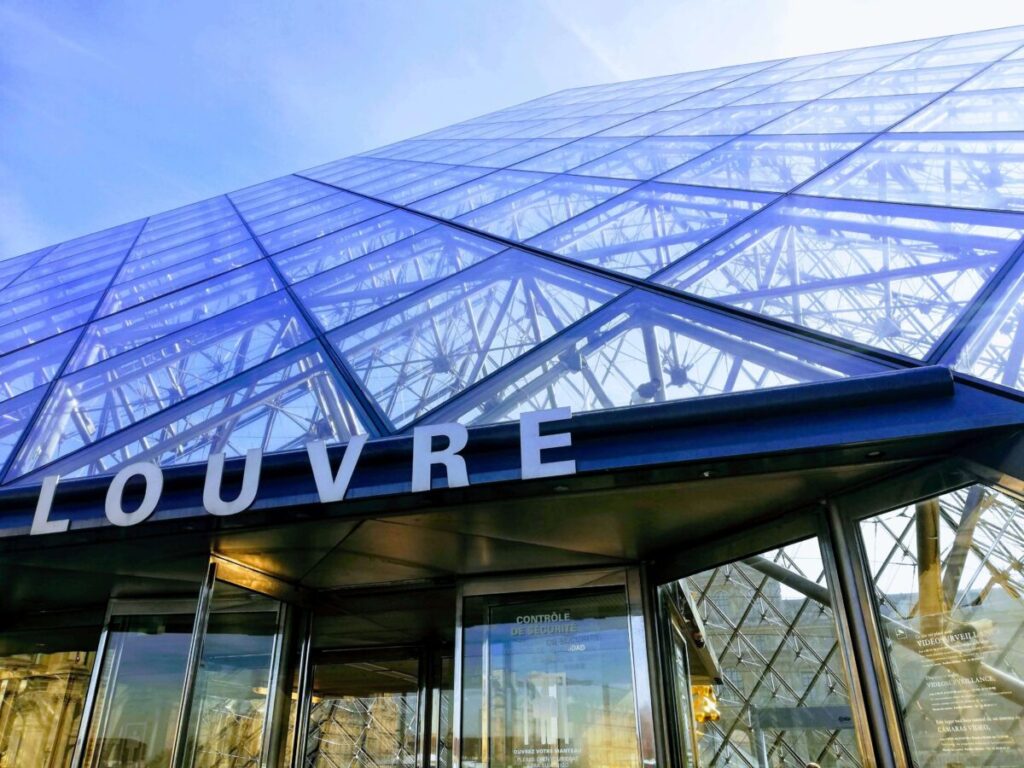 While I was sleeping at the hostel, I was attacked by a mysterious foreigner, Nicholas, at 1:30 p.m.
I woke up and greeted me when I was sleeping, and I was told to go out for a beer.
I refused because I was sleepy, but I was talked to for about 30 minutes afterwards.
When I thought it was finally over, I used a videophone and talked loudly with someone for about an hour.
I couldn't sleep for a while.
I'm late for the opening of the Louvre.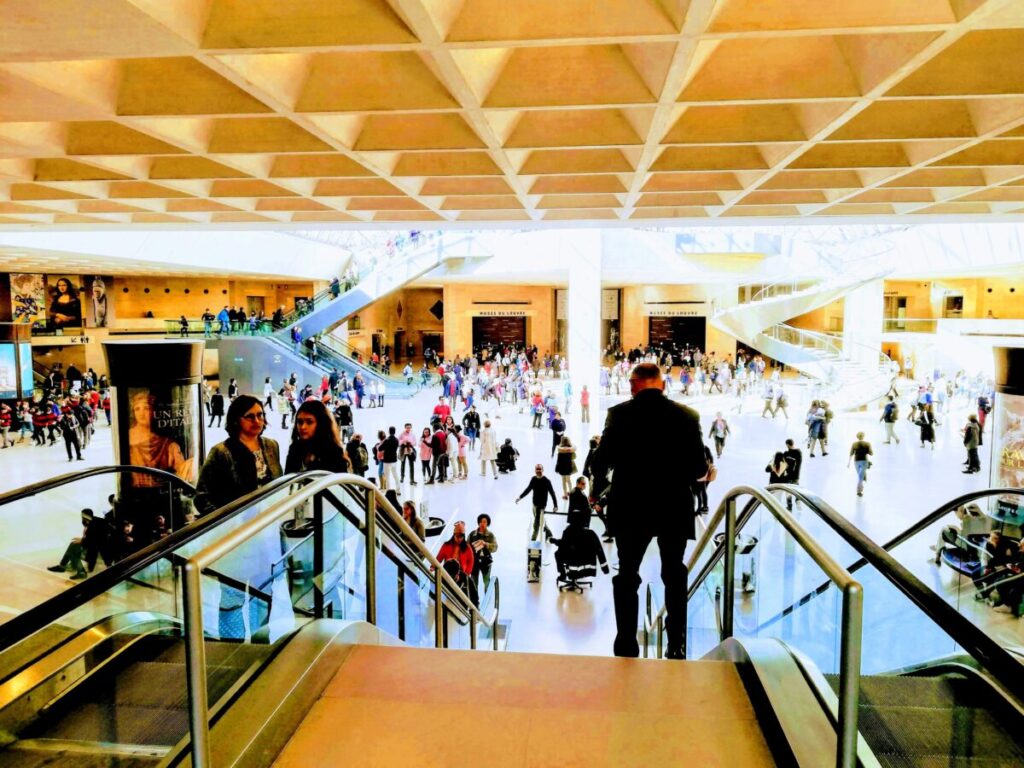 The next day I got up and looked at the clock, and it was 9:00 when the Louvre museum opened.
I was supposed to avoid the crowds by lining up first thing in the morning, but Nicholas caused me to go wrong.
It was 11:00 when I lined up at the entrance with a glass pyramid and put it in the museum.
The ticket office rattles like the congestion of the entrance is a lie.
* Added: The Louvre museum seems to have multiple entrances, and the place with the pyramid seems to be the most crowded …
Masterpieces from the Louvre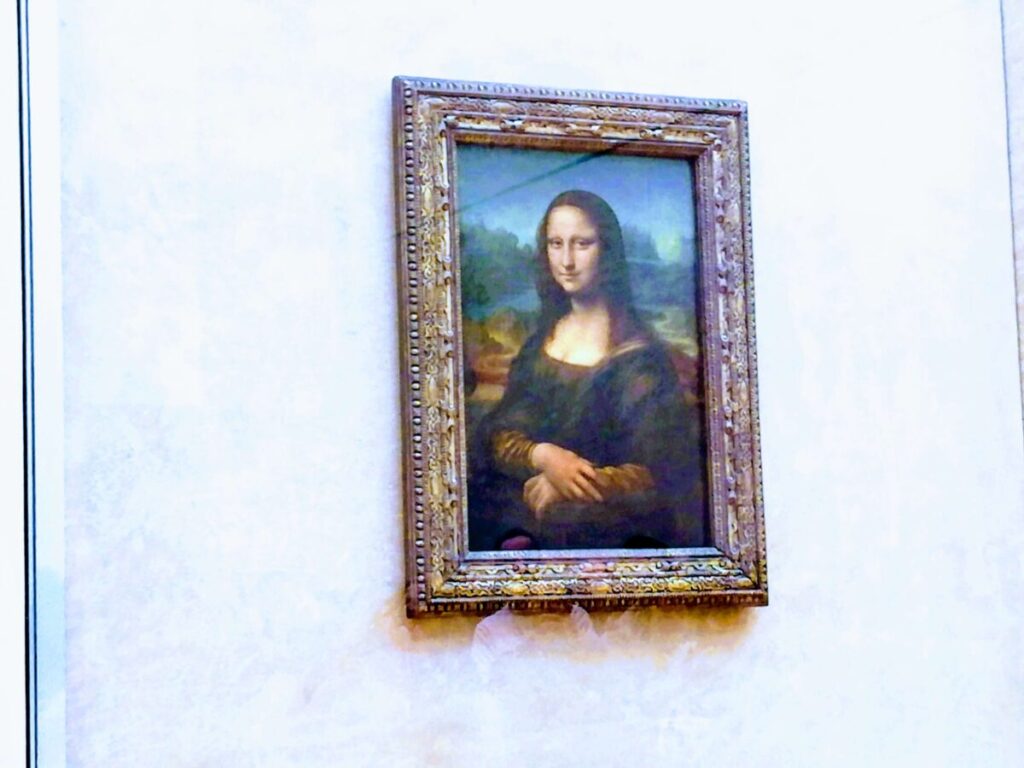 The Louvre has many world-renowned works on display.
Shooting is also not prohibited, so many people were filming the work.
Here, I would like to introduce the famous works on display at the Louvre Museum!
The Statue of Liberty leading the people (Ujunu Delacroix)
This work is based on the French Revolution that occurred in 1830.
Delacroix expresses the idea in this picture by the metaphor in this picture in the wind that the woman is freedom, and the breast is motherhood ,that is, the motherland.
I think it was an elementary school art textbook that I started this work.
Venus of Milo (author unknown)
It is a marble statue modeled after Aphrodite, the goddess of Greek mythology, discovered on Milos Island.
Scholars have long debated what their missing arms looked like, but it is still unschedulated.
In the "Hand Illusion" I read in high school's japanese, the statue was more beautiful due to the absence of both arms.
Samothrake's Nike (author unknown)
It is a statue of the goddess of victory Nieke who was the origin of the name of sports product manufacturer "NIKE".
It was discovered on the greek island of Samothrrke and is now on display at the Louvre.
From the back, I was surprised that there were parts that reinforced so that the wings would not get blurred.
Hammurabi Code (King Hammurabi)
It is a stone pillar with the wording "Eyes for eyes and teeth for teeth".
It was promulgated by King Hammurabi, who unified Babyronia around 1750 BC, and is the second oldest in the existing world.
The sentence was written tightly with the wedge type character.
Dying Slave (Michelangelo Buonaroti)
Along with Leonardo da Vinci, he is called a "one-size-fits-all", but Michelangelo's main job is sculptor.
His representative works include "David Statue" and "The Creation of Adam", but it was more powerful than the Apollo statue I went to see in Ueno.
Astronomer (Johannes Vermeer)
This work is by Johannes Vermeer, a Dutch painter who is popular with Japanese people.
I feel that this work came to ueno's Vermeer exhibition.
Another exhibition work "The Woman Knitting The Race" is on a business trip and will return in June.
Burn saffron on meat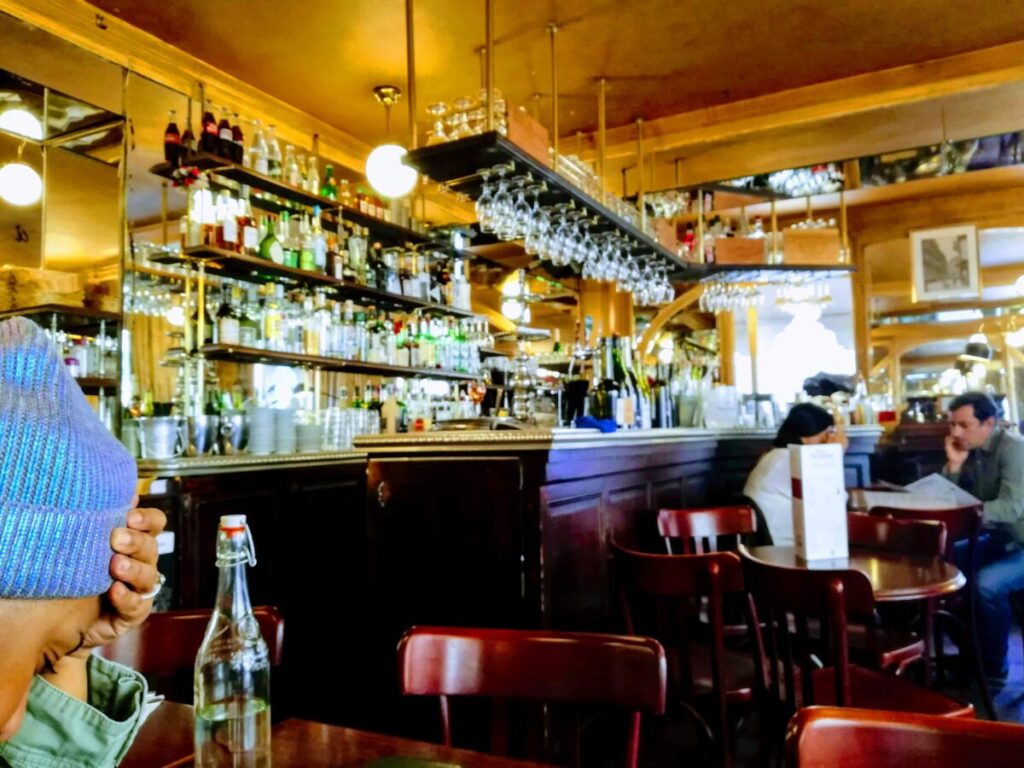 For lunch, I went to a French restaurant that was introduced on the net.
Two women at the next table seemed to have seen the same site.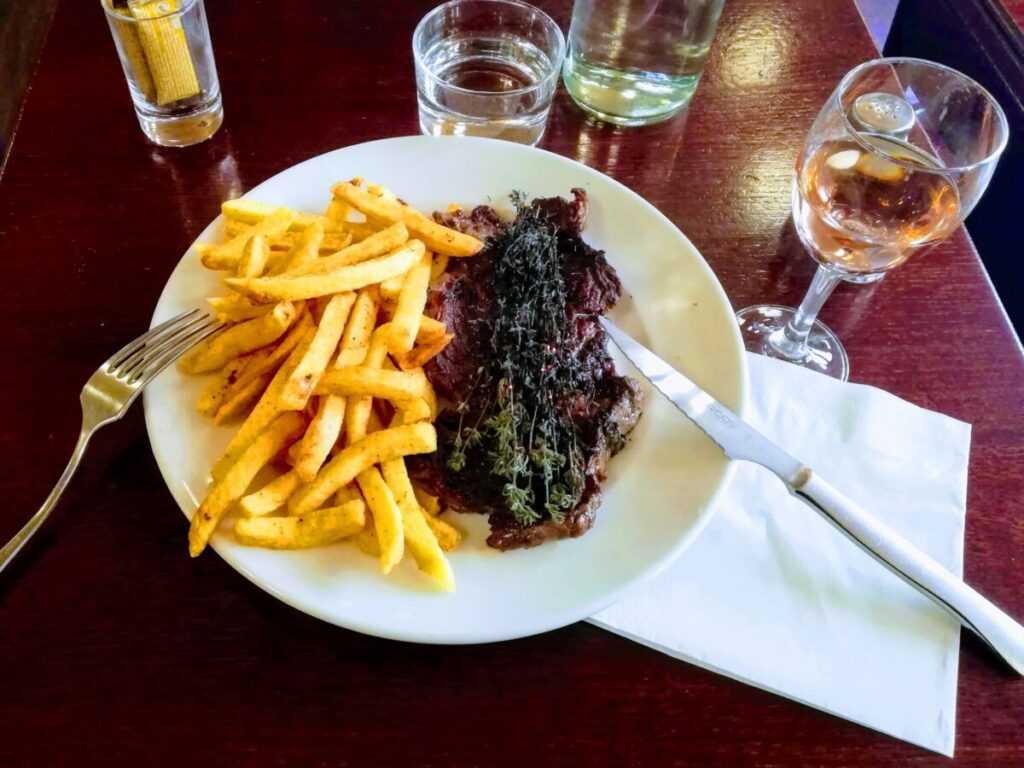 I'll have steak and rosé wine.
On top is the burning saffron (I ate it, but it's not very tasty)
Annual walk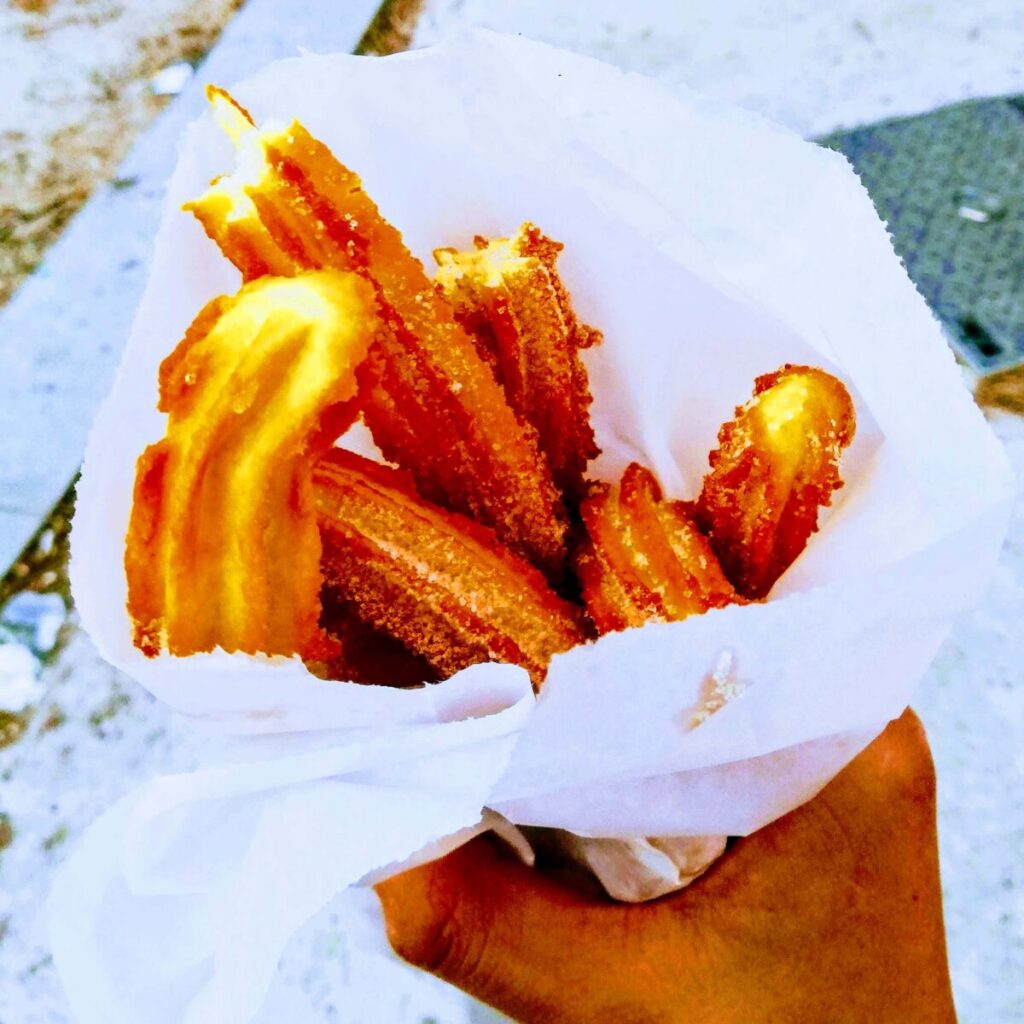 We went to Place de la Bastille, but nothing in particular.
I was thinking of walking through the canal extending from the square, but it was reclaimed or there was only a road …
I bought churros on the way back (3 euros for 6 bottles)
I don't know if Churros is a French candy because there is no internet environment, but I eat it because there were several shops.
P.S.: Churros was a Spanish treat.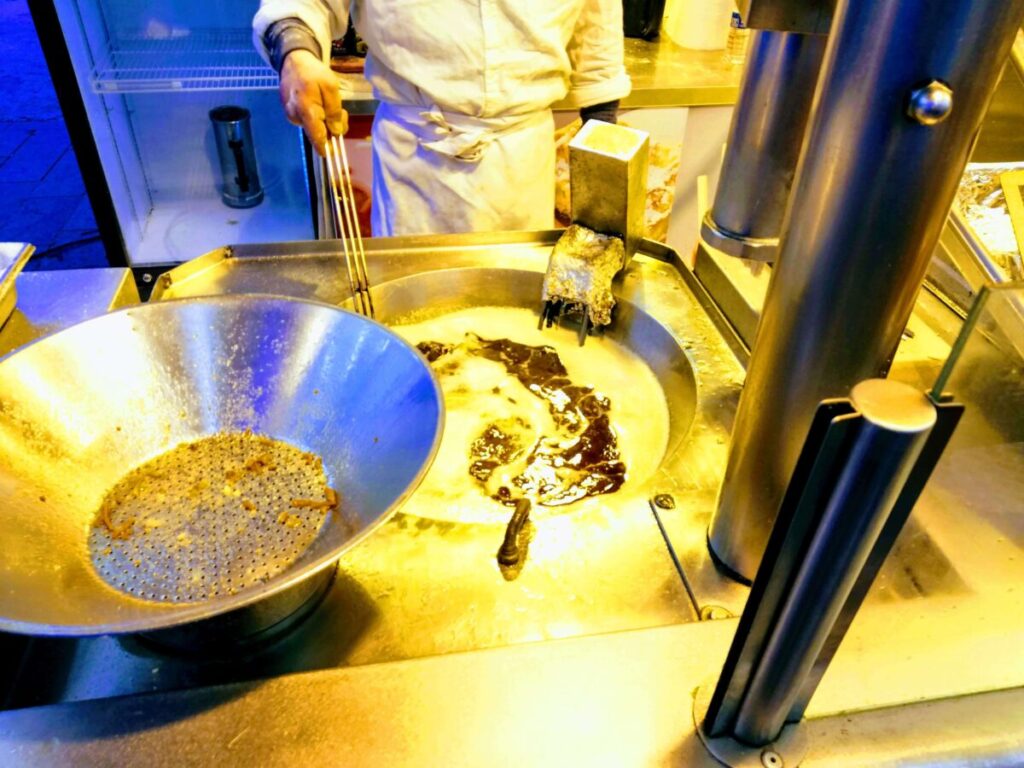 What was interesting was that they fried them on the spot after receiving an order.
The dough itself is not sweet and sugar is applied to the fried dough.
The characteristic shape peculiar to Churros is to increase the surface area to prevent rupture due to sudden expansion of the fabric.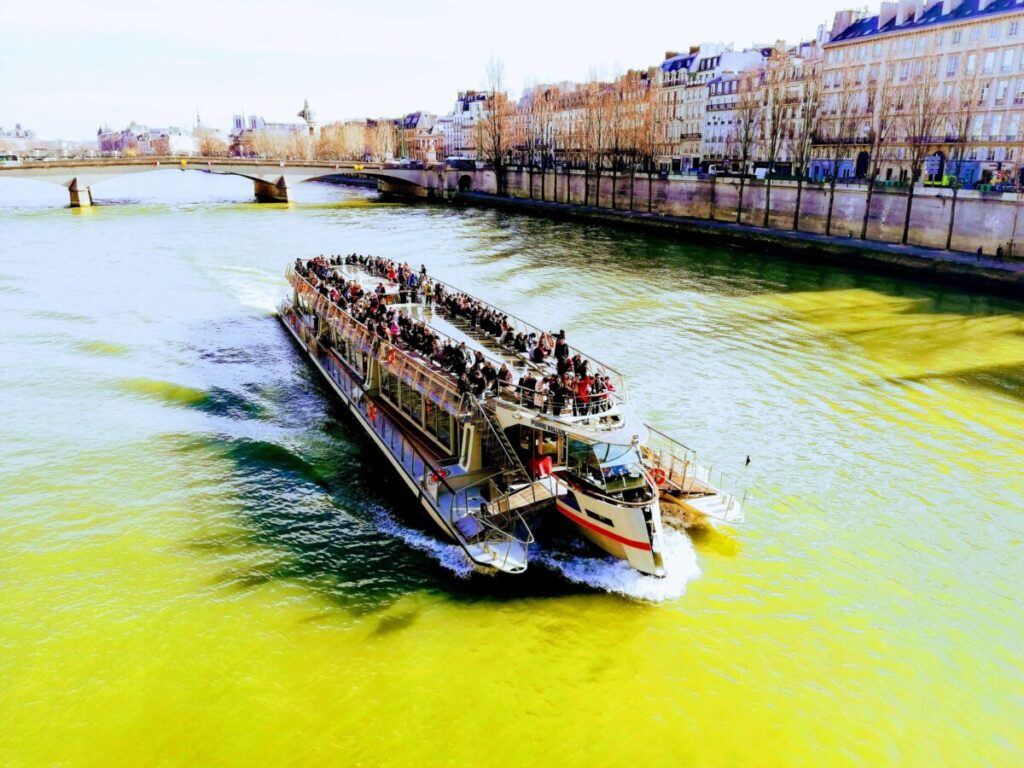 That's it for today. On the way back, I bought French bread and wine at the supermarket and chibibi at the hostel.
I drank about 500ml, but I'm worried if I will get a hangover …
Bonus: Do Japan and France have a lot in common?
A pedestrian crossing is Shimashima
In other countries, there is nothing written where people and bicycles pass.
The shape of the traffic light is similar, but the length and width are different.
The ambulance is Peepy Poe
It's not ringing all the time, it's like it's ringing in a crowded place.
Since the color of the lamp is not red but blue, is the lamp color in Japan a minority?
2/29 (Versailles)
Boulogne Forest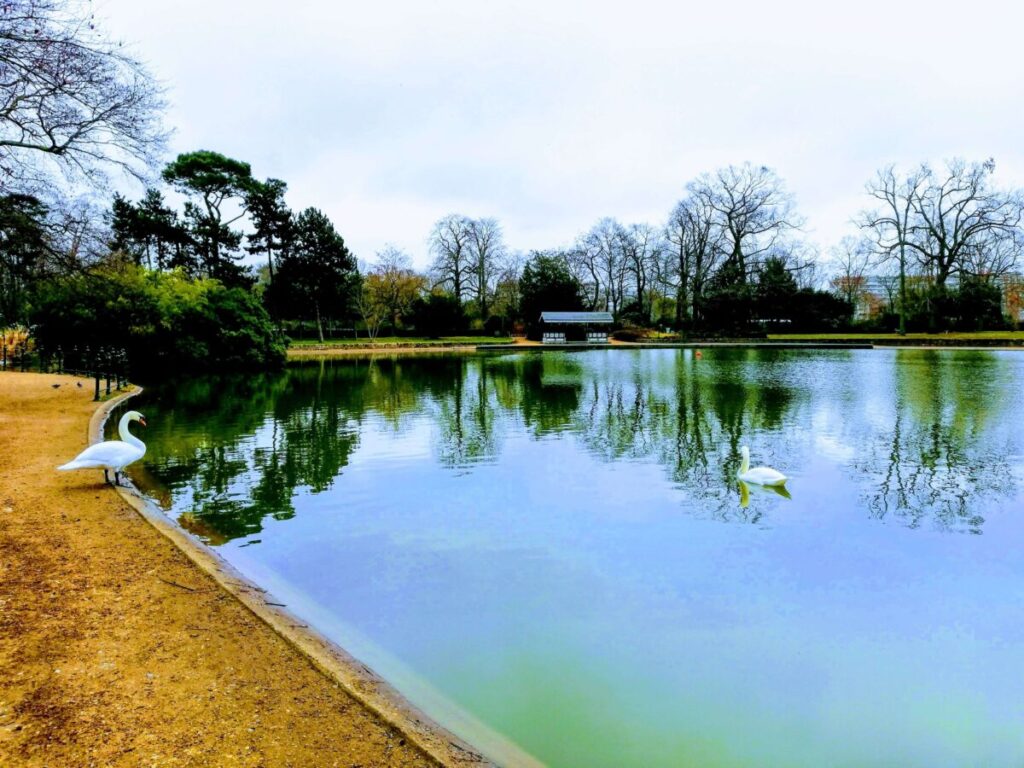 I had a hangover with wine yesterday, but I was cured after walking for about 10 minutes.
There was a lot of distance, but I went to the "Boulogne Forest" that Napoleon maintained!
It was not a big distance and it was high, but there was a considerable distance …
Unfortunately, the weather was cloudy, but if it was sunny, it would be more beautiful!
There were few people because it was early in the morning. I wish there was such a place in Tokyo…
※ There was a postscript!
【Shinjuku/Shinjuku Gyoen National Garden】Makoto Shinkai pilgrimages to the sacred place on the stage of "Garden of Words"! Shinjuku Gyoen National Garden is also recommended as a date spot
Palace of Versailles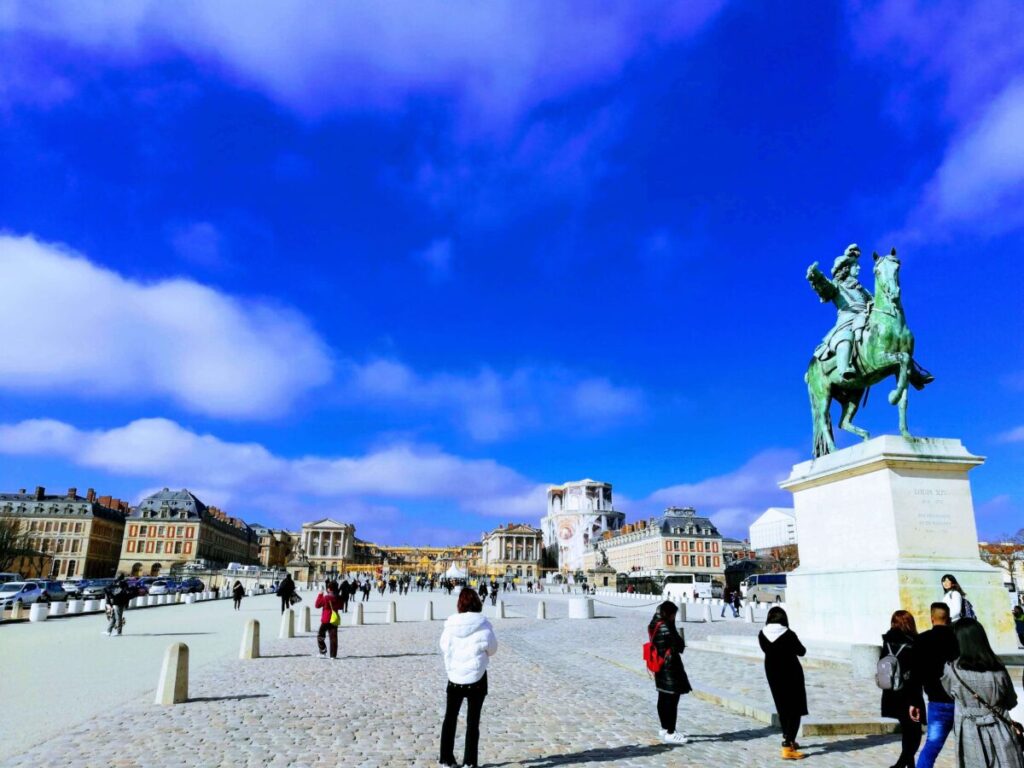 The Palace of Versailles has been attached to the words "If you go to France, you will lose if you don't visit.".
It took a long time from the city of Paris, but to be honest, it was good not to go separately.
As a minimalist, I don't like sculptures that are messy…
I met an old Japanese couple in the line to purchase an admission ticket.
I've lived in New York for about 40 years and the English pronunciation was beautiful and cool!
Speaking of having a political debate in English in Italy,
It is difficult to argue in English if you don't remember the words very much.
Italians, Americans love to argue
It taught me that.
"If you're a college student, you know a lot of words," he said with a wry smile.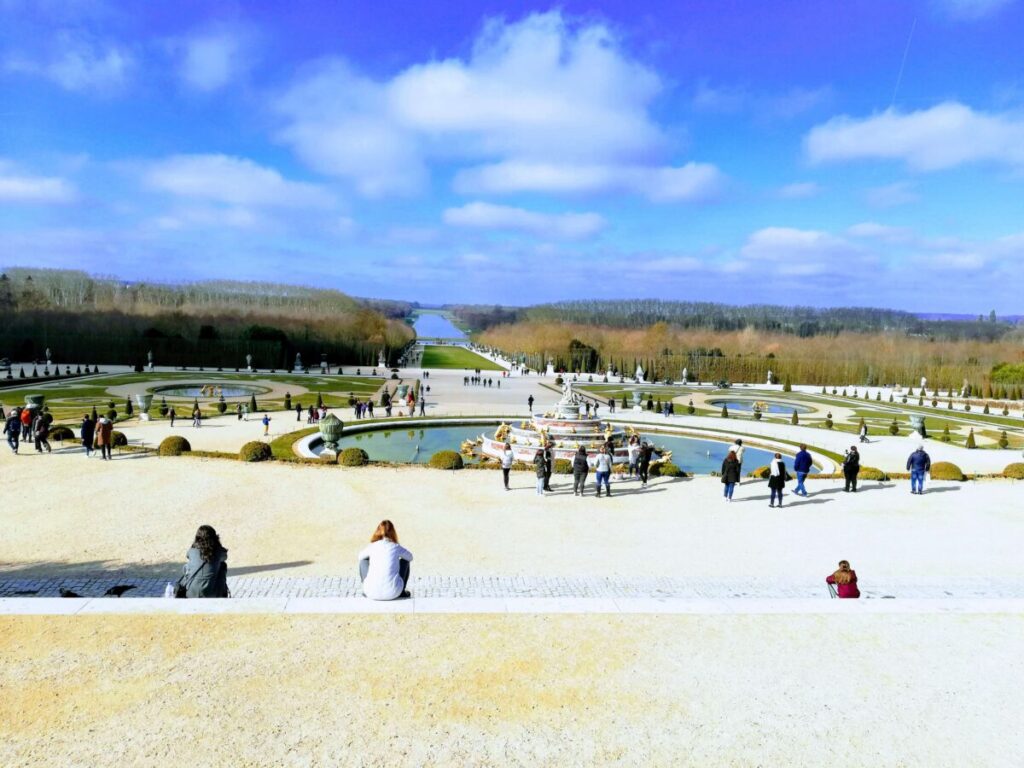 To be honest with the impression of seeing Versailles, I hate it (laughs)
If the aristocracy was playing in such a luxurious place though the people were suffering, anger springs even if it is not a people.
I thought that there was no help even if the neck was blown off by guillotine.
Marie Antoinette's imperial palace, a little far away, is a long way past.
Musée d'Orsay renovated the old station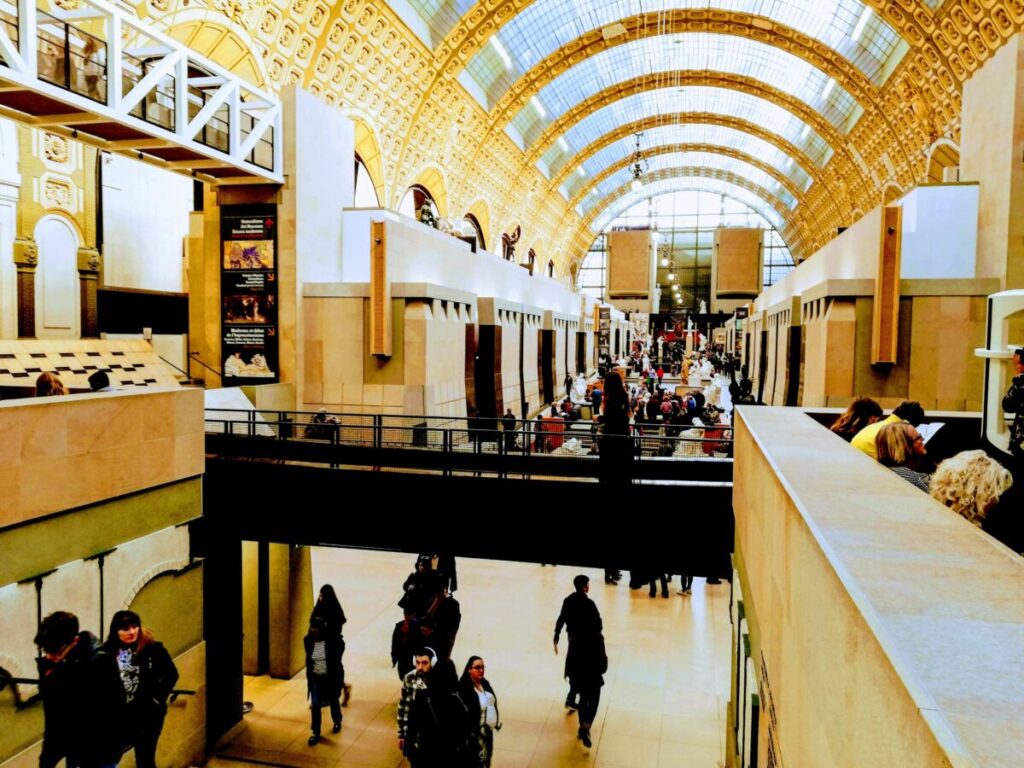 Travel from the Palace of Versailles to the Musée d'Orsay.
There is a subway station right under the Musée d'Orsay, so the access is good!
It was about noon, but it was moderately crowded.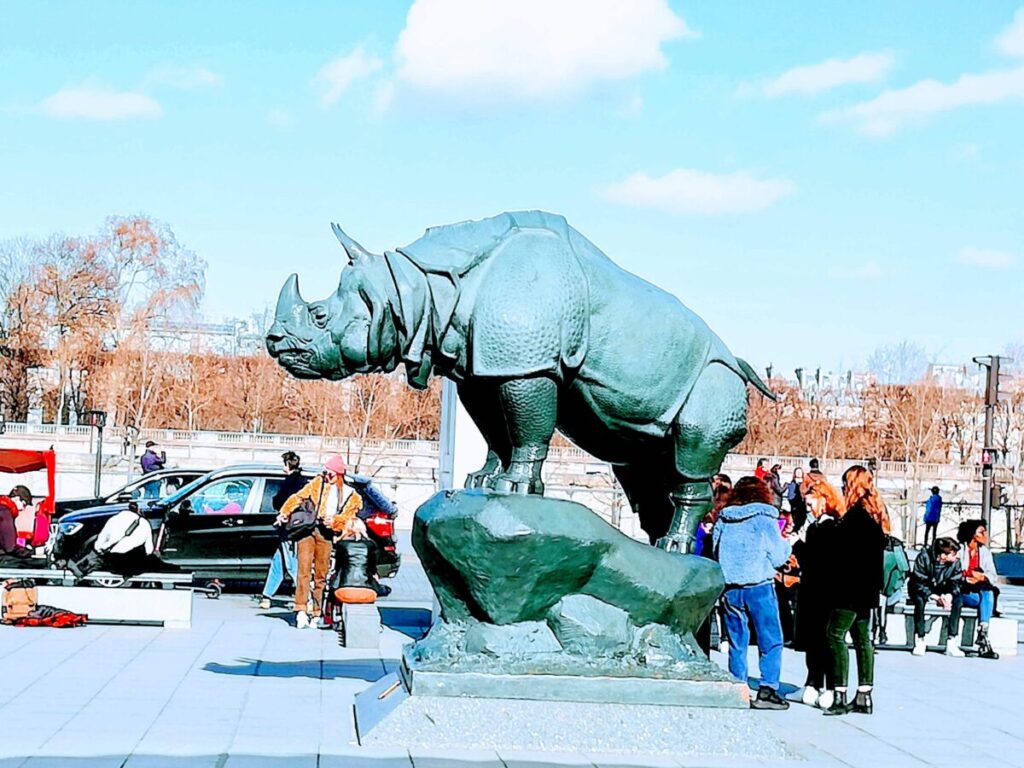 It was also in Rome, but I like the statue of a rhinoceros. For some reason, it is not a very popular animal in Japan.
At the entrance, a small Statue of Liberty welcomes visitors.
Because it is an art museum made by renovating the station, the interior and roof are stylish (the big clock was still moving well)
Renoir vs Cezanne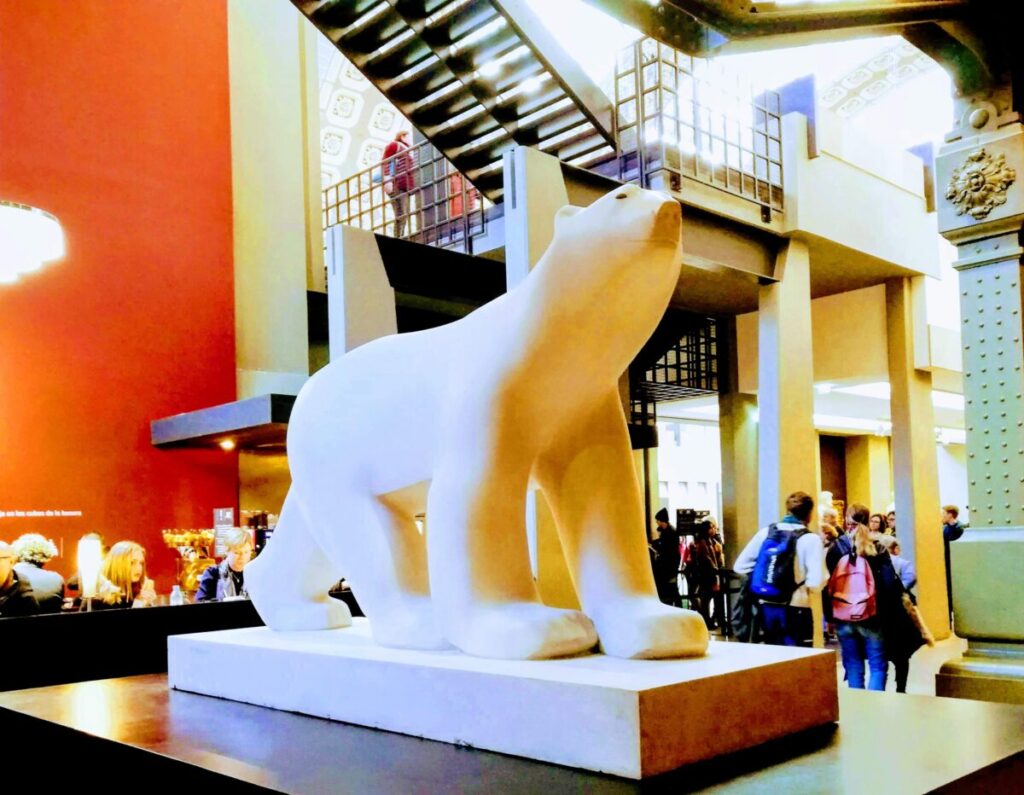 I'm going to get angry, but the painters of this era other than Monet have only knowledge of "gag manga hiyori" …
At the Musée d'Orsay, there are many works by people who appeared in Gag Manga Hiyori's "Renoir vs. Cezanne".
Gag Manga Hiyori + Episode 1 Renoir VS Cezanne | Bandai Channel
I remember Renoir as a junior high school art textbook, and Manet was in a can of sweets that I had at home!
After all, art works are very impressive for me when I actually encounter works that I have seen in photography in the past.
Moulin de la Garrett (Pierre-Auguste Renoir)
The Boy Who Blows the Whistle (Edouard Manet)
Starry Night on the Rhône (Vincent Van Gogh)
Hiroi Ochiho (Jean-François Millet)
Cross Eurotunnel by bus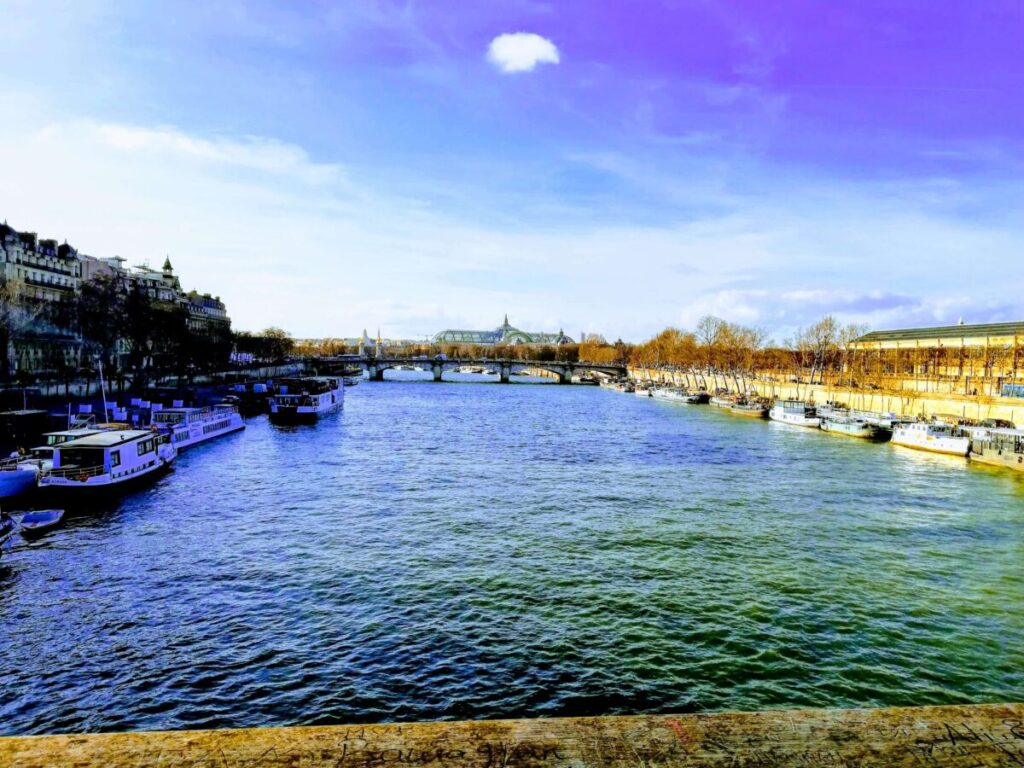 I checked in to Spain for the Picasso Museum because I ran out of time to take a leisurely look at the works of the Musée d'Orsay.
I was thinking of using Eurostar over the Strait of Dover, but I learned on this site that there is a night bus.
The fare is quite cheap compared to the train, so I should have noticed earlier …
When I checked the time, I left at 21:00 of the day and arrived at 5:00 the next day.
Depart from the bus terminal, a short distance from the center.
I didn't know the route, so I was about to miss the bus, but I was able to get on the bus safely.
I think that it gets up on the way because there is probably an examination across the border.
It's after the days change over the Straits, so the next story is in the next British edition!
I'm going through the Eurotunnel to England.