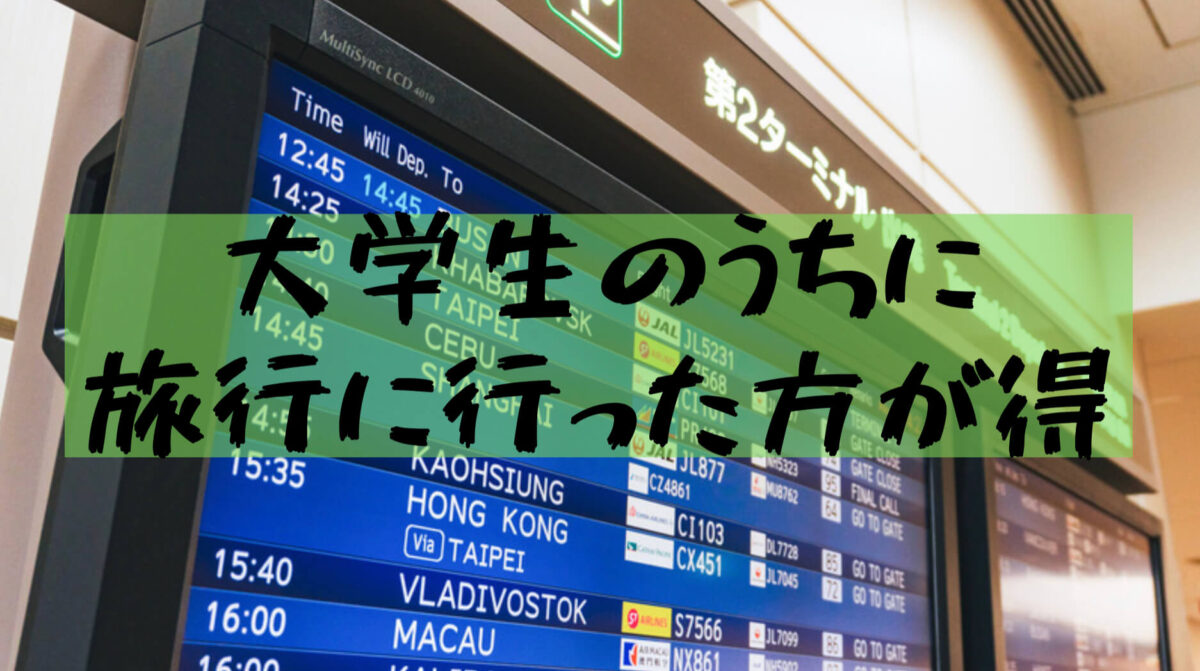 After I became a university student, I started going on overseas trips, and since I started blogging, I have more articles about traveling abroad.
I will write a summary article for those who want to know the goodness of overseas travel or who are actually thinking of doing both overseas lines!
Please check because it is summarized about the merits of overseas travel, preparation, belongings, convenient information, etc.!
'Global WiFi' travel information under corona made famous on Twitter
Benefits of traveling alone overseas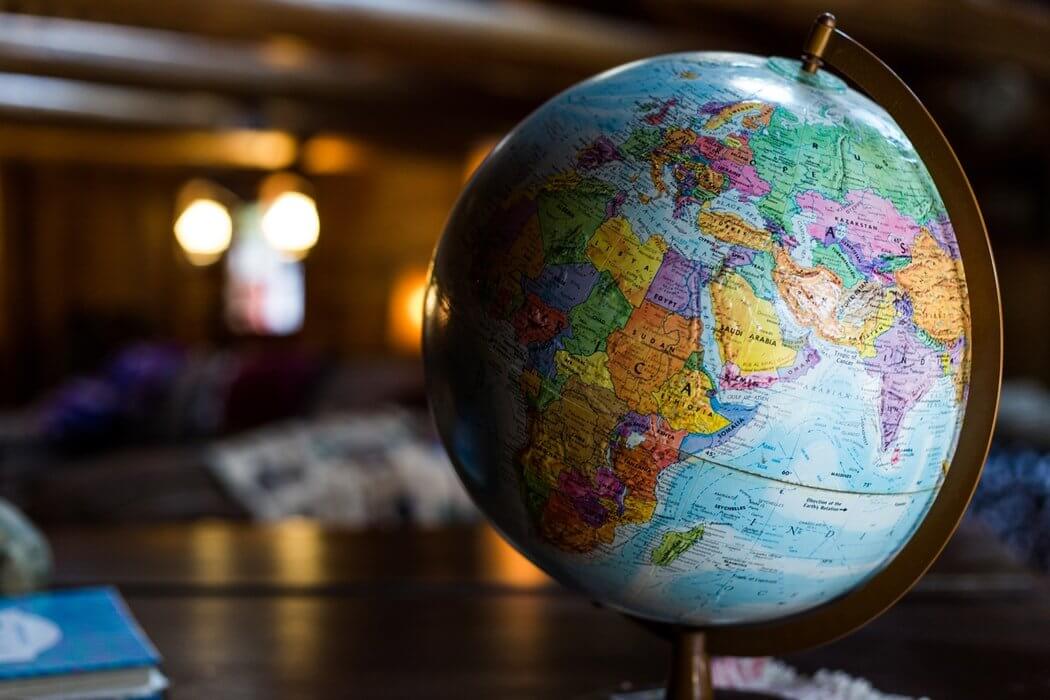 Expand your perspective
You can see scenery that cannot be seen on TV or in newspapers overseas.
To be honest, I don't know if going abroad will change my values.
However, when I go abroad, I definitely encounter something I never thought of.
Just knowing that common sense in Japan is not necessarily the common sense of the world will change your thinking.
get to have your own opinion
It is generally said that Japanese people have few opportunities to assert their opinions to others.
When I go on a trip abroad, my roommate asks me for my opinion at the hostel and talks about international issues.
It is necessary to have your own opinion in order to speak, and it is an opportunity to be conscious.
I can reach my potential
I'm the only one who can rely on me in a situation where I can't understand languages in places I've never been to.
When I'm in Japan, I can demonstrate my potential that I can't play.
Through my trip, I learned that English is easier to communicate, and that gestures are important.
I'm going to study.
Sadly, Japanese university students, including myself, tend to be less conscious of their studies overall.
There are many study abroad and work holiday at the same age that I meet at hostels, and it is embarrassing to come on a trip for play.
In addition, I am asked about the contents of my major at university, and I am asked for opinions on international issues …
I was driven by a sense of crisis that I had to study even if I could!
【University student study site】Free study site recommended for review and self-study!
Everyone's kind.
In developed countries, I feel that the people around me are kind to university students who are traveling abroad.
Especially those who were former backpackers, etc., they help in various ways, so I am looking forward to traveling.
The younger you are, the more you will be pampered …!
they are overworked by one's body
University students can stay up all night by submitting reports and eat a biased diet.
Even if you can't get an inn, you don't have to sleep at the airport or train station, or if you don't sleep for about a day, there's no problem.
When traveling abroad after becoming a member of society, you will inevitably have to make a plan considering your physical strength.
Get discounts on admission
I feel that there are more discounts for university students in museums overseas than in Japan.
In some areas, admission fees for university students are often free, saving you travel expenses.
There is also an international student ID card, but in most cases you can use your university student ID card and passport.
【Art Museum】Recommended museums for university students! Free admission and discounts
I have time in college life.
The greatest privilege of university students is that they have a lot of time to use on their own.
It is quite difficult to travel every month after becoming a member of society.
If you are a university student, you have many options such as adjusting classes, as part of classes, and even taking a leave of absence.
Interested in world news
When you travel abroad, you have more opportunities to come into contact with information that you don't know in Japan.
Even after returning to Japan, you may be able to keep an eye out for articles and news about the demonstrations you've seen there.
Traveling abroad is not only an opportunity to look at japan as well as the world.
You can get stimulation that is not in everyday life
Traveling abroad is not more comfortable than usual unless you spend a lot of money.
However, you can encounter many stimuli that you can not experience in everyday peaceful life.
Some of you may be nervous, but it's a good memory later.
We can see a world where globalization is not complete
This is not limited to university students, and it is an opinion that it is better to go abroad as soon as possible.
I am surprised that the appearance of developed countries in particular is not much different from Tokyo when traveling abroad.
There are McDonald's and Starbucks, and I think the world where Japanese cars run will become even more unified.
Before the world looks completely different, if you don't look at the world even a little, the meaning of traveling will be meaningless.
You have your seat at your disposal
When booking a seat such as a bus, if you make a reservation with two people, you will be next to each other and you will not be able to use the seat freely.
If you're traveling alone, you can take a nap or spread your luggage and organize your luggage like a bed.
It is quite important to set the travel during the trip to midnight and often save on hotel fees.
You can adjust the schedule as you like.
Traveling with multiple people always has a clash of opinions at once, which can be stressful.
If you are traveling alone, you can schedule at your own pace, so you can plan flexibly, such as "I don't feel like riding the next day".
If you have an unstable engine for travel, you will get tired if you match the other party, so traveling alone may be a good idea.
They are less likely to be scammed
It is a selfish image, but I think that it is easy to fit fraud from loose mind and vanity to companions if there are multiple.
The other person knows that, and basically there are many Japanese who come with more than one person to be called to.
In traveling alone, defense instincts work naturally, and it is rare to be called out to the reduction of the purpose of being unreasonable.
Don't worry about people's eyes
When I go on a trip with people, when I talk to foreigners in English, I think about unnecessary things such as "Is the grammar funny and can not be laughed at?" and "It is not cool if I show you that I am tempered".
If you are alone, everyone you meet will not meet in the future, so you will be able to behave freely.
Unlike Japan, which cares about other people's eyes, you can make more and more mistakes.
I've gone to the unknown.
The experience of going to a world that you do not know on your own and returning safely will give you great confidence in your future life.
Even when something hard and seems to be frustrating, it is courageous to think that "I was able to get over that trip".
Many people are addicted to traveling abroad, and there are many people who say that the success experience of their first trip has become pleasant.
Preparing for a solo trip abroad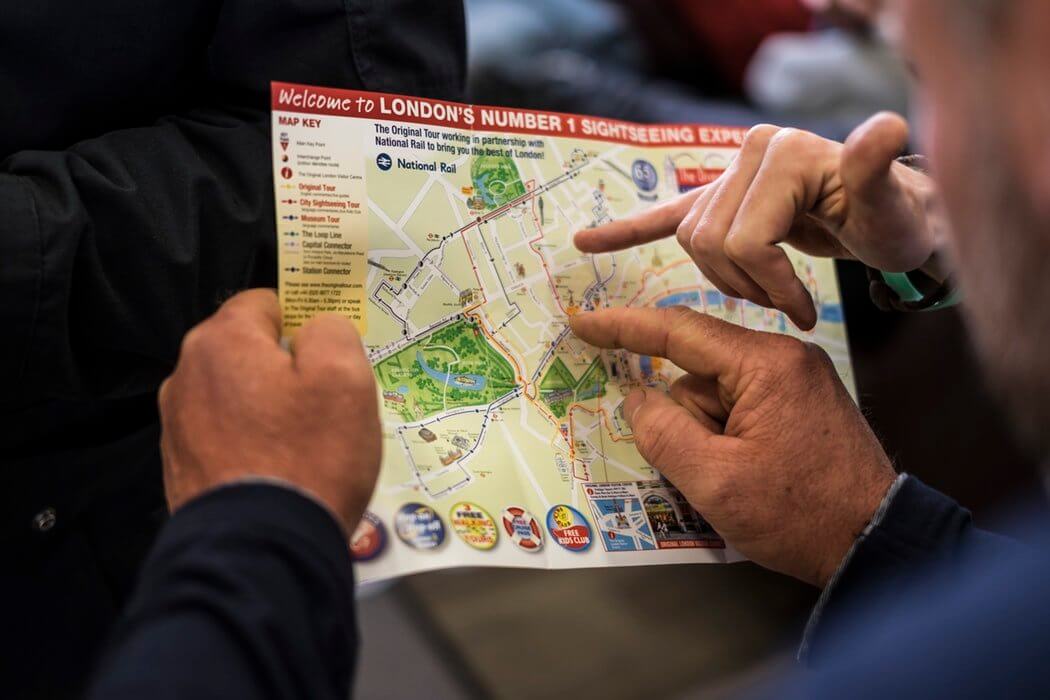 They take a passport
For overseas travel, you need a passport to be issued at the government office, and it takes time to issue it, so it is better to make it.
What you need for issuance is mainly as follows, but please check it out as it may vary depending on the municipality!
Application for issuance of a general passport (for 10 years or 5 years) 1
1 copy of family register or extract (original is required)
1 copy of resident's card
Photo (45mm long× 35mm wide) 1 leaf
Identification documents (driver's license, etc.)
Valid passports (if any)
Application for issuance of a general passport
A document requesting the Ministry of Foreign Affairs to issue a passport. Since the signature line is written as it is on your passport, be careful not to be polite and there are no blurring. Minors must have a parent's signature to create it. Get documents at the government office or download them.
TOP | Passport Application Form Download | Ministry of Foreign Affairs
Family register or extract
A document confirming who makes a passport is. If there is either one, it is fine. If there are many moves, it is necessary to order documents from the government office where there is a permanent domicile, so let's check early.
A copy of the certificate of residence
Basically, you don't need it. It seems that what is necessary is a person who falls under the following two.
(1) Those who do not wish to use the basic resident register network system
(2) Those who apply in prefectures such as single-person assignments and school attendance that have not registered as residents
Passport Photo
Take a photo in advance and bring it to the government office with the photo posted on your passport. If you do not observe the attention of glasses and backgrounds, the application may be rejected or stopped by foreign tariffs. It is recommended to take a picture with a certification photography app or a photo shop.
identification papers
I didn't have a driver's license, so I gave my identity with two points: health insurance card and student ID card. Depending on the certificate, there are things that are okay at one point and those that require two points.
Securing a ticket
You can make a plane reservation until just before, but it is possible to keep it considerably cheaper by booking early.
If you consider a place to visit or accommodation before purchasing, the price will go up, so it is recommended to decide only departure and arrival.
Expedia has a lot of late-night flights from LCC that are unique on the sites featured.
Buy a guidebook
If you can use the Internet, you can look it up at your travel destination, but you want to take your eyes off your smartphone during your trip.
If it is "How to walk the earth" and your own travel guidebook, there is not too much information, and you can use it offline.
If you want to rent pocket WiFi, you may want to make a reservation around here (I am offline)
Rough schedule and what you want to do
By booking accommodation on site, you will be able to travel flexibly according to your physical strength and interests.
It's a good idea to write down when you're around and what you want to do there so that you can make it on your return date.
I'm surprisingly busy when I'm traveling, and I often forget what I wanted to do.
Travel App DL
There are many people who buy pocket WiFi and SIM cards overseas, but surprisingly you can manage it even if you are offline.
Use the offline app during the day, and use the hotel's WiFi at night to book your next day's inn.
It is necessary to be able to prepare and use it, so it is recommended that you practice in Japan where the radio waves enter.
【Overseas travel app】Offline convenient! 5 Best Backpackers
Booking.com … Hotel Reservations
maps.me … Offline map
Google Photos … Measures against smartphone loss
PrimeVideo … killing time
Pocket … Save page
Learn the local greetings
It is basically kind to university students, but if you can speak the language of the destination even a little, the place often softens.
"Hello, thank you, goodbye" is at least "How much, where, how much, number" is remembered.
Convenient goods for traveling alone overseas
sandal
It is convenient when you want to relax on board, in a hostel, when you go for a shower, or when you go to rain or water.
In Southeast Asia and else countries, you may walk long distances with sandals without socks, so durability is quite important.
In addition, if you put simple hyakuyen slippers on both sides of the backpack, changing clothes is smooth and convenient.
sleeping bag
It is convenient when the place where it is cold, when the futon of the hotel is not clean, and sleeps in the place where there is a person such as the airport.
Due to the transfer, if you put your luggage in the sleeping bag when taking a nap at the airport or bus stop, it will also prevent theft.
Sleeping bags around 10,000 yen are a little expensive, but the trick is not to be stingy because it is compact and easy to store.
Wet Tissue
This is useful when you can't wash your hands, when there are no washlets in the toilet, or when you can't get a shower.
Foreign toilets, except for high-end shopping malls, may not even have toilets, let alone washlets.
As long as you travel to a developed country like Japan, the cleanliness will inevitably decrease, so I would like to prepare from Japan.
Actual belongings
The necessities are passports, credit card, smartphone, passport copy.
We also introduce everything you have when you actually go on an overseas trip for each trip.
List of travel belongings to Thailand
List of belongings for travel in Europe
List of travel belongings to the United States
Tips for traveling abroad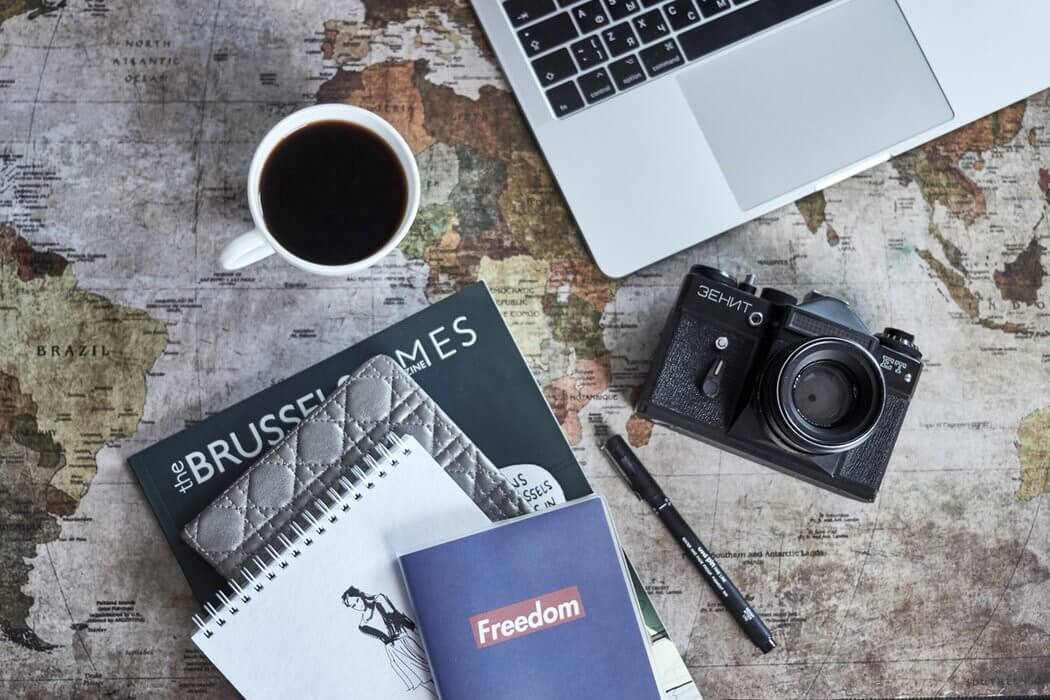 They are not bound by tourist attractions
The primary purpose is to visit the tourist spots in the area you have been there, but it is also important not to be caught up in it.
Tourist attractions are often beautifully maintained for tourists or become theme parks.
It is also better to see the streets where the townspeople live and the supermarkets and restaurants that you usually use for shopping.
I don't trust people who come close to me.
Foreigners who talk to overseas travelers are happy at first, but not very good.
It is better not to trust too much because you may be sold something or solicited by suspicious things.
Of course, there are people who talk to me purely to get along, but it is difficult to ascertain here.
Keep an eye on your luggage
Overseas, it is said that you should never take your eyes off valuables, even if it is locked.
Put your smartphone or passport in your waist porch under your pants, and put your spare cash elsewhere.
When you have to go through the night road or the place where security seems to be bad, it can be dispersed under the insole of shoes.
I run at night.
The night road is too dangerous, so I try not to go out as much as possible, but when I get out, it is a dash.
Basically, there are many return ways to the hostel, so if you aim for a place to stay in a single heartless way, I will not call out.
Where there are tourists, touts and suri, chases in places with few people, robbery, etc. are scary.
early to bed and early to get up
If it is noisy, I do not fall asleep, but it is a type that does not get up once, so I go to bed earlier than anyone else.
The sightseeing spots are empty early in the morning, so it is a good place to go around quickly without people.
As you walk and look for a place to eat breakfast, you'll have time to enter the tourist spots.
Don't rely on smartphones
It can be used to check out things you don't understand, but it might be a good idea to ask people anyway.
I ask people many times because I have no sense of direction, but I don't care at all because I ask a different person every time.
Even if you can't reach your destination, you'll often be able to go to places you don't think of along the way.
【Travel Instagram】Do you care too much about Instagram? Memorable ways
The next person's inn was secured the day before.
Guests are not flexible enough to decide where to stay before you travel, so you can book your next accommodation via the hostel's WiFi.
However, it is necessary to fill in the accommodation place of the day at the airport, so you may want to make a reservation about the first day.
I always write the name of the appropriate inn I searched for (in fact it seems to be fine with it)
Keep track of chain stores
Chain stores (Mac, Starbucks) that can be seen in any country are places to enter with peace of mind.
There is also WiFi, and the price range and taste are guaranteed to some extent, so it will be an emergency evacuation site.
I often rush in when I get tired of the taste I am not used to on my trip or when I want to use the toilet.
Don't ask the public the way
If you ask a local person about the road or train, you can not trust it very much because it will tell you forcibly because you can understand halfway.
You can trust people in the profession, such as those who "go there now" and ticket clerks and conductors.
As for how to get on the train, the route is not as complicated as in Japan, so it may be better to go on your own without asking people.
go to the bathroom frequently
Unlike in Japan, there are few toilets, but you may also break your stomach due to unfamiliar food and temperature differences.
Toilets such as airports, train stations, museums, etc. are kept relatively clean, so please use them.
Depending on the location, the toilet is terrific, and there may be a toilet, but you may not be able to do it.
Eat local-specific things
When eating, it is recommended to eat local dishes that you have never eaten as much as possible.
Even if it is not made in the area, I think it is also good that it is difficult to obtain in Japan.
If you dare, you'll want to try the dishes and sweets your mother makes at roadside food stalls.
Recommended for traveling alone overseas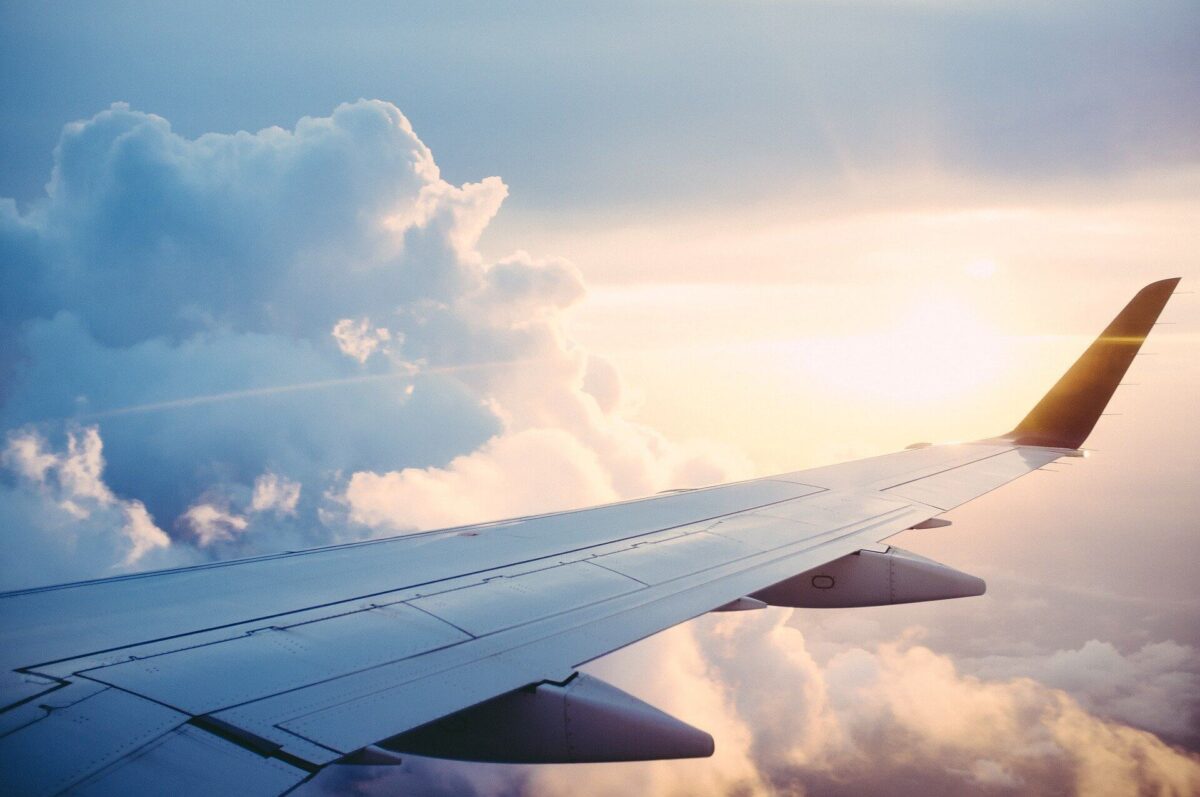 With the changing times, overseas travel for university students has become a fairly low hurdle.
Even so, I think there are still many people who think that going abroad is reluctant.
First of all, it is good to tour travel companies such as HIS, so we recommend that you go abroad first!
'Global WiFi' travel information under corona made famous on Twitter
Records of traveling alone abroad