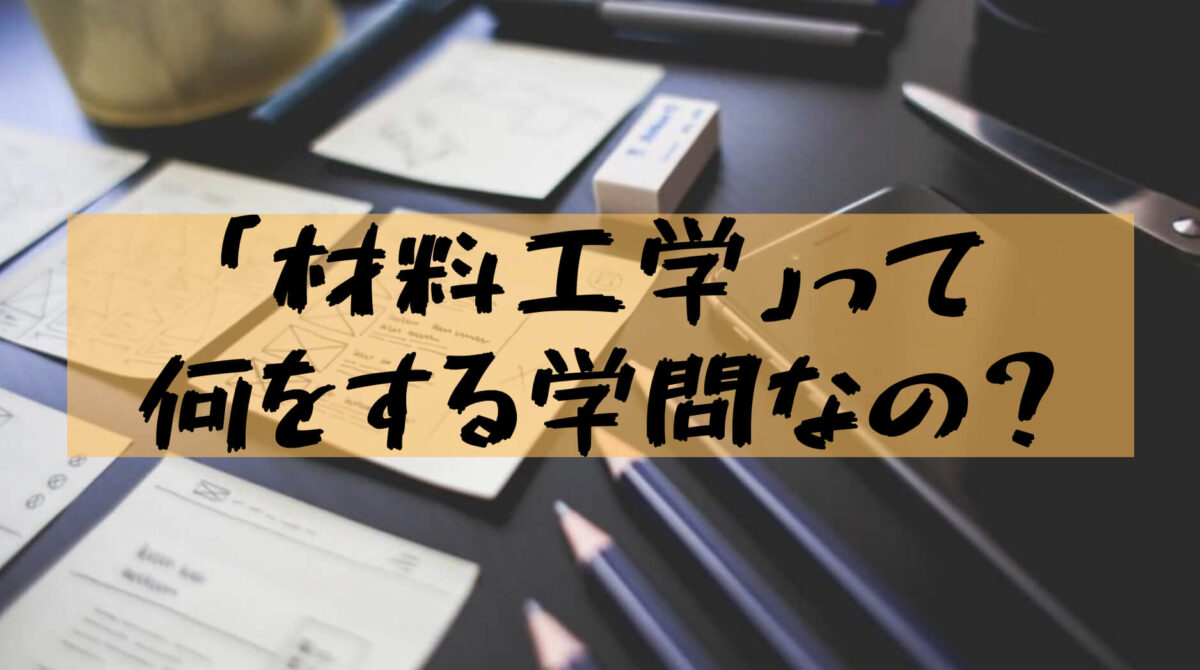 I am studying "materials engineering" at university, but it is difficult for many people to imagine the contents.
Therefore, I will introduce the contents of studying materials engineering with an awareness of high school students interested in this field.
In conclusion, it can cover a wide range of physics, chemistry, and biology, and it is a super recommended field with a wide range of options for the future!
What is materials engineering?
Some of you may have learned the name "Materials Engineering" for the first time here.
The image you receive from your name is "What do you do specifically, even though it relates to materials?"
As the name suggests, "Materials Engineering" is an academic discipline that is in charge of everything related to materials.
There is no problem considering that all but natural objects were researched and developed in materials engineering.
Materials engineering or materials science is a field of engineering, and is the study of designing, developing, and evaluating new materials and devices by fusing knowledge of physics, chemistry, etc.
It covers process technologies (crystal growth, thinning, sintering, casting, rolling, welding, ion implantation, glass formation, etc.), analytical evaluation techniques (electron microscopes, X-ray diffraction, calorimetry measurement, etc.) and cost-to-profit evaluation in industrial material production.

https://ja.wikipedia.org/wiki/ Materials Engineering
We develop and improve materials for making something, and also measure strength.
The materials handled are broadly classified into organic materials, inorganic materials, metal materials, and composite materials that combine these.
Advantages and disadvantages of materials engineering
relatively close to life
The research content of theorists such as physics is the level of whether the results of the research can be seen while they are alive.
On the other hand, since materials engineering is called "engineering", the content of research is often used around us.
Some of the materials are around us, but some of the materials have amazing features that are not commonly known …
It is also easy to tell people in the humanities what kind of place the content you are researching is used in is ◎.
I can put off my career decision.
Materials engineering is recommended for those who chose science at high school but have not decided what they want to do.
In other fields, the future is quite limited, but in materials engineering, freedom works to some extent until the laboratory is assigned.
Although I entered the university because I was good at chemistry, it is also possible to enter a laboratory that is more physically pro-physical due to frustration with quantum mechanics.
There are many options such as organic, inorganic, metal, composite materials, experiments, analysis, etc., so you should find a laboratory that suits you!
Employment is pretty strong
Since all materials in the world do not develop without research, there is no need for work in materials engineering, and there is no problem with where to find a job.
After many students go on to graduate school, they get a job in the research and development department of a major manufacturer.
Others find employment in other fields because they are learning a lot about physics, chemistry, and biology.
There seems to be technical sales, food companies, TV station work…
What kind of study do you study in materials engineering?
Here are some of the classes that university students who actually study materials engineering take.
One of the characteristics of materials engineering is that it is necessary to develop and evaluate materials from various directions.
Therefore, depending on the course, you may study physics, chemistry, and in some cases biology, and science in general!
Let's take the unit of "fluid dynamics, mechanical mechanics, thermodynamics, material mechanics" commonly called four forces firmly!
Quantum mechanics
This is an academic discipline studied by many university students, not only in materials engineering, and is a difficult subject that makes it easy to drop credits.
It is an academic discipline born from the premise that "electrons" have the properties of particles and waves, and it is a little touched on in high school physics.
It is called "mechanics", but in mathematics that suffers the skin of physics, we solve what is the "Schrödinger equation".
Many students stumble on the concept of electronic two-sidedness and probability of existence, so we recommend that you read a primer.
Determining the properties of materials and materials is mainly related to the behavior of electrons, and may often be used in inorganic and metal materials.
Material Mechanics
It is an academic discipline where the problem of the combination of high school mechanics developed, and the difficulty is not so high.
For materials fixed to ceilings and walls, the working force is illustrated and the moment balance formula is solved.
You will often learn from young's formula of "σ = Eε", which is the basis of strength calculation such as tensile tests.
These calculations may also be performed using the computer software "Abaqus".
It is used by people who perform mechanical evaluation of materials and computer simulations.
Metallurgical Materials (Kinzokuzai Ryogaku)
Students will learn about basic properties such as ductility and malleability of metals, stability when alloyed, and how metals are strengthened.
I spend a lot of time learning about steel," which is still the most widely used metal.
It may be a little difficult to learn how to read the "equilibrium state diagram" when mixing different metals and changing the temperature.
Reaction Kinetics (Han no Ying Doron)
It is an academic discipline that calculates the time and the speed of reaction when organic matter (mainly macromolecules) react.
Depending on the reaction, equilibrium and intermediate products must be considered rather than unis sidedly, and cannot be easily calculated.
When I was actually assigned to a laboratory, I often used computers, so I learned the principles.
Other
There are also classes below and classes where experts from different fields give lectures at universities and submit reports every week.
In solid-state physics, it is still a mystery to think about the crystal structure of materials with an inverse lattice that is not actually visible.
electromagnetism
thermodynamics
Magnetic Materials
Aerospace Mechanics
Polymer Materials Science
Electronics Materials
Semiconductor Engineering
Biomaterials Engineering
In addition, in the "student experiment" peculiar to science, we conduct experiments on a given theme, submit a report, and receive corrections.
It is assigned to the laboratory and is useful when doing graduation research, so let's do it firmly without cutting corners!
【Experimental Report】Must-see for those who do not end! How to finish the report quickly!
a person who is suitable for materials engineering
Basically, many high school students who aspire to materials engineering like chemistry studying in high school.
However, unlike high school, chemistry studied in materials engineering requires attention when considering the behavior of electrons.
Instead of memorizing chemical reaction formulas to solve problems, there are many problems that consider the stable position of electrons.
As a result, memorization struggles, but it's more understanding than high school in terms of why the reaction occurs.
Personally, the people who are suitable for materials engineering are the following people (it is a personal opinion)
Those who want to know the properties of materials and the origins of chemical reactions
People who want to develop new materials around them
People who want to study about science vaguely
a person who has not yet decided his or her course
a university where you can study materials engineering
I picked up the university with the letters "material" and "material", please refer to it.
Depending on the university, I belong to the Department of Chemistry, Physics, and Engineering, so it is quite difficult to find it.
Shiga Prefectural University:Department of Materials Chemistry
Meijo University:Department of Materials and Functional Engineering
Shibaura Institute of Technology:Department of Materials Engineering
Chiba Institute of Technology:Department of Advanced Materials Engineering
Tokyo Polytechnic University:Science and Materials Course
Tokai University:Department of Materials Science
Iwate University:Department of Materials and Cond matter Engineering
Iwate University:Department of Physics and Materials Engineering
Tohoku University:Department of Materials Science
The University of Tokyo:Department of Materials Engineering
Tokyo University of Science:Department of Materials Creation Engineering
Nagaoka University of Technology:Department of Materials Engineering
University of Toyama:Department of Materials Design Engineering
University of Toyama:Department of Materials and Functional Engineering
University of Yamanashi:Department of Advanced Materials Science and Engineering
Shinshu University:Department of Chemistry and Materials
Nagoya University:Department of Materials Engineering
Shiga Prefectural University:Department of Materials Science
Kyoto Institute of Technology:Faculty of Materials Science
Kansai University:Department of Chemistry and Materials Engineering
University of Hyogo:Department of Mechanical and Materials Engineering
Shimane University:Department of Physics and Materials Engineering
Kyushu Institute of Technology:Department of Materials Engineering
【Study Sapuri Course】High School Students Attention! Present at school pamphle application request
For those who are interested in materials engineering
This time, I took up "materials engineering" which is important but not well known in daily life.
I would be happy if anyone who was interested in materials engineering in this article among high school students who are going to science!
Outside of universities, the National Institute for Materials Science (NIMS) is famous.
If you are interested, we will introduce news and easy-to-understand videos about materials!
NIMS, National Institute for Materials Science |
University-related articles