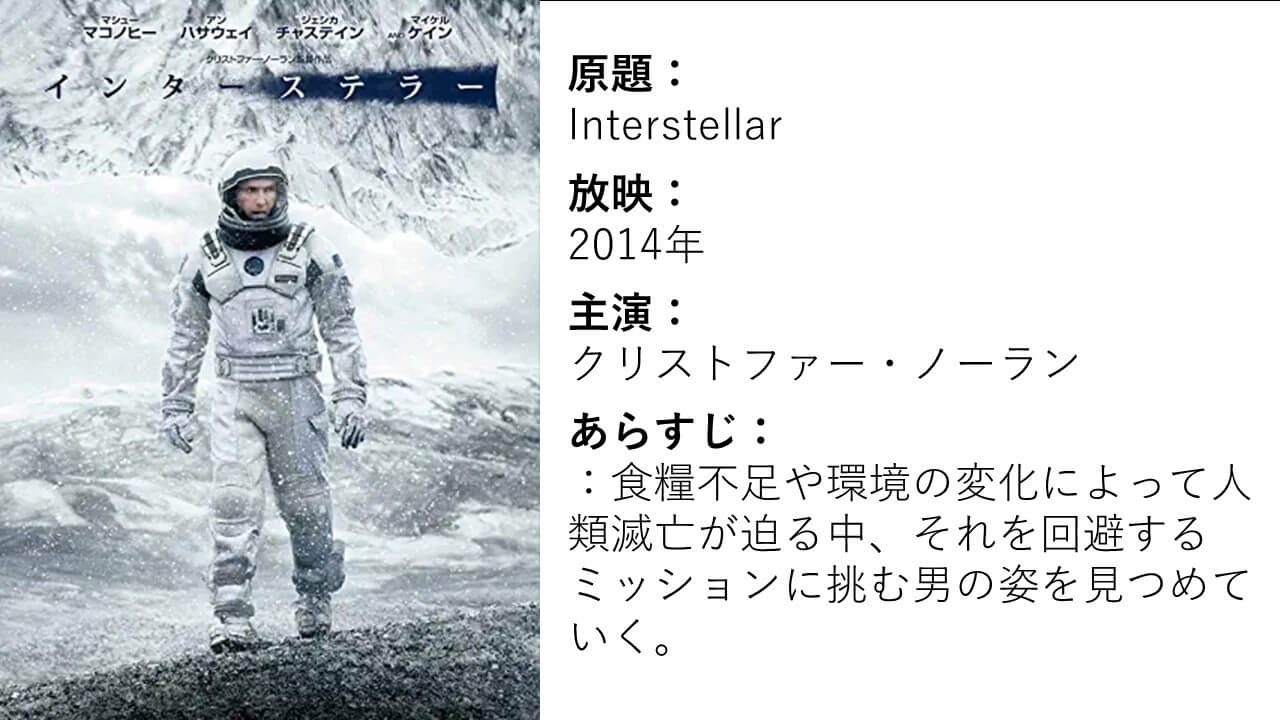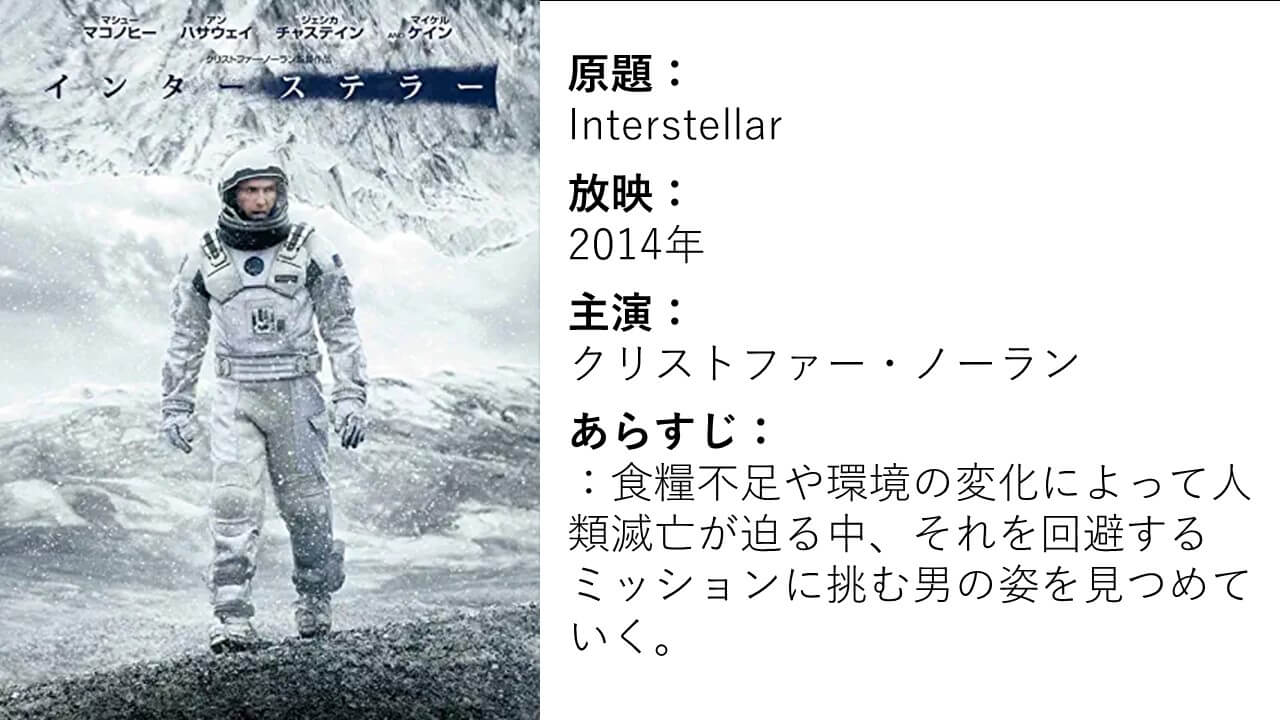 This time I saw the movie "Interstellar", so I will write a synopsis and impressions!
The genre is science fiction, action, and emotion.
Interstellar means "interplanetary between stars" in Japanese!
What is interstellar?
A team of astronauts leave Earth and pass through wormholes to explore new habitable planets and navigate to another galaxy between manned interplanets is depicted.

In addition to directing using scientific evidence such as irreversible time and gravity field in three dimensions, special relativity (Vurashima effect), singularity, Newtonian mechanics, swing-by-navigation, jet-black outer space, sound transmission, and the three laws of motion, it is composed of a story that combines ethics, courage, trust and love, limited time of life, and humanism to challenge the unknown world for human survival.

https://ja.wikipedia.org/wiki/ Interstellar
Characters in Interstellar
Cooper
Former NASA engineer. I've been working as a farmer since climate change happened.
After discovering NASA, which had been operating in secret due to an abnormality in his daughter Murph's room, he left for the galaxy as a pilot for the exploration team.
He is confident in his skills as an astronaut and sometimes takes unreasonable behavior.
On the other hand, there is a gentle side which always thinks about the daughter, too.
Murph
Cooper's daughter, named after "Murphy's Law."
He is interested in science, but in a world where science is not welcome, he is treated as a problem child.
I couldn't bear my father leaving me and didn't contact him for a long time.
He later joined NASA and tried to elucidate the equation of gravity with Professor Brand.
Interstellar Synopsis
Farewell between daughter and father
Murph throws the watch which he gave to check together against the wall.
The two ended up separating without having a conversation.
Passing through wormholes
a wormhole leading to another galaxy
The First Planet
All were sea planets.
Trying to collect data was exposed to high waves and died.
The signal being sent was also from the destroyed spacecraft.
The two men, who lost a lot of time, are appalled by the time that wasted on their way back to the ship.
Second Planet
The remaining one planet could be visited because of the fuel.
He decides to go to Dr. Mann's planet not to consider love for his lover's planet.
It is ironic whether to remain for humanity or return for your daughter.
The biggest crisis
Dr. Mann, who was on the second planet, was building data to help him.
Repairing the broken SARS was involved in a suicide bombing by Dr. Mann's program and died.
Dr. Mann, who tried to dock forcibly, exploded and damaged the spacecraft.
Docked to a spaceship pulled back by gravity and dies for life.
Farewell and Reunion
Detach your own spaceship to pass through the black hole.
Sucked into a black hole, he wanders into a mysterious space.
Send a message to Murph from the back of the bookshelf.
In addition, the solution of the gravitational equation is made a Morse signal, it tells, and murph elucidates the equation based on it.
The Idea of "Interstellar"
wormhole
Warp way that often comes out in SF.
It is often also used to move in distant outer space.
By distorting the space, long distance travel is performed in a short time.
dimension
Our living dimensions are three dimensions, but in elementary particle theory, it is said that there are 11 dimensions in total.
There are people who think of time as one of the dimensions and others who don't.
In this film, time is also one of the dimensions, and people in the five-dimensional space were able to handle time freely.
singularity
black hole
It is born after a very heavy star explodes.
Because even light is absorbed, it is not possible to make observations.
"Interstellar" impressions
Personal score is 70 points.
In some places, it was good that the place where music disappears when depicting outer space has something in common with "2001 Space Travel".
On the other hand, it was very interesting from the first half, but I felt that the last was working too well.
It was unexpected that the shape of the wormhole was a sphere by the standing system of the circle.
The depiction in the black hole was imagined because the black hole had not been observed yet,
At first, it was a full-fledged science fiction, and the second half was a work of romance.
The idea that gravity can exceed dimensions was also surprising.
It is recommended for those who are interested in space in science!
Movie Articles