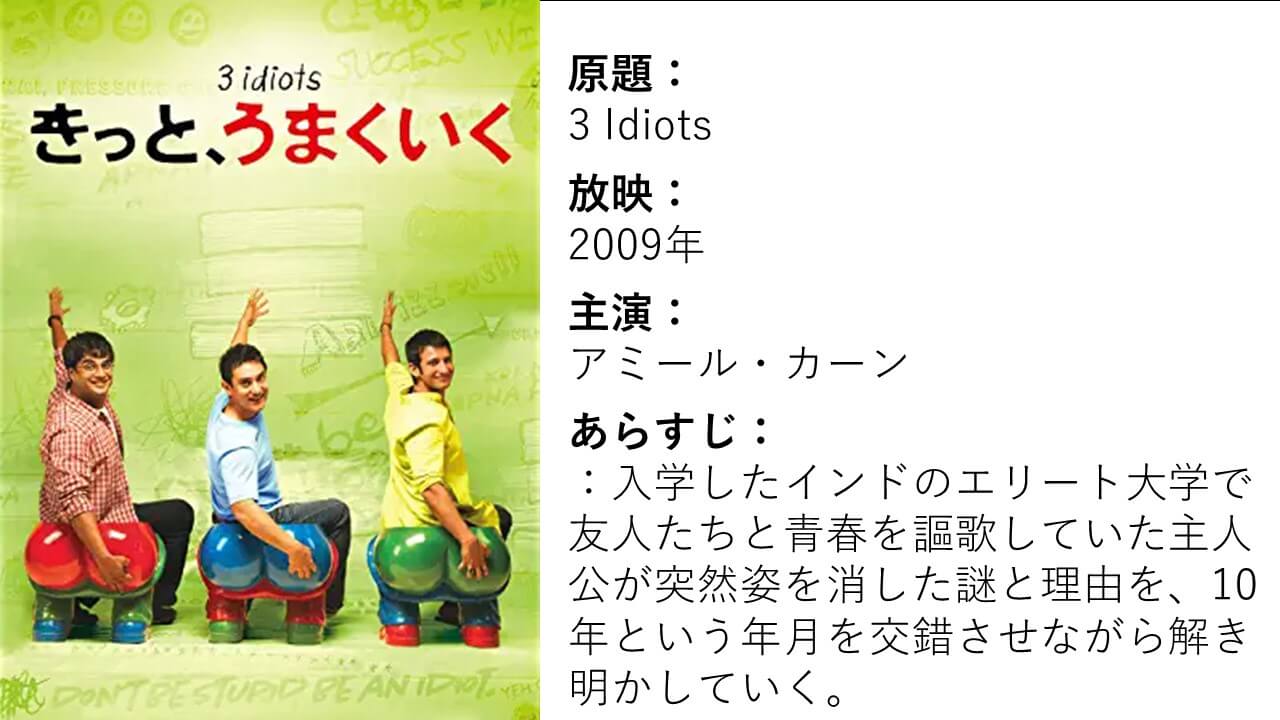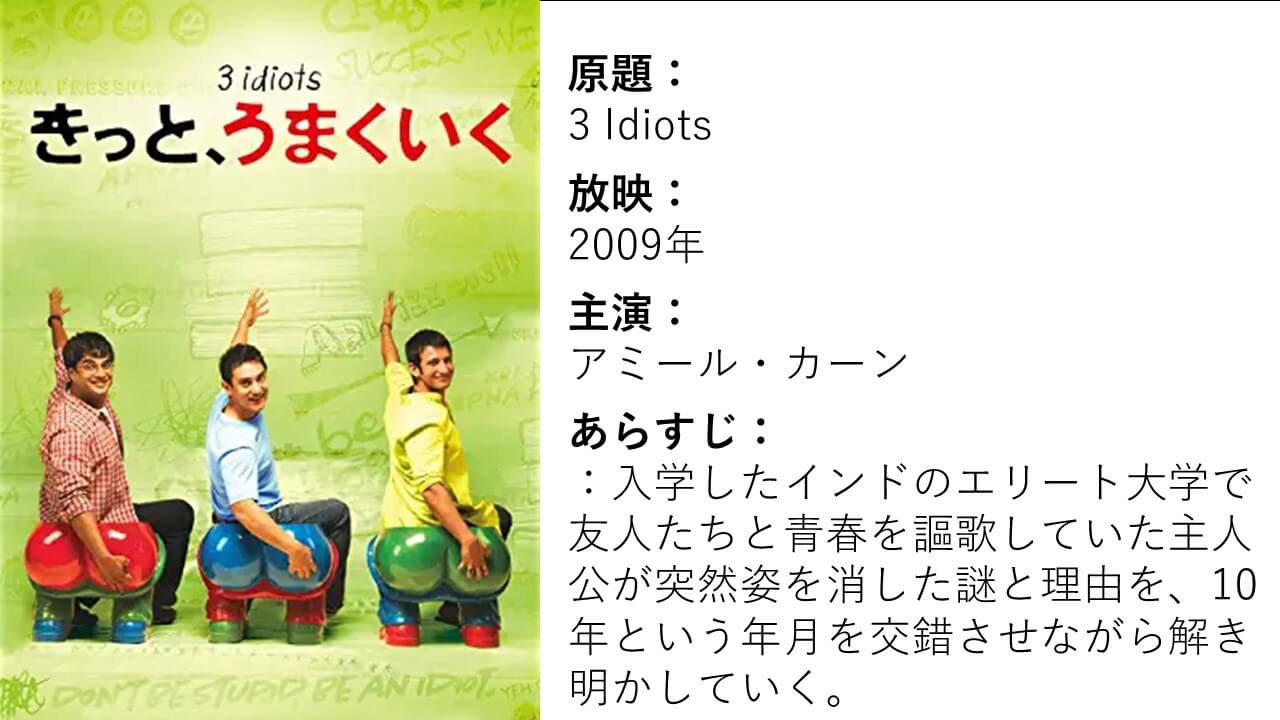 The first movie I've recommended is "I'm sure it will work."
In this article, I will introduce the sensitizing movements depicting university students studying at the Indian Institute of Technology!
【College Student Movies】Introducing masterpiece movies recommended for university students seen in Prime Video with a synopsis!
I'm sure it will work.
"I'm Sure It Works" is an Indian film released in 2009 and is a blockbuster that has reached number one at the all-time box office.
It depicts the days of Falhaan, Rajeu and Rancho who entered the difficult University of Technology ICE.
It is not only an interesting work that raises crammed education and suicide issues at a difficult university in India.
"I'm sure it will work" character
Farhaan … I really want to be an animal photographer, but I don't tell my parents.
Rajeu… My sister is unable to marry because she has sick parents and is poor. Prayer is essential.
Rancho… A person with a refreshing personality and an insatiable spirit of inquiry into science.
president… Head of the University of Technology. Those who are disliked by providing education that emphasizes crammed type and results.
peer… I met Rancho and others at the wedding of my sister, a medical student of the president's daughter. a triumphant personality
Chatl… A disgusting guy who is good at grades and sesame picking. The fart smells because of the memorization improvement supplement.
"I'm sure it will work" synopsis
Rancho electrocutes the senior student who came to the ladder from the first day with the device of the quickie, and attracts attention.
The three students are entrusted with the future and the president stands in front of the students who entered the school with a fierce battle through study.
Lancho, who wonders about the president's educational method, solidifies his idea in the wake of his senior's suicide.
Chattle, who was ruined by three mischievous and important speeches, cries as he cries.
"I'll see you here in 10 years, you'll know which was right."
Ten years later, in search of his whereabouts, the Falhans and others began to search for his whereabouts, chasing his memory.
"I'm sure it will work" impression
The scene where the president answered the president's first question at the end of the story was impressive.
It seems to be an Indian movie, and there are a lot of dance scenes, but I enjoyed it because it was a style that I do not usually see.
There is also a theme, but I feel that the treatment of chatol is a little too bad …
I think it is a problem that leads to Japan, where a competitive society is remarkable, so I encourage you to take a look.
If you run into any difficulties, try muttering "All is well" three times, and it will work!
I'm bringing together a science-like movie.