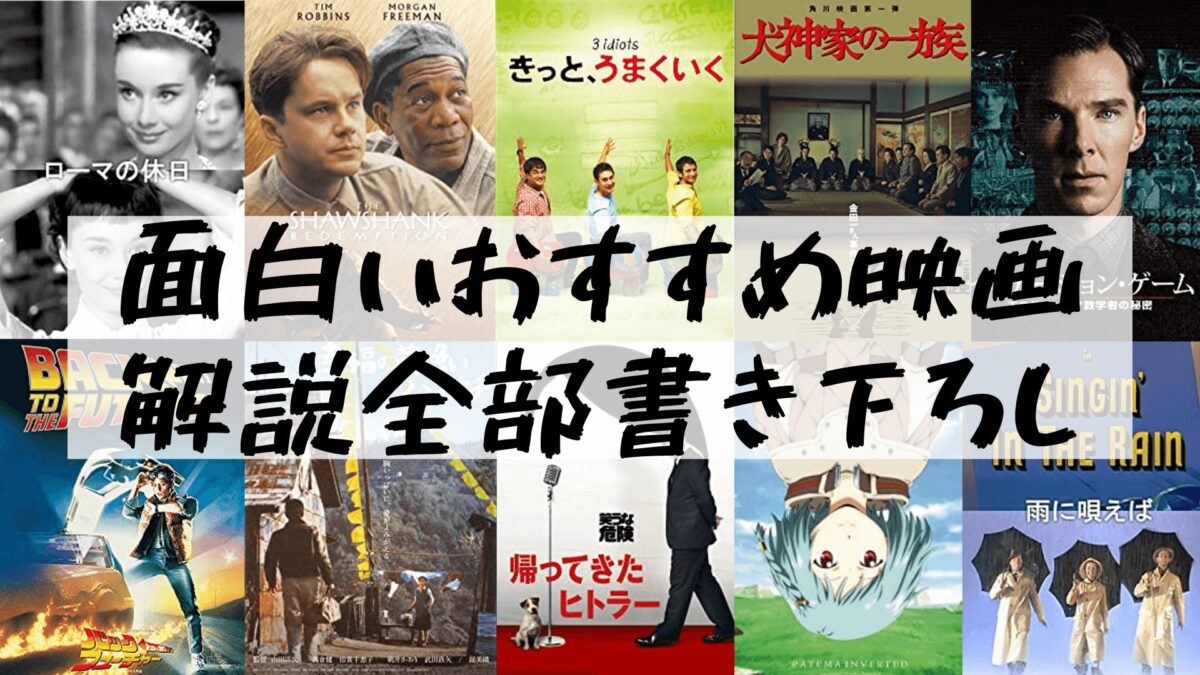 I prefer watching old movies on DVD or Prime Video to watching recent movies in movie theaters.
Since you are a member of Prime Student, do you often watch old masterpieces on Prime Video?
This time, we will introduce recommended masterpiece movies that university students found interesting with a synopsis!
U-NEXT, japan's largest video-on-demand <, > a 30-day free trial!
Why watch old movies?
All that remains is masterpieces.
It can be said to all works, not just movies, but there is no doubt that the remaining works are almost masterpieces.
When the movie was aired, there would have been many other movies in the movie theater.
However, other than the good works, they have been forgotten, and only works that have received certain evaluations in the past remain.
Among these works, there are no "I didn't see it…" like the live-action adaptation of anime in recent years.
No failure
No one has seen the movie currently showing yet, so I don't know if it's interesting if I don't open the lid.
Wouldn't it be a waste if you used it all day and went to the movie theater and the work is boring?
Recently, there are many live-action adaptations of novels, anime, and manga, and there are many works that smell dangerous.
If you use your time anyway, I want to see past works with few failures.
It's free to watch
Basically, the movie I'm watching is a free one offered within Amazon's "Prime Video."
You can also buy and rent the latest works, but you can see them from works that can be seen for free.
In movie theaters, it costs quite a lot of money other than transportation, movie, meal, etc., and it is not possible to stop on the way.
When there is a work that I want to see by all means, I also use a rental 100 yen service limited to holidays.
be seen without preconceptions
In recent films, there is a possibility that there are actors and people who have caused an incident that you know on other programs.
If you want to enjoy your work, you often see works that show actors who were active before they were born.
Even though it is an old work, the age is large, so there is not much for actors to wear.
Recently, trendy actors may appear in multiple works, and characters of other works will inevitably be passed …
Interesting movie (Japanese movie)
Inugan family
The owner of the Inugain family, who has a huge fortune, died, and inheritance was carried out by his brother by will.

It was written that the inheritance was inherited on the condition that Tamayo Nonomiya married one of three brothers there.

It begins to be murdered in a way related to [axe, koto, chrysanthemum] which is a heirloom of the Inujin family …
It is a masterpiece of one of the famous detectives "Kazukosuke Kaneda" series, and it is a work with a lot of parodies such as standing on his head in the pool.
The owner of the Inugain family, who has enormous assets, dies, and murders occur one after another over the inheritance, and it is solved.
Three brothers are killed by the way related to the axe, koto, and chrysanthemum, which are heirlooms of the Inugami family, but ichimatsu dolls were scared …
Happy Yellow Handkerchief
A story in which a broken-hearted young man and woman and a man who returns to their loved ones who do not know who is waiting after their sentence travel together.
When I cycled around Hokkaido, yubari had a happy yellow handkerchief square.
At that time, I didn't know anything, so I went home without taking any pictures, but I thought that I should have seen it.
【Hokkaido Bicycle Tour】Introducing routes, dates, and belongings that university students traveled in one month!
Railway staff (poppoya)
Sato Otsumatsu, the station manager just before the abandoned line in the countryside of Hokkaido, was working with strong pride in his work.
The scene gradually goes back from the present day to the old days, and it turns out that he has lost a child who prioritizes work and loves.
His heartwarming interaction with the three sisters who visited the station reminds him of the warm days that shone.
Oil painting
Titanic
A world-famous film about the sinking accident of the passenger ship Titanic, which actually occurred, from two loving men and women.
It is currently paid, but I appreciated it as a good opportunity because there is a time when it can be seen for free on Prime Video for a while.
Like this work, you can watch super masterpieces for free, so it's important to check prime video frequently.
Rocky
Until I saw this work, I only knew "Rocky's theme" and "Drinking raw eggs".
It was a work that conveyed Rocky's struggles as a boxer living from hand to mouth, not a popular person who attracted attention.
It was a good scene where he fought his satisfaction at the end and joked with his opponents.
Holidays in Rome
"Ryoma's Holiday" based on this work may have known earlier.
The princess and the newspaper reporter have a dreamlike time in Rome.
It was a very favorite work, so I did a "pilgrimage to the holy place" when I traveled to Europe!
【University student trip to Europe】University students cross Europe for one month (cost, schedule, belongings, etc.)
I'm sure it will work.
Set in the Indian Institute of Technology, the film depicts three students from the perspectives of Farhan, Rajeu and Rancho.
As of 2009, it was the no. 1 box office of Indian cinema, and Spielberg seems to have seen it three times.
Come, love, educational issues, excitement, and all the dances you won't forget in Indian movies!
What do you really want to do, not just study?
Imitation Games
Alan, a genius mathematician, belonged to the intelligence agency MI6 to decipher the Nazi code Enigma.
He was impending on gay performance, or when he nearly robbed Christopher.
As soon as years of decoding work are finally finished, the next is a harsh command to calculate the life and death of soldiers.
The anguish of mi6 members who can't tell anyone about them would have been more than what was expressed in the film.
The Life of a Lonely Genius Who Challenged The Crypto Enigma
Hitler is back.
Hitler, who traveled back in time in 2014 from an air-raid shelter in 1944, began collecting information and aimed for German rule again.
Although he is thought to be Hitler's imitation artist, he will advance into politics and steadily increase his supporters.
Zavatsuki, a young man convinced he is real, takes some action to prevent his dictatorship from happening again.
Hitler's humorous first half was puzzled by the new era, and in the second half, the nazis would rise again.
The distinction between reality and work becomes ambiguous from the point where he uses a silicon mask in his film creation.
I thought it was a gag and started watching it, so I was horrified in the last scene.
If you sing in the rain
I know the name, and I was worried because it was in Prime Video for a long time, but I couldn't help it.
It was a story of the era when the era of silent movies ended, and actors were evaluated not only for acting but also to voice.
The whole story is made into a musical, and you can see it with excitement.
I thought that it was a good work that I could see in a calm mood, not too heavy, not a big laugh!
Shawshank in the sky
A banker sent to prison for murdering his wife was suffering from an unfamiliar prison life.
One day, he was recognized for giving the prison officer's advice on gift tax and began working to improve the prison.
Both prisoners and prison officers were able to rely on them, but one day prisoners from other prisons were told the true culprits of the murder.
about life in prison in a movie famous for being struck by the rain
I think that it is an interesting composition to draw from the viewpoint of being a procurement company from the beginning of coming to prison.
I don't put out much expression, but at the end of the story it finally becomes clear what he was thinking.
La La Land
The story of a pianist and actress chasing success.
The insertion song "The another day of sun" in the first highway scene learned english.
I can't say in detail because it will be spoiled, but I personally like such a last work very much …!
Back to the Future
Speaking of science fiction movies, this is a very famous film that is famous, and it is a super famous movie at a level that does not need explanation.
It is also interesting to see unique characters, action scenes that hold sweat in your hands, and so on.
The device of the second future world has already seen the news somewhere that the volunteer has completed the production!
Anime Movies
Aka-no-Patema
Age, a boy in Aiga, a country hit by a catastrophe, meets Patema, an upside-down girl.
Age and Putema had something in common that loved ones were losing their lives trying to go to each other's countries.
Age, who was protecting Patema from aiga officials, decides to go to the upside-down country in search of his father's whereabouts.
It is a work that is strongly conscious of laputa, a castle in the sky, and it is also ◎to see together with another work "Tate no Kuni"!
【Tate no Kuni】I tried to consider the outline of the recommended manga of Shonen Jump +
Summer Wars
Kenji, who misses out on winning the Math Olympics and is depressed, is asked to work part-time by Natsuki, a senior he admires.
Kenji, who spends time with a large number of relatives at her parents' home as her fake marriage partner, receives an email with a few rows attached.
It was the security code of the virtual space OZ that Kenji and others used as another daily life.
In order to stop the runaway AI love machine, Kenji confronts in cooperation with Natsuki's family "Jinnai family".
When asked about the works I see in the summer, I heard "Wesley's Country", "Summer Wars" and "SummerTime Record".
Walk short at night, maiden.
"I" was making a strategy to attack a black-haired maiden who continued to pretend to be a coincidence and brought the distance closer …
It was impressive that the depiction of the main character's feelings was not a word, but all of them in figurative images.
It is refreshing to see that all the events that seemed unrelated at first are connected as hints at the end.
It was a unique drawing and expression method, and it was a style that I had never met before.
The same author's "four-and-a-half-mat myth system" is also interesting with derivative works such as "Four and a Half Tatami Time Machine Blues".
Spirited Away
I saw it for the first time before I was in elementary school … At that time, I was strongly impressed by the story and saw it many times.
It is no exaggeration to say that it is the beginning of a movie legend in Japan and the work that Japanese people see the most.
The richness of the content that I feel like I spent a really long time with Chihiro, the good image quality, the beauty of the background music, etc. are all good!
U-NEXT, japan's largest video-on-demand <, > a 30-day free trial!
Other featured works