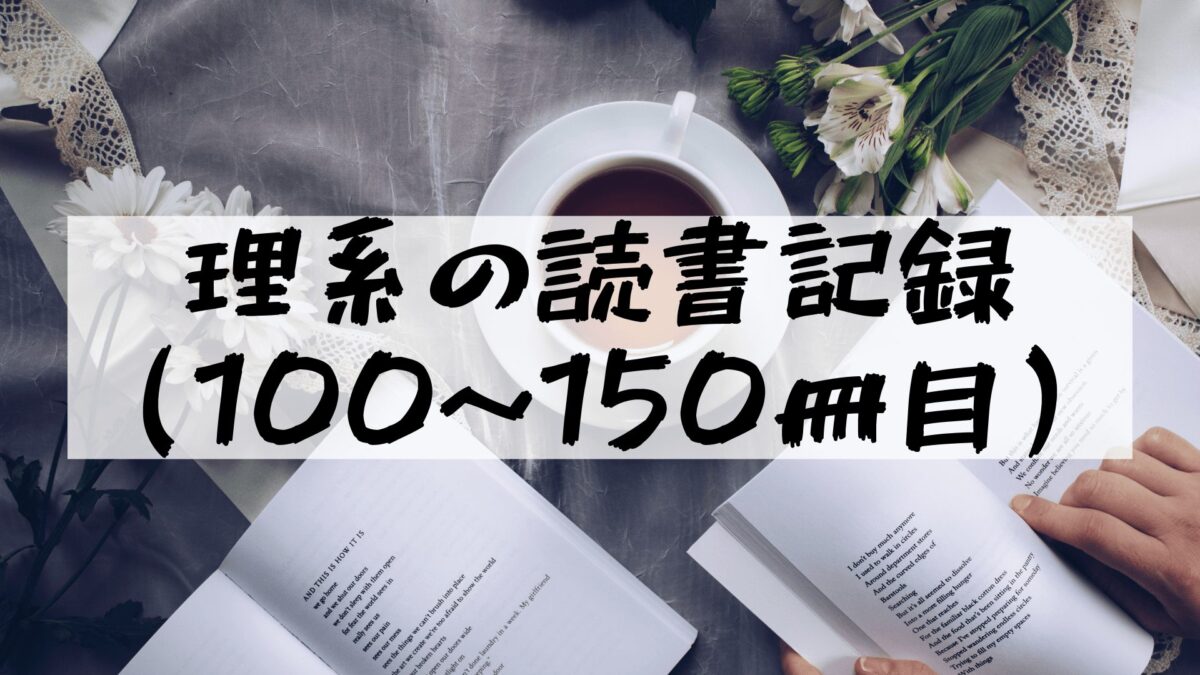 I started to record reading in 2021, but by the end of the year I reached 100 books.
Considering the time when I read a lot during the summer vacation, I found that I read about 100 books at a pace of one year.
I will continue to read it in order to meet interesting works, to touch a wide range of knowledge, and to increase the story of the story!
【University Student Reading】Introduce all books read by science university students (evaluation / impressions) (1) [1 to 50 books]
【University Student Reading】Introduce all books read by science university students (evaluation / impressions) (2) [51 to 100 books]
☆☆☆☆☆ I want to recommend it to people who was very interesting
☆☆☆☆☆ It was quite interesting, it became a study
☆☆☆,Normal
☆☆・・・ Boring, better than not reading
☆……
Read:2021/11/23 ☆☆☆,
Following "Breakfast at Tiffany's", it is a work that knows the title but does not know whether it is a novel or a movie.
At first, the unique slang "Nad Sack" was quite hard to read, but I was drawn in by Ludovico therapy.
It's hard about moral choice because it also leads to the problem of "philosophical zombies" previously learned in the stage version of psychopaths …
Read:2021/11/28 ☆☆☆☆
Where you can borrow such a book in a dignified manner, you may feel the goodness of unmanned lending machines and online mail order.
It is interesting because there are many personal researches from various perspectives, such as people who strive to be popular and people who face themselves who can not have it.
Shinkenzemi's unconscious imprint that "if you can study, everything will be fine" seems to apply to many people.
Read:2021/11/29 ☆☆☆,
I imagined a boy playfully igniting from a pop cover, but it was heavier than I thought.
The main character seeps gasoline into his bathrobe and ignites himself, but can't die and almost loses his skin.
In the scene of the conversation with the family, I was able to understand the feeling that the main character did not want to talk about anything quite a bit.
Read:2021/12/02 ☆☆☆☆
You should know that Japan, which refuses to accept immigrants, was once an immigrant power to Guam and Latin America.
I felt that the author was sticking to the Japanese descent and the Japanese, just because he has roots in Japan and Peru.
From a biased view of confidence, in the first half I take inductive questions and arrogant attitudes, but it is amazing to notice it in the second half.
The author interacts with each other at the place he visited, but it was sober and interesting that the memories before and after each time I drank alcohol disappeared.
Read:2021/12/04 ☆☆☆☆
I have come to see many foreigners who are technical intern trainees at convenience stores, beef bowl shops, and agricultural part-time jobs in Hokkaido.
Unlike those who criticize the distortion of the system, it was good to touch on the disgust that is not logical.
I felt the depth of the disparity problem from the viewpoint of knowledge in that only the information weak are deceived by the broker.
However, like chinese people in steel, I think smartphones and the Internet will bridge the gap.
In order to coexist with them, I think it is a problem that you should know in anticipation of the era when Japan will eventually go to work from home.
Read:2021/12/08 ☆☆☆☆
As expected, it is not easy because I only study in four years of university, but it is still explained quite gently.
The fact that the government's debt is not necessarily good was surprising to living in Japan, which has a debt of 1,000 trillion yen.
There is also a part that I skipped reading because my concentration was cut off, so I think I will read the books on economics together next …
Read:2021/12/09 ☆☆☆,・
It was a book that was featured in the media for a while, but the title was sensational and I couldn't reach out much at that time.
According to the author, who worked at a juvenile classification office, they are likely to have problems with cognitive functioning in their behavior.
I had never thought that there were many people who had potential challenges just because they were arrested.
Read:2021/12/21 ☆☆☆☆
It was a story about the mysterious man Lennox, but I felt that the road from the time the incident occurred to the solution was a little too long.
To be honest, I got a little tired in the second half, but the last few pages were good with the feeling of collecting hints of the title.
There is also another translation by Haruki Murakami, so it seems interesting to read and compare if you have a chance.
Note: 9 books
Read:2021/01/04 ☆☆☆☆
This work summarizes the stories before and after "Late Night Express", a book that Kotaro Sawaki must read by bus from India to London.
Having finished once in the second series in the newspaper serial was a surprise as I felt sympathy for the letharmic part afterwards.
I'm pretty convinced that there is a suitable age for travel (but it's not yet 26)
Read:2021/01/06 ☆☆☆,
I thought it was a common self-development book and picked it up, and it felt that the phenomenon by visual information was summarized.
Since the author is drawing manga, it is also interesting to explain it in a medium called deformed manga.
Not only the appearance but also the contents handled, such as smell and temperature, were quite wide, and I felt a little disjointed.
Read:2021/01/08 ☆☆☆☆
The title is "Money Laundering", but there were many stories about tax saving and tax evasion such as tax havens.
It is interesting to see how organizations with strong power use their internationality to shed funds that are in trouble for their destinations to the world.
The rules on money were solid, and it was surprising that people who knew the situation would be able to do things.
Read:2021/01/09 ☆☆☆☆
A few years ago, the obituary appeared in the newspaper and I was worried about the name and content of the work, so I feel like I was finally able to read it.
Personally, I like the depiction of sexual activity as an art like this work or as a casual everyday life like Haruki Murakami.
In the first volume, a precursor to the destruction of the two of them is appearing, and I am very worried about what will happen after this!
Read:2022/01/12 ☆☆☆,
This book introduces business jokes based on global conditions, etc., while classifying them by country and region.
There are many things that you can't understand unless you know about the world situation and the characteristics of the region, and this is education …
Jokes about the recession and religion, couple and golf that are common all over the world were interesting.
Note: 13 books
【University Student Reading】Introduce all books read by science university students (evaluation / impressions) (1) [1 to 50 books]
【University Student Reading】Introduce all books read by science university students (evaluation / impressions) (2) [51 to 100 books]
Articles about reading