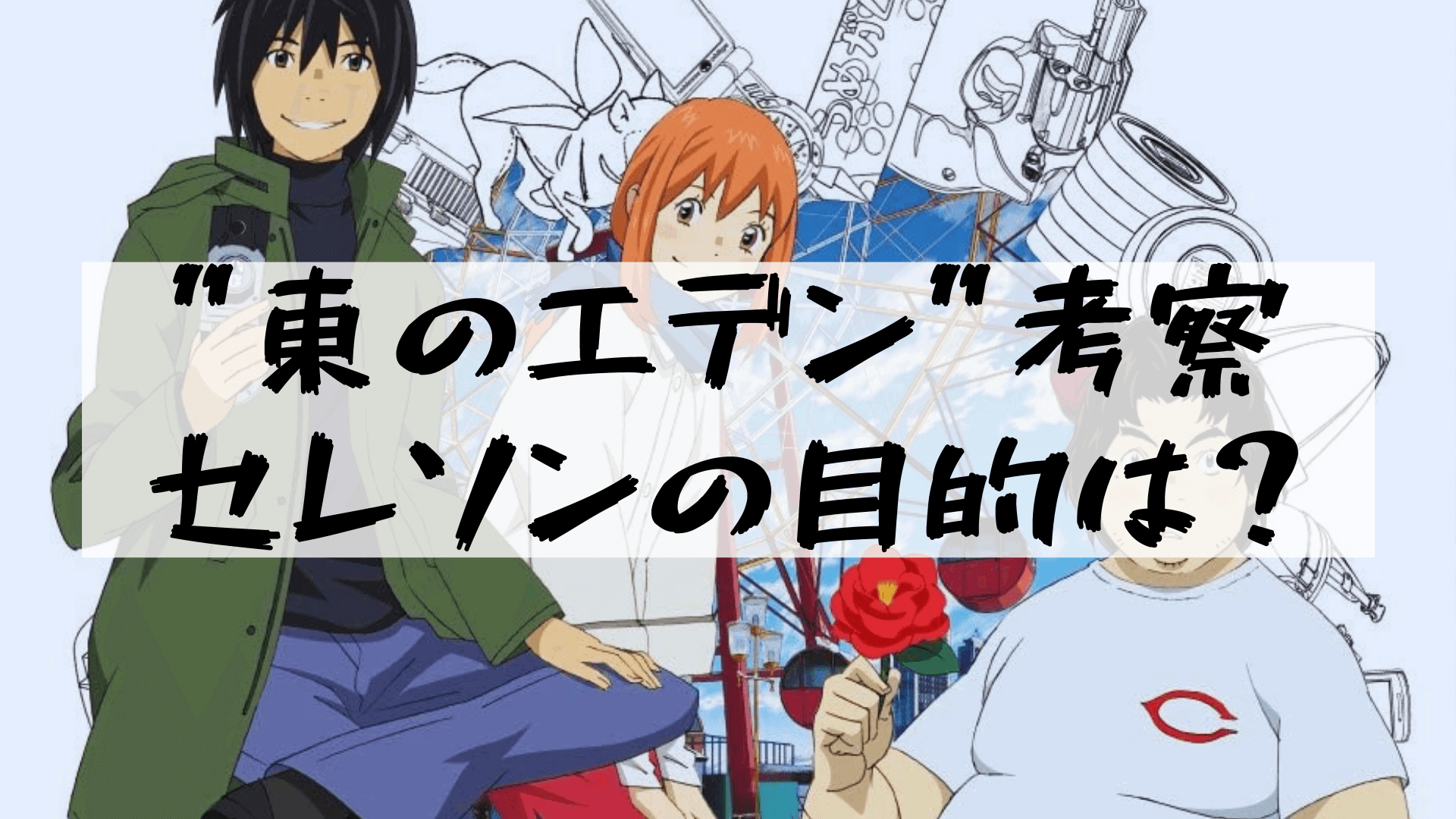 If there was an excellent secretary who could do anything with 10 billion yen to improve the world… A work appeared.
As an anime that seems to be very interesting somehow, I watched it with anticipation, but it was too complicated.
Here, we will roughly summarize the TV version of "Eden of the East", the story for those who have finished watching the movie version, etc.!
U-NEXT × the number of credit cards free for 31 days and can read 600 yen worth of comics
What is Eden in the East?
One day, 12 people were given 10 billion yen and mobile phones, and a game to save Japan was started.

Celeson, who used money for rejection of the game and self-interest, is eliminated by "supporters".

The story begins with the encounter with Saki, a girl of No.9 Akira Takizawa, who lost her memory and appeared in Washington.

Who are the organizers of the Celeson Games, who can save Japan with 10 billion …?
It is Noitamina's first original work, and the book version was published after the anime version, so there is no original.
If there is a concierge who can do anything with 10 billion yen … A story of a theme that inspires imagination.
There are also scenes of excitement such as the game between Celesons and Mr.OUTSIDE, which planned the game.
There is psychopath-likeness of the same Noitamina frame, and I.G Producton of the ghost in the shell is involved …
It is composed of 11 episodes of the TV version and the pre- and post-movie episodes.
Seleson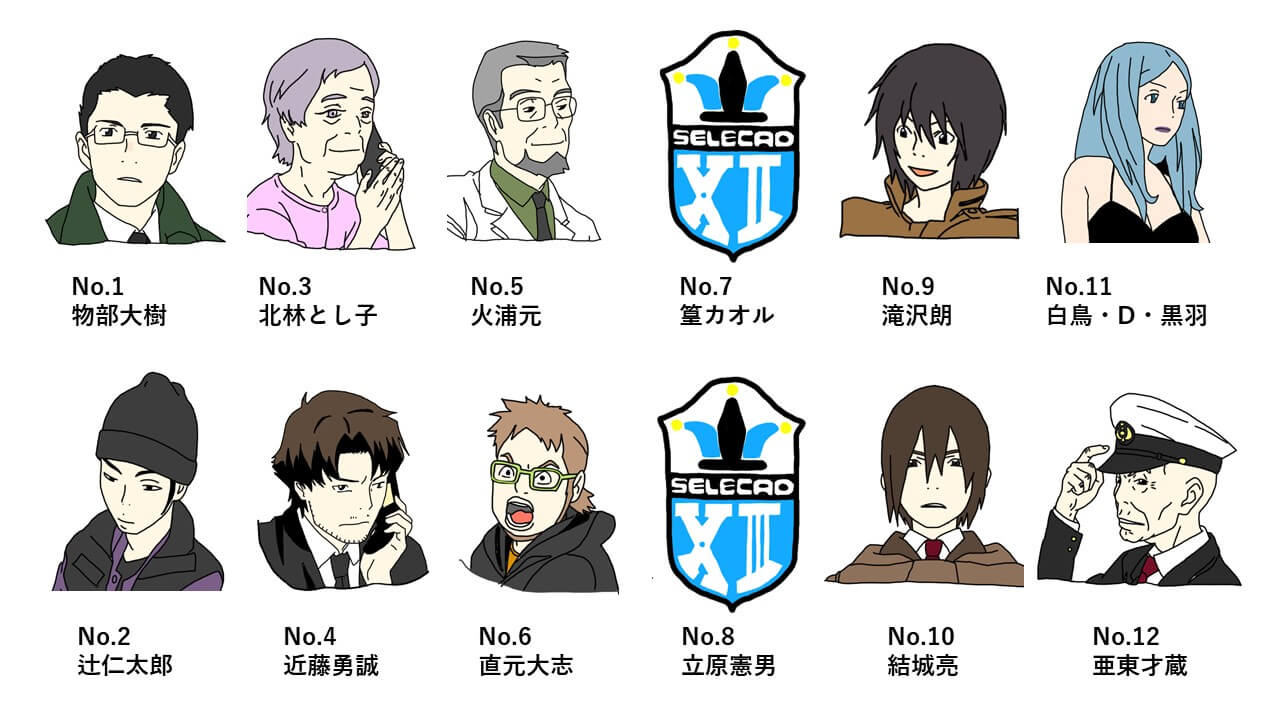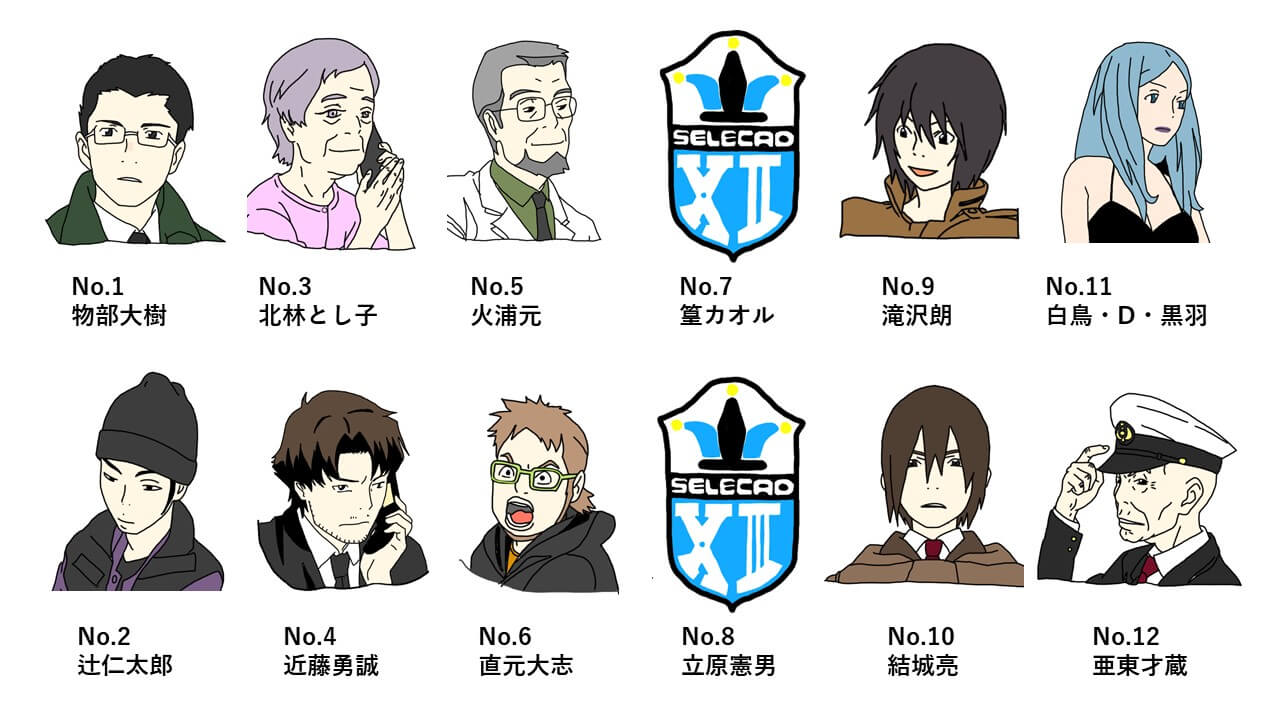 Mr.OUTSIDE, Ato Saizo, gave 12 people 10 billion yen of electronic money and knobless mobile phones.
Each Celeson does not know each other's identity and each takes action according to each other's goals.
Those who are out of Celeson's behavior will be penalised by "supporters" within The Serenson.
It is presumed that the identity of the supporter is a fictional character for advancing the game by the No. 1 division.
※ About The Serens that are not bold , (almost) do not appear in the anime / movie version
No.1 … Daiki Monobe / Daiju Monobe: Politician
No.2 … Nitaro Tsuji / Jintaro Tsuji: Director
No.3 … Toshiko Kitabayashi / Toshiko Kitabayashi: Retreat
No.4 … Issei Kondo / Kondo Yusei: Assistant Inspector
No.5 … Gen Hiura / Hiura Introduction: Doctor
No.6 … Taishi Naomoto / Jimoto Taishi: Filmmaker
No.7 … Kaoru Kaoru Takamura: The Crook
No.8 … Norio Tachihara / Norio Hara: Salaried Man
No.9 … Akira Takizawa / Akira Takizawa: Unknown
No.10 … Ryo Yuki / Ryo Yuki: Unemployed
No.11 … Swan, D. Kurobane / Shiratori Kuroha: Model Office Director
No.12 … Saizo Ato / Saizo After: Organizer
Celeson Game Tools
Juis
An excellent concierge with only voice, which is granted to Knobless Mobile with 10 billion yen of electronic money.
He executed Seleson's absurd command and always cut it with the complaint, "I'm going to be the savior."
The identity was created by the life of Ato, and 12 huge computers were installed at the ATO Harima Brain Science Institute.
It is robbed by the No. 1 thing part in the TV version, but it is transferred by the truck by the life of No.12 Adong and continues to run at high speed.
Eden System
It is a mobile site developed by Circle "Eden of the East", and has a revolutionary image search engine developed by members.
On this site, you can instantly search from information on the Internet based on images captured by mobile cameras and PCs.
It also implemented a function to paste writing on images, and most of the students and staff of Aijiin University used it.
However, it was abused for slander and exposure of personal information, causing a drop-out case of a female student.
Public computer
A future prediction type simulation software developed by Itatsu, which analyzed Knobless mobile phones.
The number of days etc. before it is done are shown on the display by hitting, "Probability which becomes 00".
Further detailed calculations can be performed by incorporating detailed conditions.
Eventually, it was also being considered to make a perfect prediction of the future by combining it with the Eden system.
AirShip
An IP telephone program developed by Itatsu and introduced by members of Eden in the East to avoid public safety eavesdropping.
Since calls, videos, electronic money transfers, etc. can be made free of charge, it was used as a means of communication throughout Japan.
In the film, it is used to contact NEAT and the last TV version, and in the movie version it is used to send messages to the Japanese people.
Stories and Celesons
Before TV version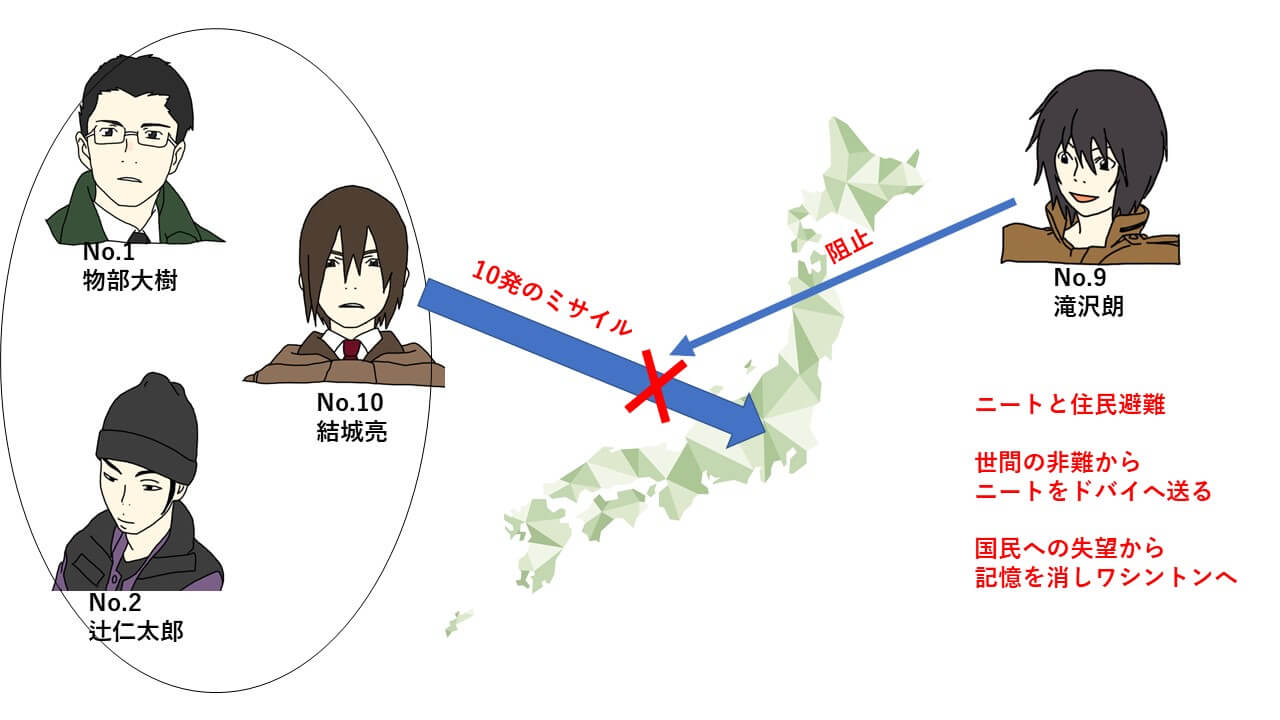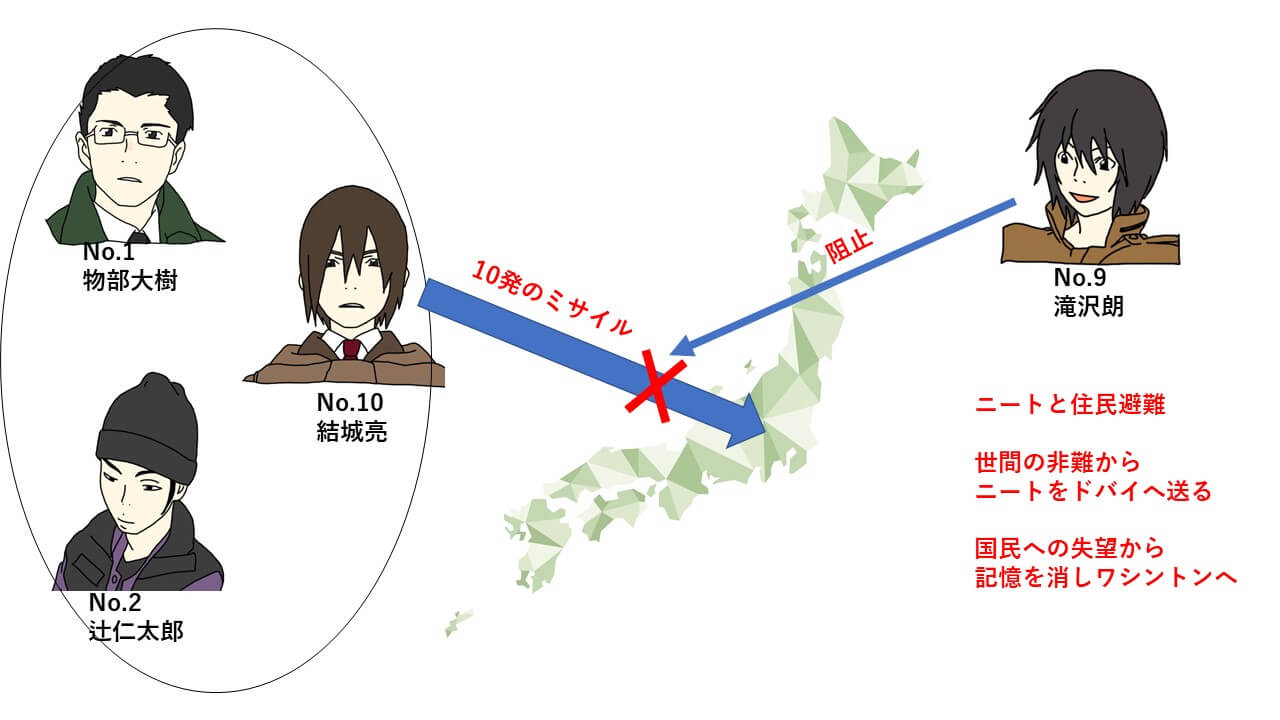 Seleson Moved
No.1… The Revival of Complete Bureaucracy
No.9… Employment of withdrawn young people
No.10… Destruction of existing systems
Nobless Mobile was handed over to 12 Celesons from Adong, a taxi driver, and the Celeson game started.
Yuki carried out a missile attack on Japan, while No. 9 Takizawa mobilized NEAT to keep the victims to 0.
But a "careless Monday" disappointed the public, and they denounced them, and Takizawa sent them to Dubai to avoid blame.
Disappointed with himself and the people, he used the techniques of the Harima Institute to erase his memory and fly to Washington.
TV version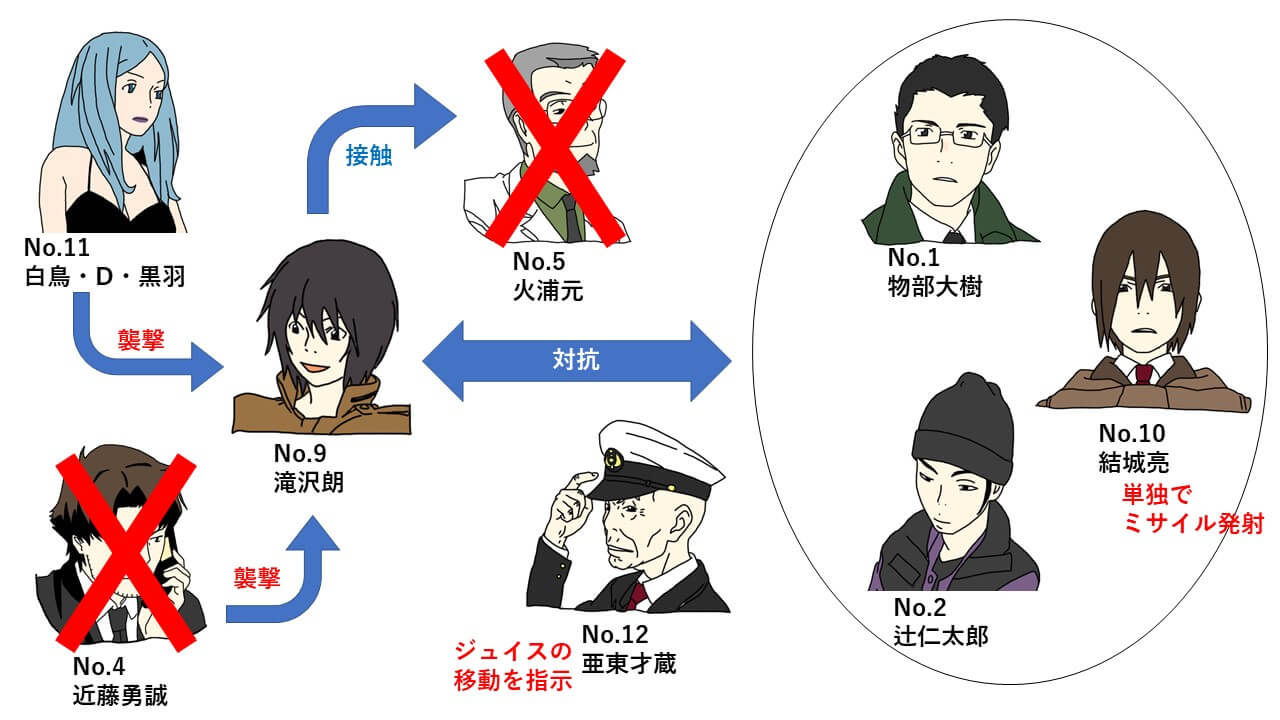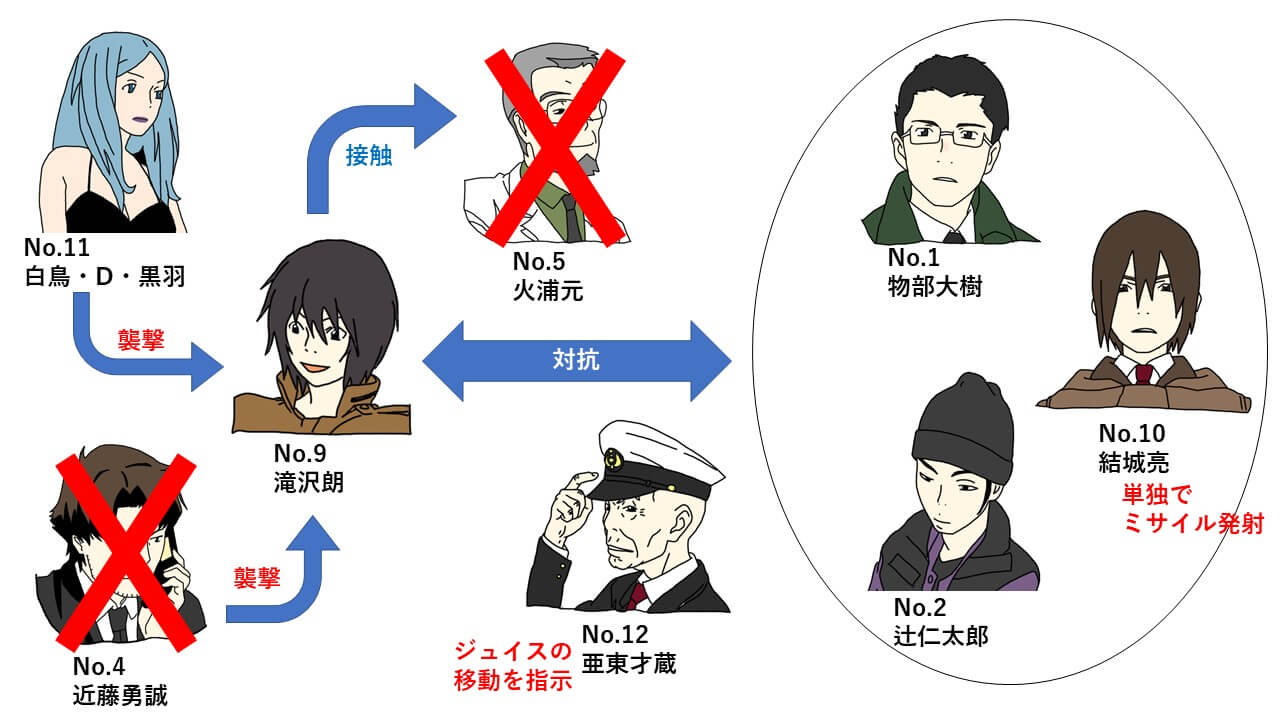 Seleson Moved
No.1,2,10… The Revival of Complete Bureaucracy
No.4… Purification inside the police
No.5… a community that is solved only by the elderly
No.11… Extinction of sex offenders or native Japanese
No.10 Yuki once again plan to attack Japan with 60 missiles as a revenge on "a careless Monday".
The No. 1 division, who noticed the usefulness of Juis in the game, tried to rob the ATO Harima Laboratory but failed.
Just before, No.12 Ato was taken out of the laboratory, and the part who realized the failure of the plan decided to temporarily withdraw.
However, unconvinced, No.10 Yuki instructed Juis to launch 60 missiles as originally planned.
On the other hand, No.9 Takizawa examined the opinion that NEAT eters wrote in the Eden system and succeeded in intercepting.
He ordered Juis to "make himself king", entrusted Saki with a knobless cell phone and disappeared.
movie version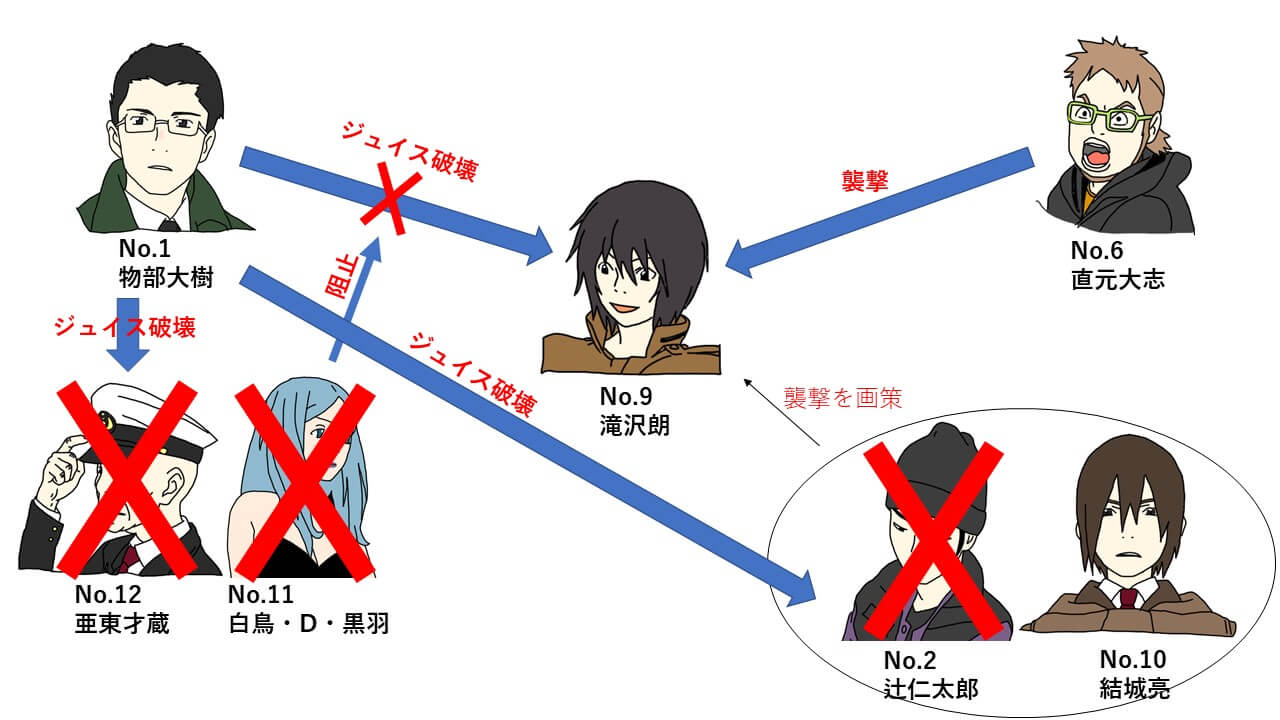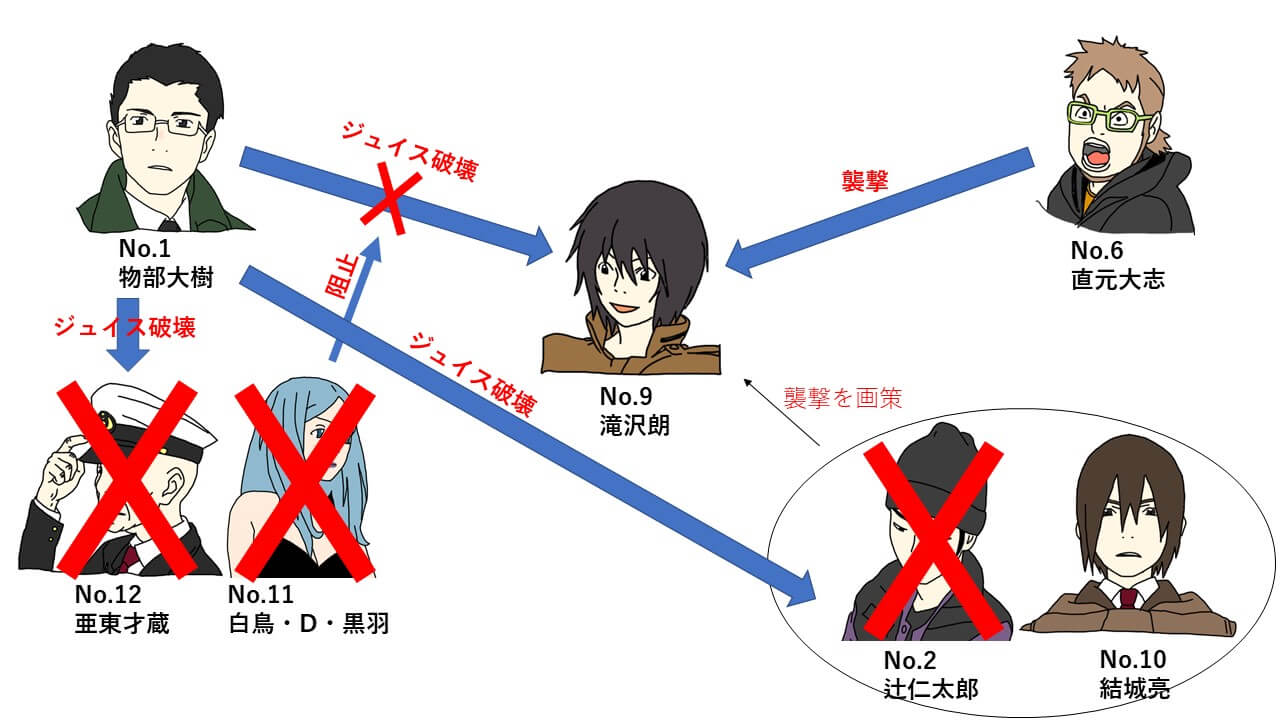 Seleson Moved
No.1… The Revival of Complete Bureaucracy
No.2… Give Japan a voice as a victim
No.6…Save Japan with the movie "Salty Man"
No.9… Become king (continued from TV version)
From the order that No.9 Takizawa issued to Juis at the end of the TV version, Takizawa changed his name to Iinuma and aimed at the prime minister's back pot.
On the other hand, No.2 Tsuji will plan to get Takizawa, famous as Air King, shot dead at No. 10 Yuki.
The aim is to make Takizawa assassination a foreign business along with 60 missiles, making Japan a victim with a voice.
The No.1 division, which failed to secure The Juis, aims for the winner by destroying other Juiss with missiles.
No.1 destroyed The Juis, which was moving in a truck, with a missile, and No.2, 11, and 12 dropped out of the game.
Among them, the No.11 Swan is destroyed in scapegoats in the dream of No.9 Takizawa to "become king".
Takizawa responds with a message to the Japanese people to the department that aims at the same goal while thinking the exact opposite.
After hearing the last conversation between The Thing Club and Takizawa, Ato finished this game for the time being and erased everyone's memories.
Impressions of "Eden of the East"
There are also severe criticisms such as spreading furoshiki too much and thin message, and it may be a work that can be praised for letting go.
It is also interesting to talk about the fact that there are few Celesons who are actually thinking of making Japan better.
It would be over if it was said that it was the current situation in Japan, but I wanted to see a bigger plan …
On the other hand, you can also feel the flow of "reverberation terrorism" and "psychopath" that inherited the genealogy in the Noitamina frame.
Eden in the east → come together much with the terror of reverberation, and it seems that one answer was reached with a psychopath.
I wonder if it is connected to the world of ghosts in the shell, or is there a Shubila system as one answer …
U-NEXT × the number of credit cards free for 31 days and can read 600 yen worth of comics
Anime Consideration Article