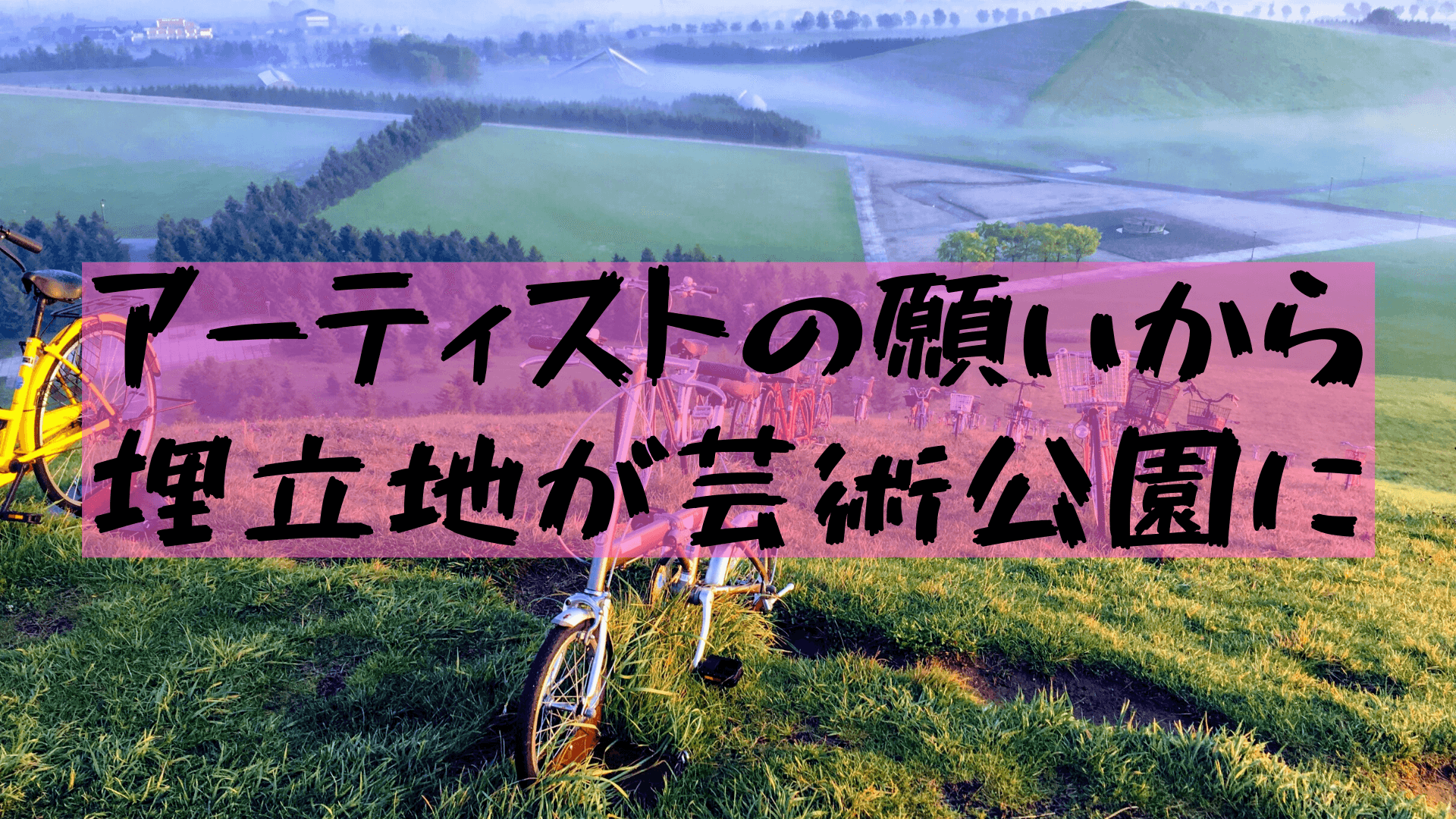 Hokkaido and Sapporo have many tourist destinations, but there are many spots that can be boring.
For such people, we would like to recommend "Moerenuma Park", designed by a world-famous sculptor introduced this time.
This time, we will introduce how to get there and recommended points about the art park "Moerenuma Park" in Sapporo!
Who is Isamu Noguchi?
Isamu Noguchi (Japanese name: Isamu Noguchi, 1904-1988) is a sculptor, painter, interior designer, landscaper, gardener and stage artist born in Los Angeles, USA. Japanese Americans.

https://ja.wikipedia.org/wiki/ Isamu Noguchi
He studied sculpture between Japan and the United States, and as a Nikkei, he is an artist who lived in the fate of Japan and the United States.
Famous works include the "Red Cube" in New York and the "World of the Moon" at the Osaka Expo.
He is an artist who is often exhibited when he goes to a world-famous museum abroad, and I want japanese people to recognize it more …
History of Moerenuma Park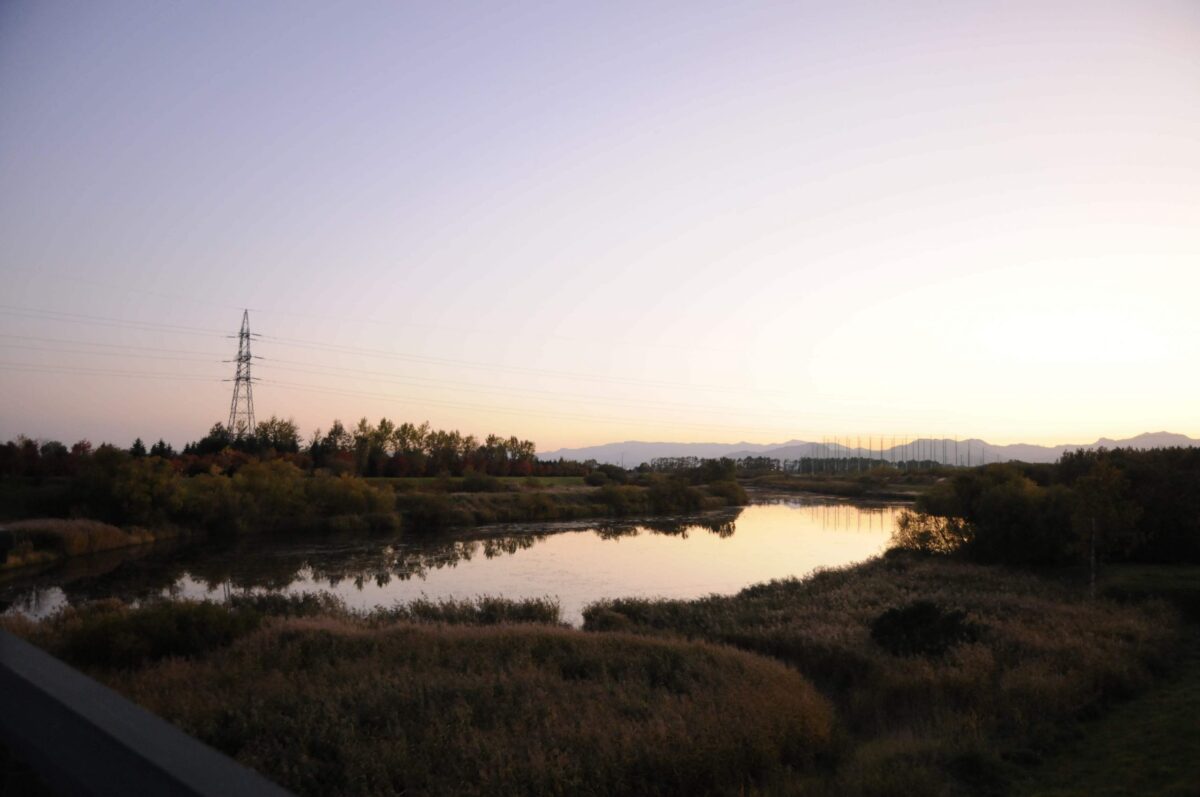 Moelenuma, which means ainu word for "Moilepet(quiet water surface)", was a non-combustible garbage landfill of 2.7 million tons.
After the operation was completed, Moerenuma was planned to be redeveloped as a base for sapporo city's "Circular Green Belt Concept".
Mr. Noguchi, who received the request, accepted the request from Sapporo City, the concept of "making the whole a sculpture work".
He is ambitious in designing the park, but his death in 1988 almost frustrated his plans.
Finally, the Isamu Noguchi Foundation restarted the plan to complete it in 2004, the centenary of his birth.
Construction began in 1982 and grand opened in 2005 as an art park for the general public.
It is loved as a work of art of about 1.89 km² floating in Moelenuma and as a place of relaxation for citizens.
In addition to art, the garbage disposal plant was made into a park, and the glass pyramid that uses snow for cooling is highly evaluated!
Access to Moerenuma Park
Moerenuma Park is sapporo, but its location is not very good because it is a landfill for garbage.
Isn't it the most common way to go directly by car or take a subway and bus?
Access to "Moerenuma Park" (1)
●Subway Toho Line [Loop Dori East Station] 
East Exit of Moerenuma Park → east 69 "Ainosato Education University Ekimae"
East 79 "Nakanuma Elementary School Street" → Moelenuma Park East Exit
West Exit of Moerenuma Park, → to Nakanuma Elementary School Street, 61 East
– Shimotetsu Namboku Line [Kita 34jo Station] / Toho Line [Shindo Higashi Station]
West Exit of Moerenuma Park, → 76 East "Nakanuma Elementary School Street"
Moerenuma Park Exhibition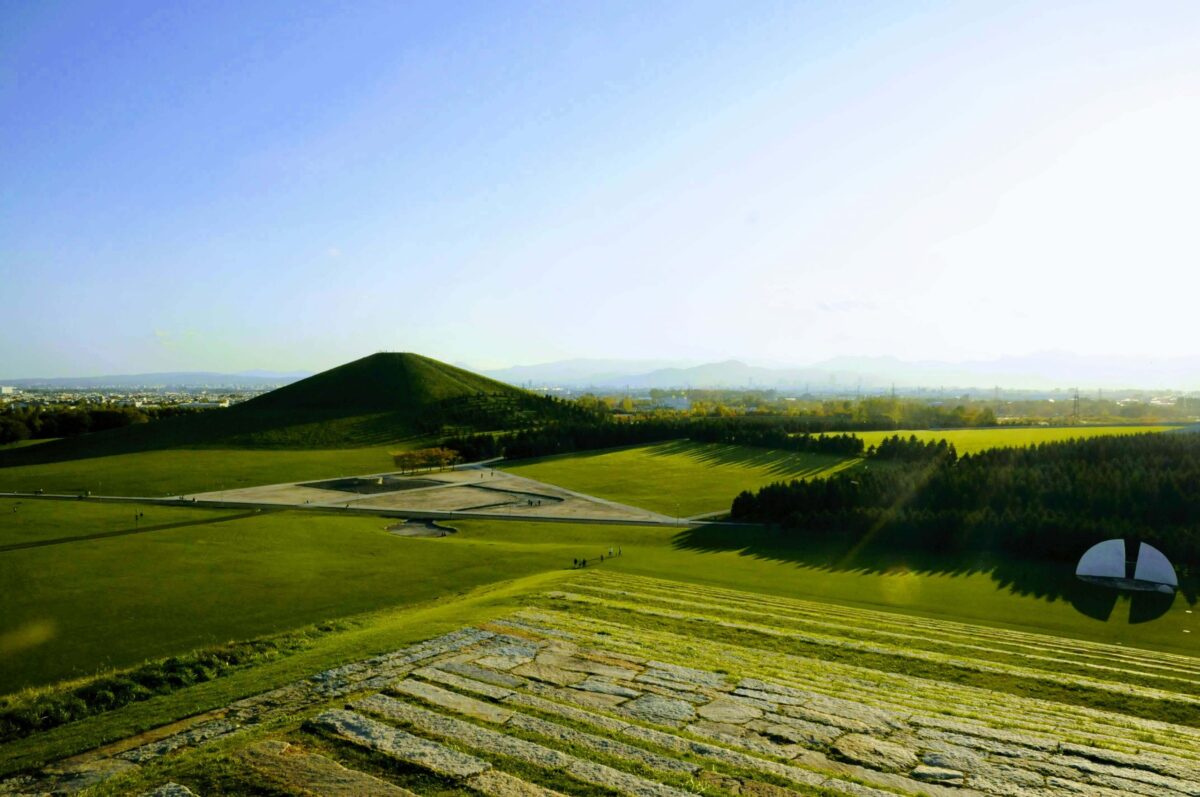 Moerenuma Park is a very large park with a park area of 1.89 k m2, and it is quite difficult to walk around.
Therefore, we recommend that you rent a bicycle at the entrance of the park for 200 yen for 2 hours.
Moerenuma Park Color Map:http://moerenumapark.jp/moe/image/map_color.pdf
Glass Pyramid "HIDAMARI"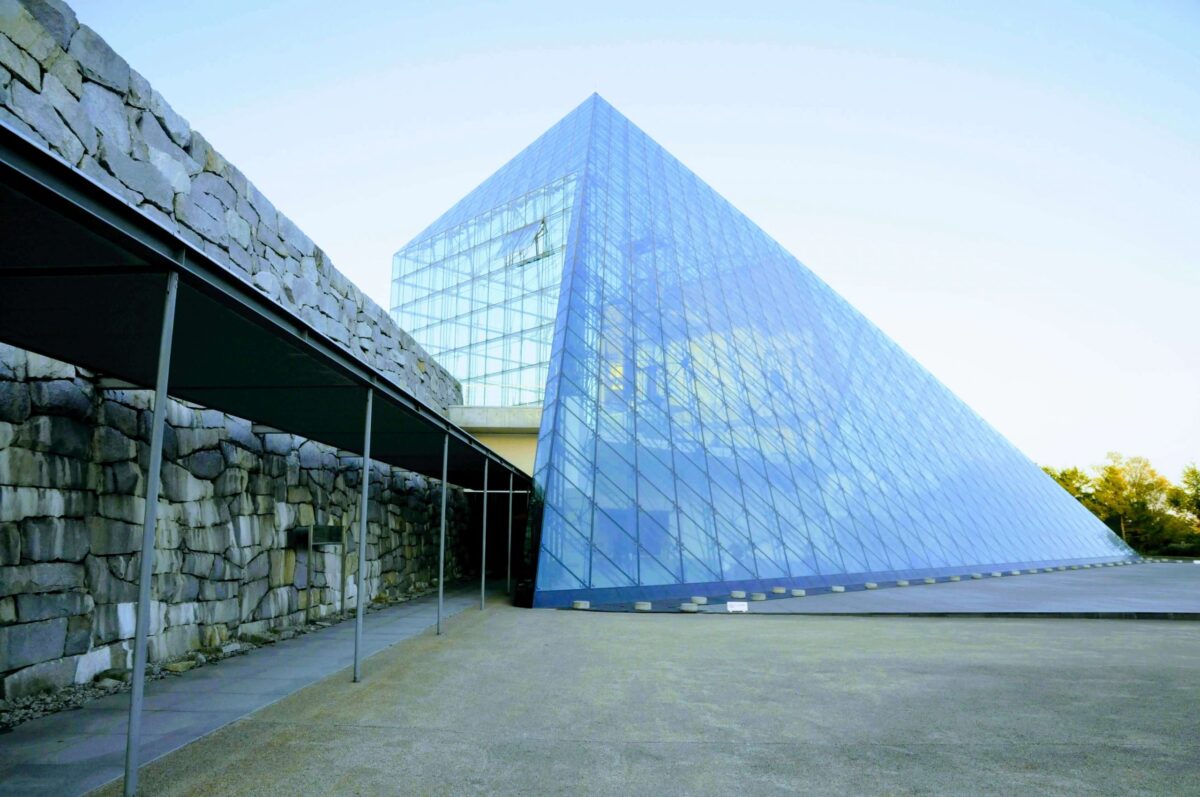 The face of Moerenuma Park, which opened in 2003, has a total glass area of 2,483 m2.
Its characteristic form reminds it of the Pyramids of the Louvre.
Inside you will find restaurants, galleries, shops, rest areas and museums.
The official name of this pyramid, "HIDAMARI", was decided from among the 2,340 cases recruited from the general public.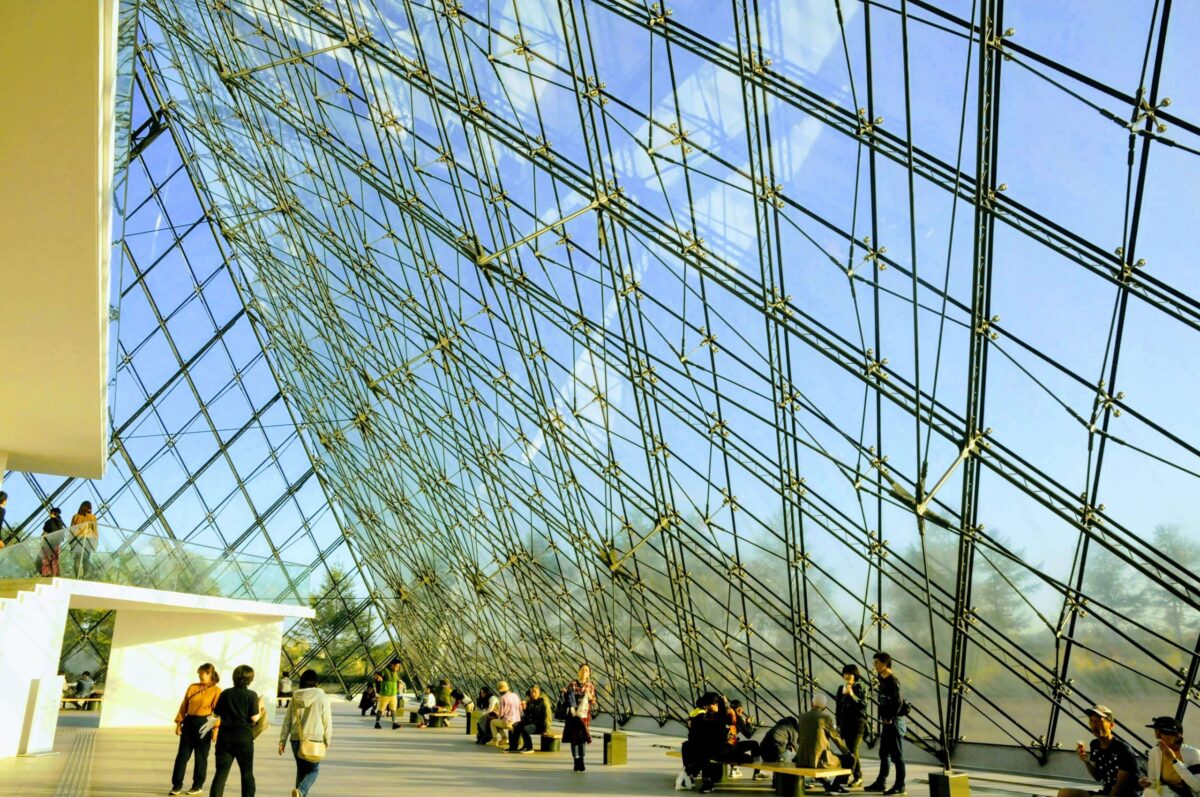 Mount Moele/Play Mountain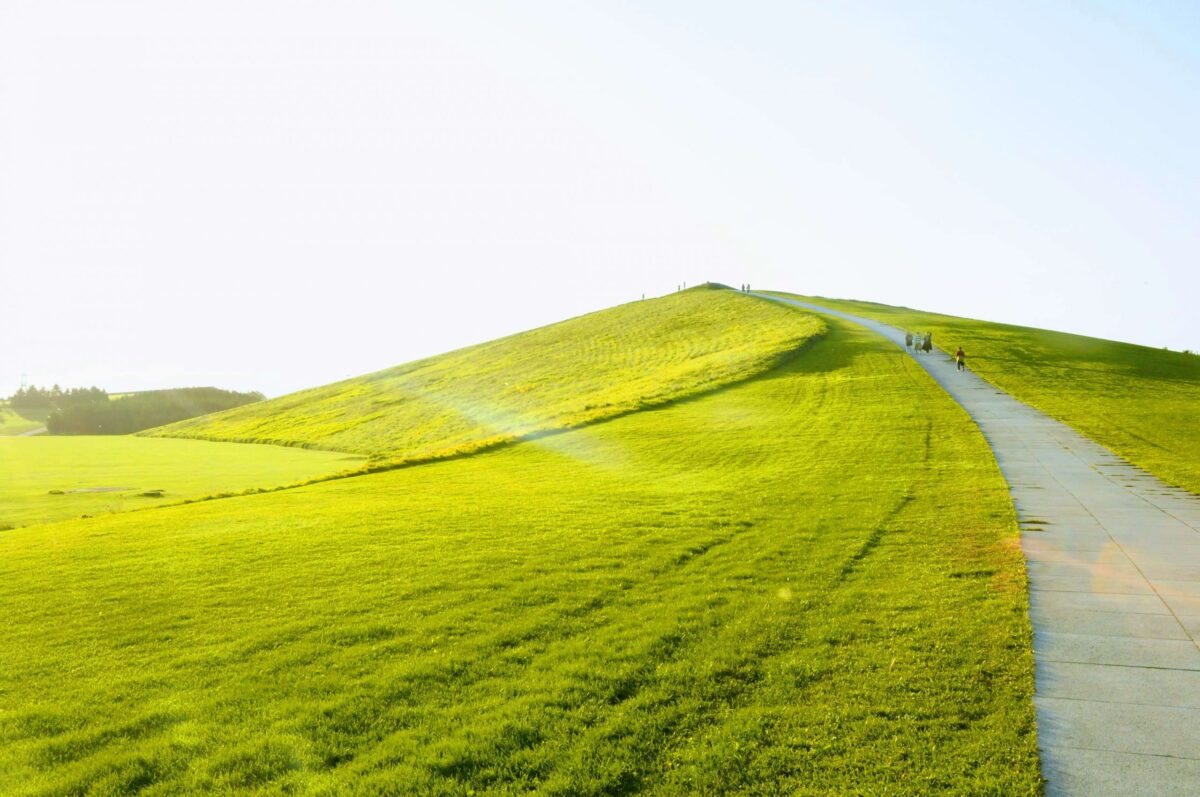 Although it is artificial, it is the only mountain in the northeastern part of Sapporo, and "ascent certificate" is also on sale for people who have climbed up to an altitude of 62 m.
It is a mountain made by loading non-combustible garbage and soil in a place where there is nothing, and there are three directions and five routes to climb.
Depending on the course you can see different aspects of Mount Moele, but personal recommendations are recommended for this slope.
Many bikes are fixed on the slope of the mountain, and it looks like a flock of bikes comes up the mountain.
The 2004m width of the observation deck at the top of the mountain is said to be in 2004, the 100th anniversary of Isamu Noguchi's birth.
Sea Fountain
The fountain that Mr. Noguchi had been researching even before the park design was in the center of the park as a huge "sea fountain" with a diameter of 48 meters.
You can enjoy the powerful art of water such as "Big One", which has a maximum jet height of 25 meters.
Basically, there are four programs held a day, but the recommended is a 40-minute long program.
Here, the accumulated water forms a big wave like the sea, and there is also a light-up at night!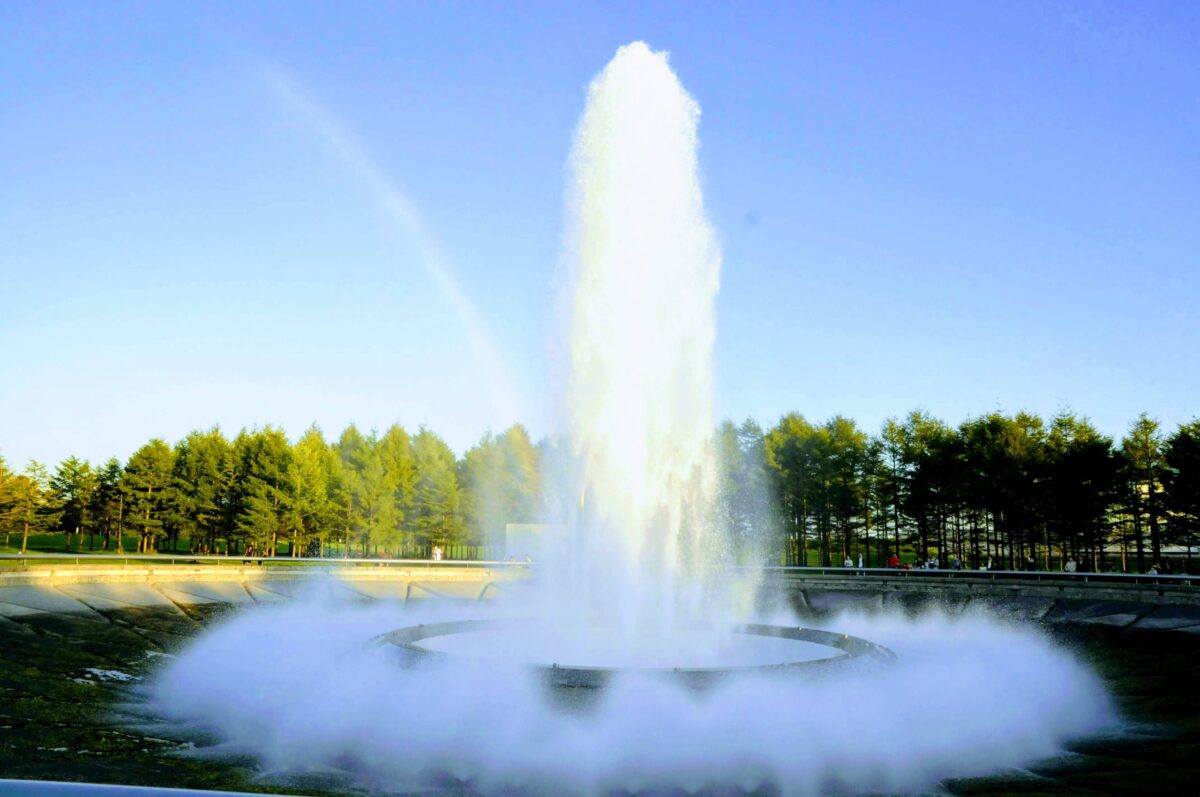 Sakura Forest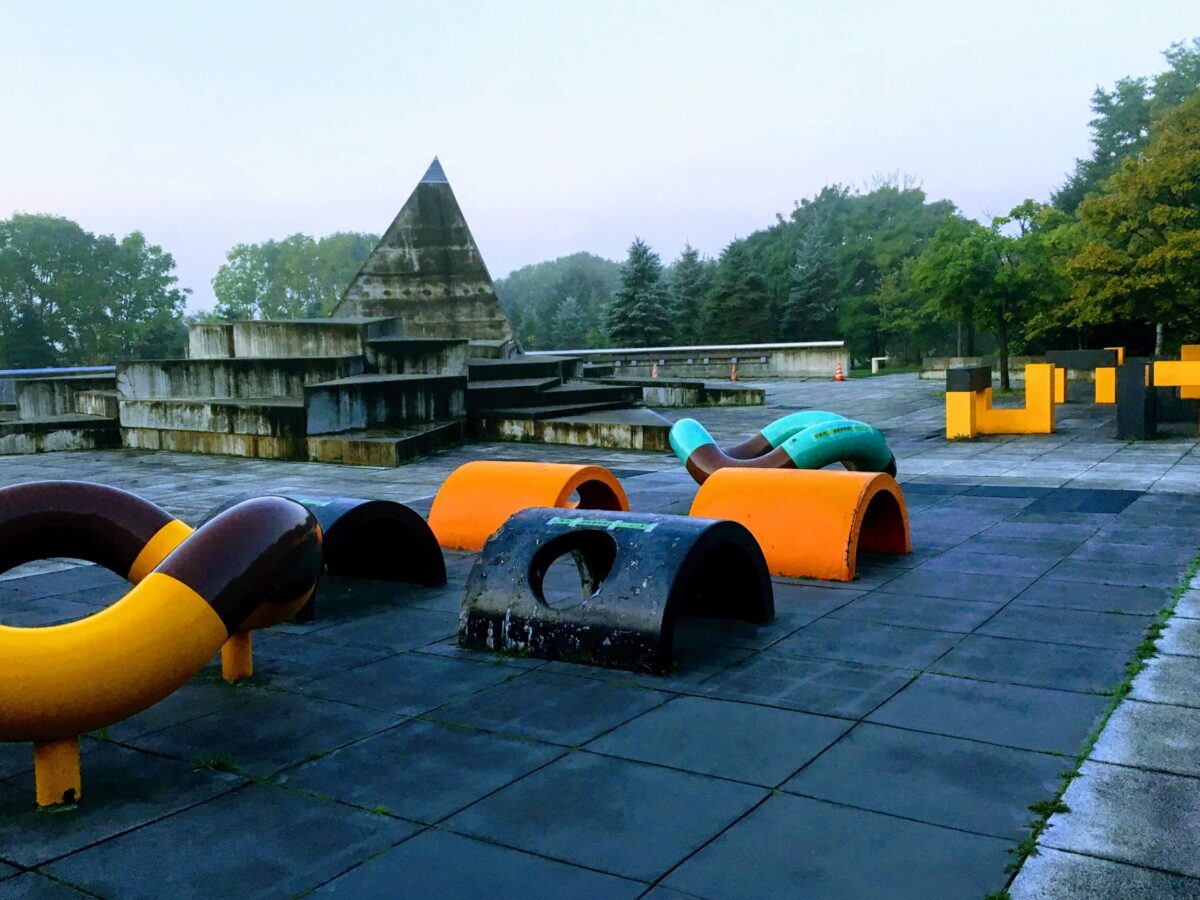 It is a booth where sculpture playground equipment designed by Isamu Noguchi for children gathers.
His masterpiece "Octetra" and other wacky design playground equipment painted in primary colors are lined up.
About the part construction of the cherry tree forest playground equipment area
In Moerenuma Park, you can feel many playground equipment that you do not know how to play just by lining up sculptures.
I also thought that it was a very interesting idea in terms of leaving the way of playing to children.
Impressions of Moerenuma Park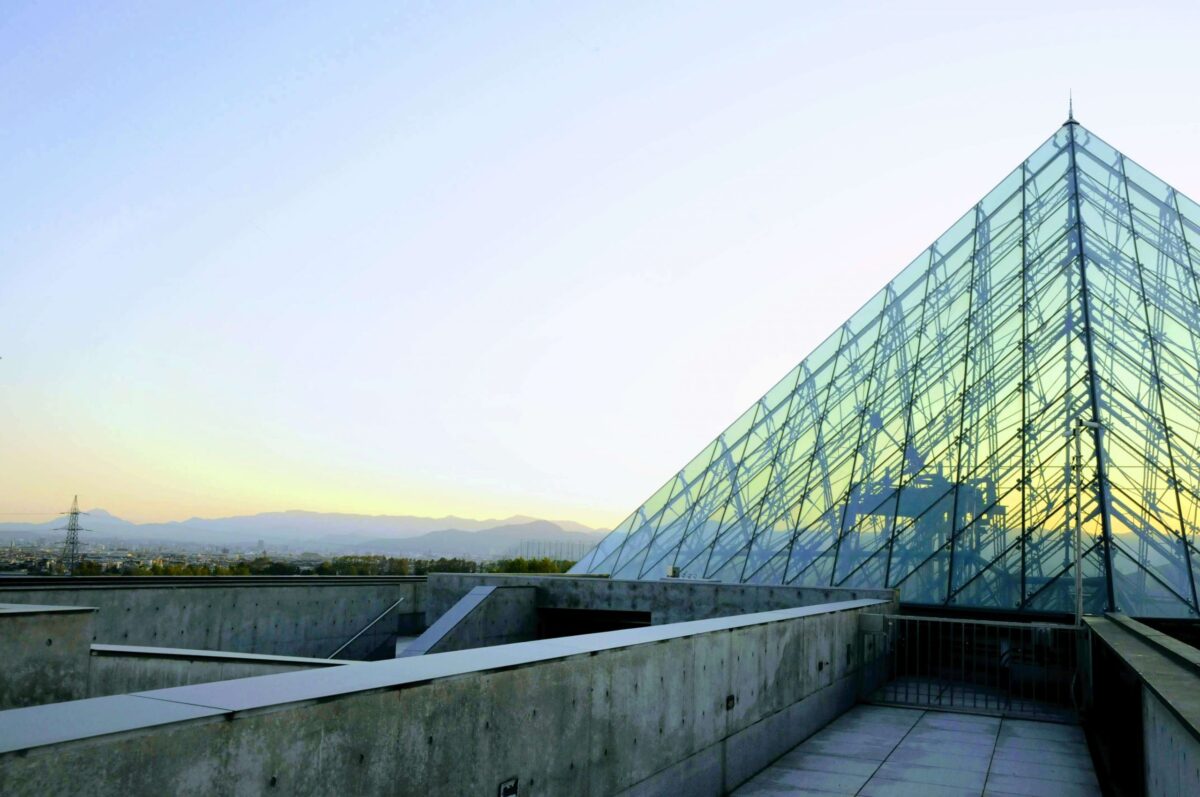 Sapporo City carried out a wonderful project to create a global art park in a landfill with a negative image.
Sapporo citizens are very proud to be able to freely use such a wonderful park!
The first time I encountered his work was at this Moerenuma performance, when it rained heavily during a tour of hokkaido bicycles.
Because it was pitch-dark and hardly visible that day, I stayed in the field at a nearby bus stop and came back the next morning.
The view of the park overlooking the no-one Mount Moele seemed to emerge in the fog, where the rain was warmed to the sunlight.
The scenery at that time was very mysterious, partly because of the heavy rain the day before, and it became an important memory during the trip.
It was a good place to compete for 1 or 2 sightseeing spots I visited on my trip to Hokkaido, so I found an opportunity and visited again!
Isamu Noguchi is interesting from a operative perspective from the style of simple sculpture moving on electricity.
Bonus: Other Isamu Noguchi works
Black Slide Mantra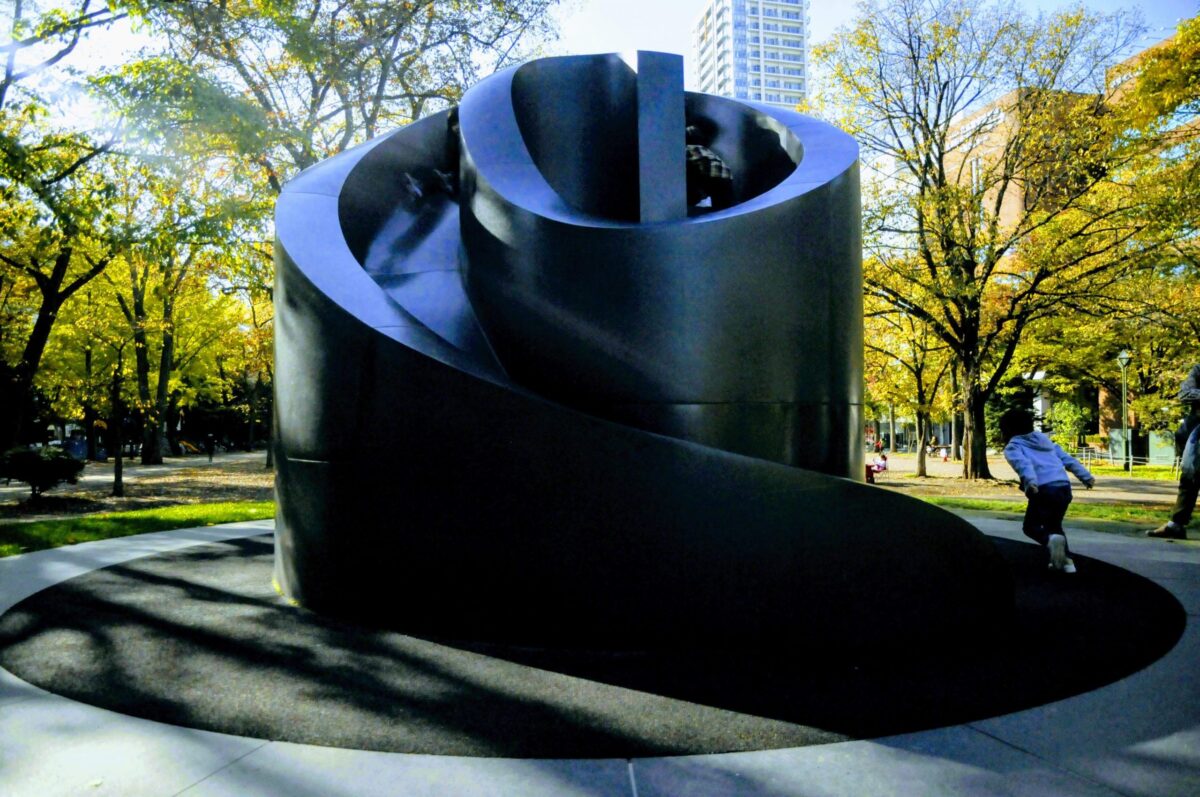 There is a sculpture work "Black Slide Mantra" where you can play in Odori Park in Sapporo, and I have taken pictures of it as well.
A sculpture created by IsamNoguchi, who saw the design of the main street, said, "I want to make playground equipment for children to play with."
Originally, sculptures were installed to fill the space where the road met, so the address crosses two street addresses.
This playground equipment was constantly seen by children, and I had a hard time taking pictures of sculptures (laughs)
If you don't want art to do any good, you want to see the kids playing here…
Expo'70 Commemorative Park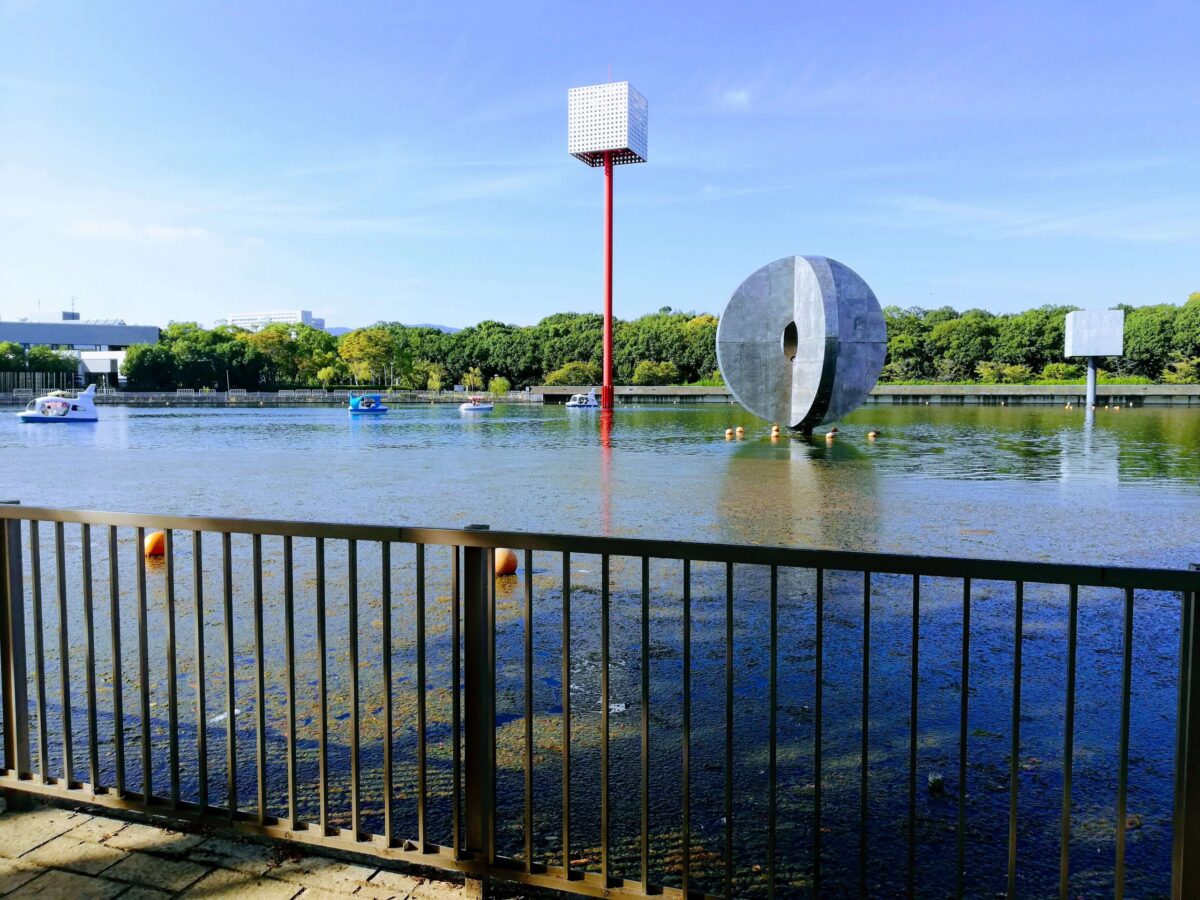 At the osaka expo, Isamu Noguchi designed a group of sculptures floating in the pond, calling it the "dream of outer space".
You can see his former exhibits at Expo'70 Commemorative Park in Osaka.
At that time, it seemed to be a work that seemed to be quite fun, such as water spouting and the work itself moving up and down.
In addition, there is a work called "The World of the Moon" in the parking lot.
I went to Expo'70 Memorial Park with Taro Okamoto's masterpiece "Tower of the Sun / Tree of Life" and EXPO '70 Pavilion!
Red Cube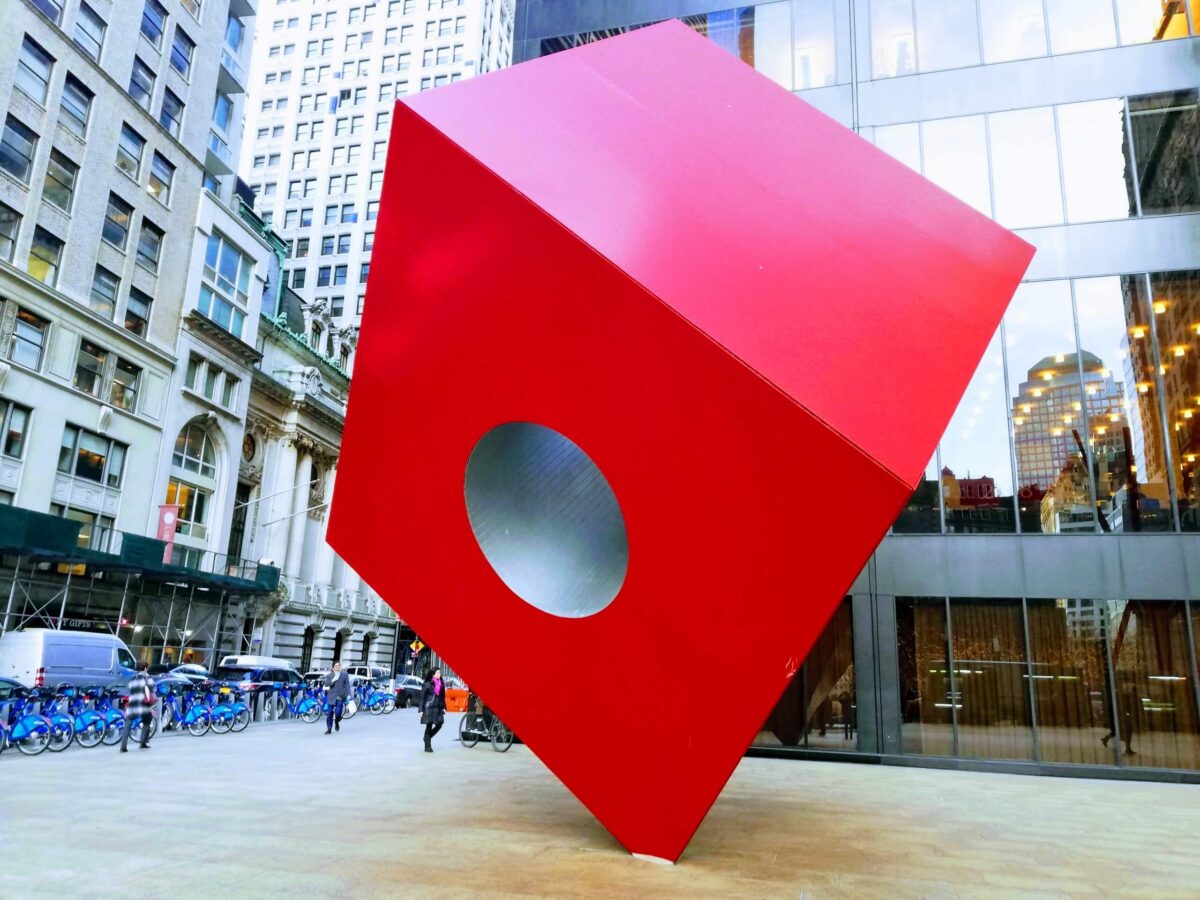 Isamu Noguchi's huge red cubes in the streets of New York city are also his work.
There is also a museum near New York that collects only his works, and you can see that he is recognized worldwide.
I felt that the U.S. has a large number of exhibits of his work (even though it is Japanese, it is natural because it is American?). )
【College Student Trip to the U.S.】A trip to North America in the frigid cold with a backpack! Introducing your belongings and schedule
Museums