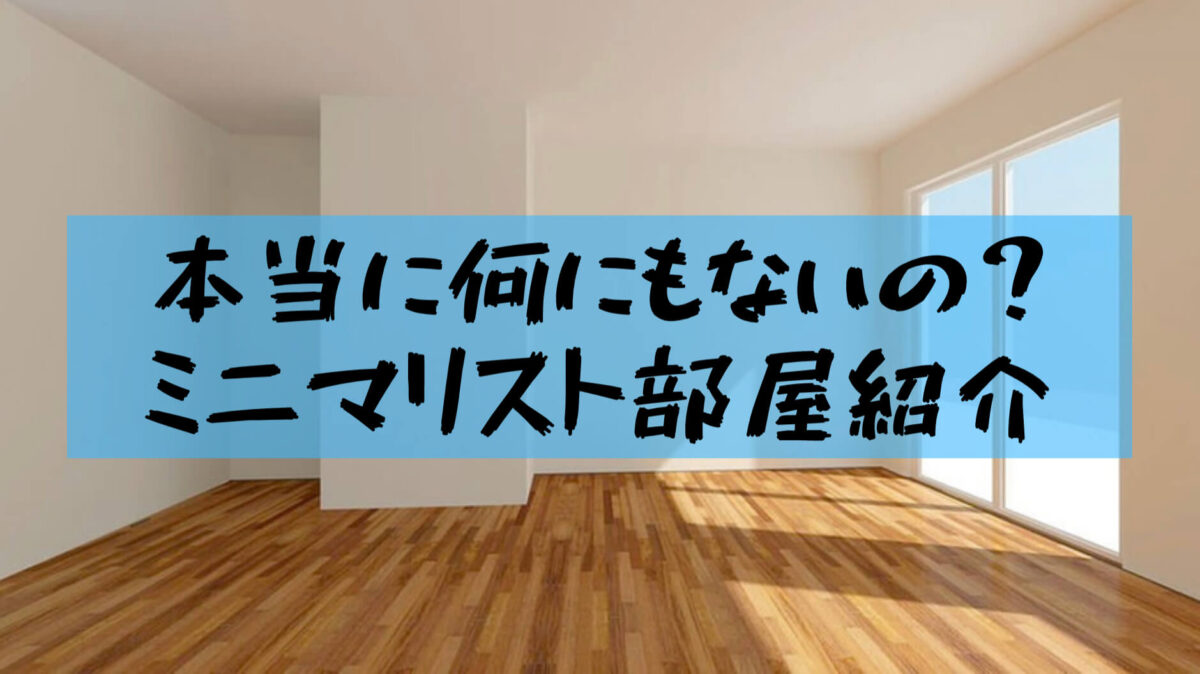 After finishing your dormitory system at the Changmanbe Campus in your first year of university, you will be living alone in Tokyo!
This time, I will introduce the rooms and belongings of university students who live alone in Tokyo!
For college students living alone, it is recommended to make it a minimalist room including the trouble of moving!
Features of the minimalist room
The ground is open.
Minimalists don't put things on the ground to save them the trouble of cleaning, in addition to being originally small.
If you do not have the trouble of cleaning things up, it will be easier to vacuum, and cleaning itself will not be painful.
Not very wide
Minimalists have little thing to squeeze into the room, so you can live satisfactorily even if you don't have a large room.
I myself was a property without a 6 tatami mat with a bath and toilet, a loft, and a veranda, and it was too large.
People are hard to call.
There are no futons or tableware in the minimalist room, so be prepared to invite family and friends to your room.
When you come to play, you need to bring a paper cup, paper plate, sleeping bag, etc.
Minimalist room room
I will explain the university students' minimalist rooms and what is located in the room in order from the top left!
Suki Mat
In the past, mattresses were laid directly, but as a measure against mold during the rainy season, we tried to lay a sole.
Not only can mold be prevented by improved breathability, but it is also recommended because it is airy and cool in summer.
When drying sheets and mattresses, folding the sunoko sheet can also be used as a stand to dry futons.
Folding desk
Basically, I study at university and do not study at home, so I mainly use meals for purposes.
In addition to eating, you can bring it to the veranda or bathroom so that only one person can do it in various places.
The downside is that the desk is low and you sit on the floor instead of a chair, which can hurt your back.
Microwave
Since microwave ovens do not have to be at least, I was thinking about abandoning them for a while.
However, it is convenient for warming refrigerated rice and boiling hot water, so it remains somehow.
The electricity bill may cost quite a bit, and the place may be heavy, so it may be gone in the future.
Refrigerator
There are many opportunities to cook, so it is relatively large rather than separated? I continue to use the refrigerator.
Ice pillows, vegetable juices, calpis undiluted solution, frozen green onions, miso, etc. are always available.
In summer, it is also used to freeze garbage until it is disposed of, or to store cooked rice.
Washing machine
Personally, washing machines and refrigerators can be the hardest part of minimalist life.
The clothes I wore are placed directly in the washing tub and washed together twice a week on Wednesdays and Sundays.
If you pay attention to detergent and ventilation, drying in the room is recommended for living alone because you can dry without worrying about the weather.
rice cooker
There are also products that can cook rice in a microwave oven, but it is cheaper to cook in bulk.
Although I live alone, I use 10 go-to-have cooking that I brought from my parents' house, and I usually cook 6 go (2 days).
In addition to cooking rice, you can also make steamed vegetables by putting carrots and other vegetables on top of the rice.
This is the minimalist room.
I spend most of the day in college, so there's really no one in the house.
You can see from this room that you can live even if there are few things.
University students and minimalists living alone are recommended because they are the strongest combinations.
↓ Other college students minimalist room article
Merits of becoming a minimalist university student living alone [There is also a room introduction! ] | minimalist kou's blog
College Student Minimalist