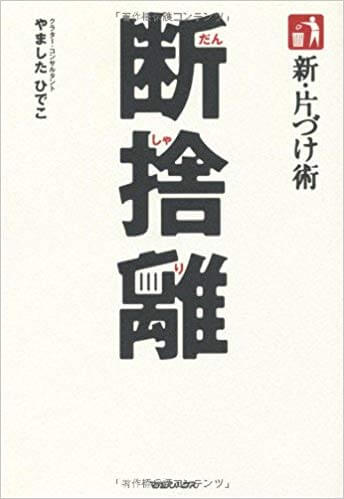 Do you remember that the word "dissolute" preceded the widespread use of the word "minimalist"?
It was originally a word in yoga, but people applied the idea to the clean-up, and I made the process until I went to the idea of being minimalist.
This time, I will write the contents and impressions of "abandonment" of Mr. Hida, a krata consultant who is the origin of the minimalist!
Hidoko Yat
◆Krater Consultant. "Abandonment"

Born in Tokyo and lives and works in Ishikawa Prefecture. Graduated from Waseda University Faculty of Letters.

At the yoga dojo that he entered while he was in university, he encountered the philosophy of conduct that let go of the obsession of the heart, "decisiveness, abandonment, and separation".

Afterwards, this line method is incorporated into daily life, and it is applied as a tidying up technique.

Since 2001, he has been developing "Abandonment Seminars" throughout Japan as a krater consultant.

It has overwhelming support from a wide range of people regardless of age, gender, or occupation

https://profile.ameba.jp/ameba/danshariblog
What is "abandonment"?
In the idea that Mr. Hidako who did, a krata (junk) consultant, has advocated for many years
"Cut off" = Cut off unnecessary things that do not come in
"Throw away" = throw away the junk that is indestered in the house
"Separation" = Away from attachment to things, I am in a spacious "free" space
It is described as "behavioral techniques that make life comfortable by getting to know yourself through the cleaning up of things, organizing the chaos of the mind, and making life comfortable", or "How to organize the junk of the mind by clearing up the junk of the house and replace life in a good mood".
Content of disconnection
Chapter 1 If you know how it works, you will be motivated.
Unlike the cleaning and storage techniques of the previous days, disconnection does not even need to be cleaned up in the end.
Dissolutement is not just a process of reducing things, but also allows you to face your inner self along the way.
Having a lot of things represents that things are not in the place where they should be, and giving unused things to people is also a dissolute.
Chapter 2 Why We Can't Clean Up
The author writes that there is a problem not only in the person but also in the society that the thing accumulates.
If you fall into the trap of discounts and percentages, things will accumulate more and more.
There are also three patterns for people who can't clean up, which can be classified into the following three types.
Escapism type
Past obsession type
Future anxiety type
This chapter describes specific ways to break up.
I encourage you to start by classifying the junk scattered in the house into "things that you do not use", "things you use", and "things with strong feelings".
Chapter 3 First of all, from the arrangement of the atama
Since we focus on the "now" and think about abandonment, if "things with strong feelings" are trapped in the past and the future, measures are necessary.
When I think of things as friends, I never get in touch with everyone, and I'm getting closer and apart. In other words, you can think of letting go of things you don't use.
We also need to look at the "damage that happens by not throwing away."
Chapter 4 And the body is moving
From here, it is written that you will be aware when actually abandoning.
The trick is not to try to do it all at once, but to start with a part, no matter how small it is.
Let's start cleaning up garbage from anywhere and every time.
If you touch from something memorable, such as an album, you will not be able to collect it.
Chapter 5 Exhilaration, liberation, and mood!
By reducing things and deciding where to put them, the room will not get dirty.
In other words, there is no rebound in the abandonment. Once cleared, it will be in an autorun state.
The author writes that the separation is not the recommendation of the saving and the clean poverty life at all.
To the last, abandonment is a way of life that is not bound by the past or the future by looking at "now".
Impressions after reading "Abandonment"
Minimalism seems to be undeniable, but I felt that the separation was complete.
It may have been the best book I've ever read!
Please read it by all means!
Other minimalist books