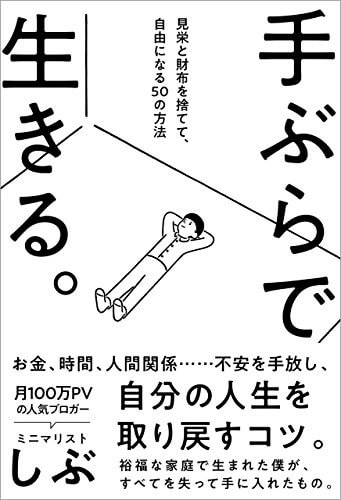 The reason I became minimalist was the "Minimalist Shinbushi No Blog" that I found when I was in high school.
Mr. Rebu, who conveys the wonders of such minimalism, published a book this time, so I read it!
This time, I will introduce the contents and impressions of "Living empty-handed – 50 ways to throw away your looks and wallets and become free"!
Minimalist Reluctant
His hobbies are living lightly with few things and collecting minimally designed goods. His motto is "Minority Elite". ■ Supervised apparel"@lessis_jp"being developed at Tsutaya Bookstore etc.

Twitter
He never had trouble growing up in a wealthy family, but his father's bankruptcy changed his life.
Poor and unable to get what he wanted, he began to grudge his situation.
However, know the life only by what you like as a minimalist, and try to claim to be a minimalist.
He also actively disseminated information about minimalists on blogs and Youtube, and became famous.
After that, we launched minimalist brand minimals and less is and developed products.
Live empty-handed. substance
Chapter 1 Make Your Life Free.
If you are not minimalist, let's look around the house once.
Then, do you notice that there are surprisingly few things around you that you really need?
In this chapter, Mr. Shibu advocates "living in four and a half tatami mats and living on a month of 70,000.".
At first glance, life under these conditions sounds difficult, but it is possible depending on the ingenuity.
In order to live in four and a half tatami mats, it is important to eliminate those that use unnecessary places.
Storage (more and more things to put things away)
Television (if you lose the TV, you can reduce the time you waste)
As an alternative to not having one, make the most of the net and rental services that do not take up space.
In addition, you can save money on these fees with flat-rate services and cheap SIMs.
I felt that the contents of this chapter were actually being executed by me.
If there are actually few things, it is possible to live in Tokyo for less than 70,000 yen.
There was a time when he influenced him to "sleep on the floor" and imitate it.
However, I gave up because it became exactly the same situation as Mr. Rebu (in the book for details).
Chapter 2 Set things free.
This chapter contains useful ideas to create a minimalist"little thing" situation.
By using electronic money or credit cards, you don't have to carry a bulky wallet with you.
In addition, by buying classic items instead of limited items, you will be freed from being troubled by selection when shopping.
On the other hand, when it comes to what you have, we recommend that you buy and throw away immediately if you have time to worry.
Mr. Shibu has the idea that his belongings "choose something that he loves a lot, not likes it".
This is based on the "minimalist triangle (in the book for more information)" at the root of his idea.
Mr. Shibu, who writes blogs and develops goods, thinks that "it goes from the consumption side to the production side".
This means thinking by "producing" from the thought stop state of "consumption".
From the perspective of minimalism that is not swayed by consumption, I felt very convincing.
Chapter 3 Set your body free.
Instead of having less and less, minimalists pay close attention to those less.
When it comes to food, many people want to eat something that is good for their health and something really tasty.
She try to avoid addictive foods such as coffee, sugar and alcohol.
In addition, by eating something that is good for the body with one meal a day, I was making a state where I could taste the best luxury.
He also believes that health is the best asset, and writes that money should be put to prevent it.
Many people think minimalist = stingy, but they put money on what they really need.
Time is money As the word Time is not money is, time is very valuable.
However, no matter how much time you have, if you don't have a healthy body, you will waste the time left.
Chapter 4 Free your time.
Just as important as health, there is "time" given equally to every human being.
It is not a dream to change your life 180 degrees depending on how you use it, because it is given equally to everyone.
He thinks we should move away from taking away time and spend money on what creates time.
Even though there is nothing I want to see in particular, tv and SNS that I watch with inertia if I notice it are the representatives.
On the other hand, now I can leave various housework to machines, and I can create my own time.
When buying or paying for things, invest in "time-saving things" in the long run.
I thought that there was such a thing as another thing to take time.
Time (and effort) to get lost with many choices
Time to put away a lot of things
Time to buy for approval cravings
On the other hand, when you get a minimalist and have time at your disposal, you will think and act.
People who spend time may not spend time on the contrary.
Chapter 5 Free your thoughts.
Reducing your options can save you the energy you use for the vast choices you make every day.
It is also important to realize that your belongings are not "items to enhance your value".
By accumulating trust from people, not things, you will be able to live a satisfying life.
Minimalist thinking is also an effective idea in dealing with the "greed" at the root of human beings.
Human beings get what they want, but they're getting more they want.
No matter how much you get it, you can't be satisfied, so no matter how rich you are, there are people who can't be happy.
However, if you are satisfied with the current situation and become a situation where you know enough, you can feel happy even if there are few things and money.

I myself am a person who is very lost in options, so "I do not hesitate" was a loco from the eyes.
The longer you get lost, the better the result, so it's also useful to narrow down your options.
While I can understand the idea of being satisfied with the current situation, I also feel like "Is this okay …?".
Therefore, I try to follow the unformed greed such as "sleep desire", "appetite", and "knowledge desire".
Chapter 6 Free relationships.
Stop speaking ill of others, taking your time away, or forcibly dealing with people who are harming you.
Being honest with your likes and dislikes and breaking off relationships is also a way to live a better life.
If you refuse to have a drinking party with your boss you don't like, you can save time, money, and mental strength.
Keep a distance from the people you don't like, but don't take away your time and energy.
Some people distance themselves from minimalist and disgusting people while pushing their thoughts.
It is just a selfish person who tries to push your thoughts through by rejecting the other person.
Just as the words "Look at people and look back on yourself", it is also important to look back on yourself.
Live empty-handed. impressions
I read Mr. Shibu's blog a lot, so I feel like I re-compiled the blog post in the form of a book.
I was able to read it in a pleasant mood like when I was reading a blog at that time.
He defines a minimalist as someone who is surrounded only by what he likes, and his attitude is also evident in his belongings.
I felt that my favorite gadgets and game consoles were in my possession, and it was a little different from people who just have few things.
There was something somewhat unreasonable, such as "I can't imitate it as expected …"?
However, I felt that it was a book that summarized the idea as a minimalist in an easy-to-understand manner as a whole.
Please read it by all means!
Other minimalist books