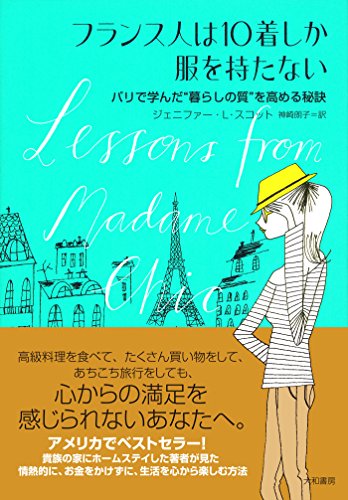 When you hear "minimalist", some people may think of a strange person who has only the same clothes in a blank room.
Yes, there are a certain number of such minimalists, but there are many who balance fashion and minimalist.
This time, I will report on the impression that I read an essay "French people have only 10 clothes" that captured ideas close to minimalists from the eyes of Americans!
The French have only 10 clothes.
It is based on The Daily Connoisseur, a blog written by Jennifer L. Scott.
Because the response of the series article "20 secrets learned in Paris" in the blog was good, it seems to have summarized the contents of the blog in more detail.
Her life-changing personality in France is a pleasant word about what she learned from the opposite madam and the city of Paris.
The French have only 10 clothes.
I
From los Angeles in the U.S., which is easy and comfortable, you will be a homestay in Paris, France as an exchange student.
I was shocked by the difference in life and way of thinking between the United States and France, and wrote this book. Students
will learn various ideas from the two madams introduced below with their readers.
Madame Thicke
"I" is the first woman to do a homestay, and she lives a chic and stylish life with her husband and children.
Because I always have my own opinion firmly, sometimes I sometimes say things frankly and sloppyly.
A person who knows what is important in life and values his family above all else.
Madame Bohemianne
A woman I met in the exchange student program that I was participating in.
She is a single mother with an optimistic outlook on life, and she has a warm personality and charm.
The family is friendly, laid back, cheerful and bohemian.
The French have only 10 clothes.
Part 1 Diet and Exercise
The author of this work lived in the United States, but came to Paris to study abroad.
It mainly features the "Madame Chic" and "Madame Bohemianne" that she met there.
・ Snacking makes you not feel the taste of dinner enough
・ The trick to not snacking is not to place food in visible places.
・ In France, eating and walking is not sloppy, so it is only a tourist
・ It is important to have a proper meal, in addition to delivery
・ Do not put up with meals, taste firmly and eat
・ Do not go to the gym and exercise moderately in your daily life
Part 2 Wardrobe and Grooming
"I" is surprised that not only Madame Thicke, but many Parisan people come the same clothes over and over again.
But they value each piece of clothes.
In addition, I also touch on how to make up.
Wardrobe in 10th place
・ Throw away clothes that you do not need more and more
Find your own style
Make up like no makeup
Drink a lot of water
・ Dress like you can meet anyone at any time
Part 3 Living in Chic
Madame Thicke lives a very chic life, as "I" named it.
But she had everything she had with the best she had.
Here are the points to spend chicly and stylishly.
・ Make the best thing everyday use
・ Behave gracefully only when you are alone
・ Make clearing up have a rule
・ Creates a mysterious atmosphere
Focus your mind on one thing
Be satisfied with what you have
The French have only 10 clothes.
This book titled "French Only Wear 10 Clothes" is a fashionable minimalist (simplist?). ) comes out.
Some books differed slightly from the general opinion of "minimalism", but I thought it was a very beautiful way of thinking.
In the first place, there is no clear definition of minimalism, so it can be considered as a kind of minimalism idea.
I think it's an ideal life to imitate in that it doesn't just reduce your belongings, but also leaves beauty!
Please read it by all means!
Other minimalist books