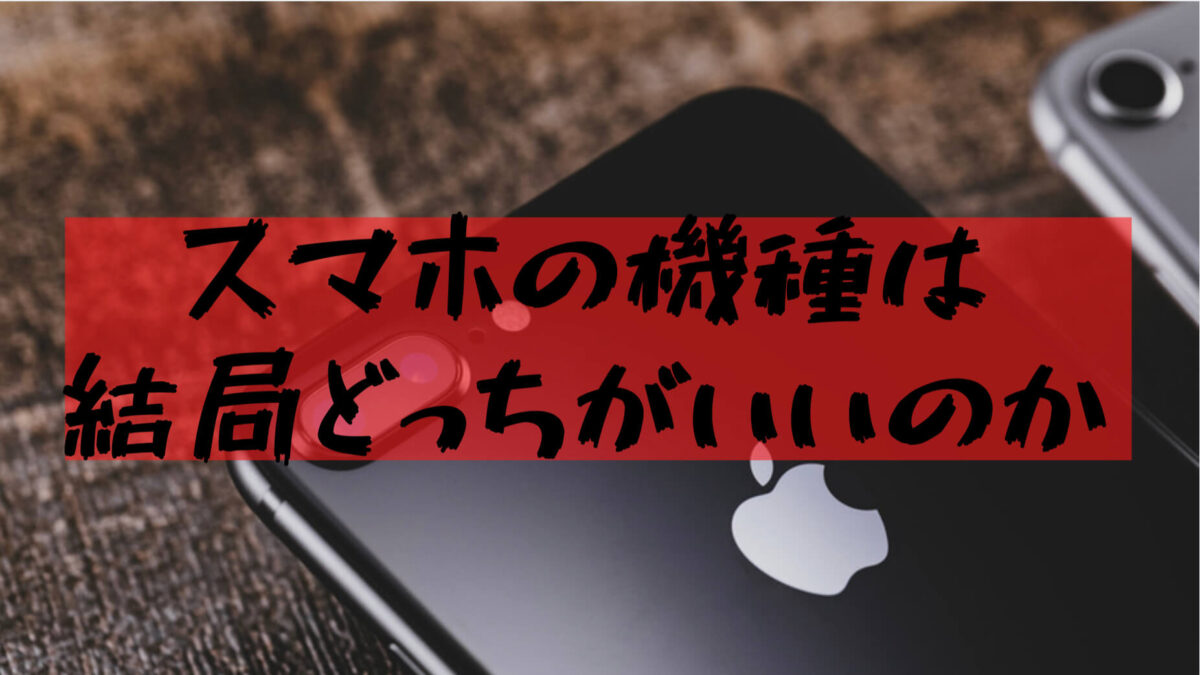 Japanese people are strangely using iPhones, but for some reason pcs do not use MacBooks very much.
On the other hand, the share of the iPhone is not so high in the world, and Android smartphones are widely used.
This time I will introduce the advantages / disadvantages of each while comparing the iPhone and HUAWEI P20lite!
[fee, free shipping] net off if you sell a mobile phone, a smartphone♪

The basic performance of huawei P20lite
This time, I will use HUAWEI "P20lite" purchased between iPnone6 and SE2 as a comparison target of iPhone.
The reason I bought this device was that the price was cheap and the appearance was a lot like the iPhoneX.
When comparing it to the iPhone, I will post the basic information of HUAWEI "P20lite".
HUAWEI P20lite Price
The price goes up and down a little depending on the store you buy, but it is roughly the price around here.
Considering that the price of the iPhoneXR released at the same time is about 60,000 yen, you can see that it is quite cheap.
Because it is a SIM-free model, I have a contract with 3GB of cheap SIM.
HUAWEI P20lite Size
The size is 149mm long× 71mm wide× 7.4mm thick, slightly larger than the iPhone, and weighs 145g.
The color can be used by both men and women, midnight black, Klein blue, sakura pink.
Huawei P20lite Features
Desering: Yes
Internal memory: up to 256GB with microSD card
One-segment: None
Oifu Keitai: None
Soft cover enclosed
What I felt when I tried using the P20 lite and iPhone
Cospa: android
In my opinion, Apple spends about 70% on technology and about 30% on brand power.
Recently, the part that ordinary people do not notice has been improved, and only the price goes up fast.
What's great about the new iPhone for Japanese people? Unfortunately, there are many things that can not be answered even if you ask.
Therefore, the price is half the price of the iPhone, but if you use it everyday, there is no problem in terms of specifications even on android.
In addition, the P20lite looks like the iPhoneX, so you can feel like you're real at half price.
If you put an apple sticker and fidd with the home screen, the appearance will look great for iPhoneX …!
Device size: iPhone
According to the official information, the size is as follows, the thickness is almost unchanged, and the iPhone feels slightly smaller.
iPhone SE2… 138.4mm × 67.3mm × 7.3mm
p20 lite… 149mm × 71mm × 7.4mm
The P20 lite feels painful with one hand, so it may not be suitable for women or people with small hands.
The P20 lite insists on its presence when placed in the pocket, so it's hard to sit in your pocket.
Thanks to Apple's technical capabilities, other companies are not able to achieve this device size.
However, the operation screen can also be drawn to the lower right in the settings, so don't you worry that much?
Operability: Android
The iPhone6 is real, se2 is equipped with a provisional home button of 7 specifications, and this should be the person who is looking for it.
Apple was also selling "Home Button Back", but this is more inconvenient than I thought!
If you are used to it without a button, the two-step operation of "bringing your finger to the button → pushing the button" is troublesome.
P2 lite only had to flick the screen from the bottom up, but this time if you do it, the control center …
In addition, Android devices can customize the operation screen, and you can place a search bar on the home screen.
If you do not know, you can search in 2 motion of "Tap the search bar → input" and it was very convenient.
On the other hand, the iPhone is troublesome to increase the procedure one by one with "Flick down the screen → tap the search field → enter".
I heard that Android is slow in motion when it comes to operation, but it is a level that you do not care about in everyday life.
However, note that the sound game of the app may not be talked because the timing is too out of timing.
Functionality: Draw
The wallet mobile phone which is a big reason of the replacement this time is a feature which does not exist in P20 lite.
It seems to be implemented after P20 pro, but the weight will be very heavy at 180 g.
In addition, rakuten card can be registered with QuicPay and it is soberly nice to be able to earn points.
On the other hand, I think that the biggest disadvantage is that the earphone jack has been lost since the iPhone7.
Some people seem to be not particularly troubled with wireless earphones and lightning jacks.
However, these earphones are basically expensive, and it is not easy to buy at 100 uniforms just because they are broken.
Sometimes it is inconvenient when you want to insert earphones into a laptop, someone else's terminal, university equipment, etc.
There is a hand using a conversion plug for lighting as a countermeasure, but it is also inconvenient that charging cannot be done during that time.
Considering that huawei has a jack that changes thickness only 1mm, it seems that thinness is not a reason …
Other opportunities to take pictures during the lecture make the shutter sound of the iPhone users very jarring.
There are also applications of silence cameras, but only a few are using it because it can not be set to the default.
In that respect, Android is a level of shutter sound that you can't hear if you block the speaker.
Finally, the weak point of the iPhone so far is that it is "vulnerable to cold" (SE2 is unknown).
On my trip to Hokkaido, the power of my smartphone dropped due to the cold, and I could not take even one photo.
When going skiing, etc., the battery decreases abnormally quickly, and the power supply drops even if it is full, so be careful.
Customness: Android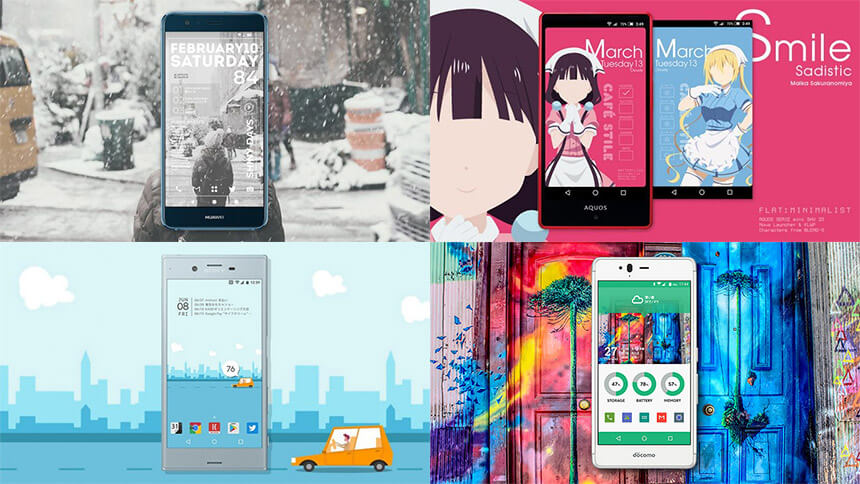 Quote:https://www.orefolder.net/2018/12/homescreen-2018/
It doesn't matter for those who aren't interested, but the custom or not of the home screen is personally large.
When you search for "Smartphone Home Custom", the beautiful home screen is almost Android smartphone.
Android devices have a wider custom range of app sizes, placements, and widgets.
Using the app, I was displaying a clock and a search field where the timer starts within the range where the finger reaches.
In addition, android apps don't require review, so they're rich in variety and features and fun.
The iPhone also struggles to erase the docks below, and Apple is reducing its freedom in exchange for safety.
Customization on iPhone is limited to "Create Shortcut" or "Jailbreak".
We do not recommend that you "jailbreak" your phone because it will be excluded from Apple's compensation.
Advantages of terminals
As a summary, we will summarize the benefits of iPhone SE2 and HUAWEI P20 lite.
Each disadvantage is not special because it is the advantage of the other party.
iPhone SE2
Recommended for those who are particular about apple, want a high-performance smartphone for games, and want to pay for a smartphone.
small
thin
They move crispy
Osaifu-Keitai
Privacy protection
HUAWEI P20 lite
Recommended for those who are not particular about the apple brand, want to focus on cospa and customize screens and apps.
full screen
light
Earphone jack available
USB Type C
Customable home screen
Rear fingerprint authentication
Face recognition
Some plastic exteriors
Ideal smartphone
No home button or virtual home button (position free)
Earphone Jack
Wallet mobile phone
iPhone SE2 Size
Plastic exterior
USB Type C
Rear fingerprint lock
Face recognition
Sleep button low
full screen
Resistant to cold
Can be used even if the screen is broken
Home screen can be custom-made
From an unbeliever's perspective, Apple has an image that is too caught in brand and consumer enclosures.
It's also because of AirPods that lightning is the original standard or the earphone jack is gone after all, right?
On the other hand, HUAWEI is also becoming suspicious of clouds due to personal information problems, and the development of its own OS is progressing.
Apple believes that personal information is not so secure but a large American company, so there is a guarantee in the event of a leak.
[fee, free shipping] net off if you sell a mobile phone, a smartphone♪
Gadget Articles