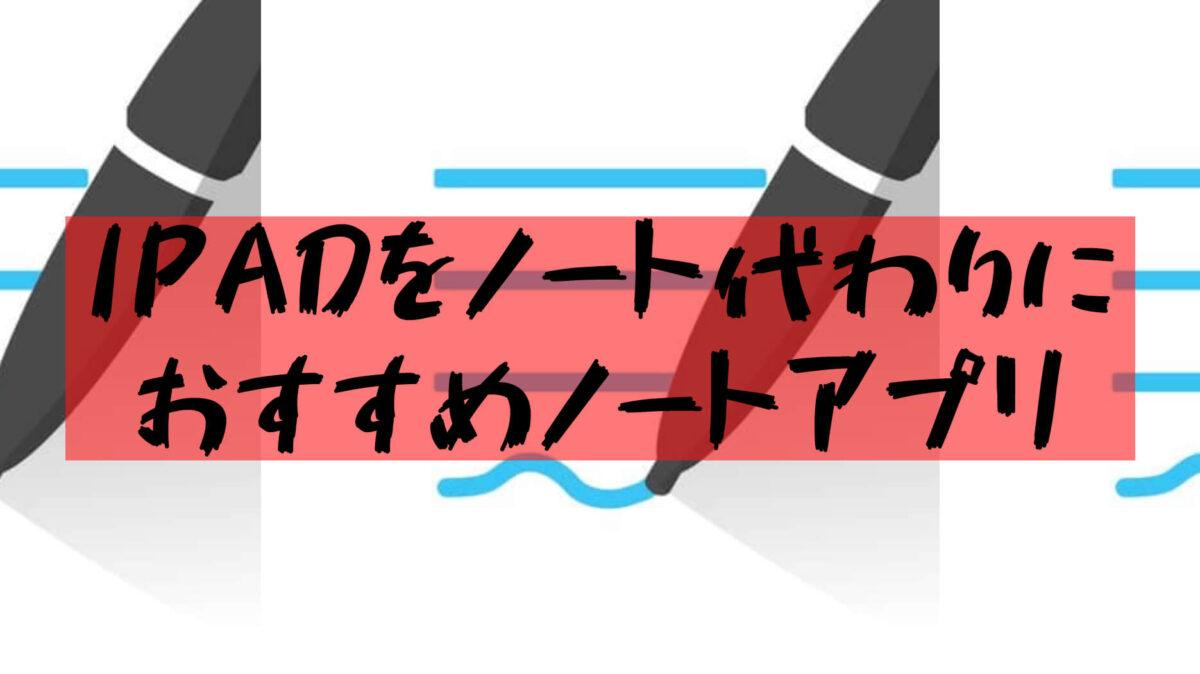 Currently, an increasing number of people use tablets such as iPads to take university boards in notebooks.
GoodNotes5 is an overwhelmingly popular app for university students, and when you search for it with the "iPad Note App", it is a storm of rave reviews.
This time, we will introduce the merits and useful functions that science university students felt by taking lecture notes on the iPad!
【University student iPad】From the method of iPad cheap purchase practiced by university students to recommended custom!
Paper notes vs electronic notes
Advantages and disadvantages of paper
There is a texture of paper.
I can lend it to others.
Bulky
Dirty, broken
I can't fix what I wrote.
Advantages and disadvantages of the iPad
You can put many books in one.
Contents can be modified
Can also be written to PDFs, etc.
iPads are expensive
I can't use it when the battery runs out.
Some lag
How to take notes on iPad
If you just take notes, an unmarked iPad is enough, and air is also recommended if you use it otherwise (I am this).
In addition to the purchase of Apple pencil, you can apply a paper texture film to bring the feeling of taking notes closer to paper and pen.
If you have many opportunities to use it, it is also ant to put a blue light cut film.
Search for "Goodnote5" in the app store and purchase it (980 yen, but quite conscientious price)
When upgrading from Goodnote4 to 5, there seems to have been a free offer, so it is safe even if it becomes 6!
Useful features of GoodNotes5
Versatility of pens
The rug when writing is almost unwrappable, and my handwriting is reproduced as it is, so it is almost the same as paper.
I felt that it was very convenient that there is no need to change the pen, there is no need to replace the core or ink!
You can choose from three types of fountain pens, ballpoint pens, and pen pens, and you can specify the color as shown above.
Automatic correction of straight lines and shapes
It is difficult to draw a straight line, but goodnote5 automatically corrects it to a straight line.
The function that corrects it to a beautiful shape when I write a square and a circle appropriately is convenient for writing a graph and a schematic diagram!
Replace note formats
There are many types of notes, and you can choose one page at a time.
The color can range from white and cream, and line types range from ordinary borders to 5-line notation.
In addition, since you can change the orientation and ruled line of the paper after writing, it is beautiful to take a notebook with a ruled line and change it to blank paper.
Import PDFs as they are
When university lecture materials were distributed on the Internet, until now, it had to be printed one by one.
In "good note5", you can import PDF directly into the note immediately before class and write it.
You can save on printing costs and paper, and you can print them as PDF again when you've finished taking all your notes.
The selection tool is god
This is the super convenient "selection tool" that can not be used for paper notebooks, and the biggest point to take notes on the iPad.
You can cut, copy, change color, move, screenshot, and more.
I save the trouble of drawing the same shape of the figure, or paste the previous class notebook as a review at the beginning of the class …
College students iPad + Notebook App!
Everyone always has a desire to take notes cleanly in class.
However, unless you know what to write in advance, there will be a gap somewhere.
With iPad, you can copy, move, cut, change color, and organize what you write once after class.
I always adjust the alignment of lines and diagrams and make paragraphs.
Also, in addition to taking notes on the iPad, what you are careful about to copy the board quickly
Use abbreviations
Stop your words
Take notes at the same speed as board books
Write without looking at your hand
Since I started taking notes on my iPad, I often have trouble not to carry paper with me (laughs)
The iPad was the best thing to buy as a college student, so if you are interested, we recommend purchasing it!
Articles about college students using iPads