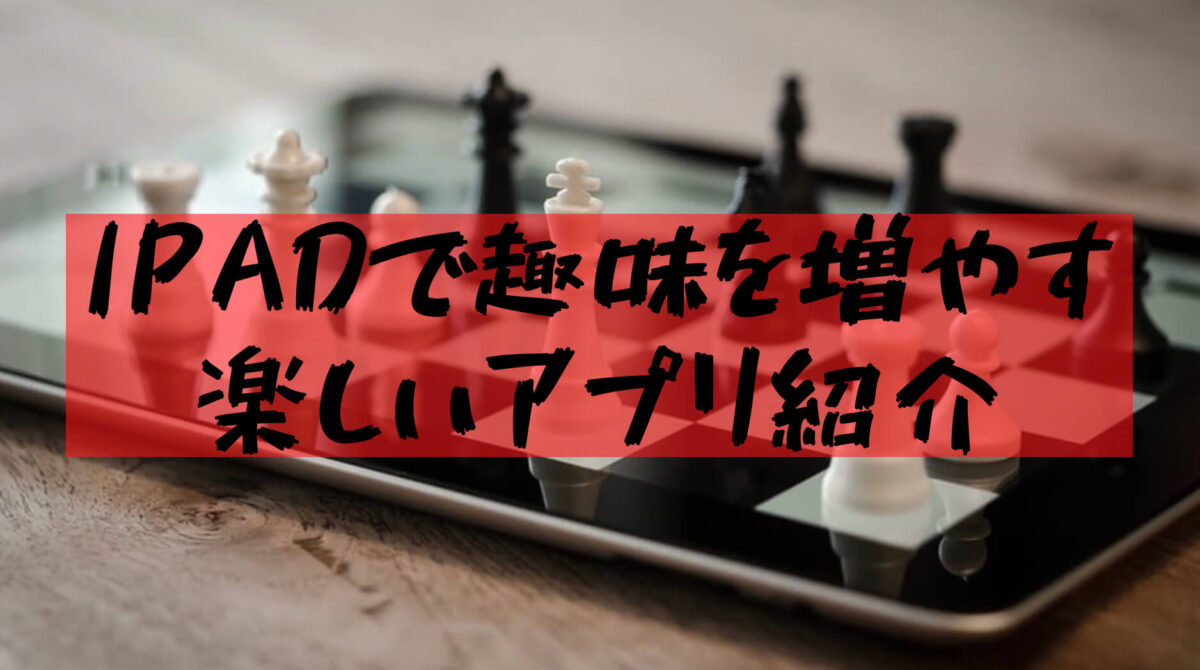 I got on the trend and bought an iPad, but I can not find a good use and I can not make effective use … To the person who says!
The iPad is a magical device that allows you to increase your new hobbies with one, so it's a waste not to use it.
This time, I will introduce various hobbies and recommended apps that you can use effectively using the iPad!
【University student iPad】From the method of iPad cheap purchase practiced by university students to recommended custom!
Apps to play with
Piano
In "Piano Keyboard Real", the texture of the keyboard and the sound when playing are close to the real piano, making it ideal for practice.
It also has a metronome and recording function, and you can move the keyboard left and right with the bar above.
It is written that it will be charged by mistake in the review, but the current version is in Japanese and it seems that there is no worry.
Because it is a large screen, there is no problem with pressing the keyboard that you are worried about on the iPhone and the range of play.
drum
"DrumKnee Drum Set 3D" is a realistic drum app from the iPad that has horizontal sensing.
The great thing about this app is that the app is linked to the movement of the bass dora (drum at your feet).
In addition, if you purchase an optional tip and attach it to your shoes, you can play the bass dora even more sensitively.
I feel like a professional drummer when I see so many kinds of drums lined up on a big screen!
puzzle
"Puzzle Game – Solve Jigsaw Puzzles" is an advert, but you can focus on the puzzle.
Many apps try to collect or charge coins, but it's a very conscientious app.
You can set the fineness of the piece and the presence or absence of the rotation of the piece, so you can enjoy it at a level that suits you.
Other recommended options include Rubik's Cube, Circle of Wisdom, Sudoku, Crossword, and Circle of Wisdom.
board game
There are many types of apps such as shogi and go, chess, Sugoroku, Mahjong, playing cards, etc. that have been played since ancient times.
There are famous places such as "Momotaro Electric Railway" and "UNO", and "Werewolf" which became a boom.
Card games such as Yu-Gi-Oh and Duel Masters are also available, so you can feel nostalgic.
quiz
The quiz fast press app "Minnae Fast Press" that became popular under the name of "Minhaya" is a new place in memory.
There is also a quiz app that collects only knowledge about a work, so you can challenge according to your preference.
Since you can create quizzes yourself, it may be a good idea to be on the side of the quiz from the solver.
Tv
Now that you can watch tv without a TV, more and more people don't put their TV at home.
Famous include Prime Video, which is strong in anime and overseas dramas, and TVer, a commercial archive.
Nhk programs are often seen on NHK On Demand or from the official website of each program, so check it out!
iPhone/iPad is easy to tv [Pixella Online Shop]
reading
If you're using Amazon's kindle, primeReading is a great choice for Prime members to read freely.
There are many famous works such as "Elephants that make dreams come true", "Clouds on the slope", "The Little Prince" and "Forest of Sheep and Steel".
E-books are cheaper than usual on a well-done sale, and there's no need for heavy bookshelves or cleaning.
If you want to read it for free, you can also read works with expired copyright in legal "Aozora Bunko" and "Let's become a novelist".
manga
Recently, it is an age when you can read interesting manga without having to pay money.
Jump apps such as "One Piece", "Naruto" and "JoJo's Bizarre Adventure" provided by the official are also ◎ .
My recent favorite is to read the blade fangs in "Manga BANG", which reads 9 episodes a day when I look at commercials.
In addition, "Jump +" and "LINE Manga" that summarize manga by expected rookie are also interesting!
Apps to create
Illustrations
Applepencil's support for unmarked iPads has broadened the range of creators' creations!
"ibis Paint X" is convenient to use the function without charging because you can use all the functions when you see the advertisement.
You can also extract colors and separate layers from images, so you can quickly use them for editing images!
Image creation/editing
Just the other day, Adobe announced the launch of Illustrator and Photoshop for iPad.
Illustrator and Photoshop are very important tools for people who process images on their computers and more.
You can purchase the app from the iPad, but if there is a PC version, you can use it on the iPad, so it is recommended.
Blog
If you attach the keyboard sold separately to your iPad, you can use it without any problems instead of a laptop.
My favorite keyboard is made by ELECOM, which is light and has good battery life.
I've never had any problems including WordPress or Google Adsense, so you can write easily!
If you're not thinking about doing it that much in earnest, you can start with a free blog or "note" right away!
【University student blog】9 reasons why university students should do a blog even if they can not earn money and a convenient site for management
An app to relax
Ceramics
「Let's Create! Pottery" allows you to create a pot by turning a potter's hand on the screen of your iPad.
You can enjoy unexpectedly realistic things, missions, and freely attaching colors and patterns.
When it comes to the paid version, the types of patterns that can be applied increase, but it is recommended because you can fully enjoy the free version!
aquarium
It is surprising that there is no better app than I thought, and the development game aspect is stronger than just looking at it.
It seems to be good to swim fish in the room at "Abyssrium World" or "AR TOUR OCEAN".
It might be better to do nothing and just stream a video of a fish swimming around the sea on YouTube .
Muscle Training/Yoga
You can also relax with muscle training and yoga while listening to natural sounds such as forests, rivers, seaside and rain on Youtube.
With "Asoken", you can receive nutritional balance and advice on your meal just by registering the meal contents.
Apps to study
foreign language
It is also useful for traveling abroad and responding to foreigners, and we recommend english skills that are most effective for finding employment and improving skills.
"TED TALK", where you can listen to lectures in various fields overseas, is a good learning experience because it also has Japanese subtitles.
If you use the app "ALCO" developed by ALC Co., Ltd., you can listen to all the audio of books published by ALC.
【ALCO】The English app is an all-you-can-download ALC audio teaching materials!
Relearning the school
There must be quite a lot of things that I learned in elementary, junior high and high school because I could not understand the true meaning and somehow remembered it.
Tv programs such as NHK, Youtube and homepages are more understandable than schools.
In addition, deep contents that are not learned at school are also introduced in "slow videos"!
【University student study site】Introducing 3 recommended free study sites! Let's study on the net!
Broaden one's insights
There are experts in all fields on the Internet, and you can always get in touch.
On Twitter, there are also accounts that convey knowledge interestingly, such as "Academic Bot" and "I am familiar with 00".
Personal recommendations are "elemental science" and "yumcha who is knowledgeable about mushrooms in vain"!
Appreciation of paintings
Some museums around the world publish their works as freely usable images.
It is also interesting to print world-famous paintings and decorate them on the walls, and learn about their history.
Programming
Progate is recommended for programming that has become a boom recently, but it is not a chance to start easily.
In addition to being free to study to a certain level, you can start without installing unnecessary software.
If you want to learn more, go to dot installation and paid programming school to learn from videos!
Equity Investment
"Toledavi", which has a time lag of only 15 minutes with the actual stock market, is perfect for beginners in stock investment.
Even if you do not actually invest, you can see market trends and refer to them when job hunting, so there is no loss.
【University Student Stocks】Is Stock Investment Dangerous? Here's what you need to know to avoid failure!
Increase your hobbies on your iPad
The work that can be done with the iPad is considerably increasing because the screen is large, the processing is fast, and apple pencil can be used.
In addition, since all knowledge can be obtained from the Internet today, it is possible to acquire it as long as you have the desire to learn.
In the U.S., there was an incident where a child who learned how to drive a car on Youtube went to McDonald's.
If there is something you are worried about, why not try it?
8-year-old who learned how to drive on YouTube drives to McDonald's by car with sister – GIGAZINE
Articles about iPad