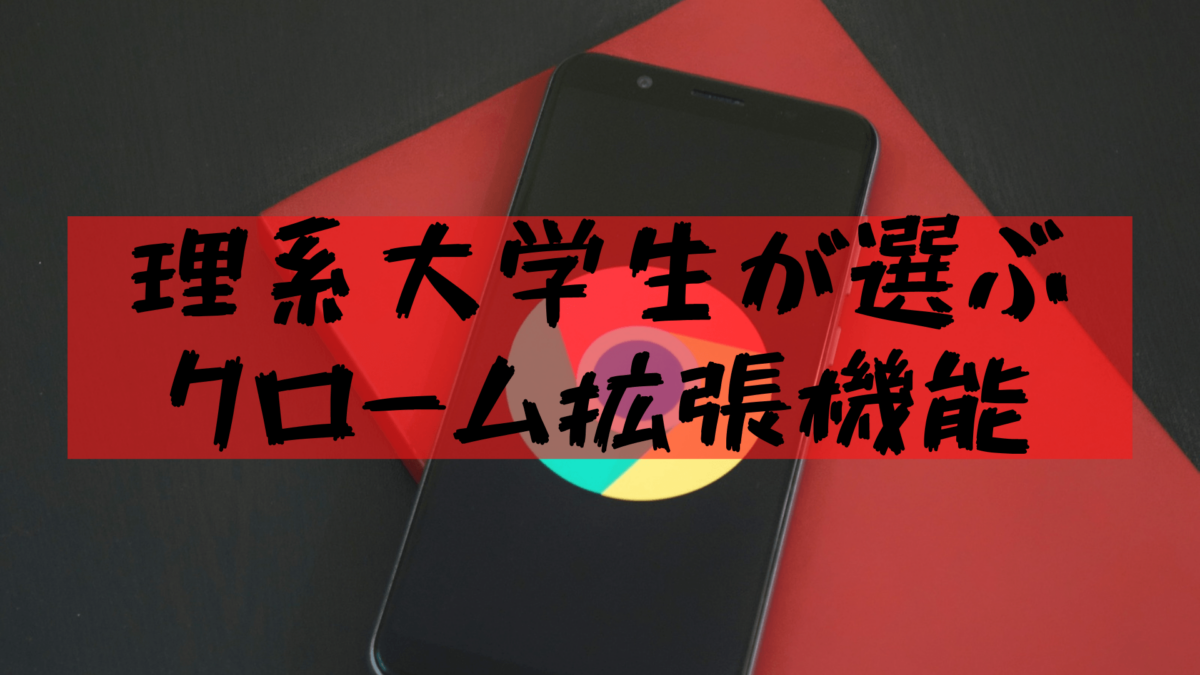 Do you know of "Chrome extensions" that can be custom-made by adding them to your web browser?
You can solve problems that you feel inconvenient and transform your favorite sites and services to your liking.
This time, we carefully selected and introduced 10 extensions introduced by science university students for daily life and research!
・ Introduction of research tools on the personal computer of science university students who are challenging graduation research
DuckDuckGo Privacy Essentials
DuckDuckGo, a search engine that competes with Google that collects personal information, does not advertise when searching.
Unlike Google, the search algorithm is "How was it?" The probability of articles ending with also decreases.
– Simplify privacy protection. 【DuckDuckGo Privacy Essentials】
OneTab
If you open a web page too much, one click will bring it into a list of sites on one page.
If there are too many open windows, it will affect the site speed and the burden of the PC, so you may be using it frequently.
・ Reduce memory usage by 95% and organize tabs [OneTab]
Google Scholar button
Google Schoar, a search site used to search for papers at universities and graduate schools, is very famous.
This extension lets you find the paper you're looking for without having to go all the way to the top of Google Schoar.
・ You can search academic papers while browsing the web. 【Google Scholar button】
Mendeley Web Importer
When writing a graduation thesis or master's thesis, we may cite data and text from other thesis.
You can list and summarize a large number of researched papers, and write out Word as a reference.
・ Library reference and fast and convenient import of PDF [Mendeley Web Importer]
AutoPagerize
On the site where "to next page" is troublesome, it automatically transitions to the next page automatically.
Automatic loading of browser pages [AutoPagerize]
Go Back With Backspace
You can return the Back key to the previous page in the morning with the Back Space key.
・ Browser back can be performed with the backspace key [Go Back With Backspace]
uBlock Origin
Block all ads, including Google listing ads and Adsense ads
High-efficiency blocker reduces the burden on the CPU and memory. 【uBlock Origin】
Weblio Extensions
If you hold it over a word you don't understand on the English page, it will tell you the meaning in a pop-up.
– You can see the commentary in the keyword selection state. 【Weblio Extension】
Bookmark sidebar
You can view your favorite list by moving the mouse into place.
– Added a sidebar that can be switched to the end of the window. 【Bookmark Sidebar】
DeepL translater
Select a sentence you don't know and right-click to call it to translate it on deepL's site.
Translate english sentences into Japanese immediately. 【DeepL translater】
Enhance for Youtube
You can eliminate youtube ads and fast forward with the arrow keys.
Easy to use Youtube in Chrome. 【Enhance for Youtube】
Sites you've bookmarked