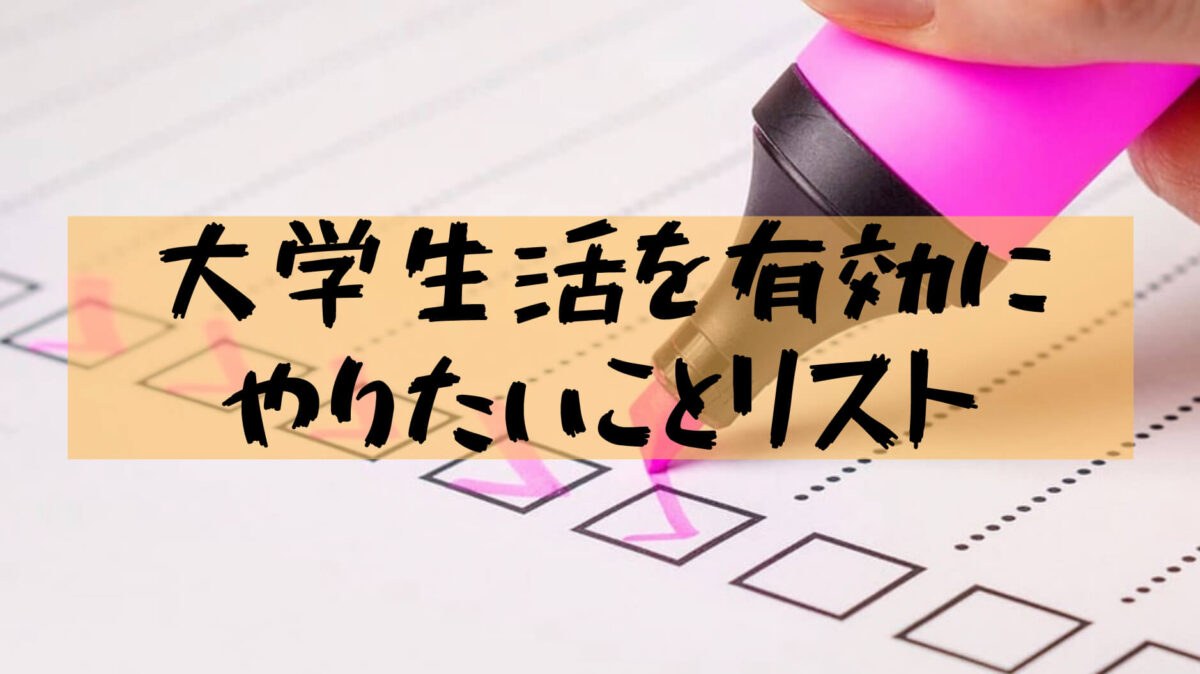 College students are the most free time to spend as much time as they like.
However, if you spend every day without thinking about anything, your college life will be over in no time …
This time, I will introduce the merits of making a list of things you want to do and a list of things that science university students want to do!
The benefits of making a list of things you want to do
It makes it difficult to waste time
Many university students sleep and dadle at home, but personally I think it's a waste.
Even if you have something you usually want to do, you may not be able to remember what you want to do only in your spare time . . .
You can write down what you want to do and do it in your spare time.
By making it into words, it becomes feasible.
Some of the things you want to do in yourself are mixed with things that are not real.
I think that it is unlikely that they will come true just by keeping them hidden in the chest.
There is a feeling that "dreams come true when you put them into words", and declaring creates an awareness that you have to move.
People who think it is difficult to say to people are different just by putting them in blogs and diaries like this.
Character analysis through lists
If you make a list honestly to yourself, you will know where your inner desires are coming from.
By knowing your personality through the list, you will be able to see what you prioritize.
We believe this list will also be useful for job hunting and future self-analysis!
【Self-analysis】Recommended for university students! 5 free self-analysis sites
Tips on how to make a list of things you want to do
If you think it's okay to do a little, list it.
If you've ever wanted to do something, add any little thing to your list.
If you write only big things, it may be stressful because you can not put it into practice easily.
Let's list what we want to do, from the small things we can do right away to the ones we can't do yet!
You don't necessarily have to publish it.
The need to make sure everyone can see the list of things you want to do isn't really that important.
It is important to be able to confirm immediately in your spare time, and to be motivated by declaring to people depending on the content.
It's also a good idea to separate the list for publishing to people and the list you want to keep only within yourself!
Make it a tangible goal that is visible
I'm not entirely made by myself, but the contents of the list should be specific and quantitative.
The reason is that it is not clear how far to do it, and it is not possible to check when it does.
Quantitatively presents up to 00 pages by not the content but the number such as 00K and 00 pieces or more.
It doesn't have to be 100 pieces.
Japanese people like "3 major 00" and "100 △△", but there is no basis just because they look good.
I think that it only has to write the thing which wants to do as much as I can think of, but it seems to be better to have a large number.
Think as much as you can, as a small number of things can't be done.
Examples of things to do list
For those who don't think about what they want to do, we will show you the path to think like this.
If you write up and write up your daily small desires without forgetting them, you can list what you want to do if you notice.
When I turned to the desk and thought, "Come on, I'm going to do it!" and it was impossible to think about 100 pieces at a stretch (experience story)
What you want to eat (delicacies, high-quality ingredients, popular sweets, etc.)
Where you want to go (country or region, specific buildings, pilgrimage to holy places, etc.)
People you want to meet (entertainers, actors/voice actors, idols)
The author of my favorite book, my acquaintances on the net, etc.)
Works you want to read (note the title you were worried about at the bookstore)
Works you want to see (movies, paintings, anime, sculptures, etc.)
Childhood Dreams (You can study roughly on Youtube)
New services (e.g. new SOCIAL media and innovative services)
Genres you've never touched (e.g. what your friends are interested in)
Goals that can be put out numerically (0 kg thin, 00 yen saving, etc.)
The goal is to get through (keep going for 00 days, finish something, etc.)
What you want to do (busy or hesitant)
What you want (with the goal of buying with less waste)
List of things college students want to do
As an example, I will list what science university students who are interested in various things want to do.
It is troublesome to exclude the finished ones, so I write it down as it is without limiting it to 100 pieces.
There are many books I want to read and animes to watch, so I also put them together in a separate list (unpublished)
When you become a member of society, you will be busier than your university life, and it will certainly be difficult to do what you want to do.
It's a good idea to do what you want to do while you're a college student with a lot of free time!
Enter the Tower of the Sun
Go to moma museum
Go to the Smithsonian Museum
They go on a space trip
Go to Uyuni Salt Lake
See the Northern Lights
They bungee jump
They skydive
Play a real escape game
Eat about 3,000 yen per meal
They have a solo camp
Go live
Pass Adsense
Write the first place article searched
Make braised beef muscles
Attend a lecture
Go to The Ushino Terrace
I go to see people I only know on the net
Get them to mention it on other blogs
Go interns
They get a job offer
TOEIC 730 points
go to an izakaya alone
Go to a deserted island
Crowdfunding
They fast
They cultivate hydroponics
Go to Taro Okamoto Museum of Art
I'm going to Australia.
Go to North America
Go to South America
go to the African continent
Conquer the Five Continents
They hitchhike
They do yakiniku alone
Create an app
Create a web page from 1
They fish for smelt on the ice
They fish for octopus
Lure fishing
They take part in a marathon
They go to Osaka
get a driver's license
make 10,000 yen in blog revenue
One net novel post
See the finished Sagrada Familia
Go to the Comic Market
Play survival games
Go to book café
See slaughter
Climb the Sky Tree
Enter the Imperial Palace Forest
get treatment research
Do TRPG
Do FPS
Eat three major delicacies
Ride a paragliding
Post videos on Youtube
Be able to introduce yourself in Esperanto
take bookkeeping level 3
Go to ABC Space
Go to Blober
Use Movie Maker slowly
Buy Bitcoin
Enter 5 stores you've never entered
Drink tapioca tea
Eat American Burgers
Eat a pod
Eat scorpions
Eat a 100%.
Do Navra Operator Game
Make your own computer
Read Harry Potter in English
Make GPA 3.3
Eat a sleac
Eat squirt
live on self-sufficiency for a week
Build a hut
Go to Morohashi Museum of Modern Art
Go to Utsukushigahara Kogen Art Museum
Go to Las Vegas
Go to Dubai
Ride a camel in the Sahara Desert
Learn Russian
I'm going to Russia.
Disassemble the vacuum cleaner
Climb Mt. Fuji
Go to team Lab
Get a Google gun
Sell things at Mercari
Go to Ichihara Lakeside Museum of Art
Bankart Studio NYK
Go to the former Edogawa Ranpo Residence
3331Arts Chiyoda
Gallery Cat Street
Read "Animal Farm"
Read "1984"
Watch War in your Pocket
Play VR Games
Google Adsense transfer amount achieved
Upload 3D models to VRChat
Turkish March will be able to play
Buy VR Goggles
Finish all cookbooks
Draw 100 illustrations
Vocaloid Fiddles
SSL of blog
Bouldering
Go to e-typing "Ninja"
Insta-automation in Python and selenium
Go to the Island Tower
they smoke a water
Attendance at academic conferences
Go to Kusatsu Onsen
They eat a blowg
Blood donation 50 times
U.S. Individual Stocks
Nordic Travel
India Travel
TeamLab
Memorize 100 Spanish words
Memorize 100 Russian words
Memorize 100 Korean Words
Solving common tests
Added 30 blog posts
Make your own recipe book
draw 100 pictures
read 100 books
Kyushu Travel
they make a primary bookkeeping
read 30 Papers in English
Learn the top 100 tickers in the S&P500
Touch MMD
Go see the rocket launch
Sign up for a PayPay card
What I did with the list of things I want to do