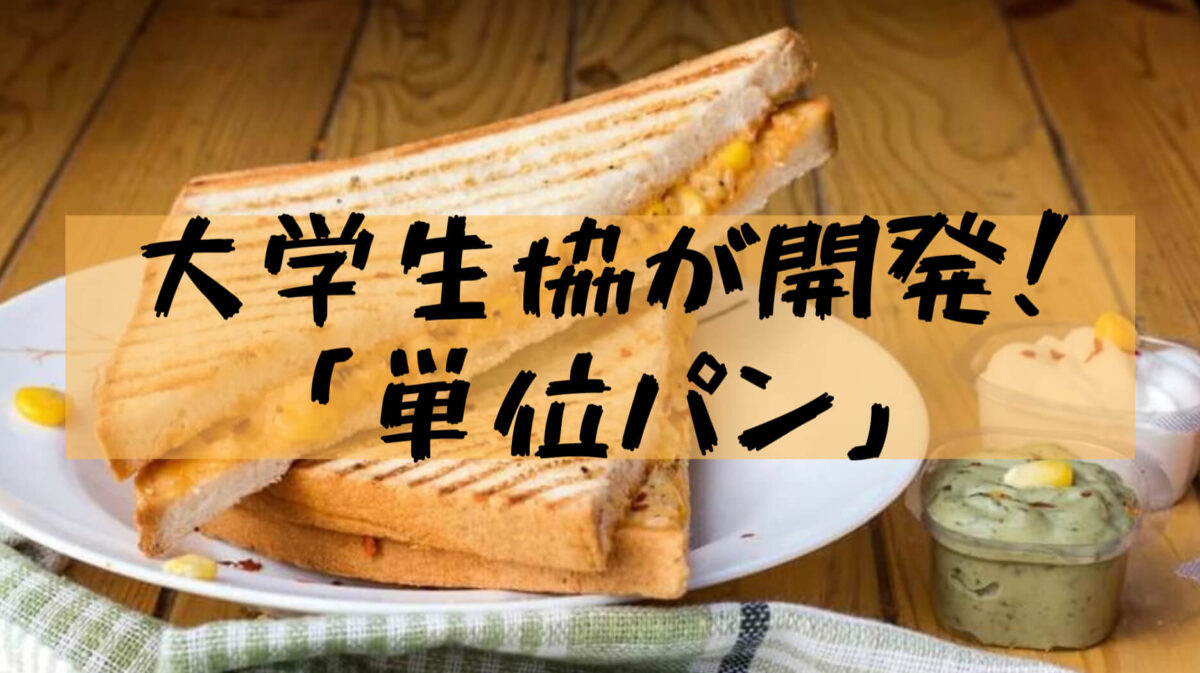 Did you know that there are "credits" that you can purchase, not limited to university students or not, in the University Co-op?
This time, I summarized the secret story and features of the birth of the blockbuster product "Unit Bread" born from the voice of university students!
We will introduce the contents that change with each sale, the secret about unit bread, and even rare unit bread!
What is "unit bread"?
It is a product that you may have heard the name once if you are a university student.
The company sells "University Co-ops (commonly known as co-ops)" that are always at the university.
Unit bread is a round flat cream bread with a large stamp of "unit" sold during the late examination, and it was sold for a limited time from January 13 to 23 at the purchasing shop of the university co-op mainly in the Metropolitan area. It was a product that the University Co-op responded to the university's unique request to sell credits at the end of the university with all its might, and it became a popular product by attracting attention on the Internet etc., and it continued to sell out every day.


Quote: National Federation of University Co-operatives
A company that manufactures "unit bread"
The companies that manufacture this "unit bread" change depending on the "unit bread" age.
The first and second editions were produced by [Kosuge Bread], which manufactures bread for school lunch in Chiba Prefecture.
The third and fourth editions were "Ito Bread", which also sells "brain bread", took over the production.
January 6, 2019
The secret story of the birth of "unit bread"
At first, he tried to commercialize the secret tool "Memorization Bread" that appeared in the manga "Doraemon". However, "memorization bread" had already been commercialized.
The plan of unit bread was held at the product meeting of the second division of the University Co-op Tokyo Business Association, and in the initial discussion, the idea of "memorization bread" was …

However, "memorization bread" has a product, and it is a bots idea! 

Therefore, "unit bread" surfaced. When commercializing, the original assumption was that the surface was plain bread printed as "unit" on the bag.

However, the manufacturer put a spirit and created a "kote" for branding, and it was decided that they would carefully push it at a pace of one every 7 seconds.

Quote: We asked Mr. Shiraishi of the Co-op about "Unit Bread"!
The person "Shiraishi-san" featured on this page is a co-op specialist who became famous for the co-op's specialty "One Card".
Based on the interactions with students through the "One-Word Card" at the Co-op, "Mr. Shiraishi of the Co-op" became a bestseller with over 930,000 copies.
"Unit bread" so far
In fact, the type of "unit bread" is different every year. As far as I could confirm, it seems that five kinds of "unit bread" were sold.
The first cream bread
Sales date: January 13 to 23, 2015
In the original plan, I did not engrave anything on the unit pan, just put the letter "unit" in the package.
However, as a result, it seems that the brand of "unit" will be directly on the bread.
Isn't the fact that it contains letters now the reason why it became so popular?
(Kaikan store) Co-op sells units (?) "Unit bread" is 108 yen. Custard cream. We look forward to using it! pic.twitter.com/yp7l31tkm5 — Yokohama National University Co-op (@ynucoop) January 13, 2015
2nd Curry Bread
Sales period: July 6 to 17, 2015
The concept of the taste is "curry taste that is not so sweet".
It seems to hang on to "It is not so sweet to take the unit".
【Credit Bread】All of our followers, thank you for studying for the exam!
The popular unit bread is also sold at the Gakukan shop today ☆
Last time it was with cream, but this unit is not sweet! It is a curry bread! pic.twitter.com/5UcuAusCrs — Kumamoto University Co-op (@kum_coop) August 3, 2016
3rd Milk Cream Bread
Sale date: January 11 to 30, 2016
From the third "unit bread", "brain powder" produced only by Kanazawa Flour Milling Co., Inc., a flour milling company in Kanazawa City, Ishikawa Prefecture, has been blended.
Brain powder

It contains more than 0.17 milligrams of vitamin B1 per 100 grams in ordinary flour, which activates the brain and improves memory and thinking. This is because the brain needs only glucose, and vitamin B1 is essential for this degradation.

Wikipedia "Brain Pan"
【Unit Bread】
The diameter is about 10 cm, and the height is about 3.5 cm by "growing a little" from the past "to enhance the results of study".
This is the third time I came with custard taste and curry taste, milk cream taste.
The gentle sweetness of milk heals the tired brain.
Contains brain powder (flour with vitamin B1 and DHA). pic.twitter.com/lLqvml7s6a — Keio Co-op Fujisawa (@keiocoop_sfc)January 12, 2017
4th Anpan
Sale date: January 15 to 26, 2018
2018 "Unit Bread" became the first appearance in a long time
As in the previous article, "Koshian" is packed in the dough using "brain powder".
It looks a lot like the last milk cream bread.
The 5th Anpan (Tsubuan)
Sales time
At first I thought this was the fourth one, but while I was looking into it, I found out that last year was a little bit of a problem. (I noticed that people who liked Koshian were mourning)
In addition, this year, the existence of "2 unit bread" with a "unit" brand on both sides of the bread has been confirmed. You can expect this next time!
【New product of the week】The popular "unit bread" is in stock every year! This year is Tsubuan's Anpan!! Co-op supports your earning credits♪ pic.twitter.com/GDWUtf0Kel — Tokyo University of Agriculture, Co-op (Setagaya) (@nodaicooppan) January 7, 2019
Today's important mission. "2 unit bread" has been prepared during the branding experience. I wonder which student will reach you. #単位パン#単位がきますように #一つ一つ丁寧に焼印 #2単位パン#手に入れたあなたは超ラッキー #食べる前に両面確認必須pic.twitter.com/Gh2DnLwaId

— Mizugushi (@mizutomo589350) January 6, 2019
I tried the 2019 edition "Unit Bread"!
I actually bought "Unit Bread" because it was worth seeing!
When you purchase "unit bread" in purchase, the letter "unit 108 yen" is on the receipt.
Is such a small playfulness the secret of popularity?
It is natural, but it is ordinary anpan other than appearance.
Is the amount of anko a little small?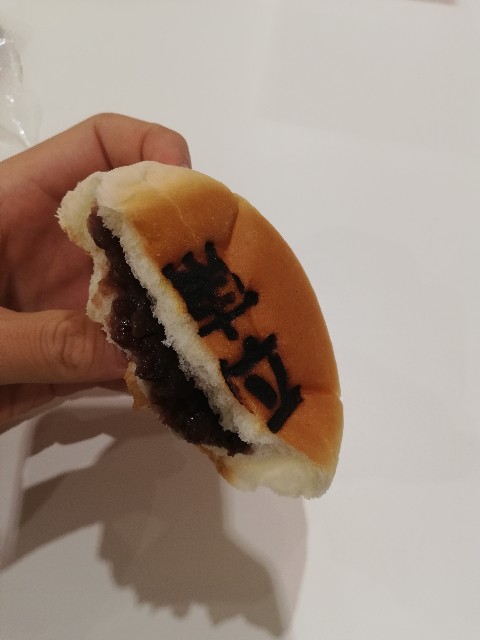 I think that it is just right for those who are not good at being too sweet because the ratio of bread dough is large.
For some reason, the letter "D unit pan" is …
At university, "credit D = drop credits", so did some people notice it?
When I checked, all "unit bread" was notation of "D".
Since the bread classification itself is "D", the other breads also had a notation of "D".
The nutritional information is like this.
Heat: 241cal

Protein: 6.0g

Fat: 3.1g

Carbohydrates: 47.3g

Salt equivalent: 0.4g
Which universities can buy "credit bread"?
It is mainly a university co-op in the Tokyo metropolitan area that sells unit bread.
As far as you can confirm, there seems to be no direct sale from the manufacturing company.
The University of Tokyo Co-op
Waseda University Co-op
Keio Co-op
Hosei University Co-op
Tokyo University Students' Association of Science
University Co-op, Faculty of Engineering
Tokyo Denki University
Tokyo University Of Marine Science and Technology
Chiba University Co-op of Commerce and Technology
Chiba University Co-op
Tokyo University of Agriculture
Toho University Co-op
Tokyo Institute of Technology University Co-op
Meiji Gakuin University Co-op
Tokyo Metropolitan University Co-op
Wako University Co-op
Oberlin University Co-op
Azabu University Co-op
Yokohama No National University Co-op
Yokohama City University Co-op
Hoshi Pharmaceutical University Co-op
Tokyo Institute of Crafts And Technology University Co-op
Shibaura Institute of Technology University Co-op
Ochanomizu Women's University Co-op
Tokyo Medical and Dental University Co-op
Tokyo University of Foreign Studies Co-op
Musashi Gakuen Co-op
Japan Women's University Co-op
Toyo University Co-op
Tokyo University University Of The Arts
Daito Bunka Gakuen Co-op
Saitama University Co-op
Atomi Gakuen Women's University Co-op
Jumonji Gakuen Co-op
Shukutoku University Mizuhodai Co-op
Maebashi University of Technology Co-op
Tokyo University Of Economics
Hitotsubashi University Co-op
Tokyo Gakugei University Co-op
Telecommunications University Co-op
Tokyo University Association of Agricultural and Industrial Engineers
Tsuda College University Co-op
Tokyo Pharmaceutical University Co-op
Hakubai Gakuen Co-op
Japan University Association of Social Welfare
Japan University Co-op of Veterinary And Life Sciences
Yamanashi University Co-op
Meiji Pharmaceutical University Co-op
Niigata University Co-op
Shinshu University Co-op
Yamanashi University Co-op
Gunma University Co-op
Utsunomiya University Co-op
Ibaraki University Co-op
Takasaki University Student Co-op
Ibaraki Christian Gakuen Co-op
Matsumoto University Co-op
Niigata University Co-op
Ota Information, Medical and Automobile College Co-op
Since the name of the university listed is the first "credit bread" dealer, "credit bread" is now sold at other universities.
There may also be "credit bread" in your university co-op …!
Extra edition: Different types of "unit bread"
While collecting information about "unit bread", I found some "unit breads" of different shapes.
These are not university co-ops, but seem to be manufactured independently by the university.
In a sense, it is a rare "credit bread" in that it can only be obtained at that university.
[Unit, on sale! !️]
We also sell unit bread today.
Yesterday, it was sold out after noon.

If you eat credit bread, you may be able to get credits 、、、 pic.twitter.com/LLwKub9fcz — Mie University Co-op 2nd Store (@miecoop2) January 23, 2019
Summary
How was it?
Why don't you try eating "unit bread" and feel the history?
This article is all examined and written, so there may be mistakes.
It would be helpful if you could tell me if there is correction or other information!
So!
Articles about university life