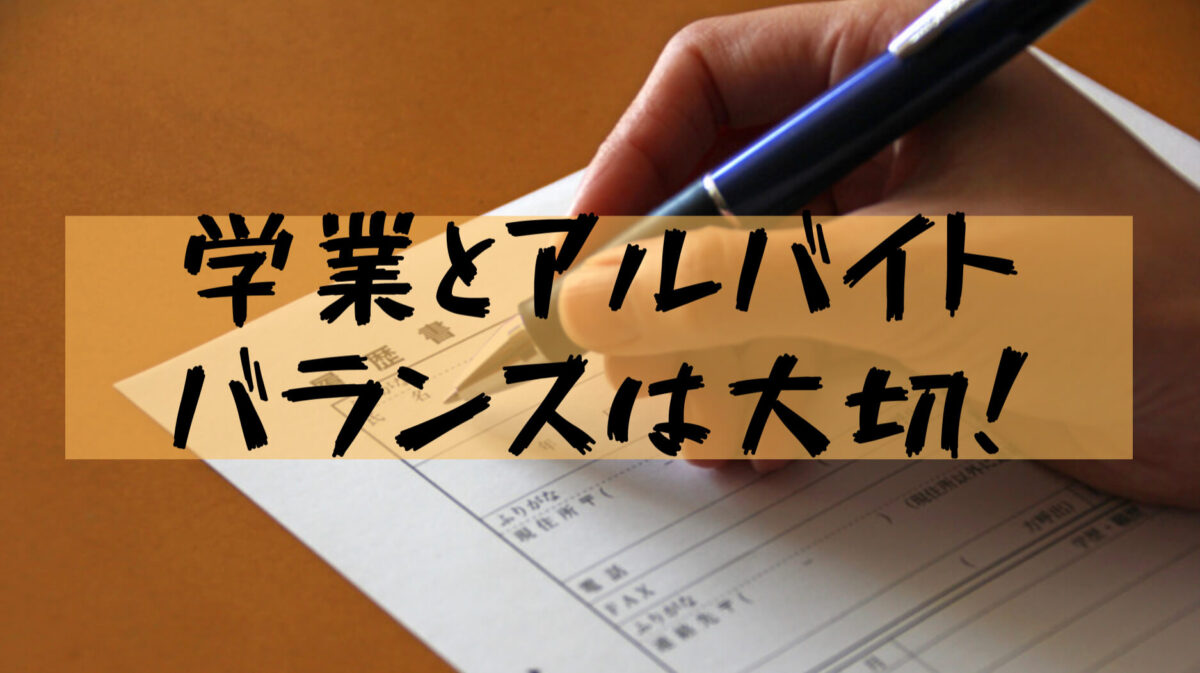 In high school, part-time jobs are prohibited, and many university students start part-time jobs for the first time.
What is your average monthly income and working hours if you earn money while balancing university classes and reports?
University students who have actually experienced part-time jobs while balancing their studies will introduce recommended part-time jobs!
If you say that you do not want to work in the first place, click here
【University student side job】Introducing recommended ways to earn money outside of part-time job
Bytes now
Little by little, you can see that the amount of money earned by part-time job of university students is increasing.
This may be due to the fact that the hourly wage has been raised and that there are many people who are increasing their part-time jobs due to difficulties in living.
There are many amounts of money that boarders earn close to 10,000 yen because they spend more money than home students, such as rent.
Benefits of student part-time work
They become a social study
To say something hard, university students are spoiled in the closed space of university.
Therefore, it is not uncommon to be embarrassed after finding employment without knowing the general common sense of society.
By working part-time, you can learn administrative procedures such as attitudes to superiors, customer service, and telephone correspondence.
The community expands
Depending on the type, there are people of various ages and backgrounds at the part-time job.
Community such as university circles is good, but if there is a connection outside the university, the perspective will be broadened.
You can learn completely new perspectives, backstory that only industry people know, and how to interact with adults.
They are the story of a story
Even when I was a university student, my experiences of part-time jobs are often talked about.
People who have worked in the same industry get along well with each other, and boast about the backstory of the industry.
It's as easy to shake as circles and committees, so if you don't have any experience at all, you may have a hard time.
Disadvantages of student part-time work
Be constrained by time
Of course, you lose your free time during part-time work.
In addition, in the case of a fixed shift such as a cram school lecturer, it becomes difficult to adjust when other appointments are hit.
Many people seem to be hesitant about part-time jobs for this reason.
they have a negative impact on one's studies
If you become absorbed in part-time jobs, it can be silly to take classes even though you can't get money.
Instead of less security, cospa is much better than office workers, and there are a certain number of people who earn to the limit.
→ part-time job, the rhythm of life collapses→ there are many people who drop credits → truancy → drop out of school.
How to find a successful byte
Ask experienced people
You can check the word of mouth on the net, but this is the surest way if you have experience close to you.
It varies slightly depending on the store, but if it is the same industry, good and bad places will be the same to some extent.
The point is not only to speak ill of the store, but also to find someone who will tell you where it was good to work.
If there is an industry with a system that contains a referral fee, be careful because it may be said that you do not think.
Questions asked at the interview
It's a little simple, but let's check the important things first, such as salary talk and whether shift changes can be made.
The story is different after entering! When it comes to it, not only is it troublesome, but also the other party will be troubled.
In response to the question, there may be something that makes the answer cloudy, so you may want to look it up a little more.
It might be a good idea to catch a person who is working part-time at the store on your way home and ask.
Use as a general public
If possible, we recommend that you try using the shop you are considering as a general person before the interview.
If you look carefully, you can distinguish between employees and part-time workers, so let's listen to their conversations.
You may be able to see the actual situation such as how to teach, how to respond to mistakes, how much time there is a break …
Experienced bytes
I have done several types of part-time jobs, so I will explain them in order.
Some are recommended and some do not recommend …
Moving part-time job
There are many bad images such as "it can happen", but if you can keep up with the sports club, it is okay.
If you work for a day from around 8 o'clock in the morning, you can earn quite a bit because it is nearly 10,000 + overtime by default.
Shifts are often free, and my part-time job is OK with the declaration of the previous day, so it is also 0 for hanging.
The moving season is not too hot, and you can put a lot of shifts, so it is time to earn money.
Recommendation ☆☆☆☆,Every time I can earn ☆☆☆☆☆
Part-time agricultural work
It is a part-time job that I went to before a bicycle trip in Hokkaido, and it is a rare part-time job that may be limited to summer vacation.
The hourly wage was at the minimum wage level, but I had a valuable experience of experiencing primary industries.
I was able to have a valuable experience such as eating snacks during farm work and all-you-can-eat irregular vegetables.
Recommendation ☆☆☆☆☆ Every time you can earn ☆☆☆,・
Resort Bite
At the end of the year, I made a bed at a hotel in a hot spring town called Jozankei in Hokkaido for about two weeks.
Working hours are from noon to evening, and the work content is mainly futon raising, classification of sheets, garbage classification, room making, etc.
Personally, I was bored and hated because my working hours were half-hearted and I had the same work every day.
Recommendation ☆☆☆,・Every time I can earn ☆☆☆,・
Part-time job at restaurants
The chain has a quota at the head office and tends to be black, but if it is privately owned, it is also possible to talk directly with the store manager.
Depending on the shop, you can eat quite luxurious roughly, and it is a part-time job that the boarding student aims at for it.
It is no use that the salary is not so high instead of the shift being free or the board goes out.
Recommendation ☆☆☆☆, every time you can earn ☆☆☆☆☆
Part-time job as a cram school lecturer
For individual cram schools, the maximum number of students is limited even during busy hours such as students = 1:1 to 5.
The benefits include high salaries, contact with children, and self-review while teaching study.
It is also attractive to be able to work in a comfortable environment regardless of the season, but it is difficult to have strict regulations such as suits and hair color.
Recommendation ☆☆☆☆,Every time I can earn ☆☆☆☆☆
Part-time job I want to try
Like UberEats.
A recent part-time job carrying a cube backpack and delivering dishes ordered by bicycle or motorcycle.
Register for multiple services and go to pick up products from the service you ordered.
People who like to ride bicycles and motorbikes can also earn pocket money because they can work at any time.
dispatch
How to register with a temporary worker and work in your spare time looking for a day-employed part-time job.
The freedom of shift works considerably because you only have to look when you want to live.
There are various types of work such as event staff and packing, and it seems that you can earn quite a lot of stage setting.
Example of part-time job income
I would like to introduce my income when I was a sophomore at university when I was working as a restaurant and a cram school lecturer.
At this time, I was so absorbed in earning money that my classes were going to be dangerous.
In fact, there are times when I can't get this far, but 70,000 to 80,000 will go.
The trick is to work constantly without putting too much time off.
5 hours × Tsuki soba shop = 5,000 yen
3 hours × a fire school lecturer = 4,000 yen
Wednesday Rest
Ki: 3 hours × cram school lecturer = 4,000 yen
5 hours × a gold soba shop = 5,000 yen
Tsuchijuku Lecturer × 4.5 hours = 6,000 yen
Sun Closed
Total 24,000 yen 24,000×4= 96,000 yen per month
Part-time job moderately
If you say that you do not want to work in the first place, click here
【University student side job】Introducing recommended ways to earn money outside of part-time job
Articles about money