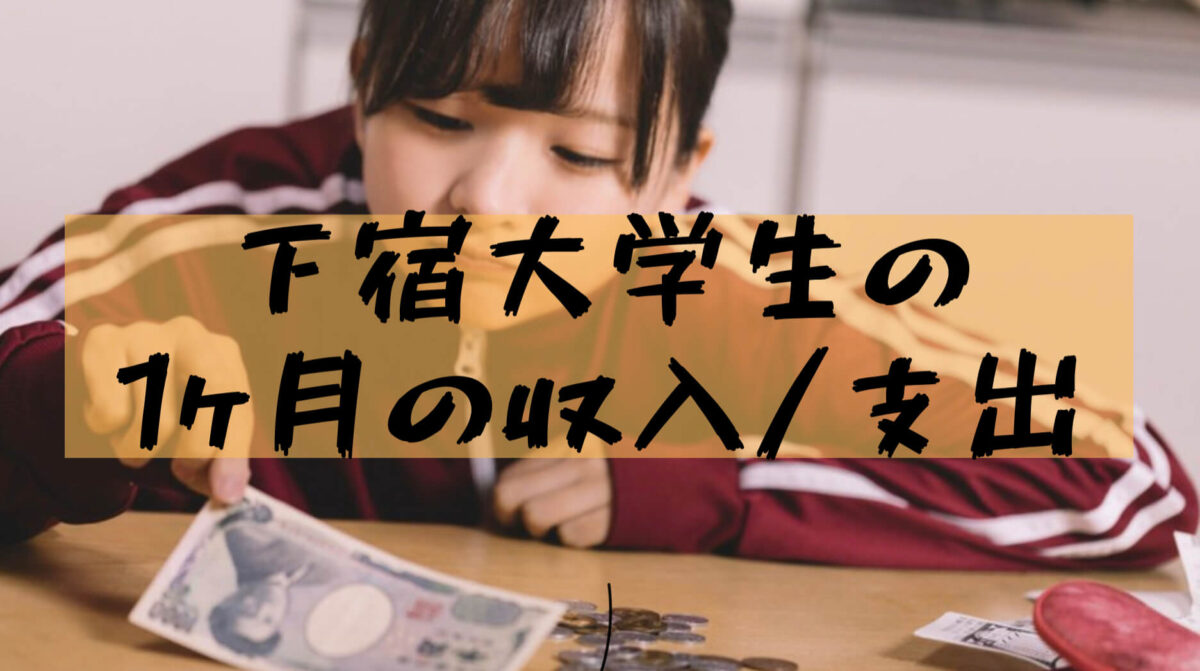 The most worrying thing about those who become university students and start a new life are the problem of living expenses.
Even if you have a remittance or part-time job, it is important to know how much you actually spend and how much you will spend.
This time, I will write about the cost of living for university students based on data and actual experiences.
Data on the cost of living for university students
We will look at the cost of living of university students from questionnaires conducted at university co-ops nationwide.
This time we will check the data for 2017.
Summary report of the 53rd Survey on Student Life| Japan Federation of University Co-operative Associations
Cost of living (income) for university students
The total income is 123,890 yen for trainees and 64,050 yen for home students.
It is convincing that home students do not have food, rent, utility, etc., so that pocket money is reduced from trainees.
In addition, home students do not do all housework by themselves, so there are relatively many free time, and it is thought that many part-time jobs can be put in.
Cost of living for university students (expenditure)
The total expenditure is 120,760 yen for trainees and 62,610 yen for home students.
The cost of living for a college student
I have looked at the cost of living for university students so far.
So next, I would like to introduce the case of Itsuki.
Please look while imagining where the place that shifts greatly from the average is!
Cost of living (income) of trees
Remittance 100,000 yen
Part-time job 40,000 yen
Others 5,000 yen
Total income
Cost of living (expenditure) of trees
Food expenses 10,000 yen
Housing expenses 40,000 yen
Educational and entertainment expenses 5,000 yen
Daily expenses 2,000 yen
Telephone fee 1,000 yen
Investment 15,000 yen
Total expenditures
Income and expenditures of university students (updated monthly)
I often move it outside of cash, and I lost track of it. Therefore, from April 2021, we will update the new record upwards instead of below, with only expenditure.
2021/04
Rent/Common Service 48,000
Electricity bill 1,328
Water bill 1,580
Gas bill 730
Communication expenses 1,200
Food expenses 37,658
Daily necessities 35,982
Total 99,635
January 2019
Soba restaurant part-time job 31375
Part-time cram school lecturer 97693
Macromill 2500
Cue Monitor 2000
Anne and Kate 500
Rakuten Point 1655
Total income 135723
Rent 35000
Electricity bill unknown 
Gas fee unknown
Communication expenses 1000
Food 6805
Transportation 4000
Charges 15200
Total expenditures 62005 
Balance 73718
February 2019
Soba restaurant part-time job 39750
Part-time cram school lecturer 53488
Macromill 0
Cue Monitor 2000
Anne and Kate 0
Rakuten Point 383
Total income 95441
Rent 35000
Electricity bill unknown 
Gas fee unknown
Communication expenses 1000
Travel expenses 381974
Total expenditures 417974
Income and Expenditure -322533
March 2019
Soba restaurant part-time job 0
Cram school lecturer part-time job 0
Macromill 2000
Cue Monitor 2929
Anne and Kate 1500
Rakuten Point 3644
Bank interest 601
Total income 10,674
Rent 35000
Utilities unknown
Communication expenses 1000
Food 7313
Transportation 7220
Charges 29229
Investment 5466
Travel expenses 166376
Total expenditures 251,674
Income and expenditure -241,000
April 2019
Soba Restaurant 12312
Cram School 51579
Macromill 1000
Infocue 2000
Anne and Kate 1000
Rakuten Point 763
poplle 1625
Total income 70099
Rent 35000
Water bill 911
Electricity Bill 4594
Food 12533
Charges 11990
Total expenditures 65028
Balance +5071
May 2019
Remittance 5,0000 yen
Part-time job 47,412 yen
Macromill 1,000 yen
Pokairn 1,500 yen
MyQue ¥2,000
Rakuten Point 769 yen
popple 1,411YEN
Total income 104,942 yen
Rent 35,000 yen
Utilities 1,994 yen
Water expenses 755 yen
Communication fee 1,000 yen
Food expenses 10,397 yen
Transportation 5,500 yen
Miscellaneous expenses 21,844 yen
Reserve NISA 8,915 yen
Total expenditure 85,405 yen
Total income and expenditure 17,537 yen
June 2019
Remittance 50,000 yen
Part-time job as a cram school lecturer 33,002 yen
A8.net ¥752
popple 2,888 yen
Macromill 1,000 yen
Anne and Kate ¥1,000
Pocket queue 2,000 yen
Rakuten Point 769 yen
Total income 91,411 yen
Rent 35,000 yen
Utilities unknown
Water costs unknown
Communication fee 1,000 yen
Food expenses 10,767 yen
Transportation 5,020 yen
Miscellaneous expenses 76,984 yen
Total expenditure 128,771 yen
June Balance -37,360
July 2019
Remittance 50,000 yen
Part-time job 48,262 yen
Macromill 1,500 yen
Anne and Kate ¥1,000
Pocket queue 2,000 yen
Rakuten Point 1,163 yen
Total income in July 103,925 yen
Rent 35,000 yen
Utility bills
Water costs
Communication fee 1,000 yen
Food expenses 15,114 yen
Transportation 4,000 yen
Miscellaneous expenses 2,574 yen
Reserve NISA 8,972 yen
Total expenditures in July Yen
July Income and Expenditure Total
November 2019
Cram school part-time job (October) 29,760
Remittance 50,000
Total income 79,760
Rent 35,000
Water bill Unknown
Electricity bill unknown
Communication expenses 1,500
Transportation 0
Food expenses 6,187
Charges 15,882
Total expenditures 
June 2020
Remittance 50,000
A8.net 3,014
Amazon Associate 519
Macromill 2,000
poplle 752
Others 100,000
Total income 56,285
Rent 35,000
Electricity and water 7,440 
Food expenses 17,929
Charges 52,038
Total expenditures 85,288
July 2020
Remittance 50,000
Amazon Associate 517
ONE 518
Mercari 3,442
Rakuten Points 2,607
Total income 57,138
Rent 35,000
Electricity and water 5,028
Communication expenses 1,600
Food expenses 26,647
Charges 16,403
Total expenditures 84,678
August 2020
Remittance 50,000
Survey 2,000
Mercari 8,043
popple 787
Others 7,000
Total income 67,830
Rent 35,000
Gas bill 1,322
Water costs unknown
Electricity bill unknown
Communication expenses 1,600
Food 22,018
Charges 13,273
Total expenditures Unknown
September 2020
Remittance 50,000
Amazon 2,442
CODE 500
Mercari 1,455
Interest 397
LINE Point 434
Rakuten Points 17,591
Total income 72,819
Rent 35,000
Gas bill 1,036
Water costs unknown
Electricity bill unknown
Communication expenses 1,600
Food expenses 32,603
Charges 57,086
Total expenditures 127,325
Total income and expenditure -54,506
October 2020
Remittance 50,000
Amazon 1,447
Mercari 95
popple 823
Macromill 2,000
LINE Point 316
Rakuten Points 11,934
Total income 66,615
Rent 35,000
Gas bill 1,434
Water costs unknown
Electricity bill unknown
Communication expenses 1,600
Food expenses 20,970
Charges 3,589
Total expenditures Unknown
Total income and expenditure unknown
February 2021
Remittance 50,000
Amazon 1,398
Mercari 2,365
Macromill 2,000
LINE Points 
Rakuten Points 
Cryptocurrency 16,100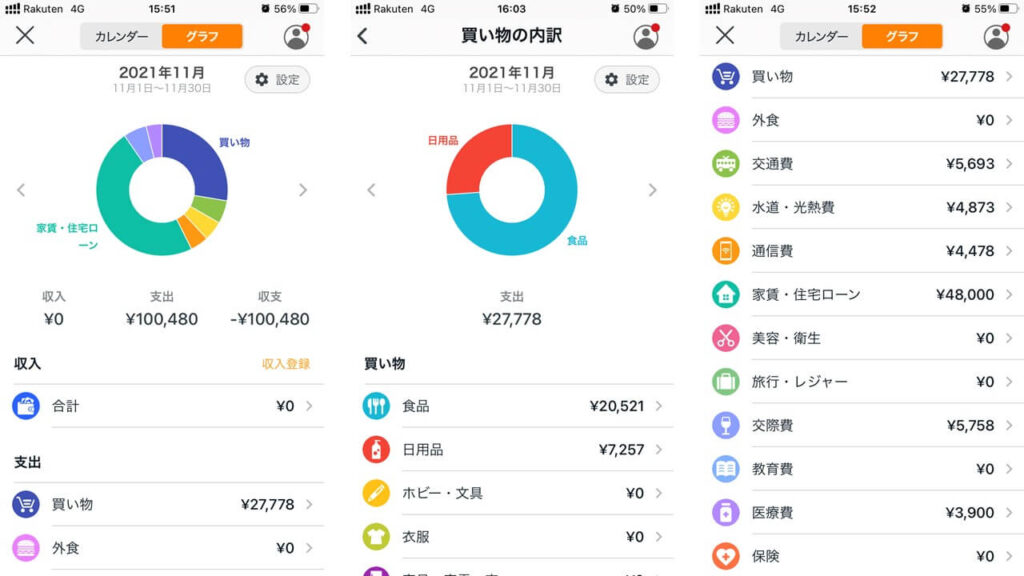 Articles about the cost of living for university students