As a sophomore at university who started living alone, my desire to cook hard quickly disappeared.
With the worst combination of minimalist and savings, I didn't eat anything decent other than byte bribery.
You'd better never imitate it, but make a note of the lessons you've learned from it and recipes that you're not motivated about.
Recommended food for standing
I thought that I should definitely take it without cooking carbohydrates, vegetables, protein, and sometimes meat.
Especially, the carbohydrate is made to cook rice with the rice cooker at any time, and the lunch was white rice and gyonyso.
Living alone sometimes loses even the energy to go out, so it might be better to have a food stockpile that you can live for a while.
The one introduced above is food that was always at home as much as possible, and it is a little luxury item to introduce below.
Rice (10 kg)
Vegetable juice (1 box)
Fish sausage (4 bottles)
Pasta (1kg)
Simmered mackerel with miso (2 cans)
Eggs (1 pack)
Mochi
tofu
Various retort
The source of cooked rice
Potato Salad (For Business Use)
Dilution beverages (such as Calpis)
Super Dabbly Recipes
Salad
(1) Toep the lettuce
(2) Add olive oil, vinegar and sugar
(3) Mix, complete
Matsutake chazuke
(1) Put two bags of matsutake mushrooms on rice
(2) Boil hot water
(3) Mix, complete
Okobo-don
(1) Serve rice
(2) Sauce, mayonnaise, green paste, bonging
(3) Mix, complete
miso soup
(1) Boil hot water
(2) Add miso with dashi, dried wakame seaweed and frozen green onions.
(3) Mix, complete
Infinite cabbage
(1) Towing cabbage
(2) Add sesame oil, garlic tube and salt and pepper
(3) Mix, complete
Genovese
(1) Boil pasta
(2) Add olive oil and basil
(3) Mix, complete
Barbecue
(1) Cut the onion into slices
(2) Bake in a frying pan
(3) Pouring sauce from grilled meat
Near
(1) Boil pasta
(2) Mix soy sauce with aji-no-moto and water
(3) Complete with green onions and wasabi
To be able to cook
I decided to break away thinking that my eating situation was too severe and I was involved in my health condition.
I looked over most recipe books in the recipe book corner of the bookstore and checked whether it was actually possible to make it and chose it.
I wrote about the details in the article, but it was good that all the recipes looked delicious and started with boiled eggs.
【The world's most delicious omissioned rice】 Review by university students living alone!
After the book, I read yuru self-catering BOOKS on Amazon kindle and make what I want to make.
As a rule, we keep mochibe by keeping food costs only in consideration of the amount of money as much as the material cost.
Food articles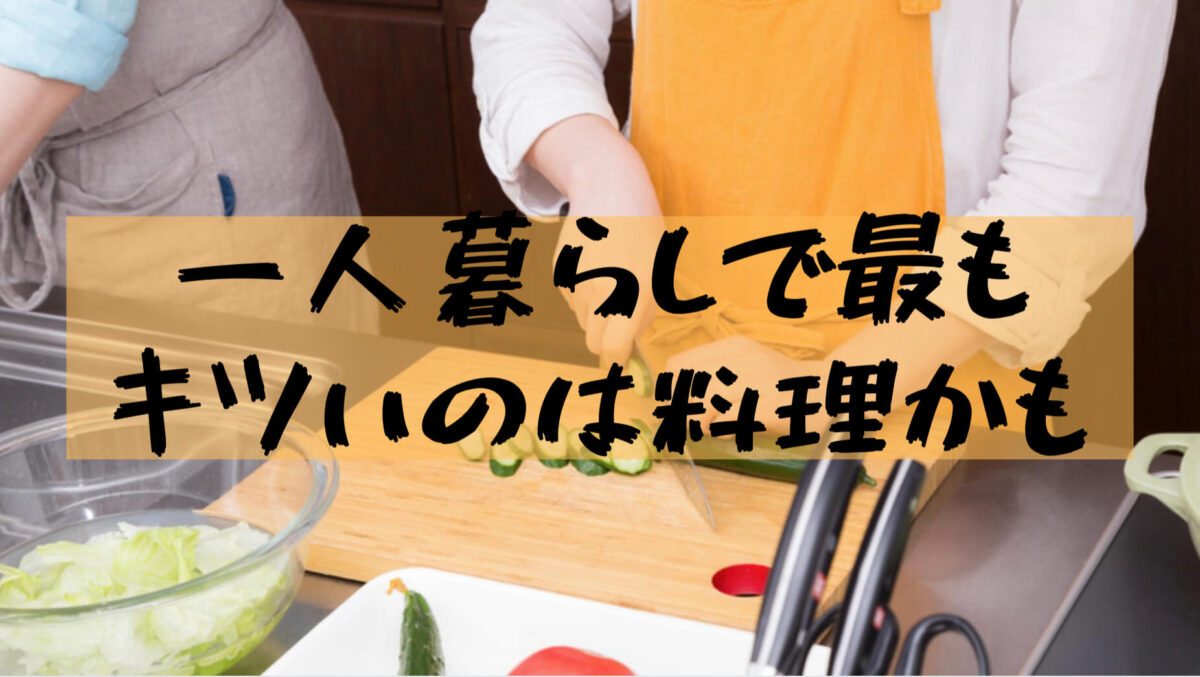 A big wall of "cleaning", "washing" and "cooking" stands in front of university students who have started living alone.
The previous two housework can be improved by becoming minimalist and reducing the amount of belongings.
【Minimalist】6 reasons why minimalism is perfect for boarding college students And recommended minimalists
This time, I will make some suggestions for university students who live alone and feel that cooking is troublesome!
The pitfalls of cooking alone
・ Food costs tend to be high because they purchase small amounts of ingredients
・ Cleaning up after eating food is troublesome
・ Fail to manage schedules and spoil ingredients
・ Cooking in the first place becomes troublesome
have someone make it
Unless you have a significant income, eating out every day is tough on your wallet.
You can find someone you can cook with and leave the food to you, or you can negotiate with a friend and bring it with you.
If you bring one dish per person for four people, you can enjoy 4 kinds of dishes at the same price and 1/4 effort.
Delivery Cooking Kit
Try to cook and search for recipes and there's no, this isn't… Have you ever experienced that?
If it is a cooking kit, seasonings are also enclosed, so you can cook as soon as it arrives and it is convenient.
Vegetables are also washed and cut in advance, and it is appreciated that it reduces the time and effort required for cooking to the maximum.
Since living alone buys a small amount of ingredients, the unit price per meal is not so high even if you use the kit.
If you try to cook properly immediately after boarding, you may be overwhelmed by the hassle.
It is recommended to get used to cooking while using the kit moderately.

Two dishes of main dish and side dish are completed in 20 minutes! Menu Kit Oisix

Super Simple Cookbook
As a matter of course, there are terms that you do not know, so we recommend a primer that starts with how to cut vegetables.
Cookpad is good, but if you forget which menu you created, you can't "review".
I made all of Harapeko Grizzly's "The World's Most Delicious Omission Rice" from page 1.
Nutrition Management App
Asoken Diet Weight, Diet Record and Calorie Calculation App
In the app "Asken", if you enter the name of the dish, it will give you a roughly the nutrients and nutritional value.
The free period is one week, but if you make multiple email addresses, you can use it for a long time.
Instead of strictly controlling it, it is OK to try to incorporate nutrients that are not enough overall.
Small items to reduce food costs
Concentrated beverages
A beverage that is diluted and drunk in water or hot water, famous for calpis and hot lemons.
When you want to buy juice at a convenience store, it is quite a deterrent.
If it is 250 yen for 10 cups, the price per cup is 25 yen, and you can see the height of the vending machine.
It is recommended that you can pack it in a water bottle and carry it around, and you can try various flavors.
Pasta
Even if you don't have anything to eat, you can boil the pasta and mix it with olive oil.
It is also possible to crush it into small pieces and cook it like rice.
If you buy only the sauce and return home, you can reduce food costs even when you are busy.
vegetable juice
When you are cooking alone, you tend to have fewer opportunities to consume vegetables.
The reasons may be that cooking is troublesome, the unit price is high, and it is too much to consume.
I try to drink "this one day of vegetables" every morning and avoid the vegetable shortage.
Miso soup set
Always stock miso and dried foods such as wakame seaweed.
Add miso and wakame seaweed, pour hot water, and you're ready to make the miso soup.
You will feel safe when you eat and drink something warm only when you are tired.
Mackerel cans
Essential amino acids that Japanese intake is insufficient can be obtained, and they are nutritious.
To be honest, cooking fish alone is troublesome, so it is convenient to cook.
If you have a can of mackerel in the rice, you can eat it as a sufficient meal, so it is also competent as a disaster food.
Other
Bag ramen, fish sausage, frozen cut leeks, vermicelli, soup base, etc.
University Cafeteria
Most of the places you live in a boarding house are near a university.
If you eat at university, you can have lunch (breakfast and dinner depending on the place) at a low price.
In addition, since the nutritional balance is also considered, the nutritional balance that tends to collapse when living alone can be adjusted.
It is hard to cook alone.
Regardless of whether you like cooking, the difficulty of cooking every day is more than you can imagine.
I miss the food my parents cooked every day at home.
If you are a university student who spends a lot of money in circles and club activities, try to make ends meet your food expenses!
Articles about boarding houses