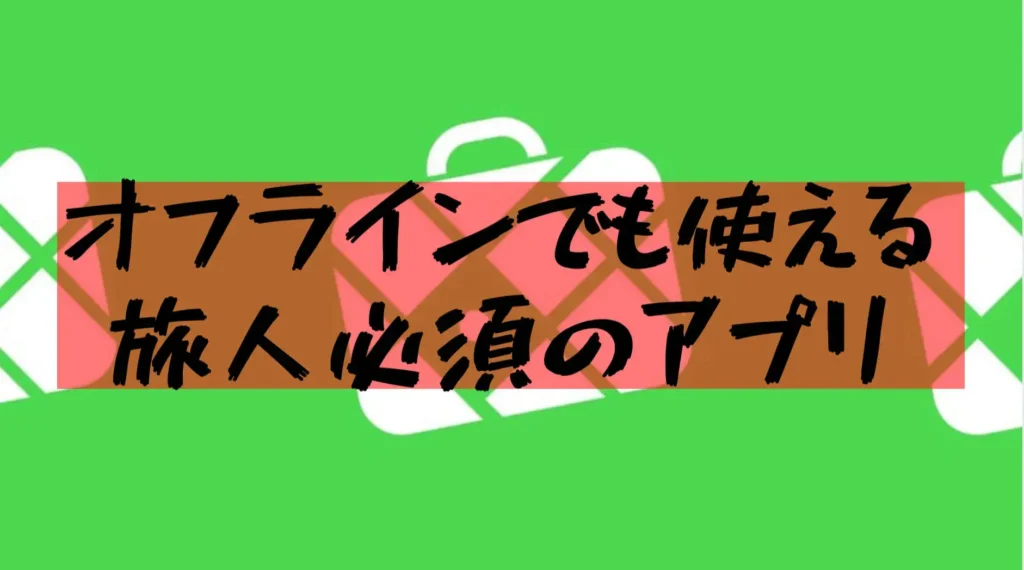 When you go on an overseas trip, you can also enjoy spending offline without putting a SIM card so as not to rely on a smartphone.
It will be somehow more than I thought, but even so, it is convenient to have an app such as maps and hotel reservations.
This time, we will introduce the convenient application "maps.me" that can use maps from all over the world even offline!
【Offline app】University backpackers recommended 5 useful apps for overseas travel!
The maps.me is amazing here!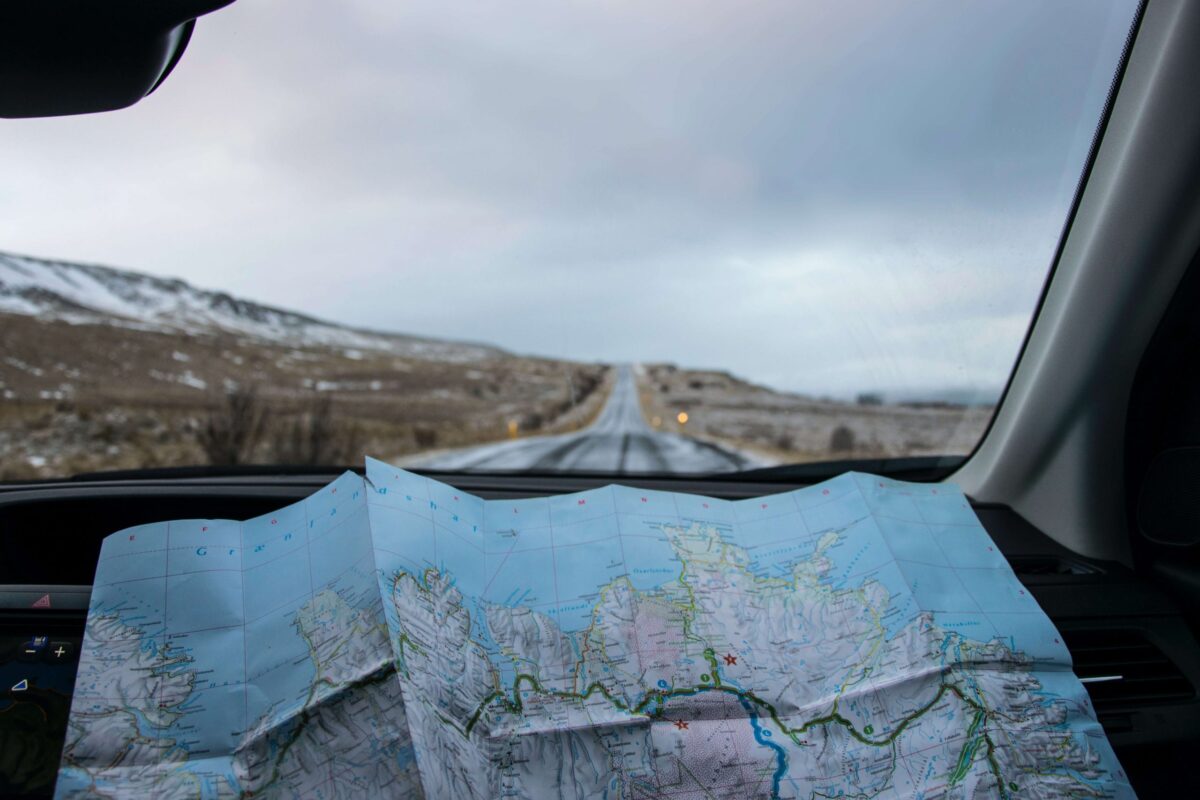 Can be used without radio waves
You can use the maps.me even if you do not put a SIM card on overseas trips and do not have WiFi in airplane mode.
I couldn't believe it at first, but GPS can be used even if there is no communication environment, so you can grasp the direction and location.
Especially travelers who move a lot are troublesome to purchase a SIM each time, so it is also ant to live without a SIM during the day.
If you are in trouble, you can use Starbucks, McDonald's, airports and shopping malls.
DL maps around the world
Google Maps also has a download function, but it was a little inconvenient because it was only an enlarged part.
I solved the problem that I could not DL due to copyright in 2019, but I still feel troublesome to operate.
In that regard, this maps.me can easily download the map by expanding the map or searching for the region.
Maps use data made by ordinary people, so don't worry about copyright issues!
There are many postings of narrow roads
I often use this app when traveling, but I'm always surprised by the back roads that appear in search results.
It covers quite a few roads, from minor roads used by locals for shortcuts to beast roads in the mountains.
We are looking forward to seeing unexpected roads by going the shortest distance compared to google maps centered on cars!
Google Maps also supports car-only directions, while maps.me supports directions for walking.
Work with booking.com
You can check the price and evaluation of the inn listed in the strong ally "booking.com" of overseas travel offline from maps.me.
Since you can fly to the booking.com as it is from the property page searched by price, it is convenient to immediately decide the inn of the day.
Hotels with vacant rooms on the day may be cheaper than usual, so it may be better not to decide in advance …
【Booking.com】Essential app for backpackers traveling abroad cheaply
Maps.me Worrisome Places
It is not fully compatible with Japanese.
Maps.me maps, which are collections of data from all over the world, may not be in Japanese only in local language.
Therefore, it is good to search for the place you want to go in advance and set up a pin (But there are many Japanese in tourist spots)
However, this disadvantage is useful in countries where pronunciation is completely different from Japan, and the place is not transmitted by mouth.
The maps.me notation is in the local language, so if you tap the destination and show it, it will be transmitted to the other party immediately.
I was keenly aware of this advantage on my trip to Europe(especially in Germany and France).
Wallet function
As of December 2021, wallets are installed in maps.me as a β version, enabling various payments in the app.
In addition to being freed from the hassle of paying in local currency and exchange fees, it seems that returns are also planned.
It's a good idea to have a one-month premium membership just by listing it on the waiting list.
App operation description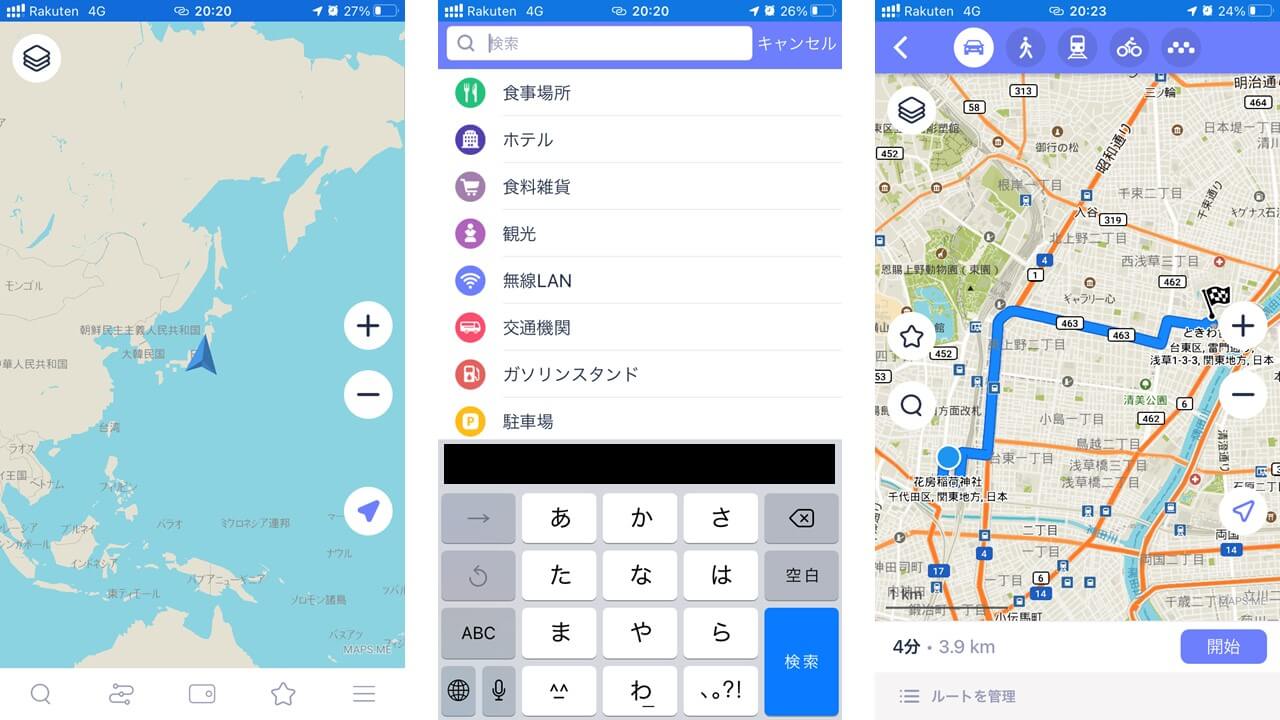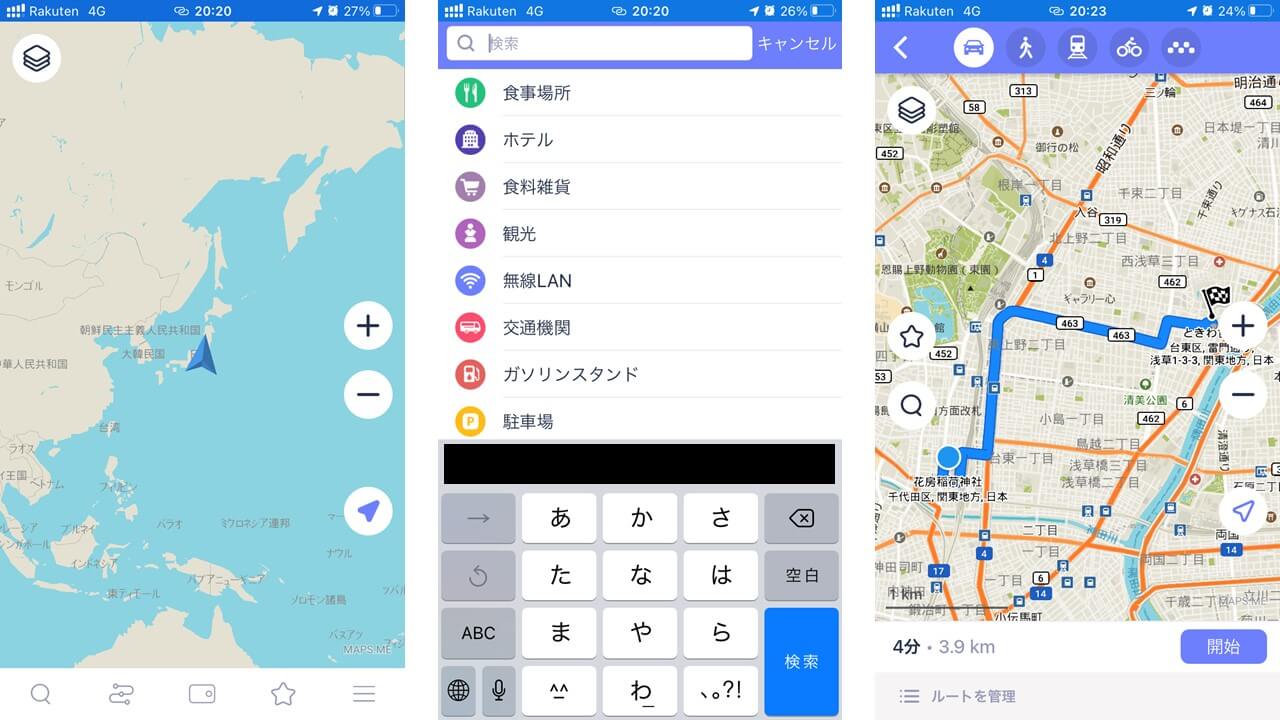 The operation on the map is the same as a general map app, so it is over-discounted.
I will explain the icon below.
Search for destinations
In addition to searching in Japanese, the method of searching by local language in the guidebook also has a high hit rate.
There are a wide variety of genres, and there are also free WiFi and toilet places that are rare in ordinary map apps.
There are not many toilets overseas like in Japan, so toilet search was quite useful when traveling abroad.
Route search
If you select a departure point and a destination, you will search not only by car, but also by foot, car, train.
You can search for walking and bicycle routes even if you are offline, so it is convenient for bicycle trips and overseas trips.
You can change the choice of means when searching by tapping the icon above.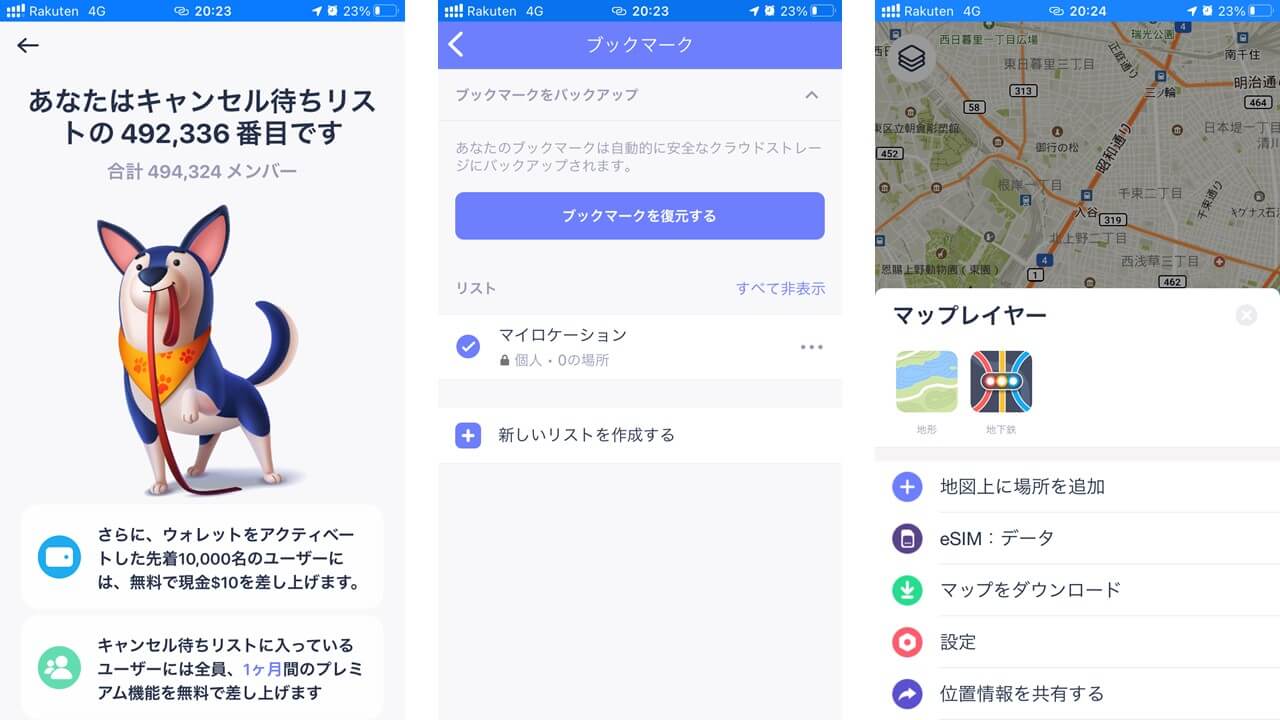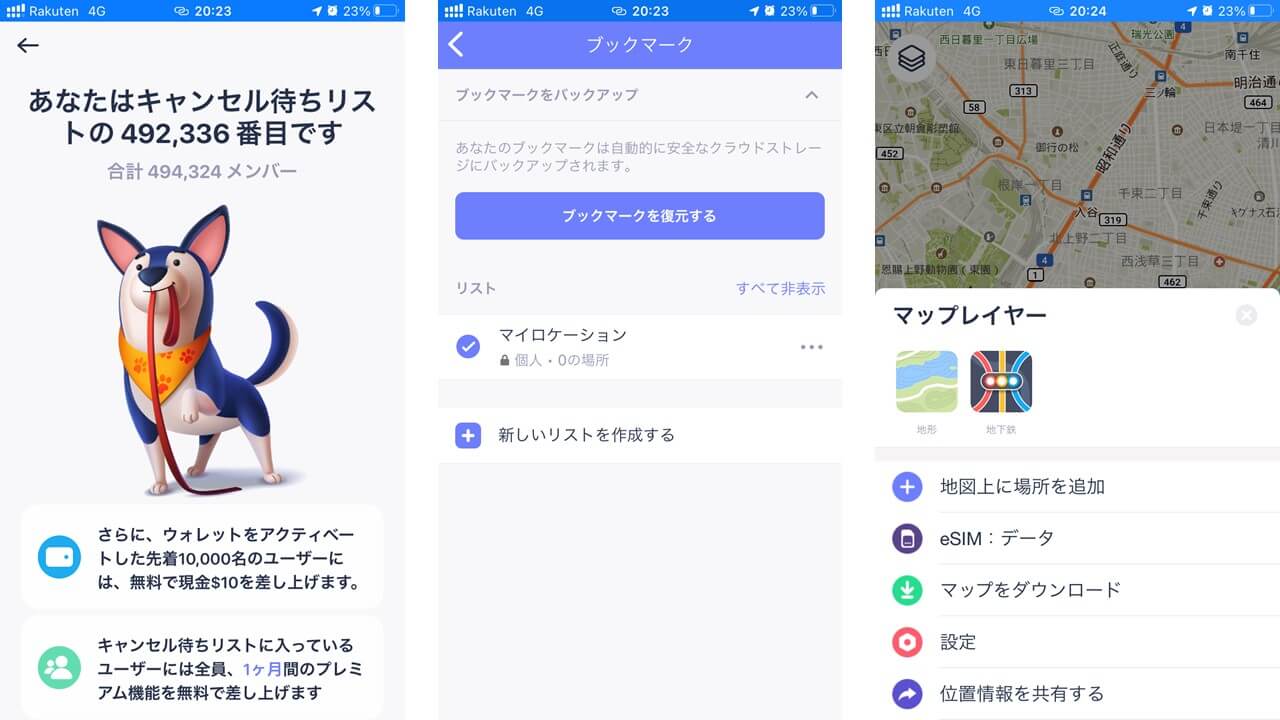 Wallet
Currently, we are looking for β testers, and there seems to be no function that can be used especially in the case of waiting for cancellation.
Users will be able to use $10 worth of cash and a month of premium features for free, so they're looking forward to it!
Bookmarks
By registering your favorite destinations, you will not lose sight of your destination even in the local language.
In addition, bookmarks are saved in the cloud, so you can rest assured even if you change the model or erase the app.
Various settings
Download the map from here, etc.
Since you will need smartphone space, let's free up space by storing photo data etc. in the cloud.
Offline map application "maps.me" that can be used without worrying about data traffic.
The download is free, so why not try it out?
Useful app for traveling abroad